This is how long to bake mini cupcakes so they come out moist, fluffy and baked perfectly in an oven. The best 24 mini cupcakes recipe is here. Similar to how long to bake mini muffins but these are a sweeter mini bite size dessert.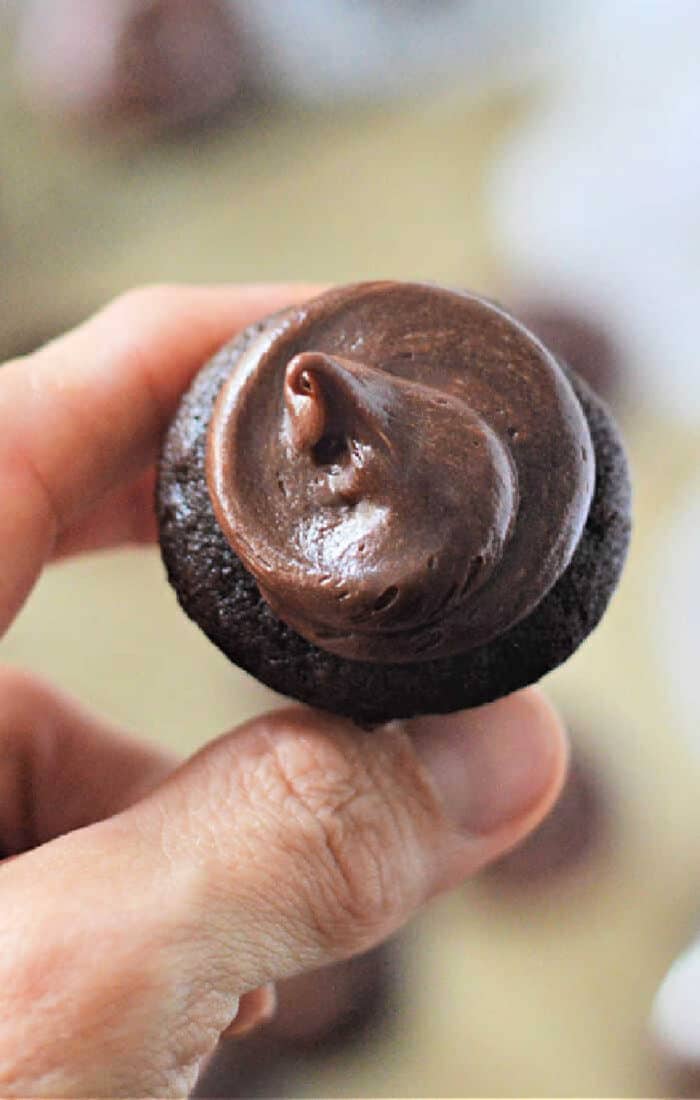 The cook time for mini cupcakes is short. A great thing to make when you have little ones who are impatient but you want to make something sweet for them as a quick treat. You can use your own homemade recipe or one of our cake mix recipes but just make them smaller. (affiliate links present)
How Long do Mini Cupcakes Take to Bake
Chocolate mini cupcakes (or other flavors) are smaller in size compared to regular-sized cupcakes. They require a shorter baking time. On average, mini cupcakes typically take about half the time to bake until fluffy. As always there are variations and the baking time can change very slightly depending on the recipe, oven temperature, and the type of batter used.
It's important to monitor them closely and either perform the toothpick test, or touch test to determine doneness. The first is where you insert a toothpick into the center, if it comes out mostly clean or with a few moist crumbs attached, they are usually done. OR touch in the center. If it springs back you're good.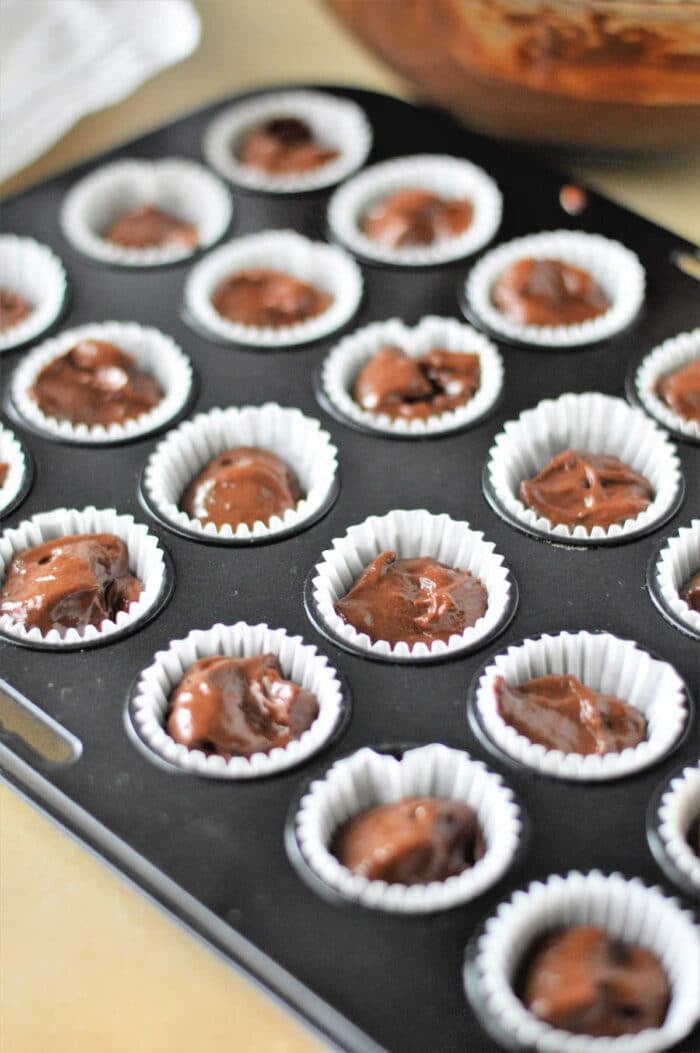 24 Mini Cupcakes Recipe
You're going to need a large mini muffin tin so you can make all 24 at the same time. You do not have to use mini cupcake liners but boy does it make things easier when done to serve. If you don't have any you'll need to spray the pan so they slide out easier. When done you'll need to use a teaspoon to scoop each one out.
If you want a homemade batter, instead of a box of cake mix, this one is quite easy. In the case that you didn't want them to be chocolate, just eliminate the cocoa powder and get kinda' vanilla cupcakes with a yellow homemade cake mix of sorts.
1 1/3 c all purpose flour
3/4 c cocoa powder
2 tsp baking powder
1 tsp baking soda
1/2 tsp salt
3 tbsp butter softened
1.5 c sugar
2 eggs
1 tsp vanilla
1 c milk 2% or whole
You can definitely use any other recipe you might have. Baking other things like pumpkin mini muffins work this same way. Sometimes if you use heavier ingredients like a puree you may have to add an additional minute but basically any batter works this way.
Mix sugar and softened butter together in a bowl.
Add eggs, whisk together.
In another bowl mix together all of the dry ingredients. Mix well.
Then slowly combine the two, it will be crumbly.
Add vanilla extract and milk to the batter.
Mix until the batter is light and fluffy.
Prepare pan with cupcake liners. Spoon or use a piping bag to add approximately 1.5 tsp of batter into each liner, or 2/3 full. Bake inside a preheated oven at 350 degrees F. for approximately 10-12 minutes (or until an inserted toothpick comes out clean).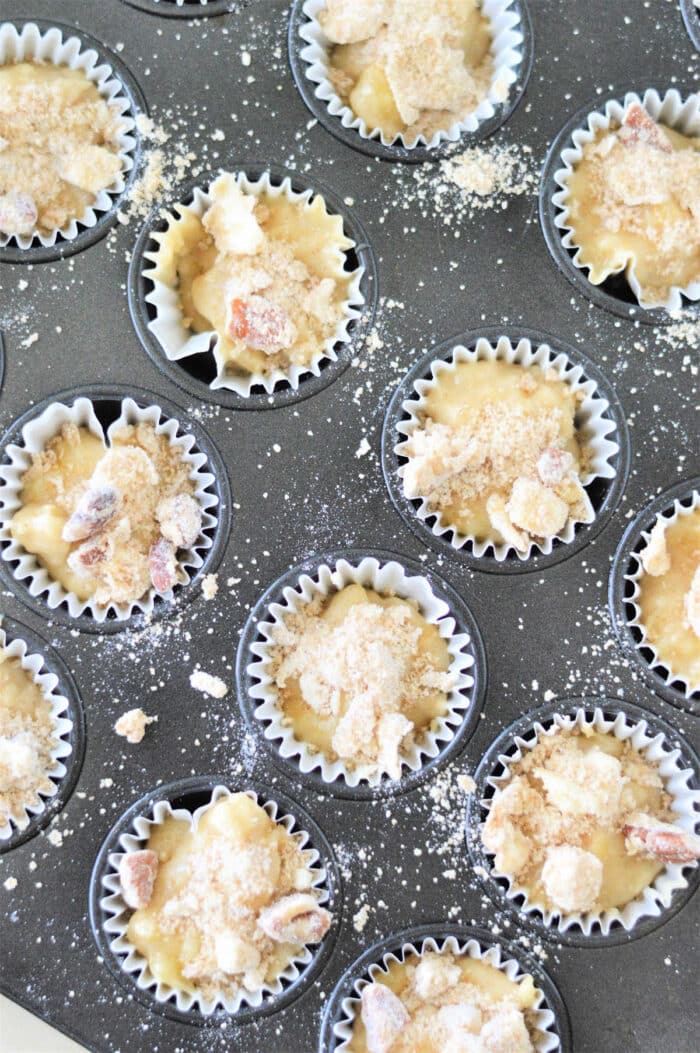 How to Bake Mini Cupcakes
Can I use a regular cupcake recipe to make mini cupcakes?
Absolutely. The bake time is about half, depending on the ingredients. Here in our article we go over several variations and the exact baking time for mini cupcakes so they are moist and tender when done.
Can I use regular cupcake liners for mini cupcakes?
If using regular cupcake liners for mini cupcakes, you would have to push and reshape the papers in the muffin tin holes. You then may notice that the liners extend beyond the edges of the mini cupcake pan and won't fit as snugly but you can get them to work if that is all you have.
What is the recommended baking time for mini cupcakes?
Instead of 18-22 minutes for regular sizes, you only need 10-12 minutes bake time for mini cupcakes. This will vary slightly depending on the temperature you're baking at and ingredients in your recipe but this is the correct range so they don't over-bake.
How do you Adjust Baking time for Mini Cupcakes?
Ok so when I make smaller cakes or mini banana muffins I basically cut the timing in half, or so. If you think about it on the box typically calls for 18 to 22 min. so cut that in half and you're about right for this size. I always recommend adjusting the rack to the middle so the heat can distribute evenly all the way around.
When done you don't want them to cool completely in that hot pan or else they will dry out. Instead, remove each one immediately and place on a cooling rack. Leftovers can be wrapped tightly in plastic wrap or a freezer bag once at room temperature for later. Keep on your countertop vs. the fridge so they don't dry out.
Try it yourself friends!! Of course you can make 1 tray of these and with the remaining batter make larger ones. I would put them in at different times though so you don't open the oven mid way through to remove the smaller bites. I do this when making our 2 ingredient pumpkin cupcakes (muffins) so everyone has a choice of sizes.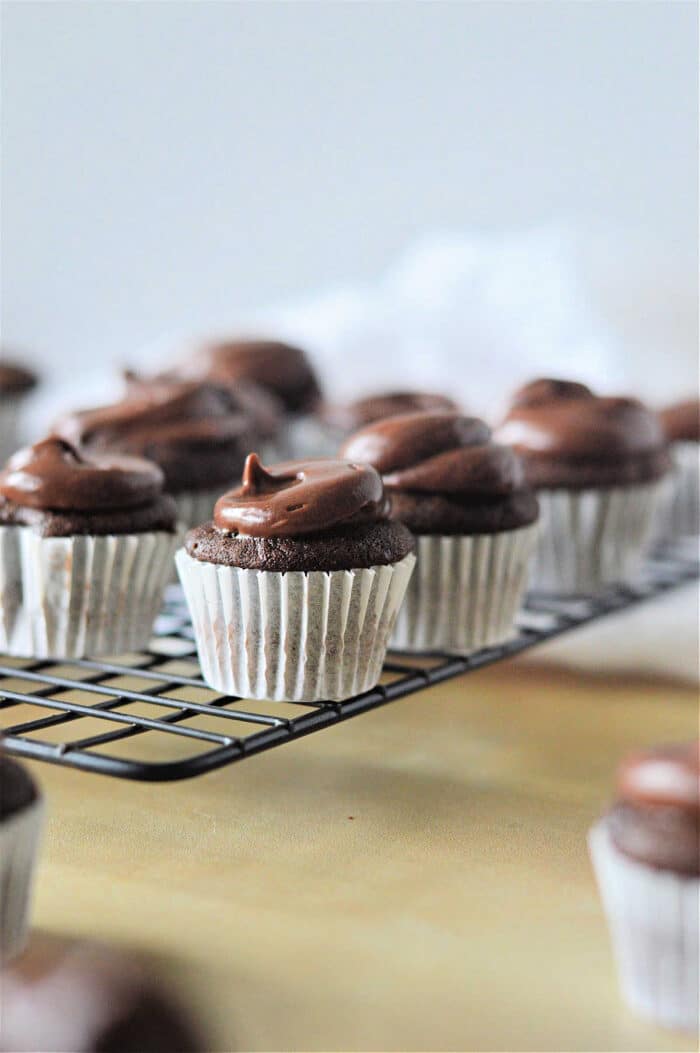 Want to see a few of my favorite things that I am totally obsessed with?? Take a peek and see how many you might already have…twinsies!
Looking for more easy family recipes and tips? LIKE The Typical Mom Facebook page?
Then sign up for my free newsletter, and follow me on Pinterest! 😉
***** If you LOVED this recipe give it 5 Stars below and let everyone know what you thought about it. 😉
How Long to Bake Mini Cupcakes
This is how long to bake mini cupcakes so they come out moist, fluffy and baked perfectly in an oven. How to bake 24 mini cupcakes right.
Instructions
Preheat oven to 350 degrees F. Make batter as directed on the back of your cake mix box.

Place liners inside your mini cupcake pan. Spoon in batter 3/4 of the way full, no more.

Bake on the middle rack of your own for 10-12 minutes. Bake time will depend on how full your liners are filled, oven temp and type of mix you use.

Test at 10 minutes with your finger touching the center of one. If it springs back it is done. Remove from oven and from the pan with a spoon moving them on to a cooling rack so they don't continue baking in the hot pan.
Nutrition Facts
How Long to Bake Mini Cupcakes
Amount Per Serving (1 oz)
Calories 50
Calories from Fat 9
% Daily Value*
Fat 1g2%
Sodium 83mg4%
Potassium 6mg0%
Carbohydrates 11g4%
Protein 0.4g1%
Calcium 23mg2%
Iron 0.2mg1%
* Percent Daily Values are based on a 2000 calorie diet.