Looking for comfortable kids back to school skinny girl jeans? We found some! Perfect for school and flexible for weekend activities, too. These jeans got a thumbs up.
I have three active girls and with that said I can say I've bought A LOT of jeans throughout the years. Each one of my daughters is different and is very particular about what they wear (okay, so am I). When it comes to kids denim and jeans in general there are a lot of choices but number one on ALL of our lists is comfort! (Okay so I care about price as well and I will get to that later too). Special thanks goes out to Abercrombie Kids for sponsoring this post so we could share our style finds with you.
Skinny Girl Jeans
At the beginning of the school year all the closets are purged of outgrown clothes and they're ready for new pairs of kids back to school weekend jeans. We'll be sharing the styles they chose this year that got a big thumbs up! Why do I call these back to school weekend jeans??
Well because when I'm shopping for three children their clothing needs to be appropriate for school, comfortable enough to sit at a desk during the day, play on the playground, AND easy enough to pull on and go go go on our busy weekends!
Makes sense right?? Ok so here are my two youngest……
Skinny Jeans for Girls
Just 19 months apart they are just 1 year apart in school and up until this year have always been at the same school. They are so alike, yet so different.
One thing they agree upon when it comes to picking jeans is they need to have stretch to them so they can run and play at recess, and they prefer an elastic waist (which isn't super easy to find until now!)….and they love hoodies too.
My youngest wants "cool jeans" which means they need to have rips in them, but her sister prefers them without. Found both styles with NO button and an elastic waist this year and ordered them online so I didn't even have to leave the house (double thumbs up from mom)!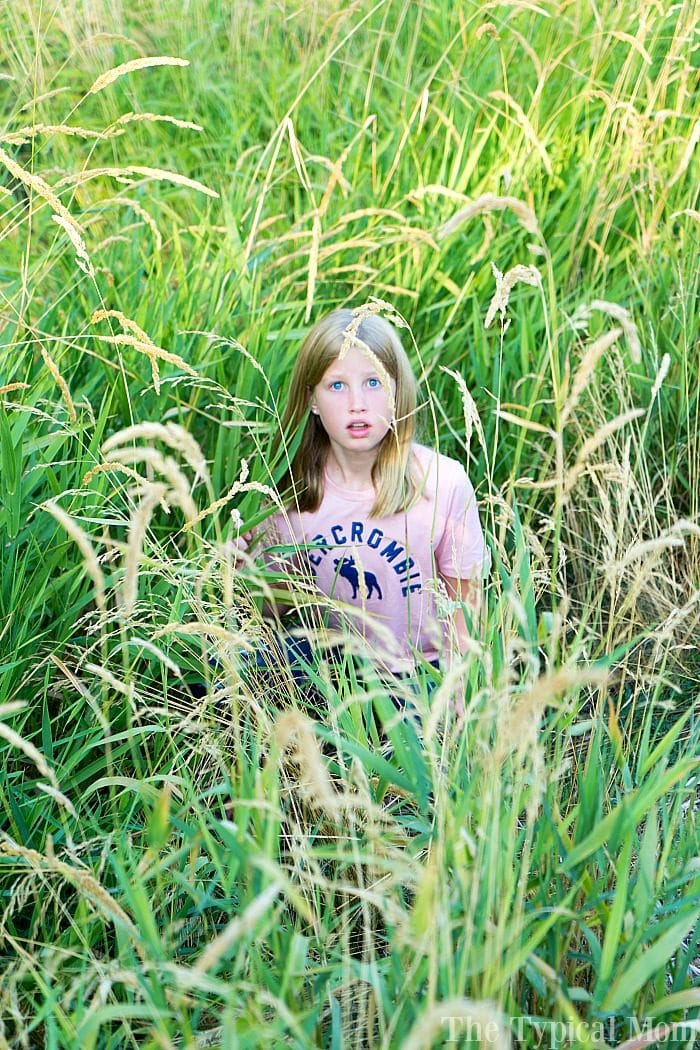 Ripped Jeans for Girls
You can snag both styles of these pull-on jean leggings from Abercrombie & Fitch for 40% off right now too! I love it when there's a great sale or coupon code I can use to save extra money, especially this time of year.
Bonus…..they're also offering FREE shipping and returns on jeans purchases for A&F Club Members (their rewards program that is free to join). This is an awesome perk that allows you to ensure they fit perfectly before school starts (yes, I too sometimes guess the wrong size)!
So we have them settled for school then right?? Ok well they have to tackle our weekends too……time for some hide and seek! To say my girls love the outdoors is an understatement. If my middle daughter could sleep under the stars every night she would, and my "little one" is forever playing hide and seek and climbing trees when we travel!
Abercombie Jeans for Girls
Girls clothing in general MUST be durable, conservative clothing for girls, as well as comfortable and cute…and if I can order logo tops, denim, and jackets in one swoop online I'm in heaven! Total score here…..
Did I mention they needed to be durable??? Yeah….a rope swing found at the park…..couldn't pass that up! Roll 'em up and go…….
Best Jeans for School
Another thing I always have to think about are, their favorite colors and finding comfortable kids clothing that they both love at the same place.
Easy…… Pink for one is easy but all blue for her in a neutral way without it looking like she's wearing "boy attire" is easy with Abercrombie Kids new Everybody Collection that has tons of gender neutral clothing in cute styles including this full zip hoodie.
Lots of tops and jackets for her to choose from in just "her color"….score. If you too are a mom looking for some comfy and cute kids back to school jeans I'd say this shopping trip (online for me) was a huge success. 😉