Here are many unique care package ideas that are easy to do and inexpensive to send. Using containers you have at home you can make a creative gift to send thru the mail. Whether you're creating a college or military care package these will make them smile fro ear to ear.
I remember leaving home and how hard it was those first few months. Especially when you're a long distance from your family it is nice to get notes, calls, and special things from them in the mail. Here are a few college care package ideas (or for any occasion). Special thanks goes out to Schick for sponsoring this post (originally published 9/15, affiliate links present)
Fun Care Package Ideas
Recently I used some of these great ideas to send to my cousin who is a service member overseas.
If you too want to send a care package to a loved one or college student, these are a few they'll love receiving.
I have many memories going to my mailbox each day at the student center to check and see if something was there from friends and family members back home.
It seriously made my day to see a letter or something creative in my box…..let me show you some of my favorite care packages!
Creative Care Package Ideas
This one is really easy to throw together, I did it for my cousin who is in college right now. Just grab one of those plastic pencil boxes or baby wipe containers at Walmart for under $1. Fill it with goodies and necessities they would love.
Include a treat, maybe their favorite protein bar, gift cards to restaurants they love in their area.
I've even included a mini adult coloring book with small colored pencils which were a real hit!
It is actually cheaper than buying a small cardboard box, more fun to receive too, and is reusable (as a pencil box or something else).
I added a book I thought she might like, some small pens, candies, and something I knew every girl would need.
Care Package Ideas DIY
Here's a fun care package idea to get your kids involved in. Find an empty plastic container (this had iced tea in it).
Wash it, dry it out, and create a "message in a bottle" if you will. Fill it with notes, pictures, candies, pens, pencils and use that as a fun package for them!
Did you know you can literally use anything to send a package at the post office?? That is right. As long as it is secured tight so it won't open, has a to and from address on it, and has the appropriate postage, you can send it!!
We have done this before and believe me the recipient thinks it is awesome!!
How to Make a Care Package
All you have to do to create this creative care package idea is to roll up the notes, slip in the pictures, fill the bottle with your goodies, and use a long sticker like the one you see here (or you can use a name sticker like you use at conferences etc…) to write the to and from addresses.
Stick it on and use clear packing tape to go across it and around the bottle to make sure it doesn't come off in transit.
Then go to the post office and you can either wait in line, or what I do is use the machine at the front. You just put your package on the scale and it will prompt you thru the whole process. It is really easy. It will ask you things like:
Address the package is going to
Whether it is in a box, envelope, or odd shape
Whether you want it sent priority or regular mail
Then you just swipe your credit card and the postage pops right out! If you use this method you don't need to bother adding the label like you see above.
The sticker is large enough to then write their name and your return address on that sticker. Just remember to bring a sharpie with you to write that info. on it so it doesn't smudge in transit.
Care Packages for Kids
Here's another creative care package idea….it's just Fun! They don't have to be in college to do this one and obviously younger kids would love this.
Believe me it puts a smile on anyone's face no matter their age. Did you know you can send a ball in the mail?
It is super inexpensive and you don't even need to go to the counter to do it if you have a self service machine at your post office (most of them do nowadays).
We have a few other appreciation gift ideas here too. Many are great for teachers and can be walked in, no need to send them.
How to Send a Message in a Bottle
The last one is fun and you can add quite a bit to. Many times you can find metal tins of various sizes at the store. Most times they are filled with cookies or candy.
Once the container is empty fill it with things your recipient would love, use the long stickers I mentioned above for the addresses, cover it with clear tape (as well as the top so it doesn't pop off) and send away!
Not only will you get a huge positive reaction from the person you're sending these to but these creative care package ideas will make the postal workers smile too.
The cost isn't that much more than if you sent them something in a plain old boring box.
Did you know you can even send a potato in the mail? YES….you can! Literally anything can be used. If you aren't so sure just ask at the post office and they'll let you know it's possible and how to do it.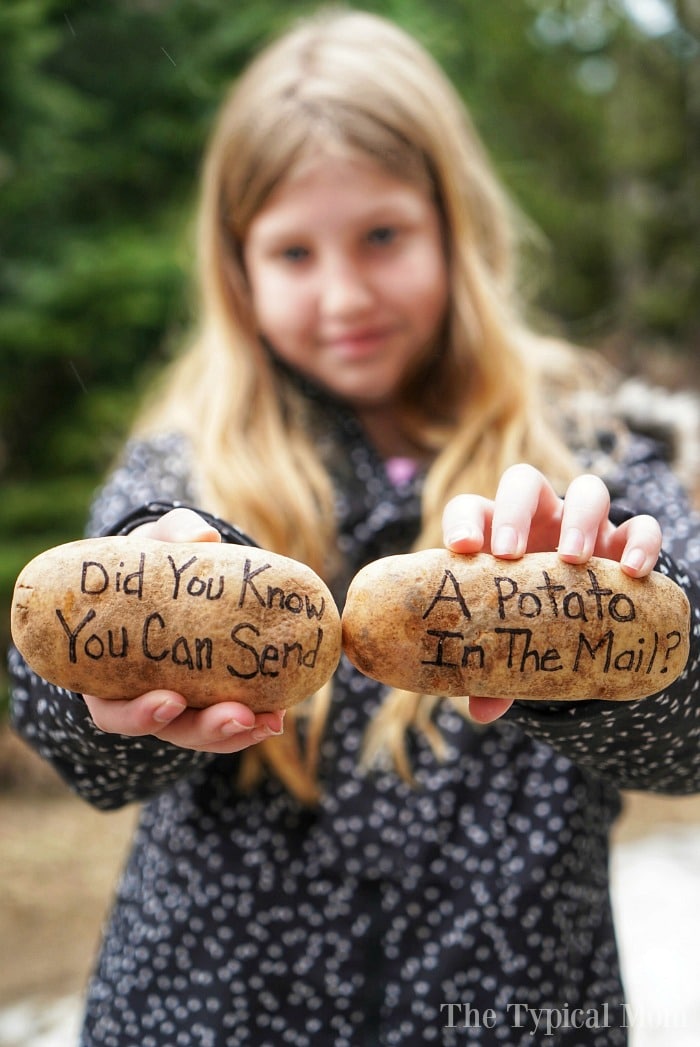 This is a sponsored conversation written by me on behalf of Schick®. The opinions and text are all mine.