Easy instructions on how to send a ball in the mail. This is a fun activity to do with your kids instead of the traditional letter writing and it's easy!
Writing letters is a lost art…..sad but true. I remember as a young girl having a friend move away in Elementary School and we wrote letters for years, and because of that we still keep in touch as adults! It is SO much fun to get something in the mail, no matter what age you are. Did you know you can send SO many fun and unusual things in the mail other than in an envelope? The most fun thing we've done is use a ball to write a letter on, let me show you how to send a ball in the mail to so you can send a smile to a friend or relative too! (originally published 8/15)
How to send a ball in the mail
Get ready with what you need to prepare your shipment:
To start with you can find these fun plastic balls just about anywhere, I found this one on sale at the supermarket. You will need a sharpie or other permanent marker and if you want to decorate it with stickers you could do that too (some may fall off in shipment).
Write the name and address of the person it's going to and your return address on the SAME side of the ball on the top left (small) so there is NO confusion as to whom is getting it and who's sending it.

You could write a short note on the other side (in another color is helpful) just make sure the addressed side is free from other writing.

Then bring it to the post office to get postage to stick on the front
It's time to be sent!
Here are step by step instructions on how to send a ball in the mail using the machines inside the post office that you can use yourself. Of course you can walk up to the counter and have them give you the postage but it saves me time to just do it myself. I have to say when I first brought a ball into the post office to ship it I got a lot of smiles and quizzical looks….but overall it put a smile on everyones face! As you can see….this time I asked the postal worker for help so I could take pictures of the process and he did so with a little chuckle. 😉
After the first time of standing in line, waiting to get the right postage and realizing that basically anywhere in the U.S. I sent it it would be the same price (according to weight), I decided from then on to use the machine.
Almost all post offices have this self serve machine just outside the long line area where you can print the postage you need yourself. Just put the ball on the scale and choose Send Letter or Package.
On the next screen choose the Package button. On the next screen it will ask you if you are using priority shipping boxes, select No.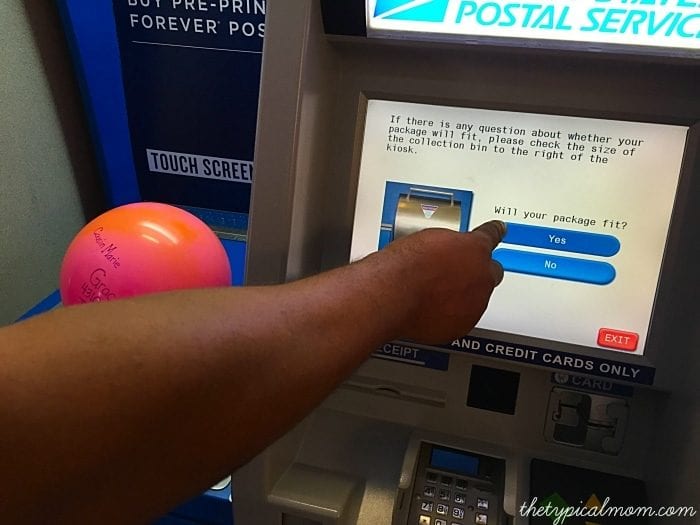 It will then ask if your package will fit in the drop off bin that looks like this on the screen. They are usually located right next to this machine, choose Yes. You can drop it off yourself in the large shoot, they fit just fine, and literally don't have to interact with anyone if you don't want to explain why you're sending a ball…..though you might enjoy the smiles it gets you.
At the end it will ask which method of shipping do you want. We put in the Ca. zip code and it was only $2.74. We then changed it to a NY zip code and it was still the same amount! You pay whichever one you want and the stamp will print out below.
It is a sticker so peel it off and put the printed postage on the same side as the address on the top right, like an envelope. Make sure the send to, from, and stamp are all on the same side (put stamp over the th in Smith). Very cool cheap thing to do with your kids and a huge smile you will be sending to the recipient!
For more fun and inexpensive things to do with your family please sign up for my free newsletter and follow me on Pinterest! 😉