BEST deviled eggs ever with a hint of dill!! I have a few secrets to making the perfect hard boiled and deviled eggs right here!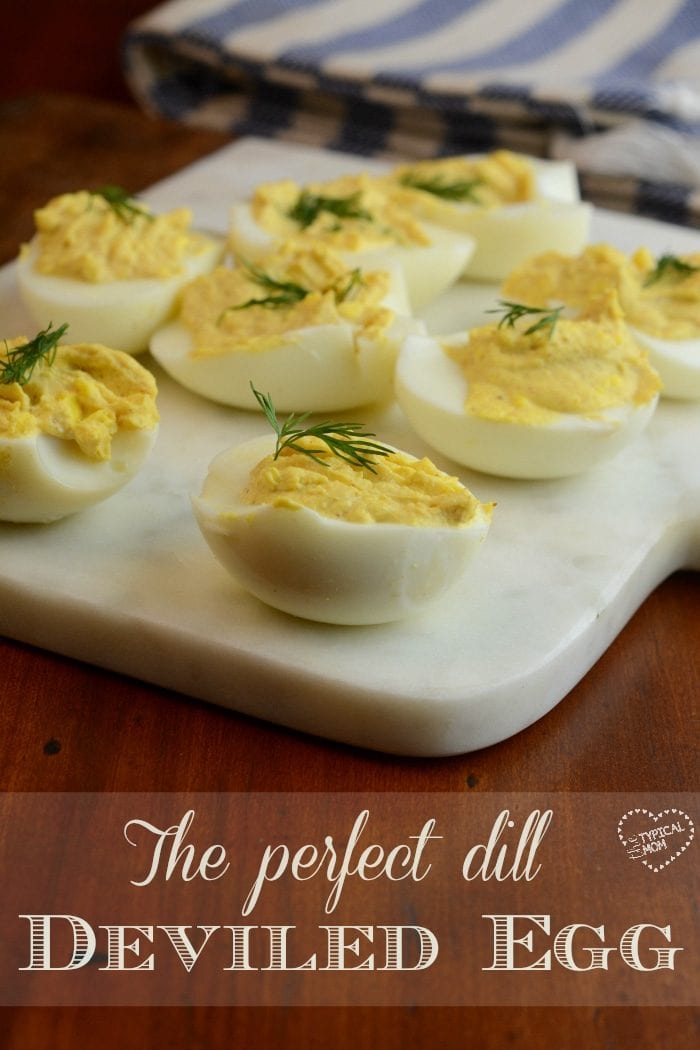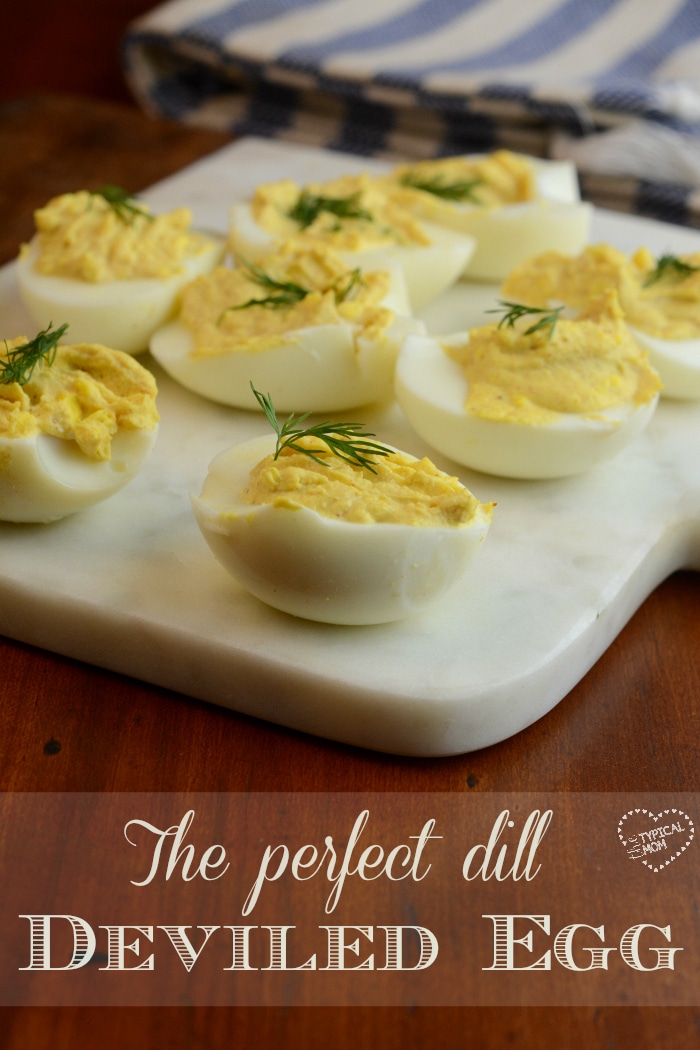 I'm a sucker for a great deviled egg. I was the designated egg maker at Easter, Thanksgiving and Christmas because I took great pride in making them and they were so delicious! The key to the best deviled eggs is about to be revealed, and you can pretend it was yours all along (I won't tell)!
They may not look like perfection, but it's all about the taste right??!! There are actually a few tricks to making the best hard boiled and deviled eggs, let's start with the eggs themselves.
Use WHITE eggs

. I made the mistake years ago and tried to make Instant Pot hard boiled eggs. When I went to take the shells off the egg came with it…uggggg.

This is how to hard boil eggs in the oven too if you'd rather use that method.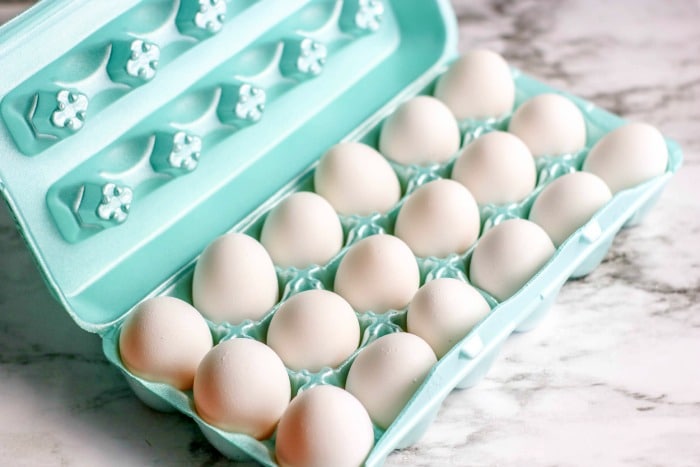 Use older eggs

. Ok, not expired but it is easier to get the shells off of eggs that aren't super duper fresh. Trust me on this one.

Soak them in ice water

. After you boil them for about 20 minutes at a rolling boil you want to drain the hot water.

Then run cold water inside the pan. Add ice cubes inside the bowl and don't attempt to take them out until they're melted.

Run water over them

. When you are about to peel your eggs, crack the shell all the way around. Then while cool water is running just a little bit over it peel the shell off, should slip right off.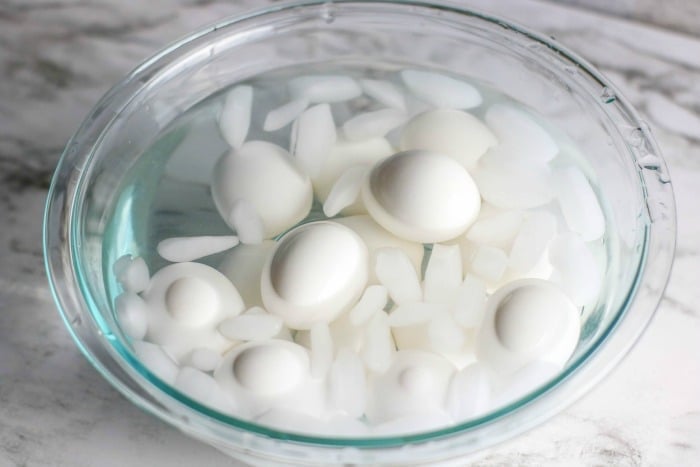 Now here is the recipe for your filling once you remove all the cooked yolks from your hard boiled eggs.
If I want a fancier look I use pint sized zipper bags to scoop my finished deviled egg mixture into, remove the air, zip closed. Cut a hole at the corner of the baggie.
Use this like a pastry bag to fill your cooked egg whites. It helps keep it neater and you can even swirl the egg mixture in.
Then, garnish with dill/bacon bits/paprika.
If you're looking for another great side dish for your holiday get together try this easy au gratin potato dish!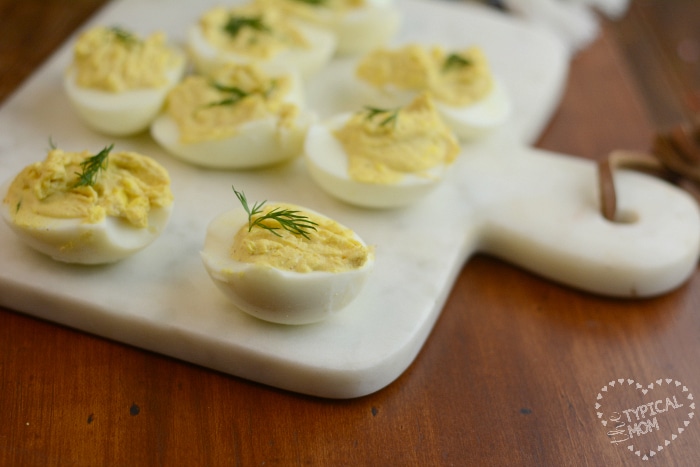 Want to try a whole new filling? Give our crack chicken deviled eggs creation a whirl too.
Best Deviled Eggs
For more easy recipes and crafts please LIKE The Typical Mom on Facebook, sign up for my newsletter, and follow me on Pinterest!
Best Deviled Eggs
Best deviled eggs as a side dish, appetizer, and perfect for any holiday.
Instructions
Boil eggs at a rolling boil for approx. 20 minutes, cool. Remove shells, cut egg in half and remove yolks. Put all yolks in one bowl with the above ingredients and mash together until they are smooth. Scoop mixture into pint sized freezer bag, clip corner off bag and squeeze inside cooked egg whites, garnish with paprika or dill.