Turning a bedroom into a closet was once a dream but we did it this year and it's been an amazing transformation! Here's how we did this home DIY project.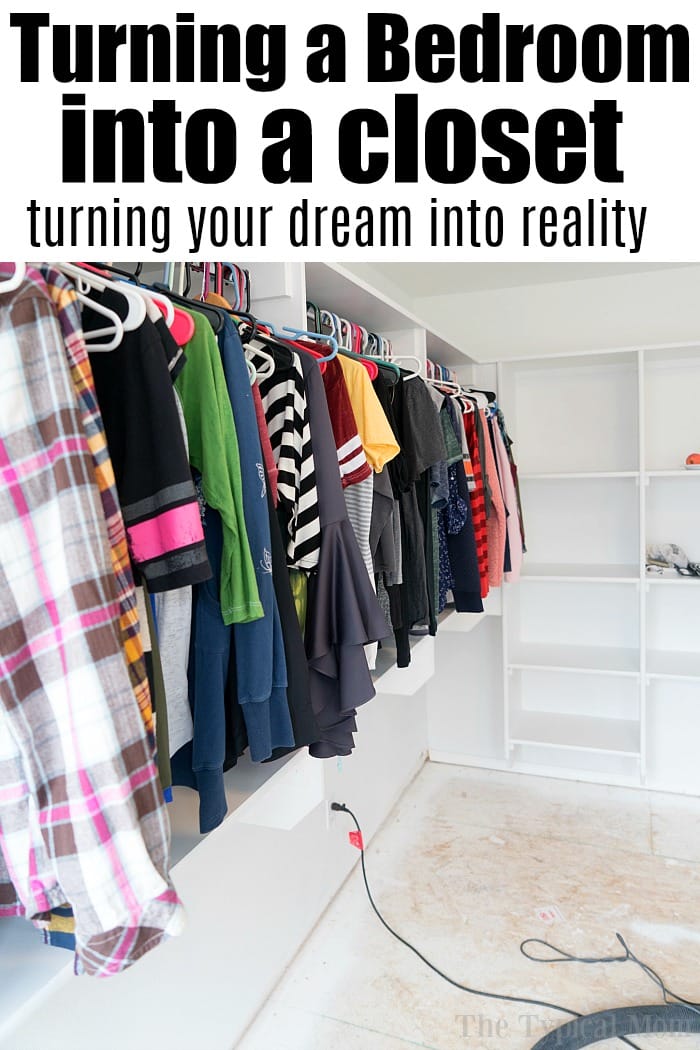 Turning a bedroom into a closet may be something you think about, but wouldn't know where to start. Well, we tackled this idea this year and OH MY goodness has it been an amazing DIY transformation for our home.
We moved and bought this home about 2 years ago. It had a bunch of bedrooms which was great, but the master was lacking! The closet was TINY for two people to share and the shower is not great either (that is our next project, maybe next year).
We had a room on the other side of the master and I always thought about how great it would be to turn a bedroom into a closet. My husband said this year, "let's do it!". We're here to share this diy home project with y'all here today.
It started with this hole. One that went from the master bedroom into the other one. This is the ideal situation when turning a bedroom into a closet, but you could transform a room anywhere in your house really.
You'll need to reinforce the area you cut out since it will be a doorway now, and then get started with demo on the old office and or room. We got the kids involved at this point because why not??
The old closet had be taken down next. Unfortunately the right hand side of that was structural so we had to keep that in tact and take down the rest. It worked out okay because we just made the right side a space for my long dresses. The lefthand side would be shelving. You just have to get creative if you encounter a beam that can't be taken down.
With that said if you're doing this yourself and aren't familiar with construction at all I would pay to have someone come out and make sure you don't take down anything structural beforehand.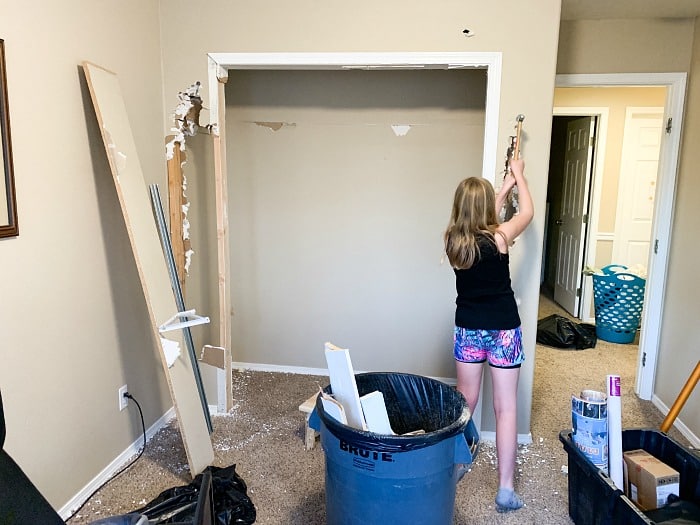 This is what we were left with, you can see how we had two sides of the former closet to work with. Next was to close off the old door that led to the upstairs hallway. Keep in mind you'll need to obviously repaint your new closet, but also the outside of the previous door.
We once again came up against an issue there because the former owners didn't leave the hallway paint anywhere. It was almost impossible to match it at the store so we had to repaint the entire hallway.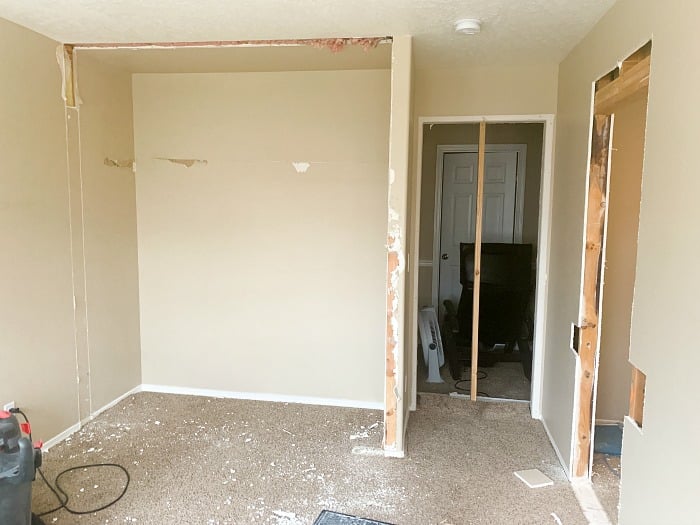 Ideally I would have rather had fewer windows so I could've used this entire wall for hanging clothes, but it is what it is. To use the space most effectively we decided to put a built in shoe rack underneath with 2 small corner benches so sit on.
We priced out removing these windows and it just was way too much money. The added racks would have been nice but at the same time I'm pretty frugal and it wasn't worth the money to me. Could always be done later I suppose if you wanted to do it in stages.
Be aware that the carpeting in the old bedroom will most likely need to be replaced after your closet is done. Once you take down walls and frame in doors there will be too much of a gap so just put that into the budget when you're planning on turning a bedroom into a closet yourself.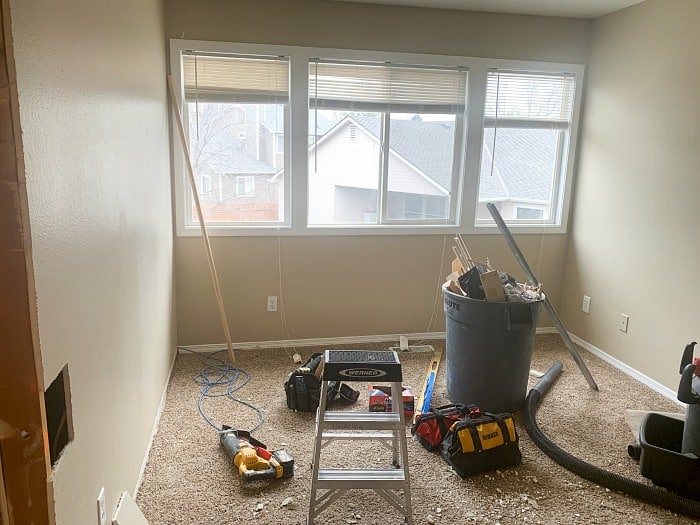 Then the shelves and racks were put in. There are many many options as far as these are concerned. You can buy inexpensive closet systems like this one online, there are a few options at your local hardware store, or you can build them on your own. We chose the third option.
I felt like it would be a bit easier to build from scratch since we had an unusual space and I wanted every inch to have a purpose. I left a large spot on the bottom of my cubbies to put dirty clothes baskets too.
It was starting to come together.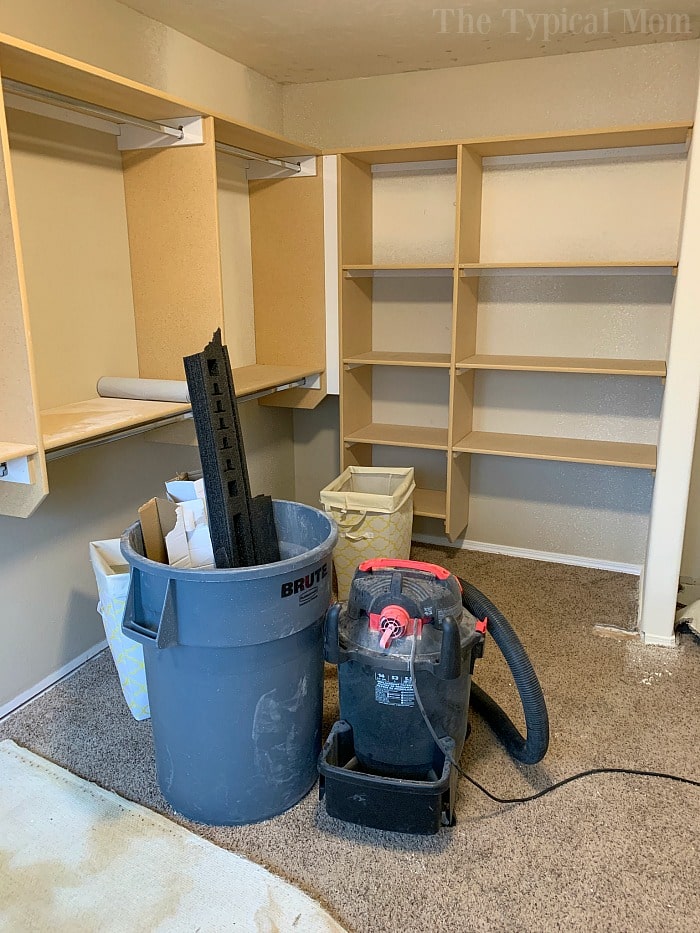 The barn door was a must as far as I was concerned!! We have one in our kitchen too and I just love it.
We hired someone to hang this to ensure it hung properly. You can buy all the barn door hardware online too and do the whole thing yourself but this is something we decided to hire out.
Another thing you'll need to think about is that you'll have to repaint the wall you cut into. You can see the top how it was retextured and needed to be painted to match the rest of the room. Had the same issue as the hallway so we repainted the entire master suite white since we couldn't match the existing color. This is something I wanted to do anyway so it was a plus, but something you should prepare for.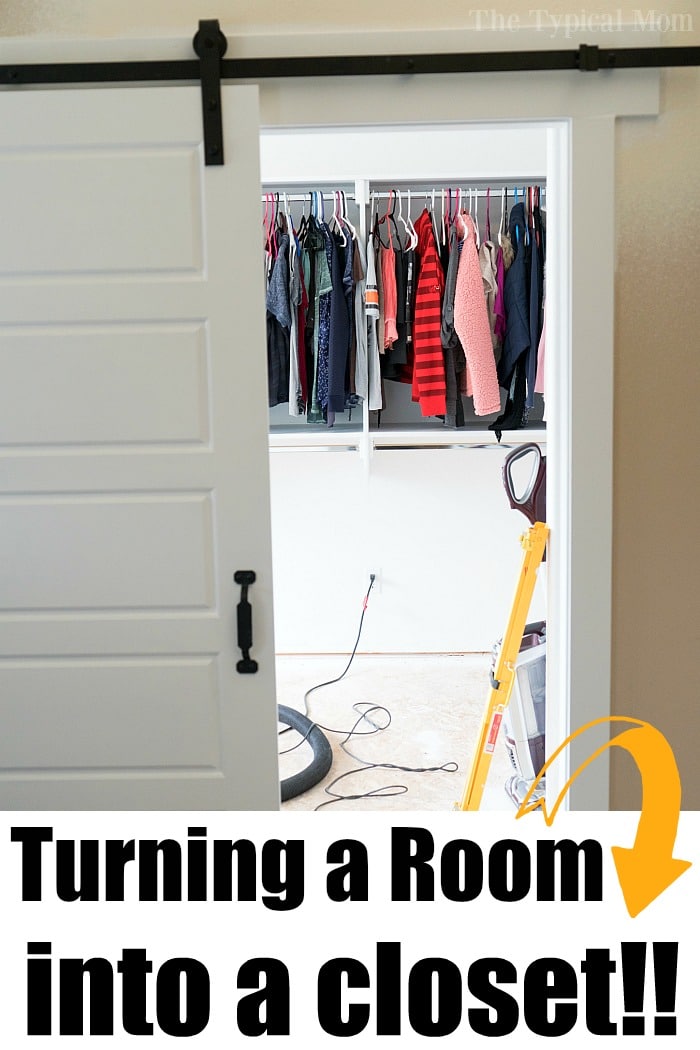 Let's just say there will be A LOT of painting involved before you're done. The new closet, the wall that used to be a door and the wall that now has your new closet door on it. We went with a bright white for all of it which made it easy.
Carpeting is another consideration too. We knew we'd have to recarpet the new bedroom turned into a closet, but since it was attached to a bedroom that carpet needed to be done too in order to match (it was old anyway). Well if we redid those rooms then the upstairs hallway should be redone, and if that was updated then the other 2 bedrooms upstairs needed to get new carpet too.
Needless to say it's kinda' a domino effect but in the end everything looked SO much better!!
Suggestion: have them lay new carpet in the new closet and adjacent bedroom. Then have them come back to do the hallway and other bedrooms. If you don't you won't really have room to move all the furniture around in those rooms and it will be a nightmare.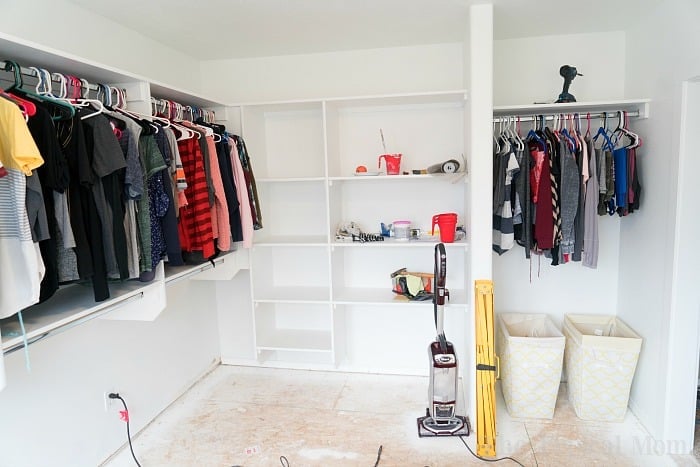 Once it was done I hung a sign I had made on top and seriously it is a dream!!
No I am not a perfectionist when it comes to organizing so forgive me on that front. I found shirts I forgot about because they had been crammed in the back all these years. Now I was able to separate my winter and summer clothing which is nice. Top row is short sleeves and the bottom rack has all my sweaters, jackets, and long sleeved shirts.
I put an old table my Grandpa left me when he passed away in there. Now I can set things down and have a nice memory to see each day when I go in there.
On the opposite side of my racks I had enough room to fit my dresser. This made our master seem bigger. My husband took the "old closet" so he could spread out a lot more. We're both happy about the change.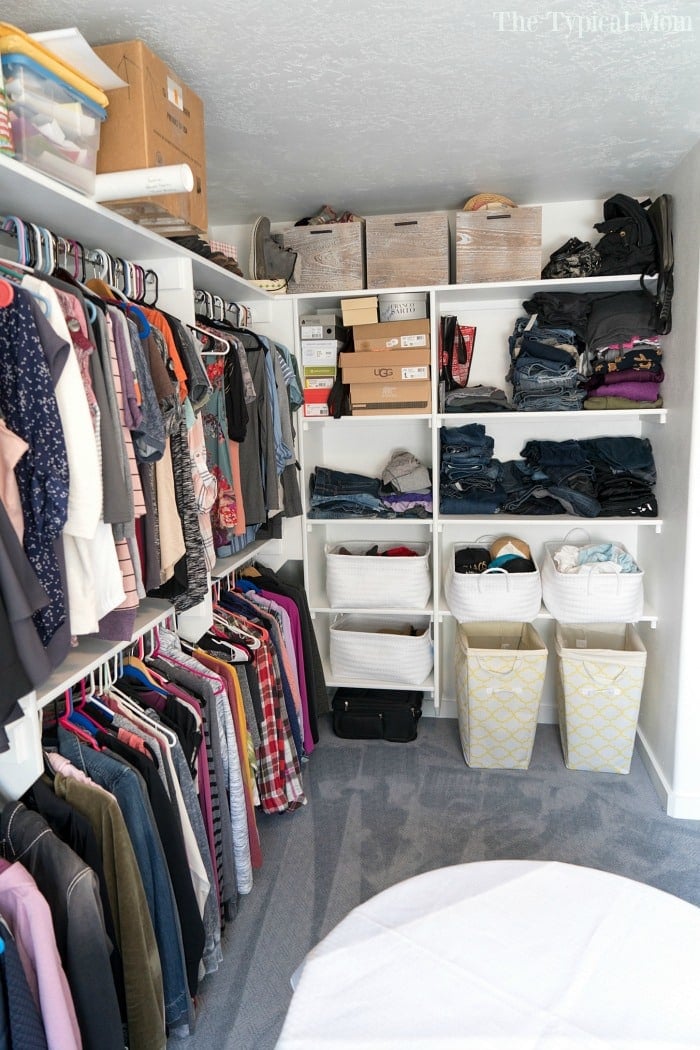 If you're considering turning a bedroom into a closet too, first consider:
Do you have enough rooms in your home to eliminate one of them.

consider resale value. If you only have 3 rooms then changing to 2 will really decrease the value. BUT if you have 6 rooms, moving down to 5 isn't as big

What it will cost to complete the project

Dry wall
Wood
Retexturing
New carpet & padding
Paint
Door
Trim
Baseboards
Tools necessary to complete the job
And/or cost of someone to do all of this for you

How simple or complex you want to make it

you can go all the way from just paint to doing a shiplap accent wall and more
If you've done this in your house I'd love to see a pic of yours!!