Here's a peek at how we transformed our dark kitchen into a bright room with fun farmhouse kitchen decor and a barn door pantry everyone loves!
We are finally ready to share all of our farmhouse kitchen decor ideas now that our renovations are done! If you have a dark kitchen like we did that just doesn't make you happy, there are ways to transform it into a bright room with modern farmhouse decor. I will share the before and after photos with you at the end of this post. 😉 (affiliate links present)
Rustic Farmhouse Kitchen
I will start by saying we have a rather small kitchen so lightening it up was so important to make it seem larger. It is funny how just changing the wall color from dark beige to white itself was HUGE. Then we went from there. We hope you love our new country charm of a room.
If you're on a budget but want to change your kitchen here are my suggestions:
Tip #1 – If your budget is tight but you want to brighten up your kitchen or any room paint is the way to go!

Buy good quality paint

– you want it to last, not start yellowing, & if you have little ones choose one where fingerprints/marks wipe off easier.

Don't just focus on the walls

– if your room is really dark think of stripping the cabinets and repainting them a lighter color, or paint the back of the island (we did).

Repurpose your existing furniture

– if you don't have the money to buy another small kitchen table think about painting just the table/chairs white to lighten the whole thing up, inexpensive change.

Visit your local thrift store

– you may be able to find kitchen table gems at second hand stores that are perfect, or just need a new coat of paint!
Farmhouse Kitchen Decor ideas
Rustic Farmhouse Kitchen Decor
If you're looking to create a rustic farmhouse decor look by installing a barn door pantry you can do that too rather easily! This is kind of the ultimate farmhouse home decor piece that can be put in your kitchen to cover all of your dry goods and/or throughout the house really. Country style and oh so unique.
Once you get the hang of how to install a barn door pantry you can do it for your bedroom or even laundry room too.
Find the area you want to hang your barn door

– ensure there is enough room for the track as it will have to slide and the door needs to fit next to your opening as you see here.

Decide whether you want to shiplap the wall

– you can see here what it looks like if you decide to shiplap around your barn door, here are directions on how to install shiplap walls

First run the boards horizontally from the edge of each wall in toward the opening of your pantry all the way to the ceiling
Then frame the edges on the bottom, ceiling, and sides of the wall your barn door is on. You can also put another board inside the opening as you see here so the color is the same
Add an additional board on top of your pantry where your track will be installed as you see here for support

Measure your area

so you're ready to purchase the correct size barn door and track (multiple sizes are available using links below – affiliate links present)
Purchase your barn door track – install this at the top of your pantry door area on the horizontal board you just installed, ensure it is far enough to one side where your door will open fully
Purchase your barn door – stain or paint it your desired color (ours was originally the same grey color as the shiplap but decided to lighten it up to white

Attach your barn door

to the slider pieces

Add hardware

– like a barn door handle if there isn't one there already

Hook your door on

to your track
Add barn door floor guide piece if you want to add it – we decided it made it a bit hard to open for the kids so we took it off after trying it out
We loved this look so much we added one when we turned a bedroom into a closet later that year.
If you're just interested in Farmhouse kitchen decor we have quite a few ideas for you as well like these farmhouse bar stools!
This is the farmhouse bar stool we got but here are a few other cute options:
This farmhouse tractor seat is adorable and comes in 2 colors
These copper bar stools are cute and match the kitchen chairs you see below
Similar farmhouse wood and black iron bar stool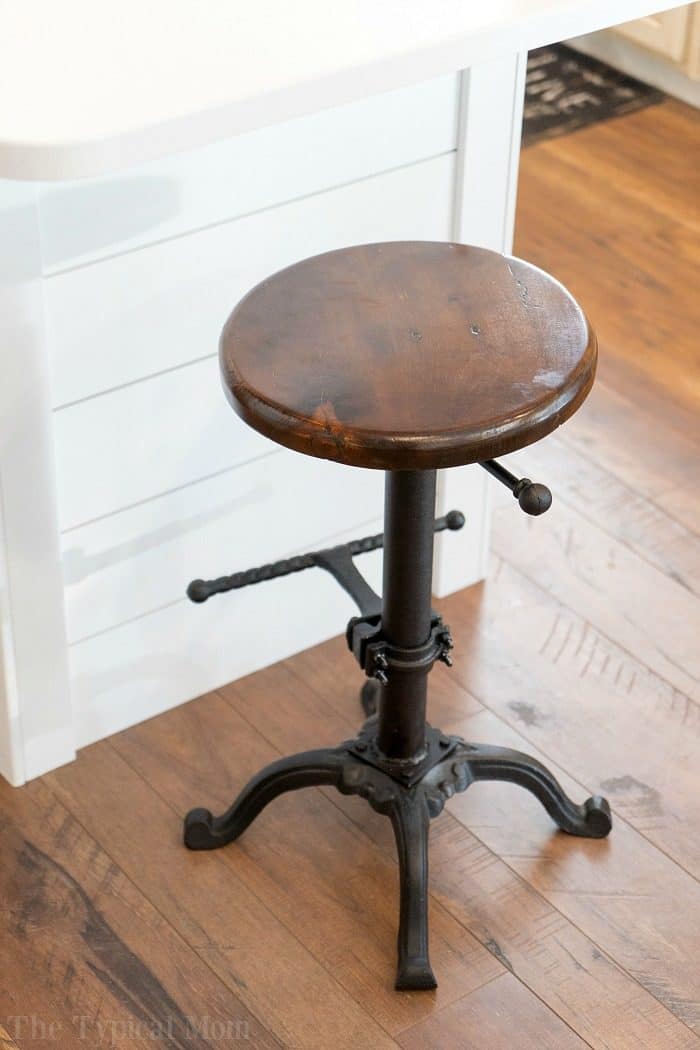 Modern Farmhouse Decor
As I said, we changed everything we could in our dark kitchen to WHITE WHITE WHITE and the first thing I fell in love with was this cute polka dot backsplash as I called it.
If you're looking to transform your kitchen into a farmhouse style kitchen I would recommend penny tile backsplash, it came out so great.
We used this penni porcelain wall tile
White grout was used to brighten the kitchen up even more
If I had a large wall above my sink I may have gone up to the ceiling for that portion, I have seen that and it is adorable
I also like beveled subway tile backsplash but in the end the "polka dots" were speaking to me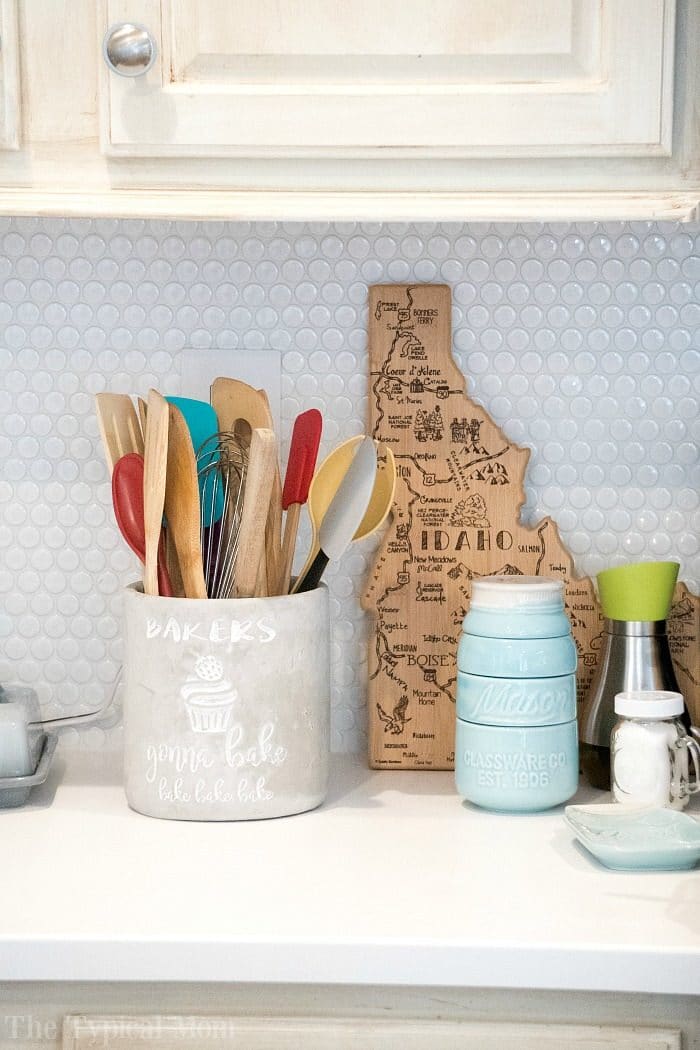 Are you obsessed with big mason jars or mason jar containers in general?? I am!!
Here's the 128 oz large mason jar you see here I store my flour in
You can see my mason jar measuring cups and spoon holder above
Here are a few other cute mason jar kitchen decor ideas

Love this Mason jar glasses with metal container
I have this Mason jar utensil holder
Mason jar soap dispenser – mine is on order right now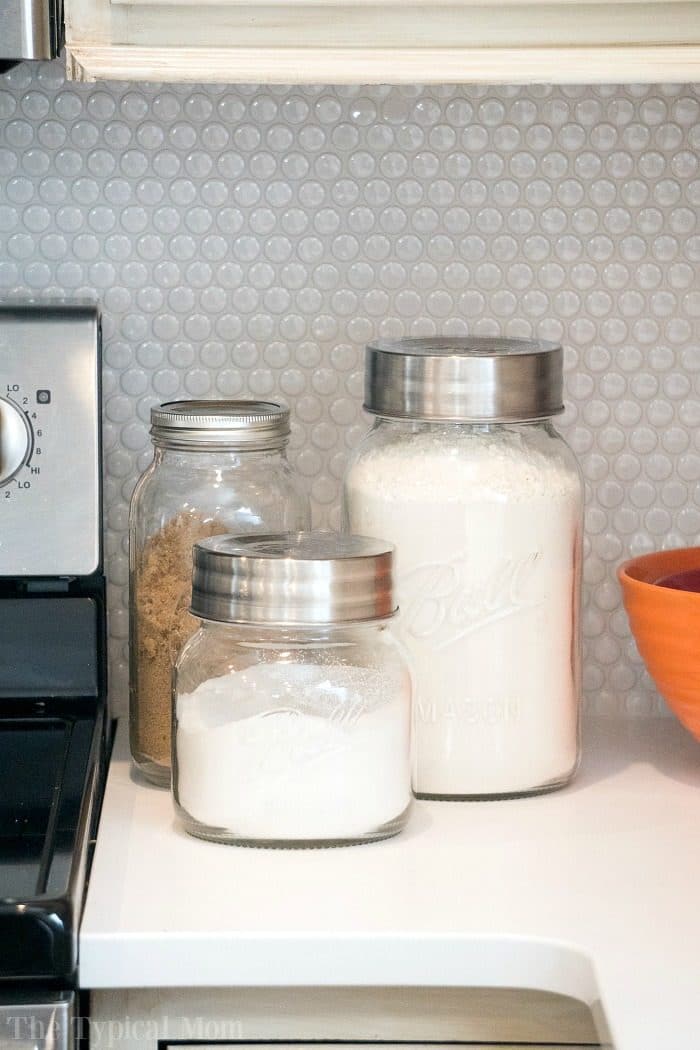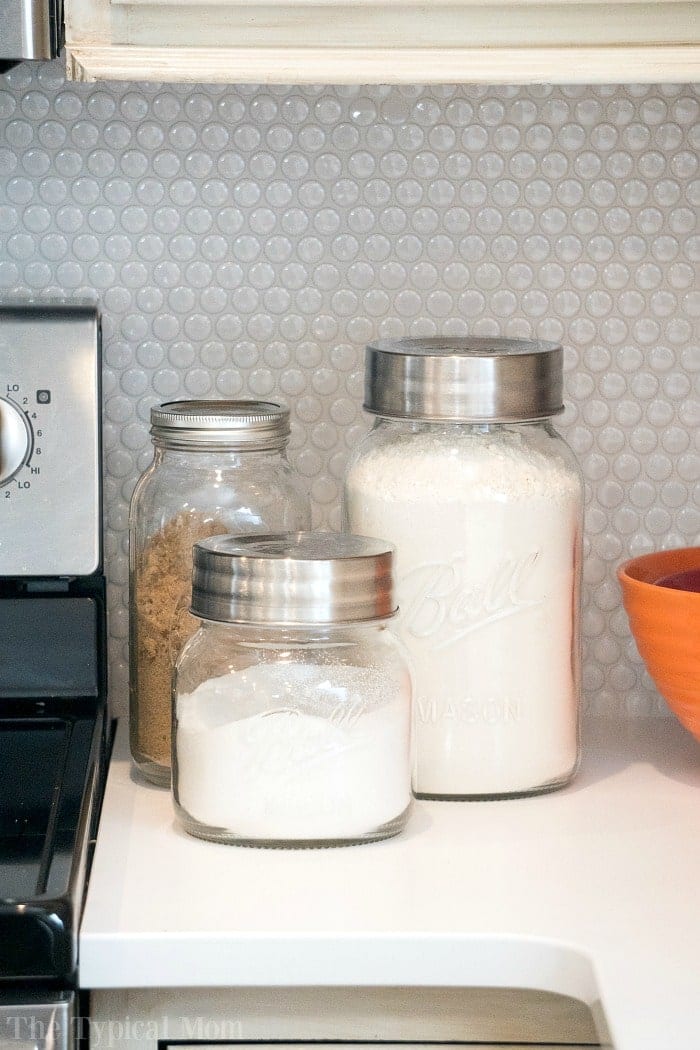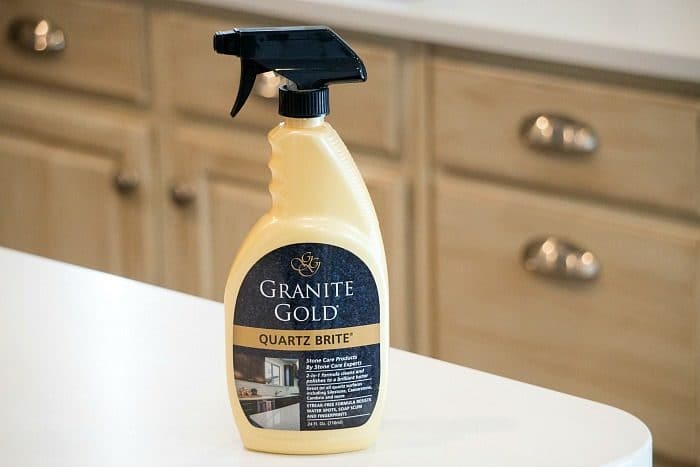 Farmhouse Decorations
Like I said, we had our countertops replaced too. They were a dark patterned granite and I really wanted like I said WHITE WHITE WHITE everything so I chose this white quartz.
True I do have kids so I was concerned that it may stain so I made sure to have a great quartz countertop cleaner that would not only deep clean but polish my quartz, hence this Granite Gold Quartz Brite spray…works amazingly well and I have yet to have anything spill that I haven't been able to wipe up. Gives my counters a nice sheen to them as well as a deep clean.
A bit more info on this 2-IN-1 quartz spray – It's a cleaning spray combined with a quartz cleaner and polish into one spray. You can use this spray on all quartz surfaces including Corian, Silestone, Cambria, Caesarstone and Zodiaq surfaces.

So no matter what countertops you choose they have a great cleaner for it!
Need some cute spice storage ideas for your farmhouse kitchen?
This is what I came up with when I saw this adorable spice rack stand here. Well it technically wasn't for spices. It was just a stand to use for anything. But I don't have a spice cabinet and really wanted them accessible on my counter. Cooking and baking daily I need everything at my fingertips. It needs to be cute though so this is what I came up with.
Then I found these small mason jar style spice jar containers that even came with the black labels and the white pen so you can label all of them.
Looking for a cute metal eat sign for kitchen decor??
We found our eat sign for the kitchen when we were shopping for our bedroom furniture
Here's another vintage EAT sign for the kitchen with metal letters
We had this farmhouse style table made because I just couldn't find anything that was quite right. f
I almost bought this kitchen table and bought white chairs like you see below which would've been a good option had I not found someone to build me a table.
I ordered these metal turquoise dining chairs here which work perfectly as an accent color and to brighten up the area.
You can find many other colors here of these farmhouse chairs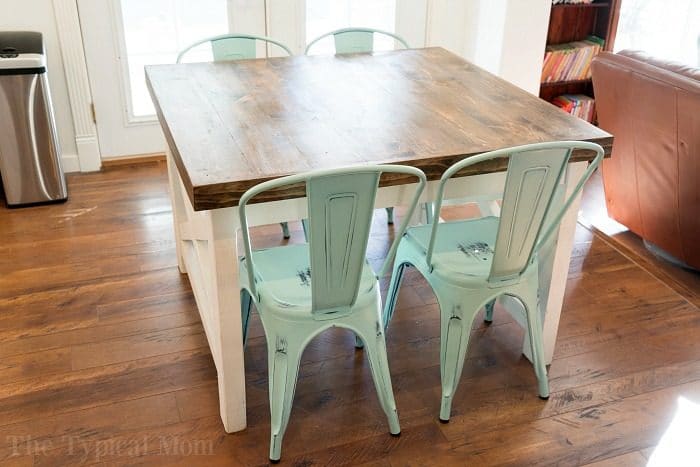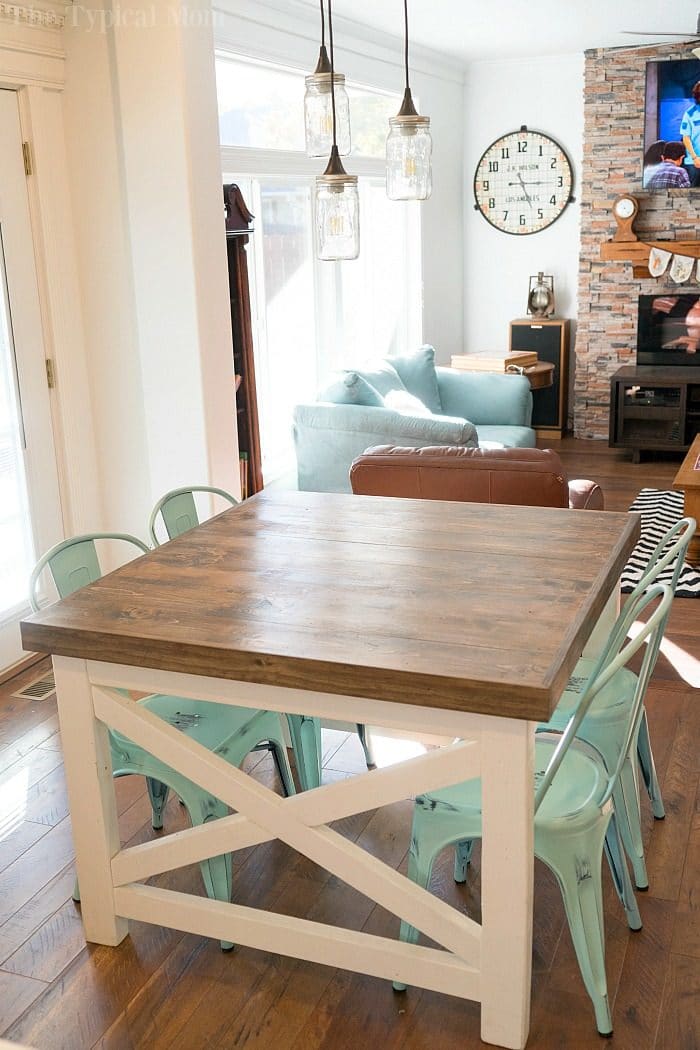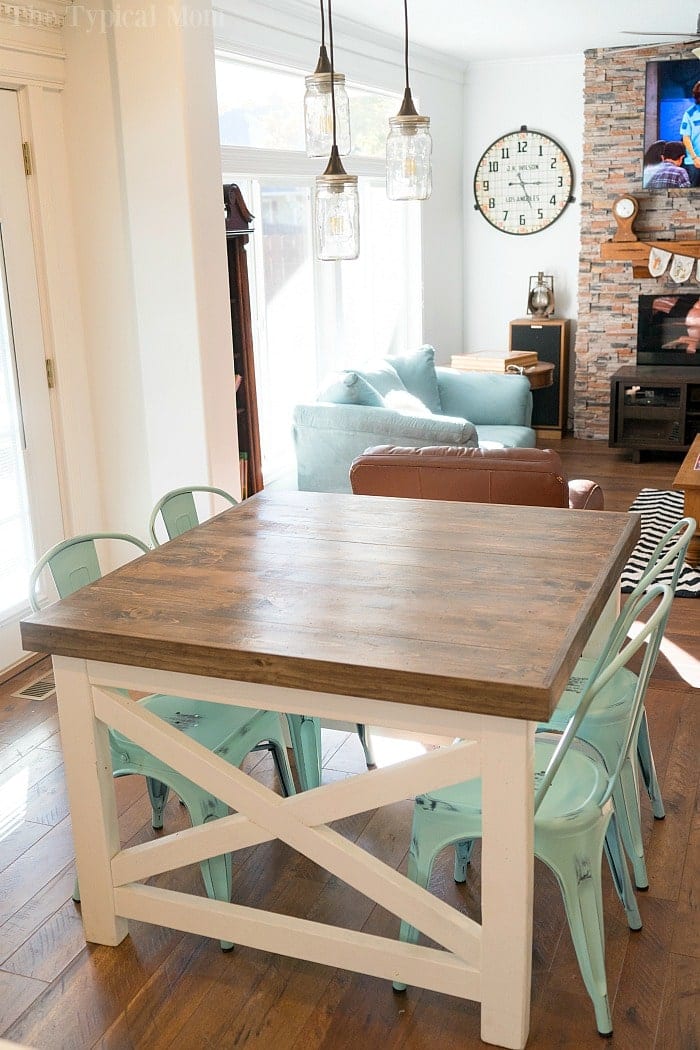 Now let's focus on kitchen lights, that was a BIG issue in our area because it was so dark!
If you have a larger area these are the cutest mason jar hanging lights. Our area was a bit small for those
For smaller areas you can use these mason jar lights. They're similar to what I have here. Purchase one string at a time depending on the area you have.
We had an electrician add a few more simple canned lights in the kitchen. Those really lightened up the area.
These mason jar sconces with lights inside are adorable too.
If you're going for the ultimate in mason jar decor these are a must. I cannot tell you the number of compliments I have gotten on these. Everyone loves them.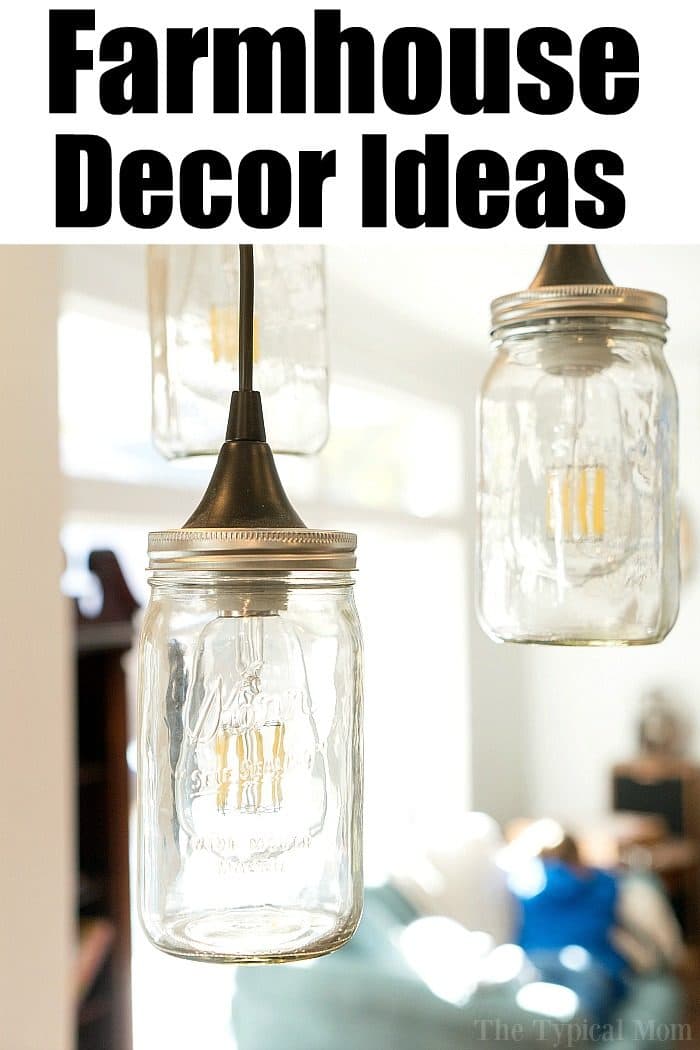 Mason Jar Lights
So in the end I am happier than ever in the transformation of my kitchen. It went from dark and sad to light and happy!
I'm serious when I say you should do anything and everything to make your home feel happy. It was amazing how different I felt after taking out all the dark colors in my living room and kitchen.
I am someone who is NOT indecisive. It may take me a while to choose something. But immediately when I see it and think "that is me", I am ready to change it. I did when I saw that penni tile backsplash.
It is definitely not for everyone but "polka dots are so me" and I just had to have them. Since I am a food blogger I spend a lot of time in the kitchen. It needs to make me feel happy since it is my sanctuary really.
Let's look at the difference of before and after. I will say these are cell phone photos and don't do my new kitchen justice. But at least you'll get the idea of brightening things up.
Ugggg it makes me so sad just looking at the top picture even now….I am so glad I finally jumped in and made it just how I envisioned it.
One thing I did not do was to change the cabinets from this vintage antique look to white.
I am pretty frugal. The changes we made already were rather costly. So I did everything I could, except for stripping the cabinets. I was told this would be about $2,500 to lighten things up. We may do that later.
That is kinda' how you have to look at it. If you want to remodel your kitchen on a budget, ask yourself:
What can I live with
Is this something that I MUST change
Does this kitchen make me feel happy (do more of that)
Which things can wait to change? Do it in stages when you have more money. Or have it done on off seasons when contractors are not as busy and may be a bit cheaper
And then move on to other areas. Like our new updated Farmhouse shiplap wall! This truly transformed the living room from dark to white and bright! Our Lorena Canals rug topped it off too.
I am sure we will change little things here and there. Who knows maybe one day we may have those cabinets changed. But for now it's much closer to my farmhouse kitchen and I love it.
I hope you enjoyed our roundup of farmhouse kitchen decor and got a few ideas for yourself.
For more easy recipes, tips and free printables please LIKE The Typical Mom on Facebook and follow me on Pinterest! You can also sign up for my free weekly newsletter which is packed with goodies I know you'll love. 😉