Thinking of creating a shiplap accent wall at your house? Let us share our before and after pictures of our living room, and what a difference it made!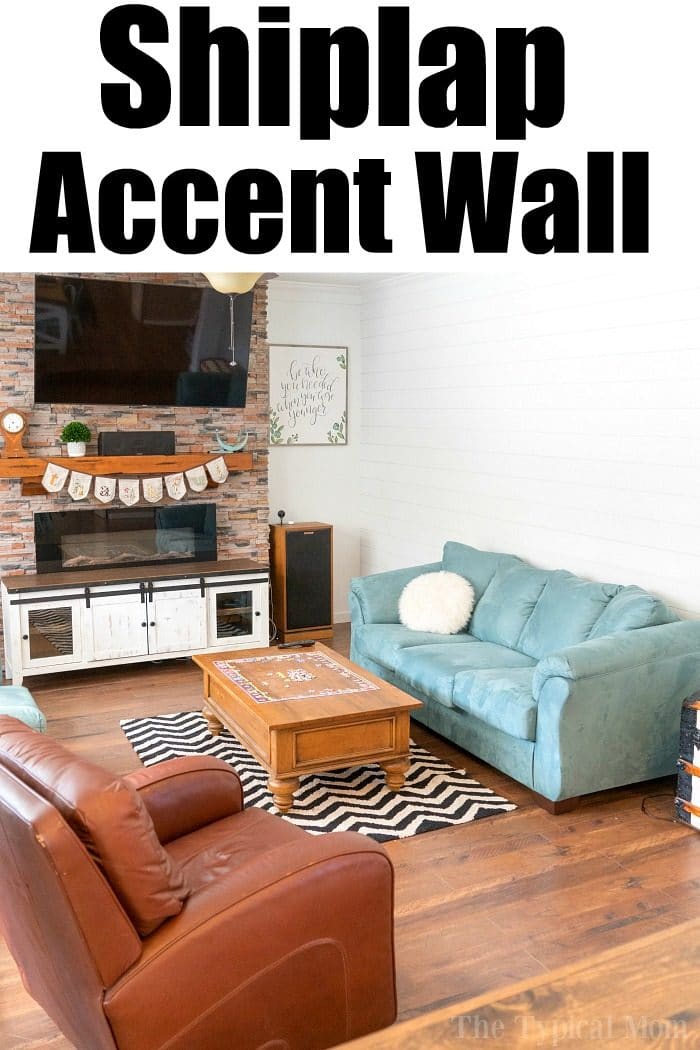 We moved this year into a house that was technically move in ready, but within the first year we wanted to make it our own with a renovated kitchen and this diy shiplap accent wall. It was such a transformation! (affiliate links present, originally published 12/18)
Can Shiplap be Used as an Accent Wall
For sure. We did it in our livingroom and it made such a wow feature that everyone loves. Last week we shared our kitchen renovation and Farmhouse kitchen decor photos last week, and now our shiplap wall is complete!
The only thing on order are our plantation shutters that will go on the large windows to the left but what a difference some paint and shiplap made in this room…..here are the before and after photos!
Uggggg……looking back on the before it still makes me so sad…….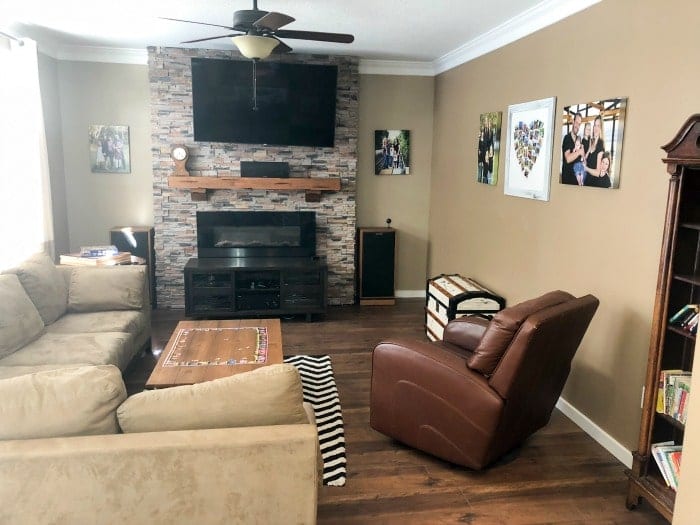 But the after just makes me smile!!
What a difference brightening up a room makes I tell you. It just makes me happy being in it now.
Yes we did replace the couches too to go along with the farmhouse look, and get rid of all that brown but the biggest difference is really the paint and shiplap….from brown brown everything to WHITE.
Here are a few cell phone photos of the progress…….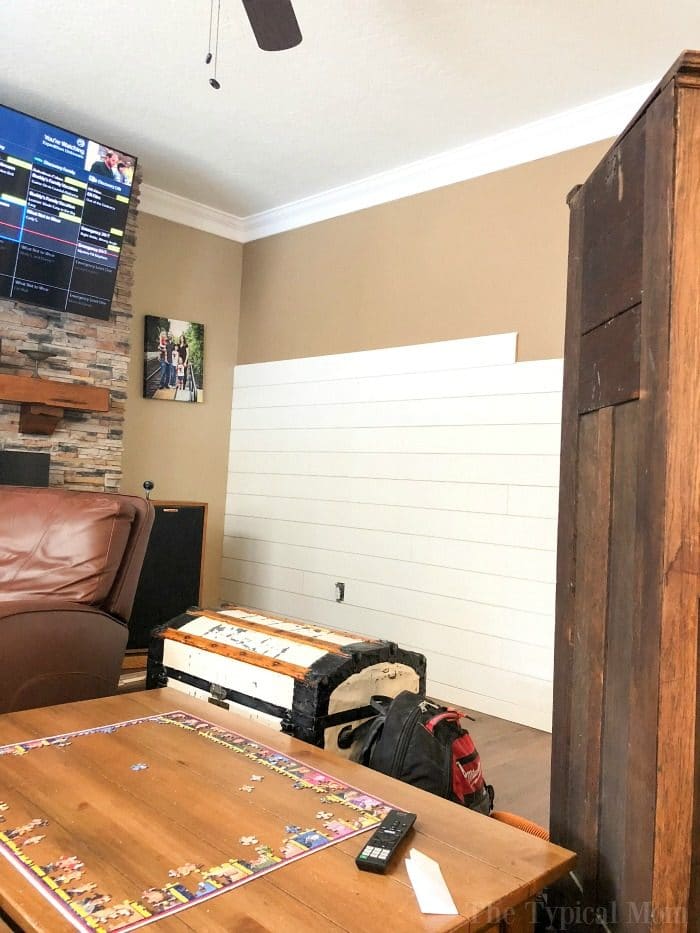 How to Install a Shiplap Accent Wall
We had this shiplap accent wall going on and the back patio was being replaced, and the entire kitchen was being renovated so needless to say a lot was going on.
We had someone come in and do this on our living room wall but if you're looking for how to install shiplap you can do it yourself too (my husband is learning himself now since now I am obsessed and have a few other walls in mind).
Here is our completed white shiplap accent wall all done!
I LOVE it!!
Shiplap accent wall living room
Instructions for how to install shiplap
MDF Shiplap boards – found at local hardware store, there's a variety of styles
Hammer
Stud Finder
Chalk Line
Pencil
Tape Measure
Circular Saw
Nailer with 16-gauge nails
Handheld vacuum

For easy cleanup – there will be a lot of dust and small particles to pick up throughout the process of hanging shiplap.
A variety of attachments to clean up behind your couches, under your tv stand, and then this attachment for cleaning the entire floor(s).
Cordless is the way to go when it comes to vacuums, get rid of your cords in 2019!!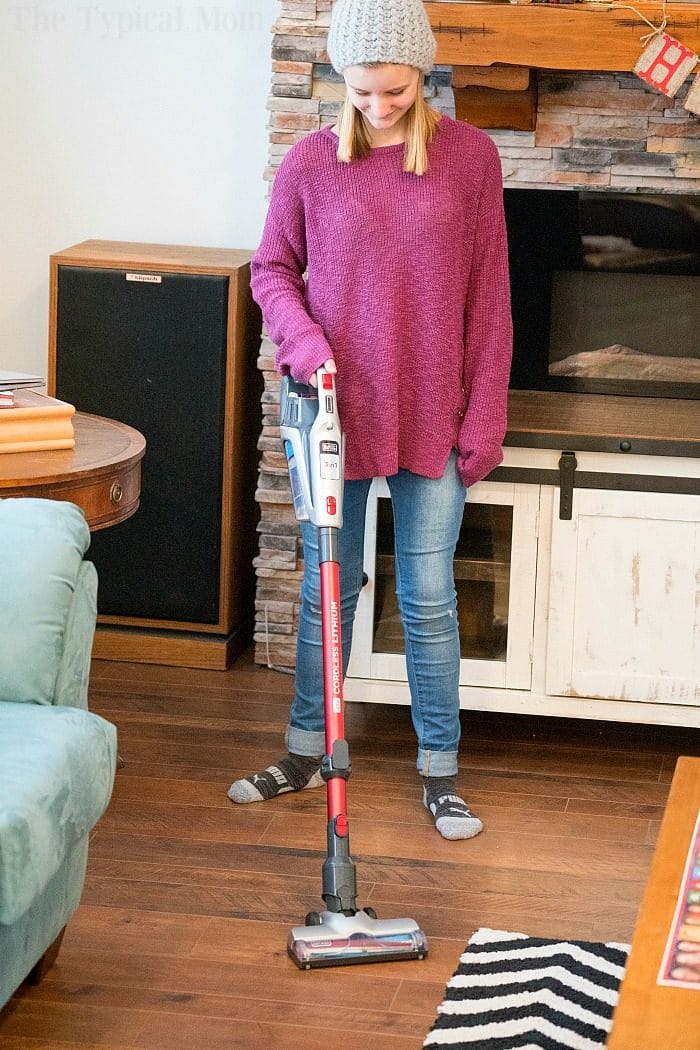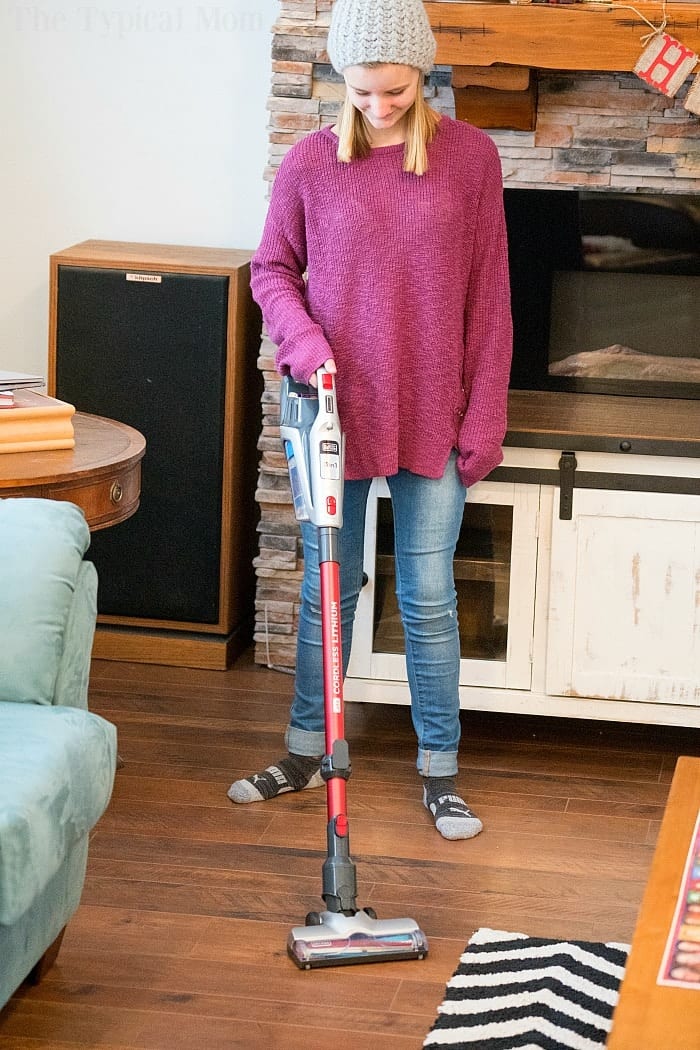 Shiplap Wall Horizontal
Other than this we painted all the walls white (which made a HUGE difference), replaced our couches, and got a new white farmhouse tv stand to brighten up the room a bit more too.
It was a big project but something we saved up for to make it our dream house.
I honestly knew it would look better but had NO idea it would be so dramatic, and make such a difference in the way I feel overall.
DIY Shiplap Accent Wall
Well….I do spend a lot of time in my kitchen since I am a food blogger, but most of us in general spend a lot of time in that room and I will tell you that if that room doesn't make you happy to be in it think about changing it. It's so worth it!
Even if all you can afford to do is change the paint, do it! It will bring a smile to your face to brighten up the walls I tell you.
Another thing I bought that I love looking at, this custom sign you see here below.
It is my favorite quote of all times and I always wanted it to be hung on my walls, you can have Averie Lane create a sign like this for you too with any quote you want and in any size.
I gave her this exact measurement, the quote I wanted, and even sent her a picture of my couch and clock so she could match the colors on the flowers etc…..
For more easy recipes, tips and free printables please LIKE The Typical Mom on Facebook and follow me on Pinterest! You can also sign up for my free weekly newsletter which is packed with goodies I know you'll love. 😉