Easy 4 ingredient guacamole recipe dip is here. Optional add ins such as diced onion or fruit with salsa and our secret ingredient. This is how to make guacamole with one avocado with just a few items and what you can add to make it loaded if you'd like. Like our popular avocado spread but chunkier!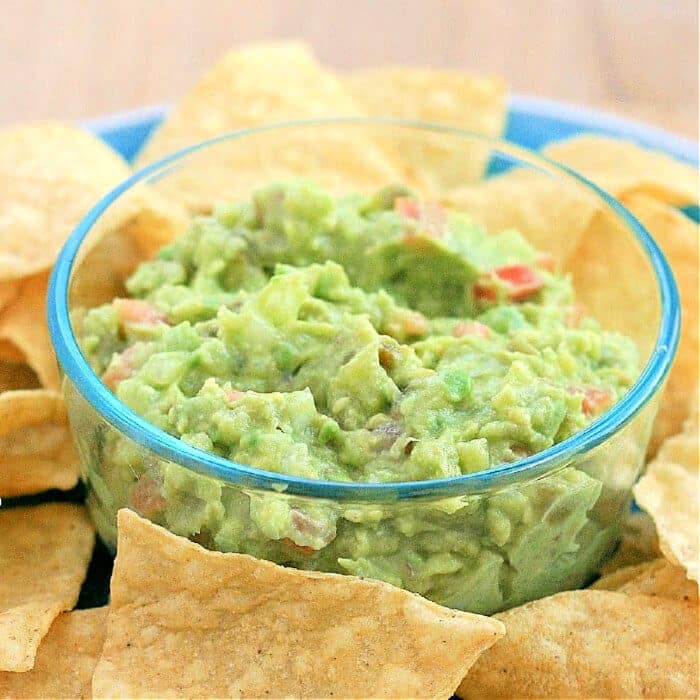 OK…I am in love with this 4 ingredient guacamole. Ok everything with avocado in it in general!! I could eat guacamole on just about everything, so let me tell you I have tinkered with my recipe for quite some time now and came up with a great base. Not only will you love it and think "why didn't I think of that", but when you make it for a get together people will rave over it and ask you for my, I mean your, recipe. 😉 (affiliate links present)
How to make Guacamole with one Avocado
The key to the deliciousness of an easy guacamole recipe is that you only need a few items but can be loaded beyond that! Our "plain" version we call avocado spread is amazing if you want to make a bunch of different ones. If you just wanted enough for one person, just cut this in 1/2 and go from there!
One thing we have done with the base is to add pineapple or apples. If you have never added a bit of into your guacamole dip it is fantastic and adds a bit of that yummy salty and sweet taste we all love. Beyond that there is a ton of ways to "tweak" it with things like hot sauce, jalapeno powder or chives. If you want to use just one just cut the below recipe in half, win!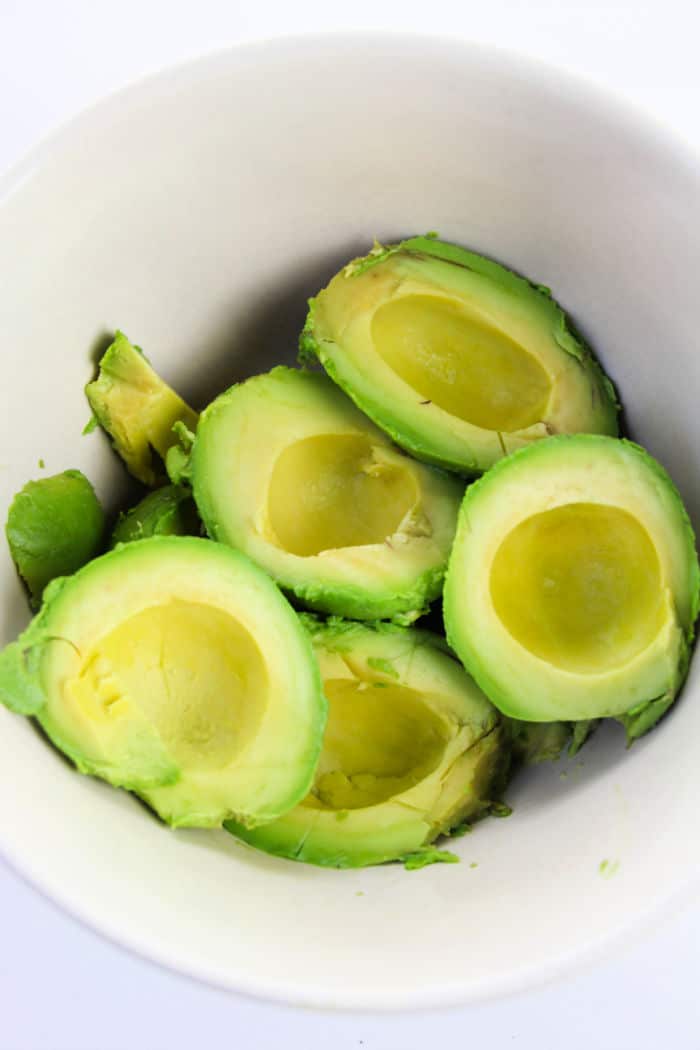 4-Ingredient Guacamole Recipe
The star of the show is of course this vegetable, I mean fruit, I mean…. well you can decide on that one. That's a debate I am not willing to waste time on other than they are one of my favorite foods. Even my girls are obsessed.
The Best Guacamole Recipe Without Tomatoes
It may be because we spent most of our lives in Southern California. Back in the day our area produced the most avocados of anywhere else. SO nevertheless we were used to getting them cheap and ripe year round. Now that we live in Idaho we aren't quite as lucky but I load up when they look decent at the store.
You only need a few ingredients to make this snack served with tortilla chips or on top of a burrito bowl. You can include tomatoes in your base recipe or leave them out depending on your preference. Here it goes…
How to Make Chipotle Guacamole
The recipe for number 1 above is a pineapple guacamole, that is right..adding crushed pineapple to the mix! The recipe for that is in the recipe box below. You need:
If you want it spicy add a bit of Tobasco or dry Sriracha – Start small, mix, taste, and adjust again. Totally optional!
2 insides of avocado flesh, slightly soft but not mushy or hard
Diced onion
1/3 c. salsa, medium heat is great if you want to thin it out since it has some liquid to it
1/2 green apple, diced is another option to add some chunks and sweetness
This is how to cook tomatillos if you want to dice some of those and throw them in too
How to Make Guacamole Salsa
If you want to combine your two favorite flavors, follow our pico de gallo salsa recipe, then make this, and combine the two together.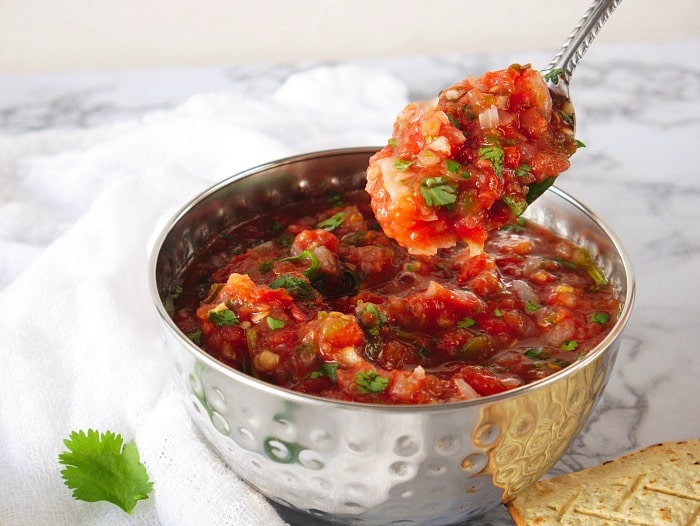 How to Make Guacamole Step by Step
The base is to just mash the main ingredient in the bowl but leave some chunks. Add lime juice for a bit of citrus and to keep it from browning too. Incorporate some onion and salt, then you can go beyond that with other diced ingredients which we will talk about below.
Scoop out ripe Hass avocados into a bowl, and remove the pit, you could double this recipe. Use fork to mash but leave some chunks. I think a potato masher makes it too smooth for me.
Finely dice up 1/4 onion, you can add more if you are a real onion lover.
Add fresh lime juice garlic and salt is great too. Garlic minced is of course optional.
Mix in 1/3 c. salsa, add more if you like your guacamole thinner, and then finely dice up your jalapeno if you want it spicy.
Add about 1/4 tsp or so of seasoned or regular salt, we like seasoned salt, at the end to taste. SO good.
I like to refrigerate my homemade guacamole with plastic wrap on the top for an hour or so to get it cold but eating at room temperature is fabulous too. the lime will keep it from turning brown and add a bit of a zing.
Best Ever Guacamole
Of course you can adjust to your preference but the main ingredients for pineapple guacamole are as follows in the recipe, and print out if you'd rather. Serving this over hamburgers? Serve our pickled cabbage if you are, great duo. Jump to recipe and then try a few others we love…..
This recipe is perfect for a dip bar, and here are a few others you could include in that:
Want to see a few of my favorite things that I am totally obsessed with?? Take a peek and see how many you might already have…twinsies!
Looking for more easy family recipes and tips? LIKE The Typical Mom Facebook page?
Then sign up for my free newsletter, and follow me on Pinterest! 😉
***** If you LOVED this recipe give it 5 Stars below and let everyone know what you thought about it. 😉
4 Ingredient Guacamole Recipe
Easy 4 ingredient guacamole recipe dips are here. You can then add diced onion, salsa and a secret ingredient to make it totally fabulous with even fruit!
Instructions
Mash avocados and squeeze juice of lime inside. Mix together

Dice and diced red onions and salt (could add a sprinkle of red pepper flakes or cayenne for heat).
Nutrition Facts
4 Ingredient Guacamole Recipe
Amount Per Serving (2 oz)
Calories 165
Calories from Fat 135
% Daily Value*
Fat 15g23%
Sodium 589mg26%
Potassium 504mg14%
Carbohydrates 10g3%
Protein 2g4%
Vitamin A 151IU3%
Vitamin C 13mg16%
Calcium 15mg2%
Iron 1mg6%
* Percent Daily Values are based on a 2000 calorie diet.