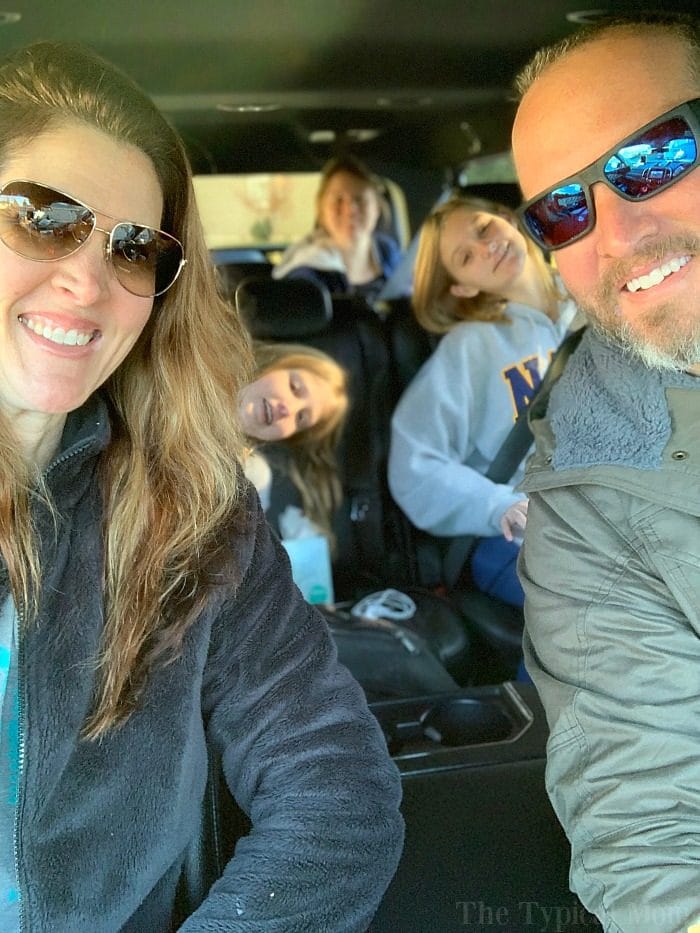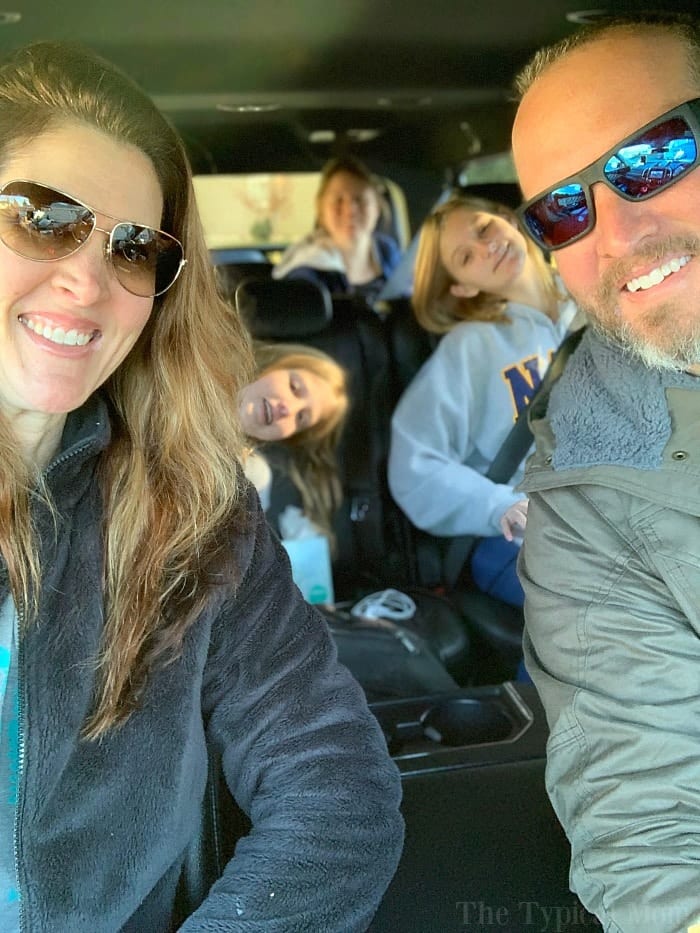 We headed on yet another road trip this Thanksgiving break! This time we planned on visiting Grandma who lives just outside of Lake Tahoe. We wanted to pamper ourselves a bit and explore Nevada too before we got there. We stayed at this Reno lodging location called Peppermill Resort and Spa, let us show you around! Sponsored stay.
Peppermill Reno
This is what it looks like when you first pull up!! I didn't know Biscotti's was the name of a great place to eat inside, but we figured that out a bit later.
Below that is a picture of the drop off/valet area. I had to take a photo because it was just so pretty during the day. It lit up at night it was really something to look up at. By the way, valet was free which I love!!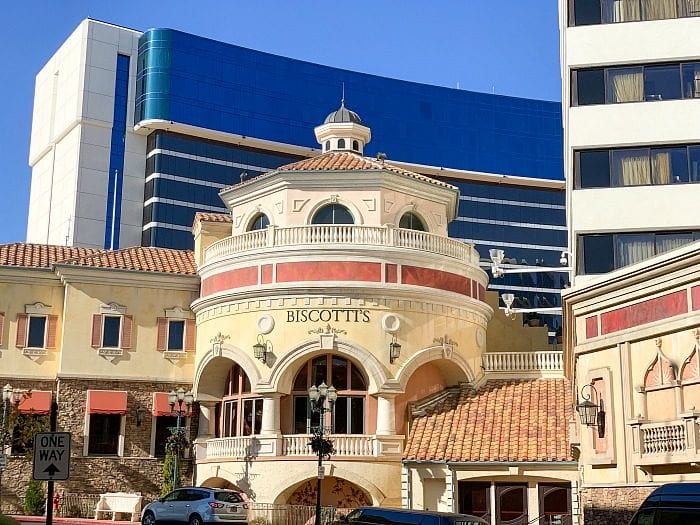 Does the Peppermill Still have a Buffet?
When we were there there was. We did check it out and it looked fabulous but we wanted to eat at the sushi restaurant there more so that is what we chose. It is incredible and if you don't eat a ton it would be about the same price quite honestly.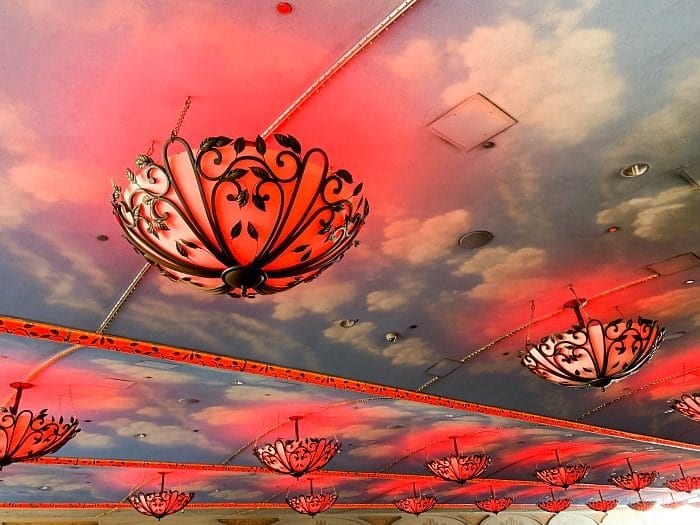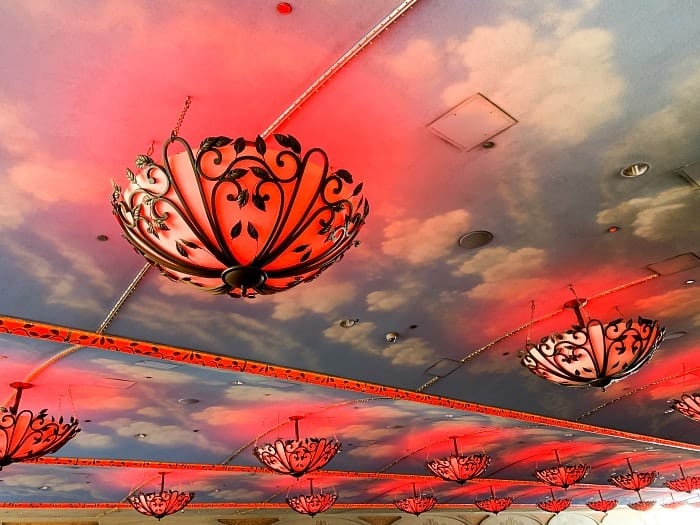 Peppermill Reno Spa
Peppermill Resort and Spa is a Reno lodging location which is about 30 minutes or so from Lake Tahoe, depending on what side of the lake you decide to visit that is.
We spent the first day just hanging out inside, eating at Oceano which had AMAZING sushi. Everyone could have their favorite one (yes, my girls absolutely love sushi).
Of course there are many different restaurants at Peppermill to choose from. Sushi is always at the top of all our lists if it's available.
Once we entered our rooms we were pleasantly surprised at their size. The beds were comfortable with amazing views, and the HUGE bathrooms with a television facing the tub. UMMmmmm that is my kinda' relaxation I tell you.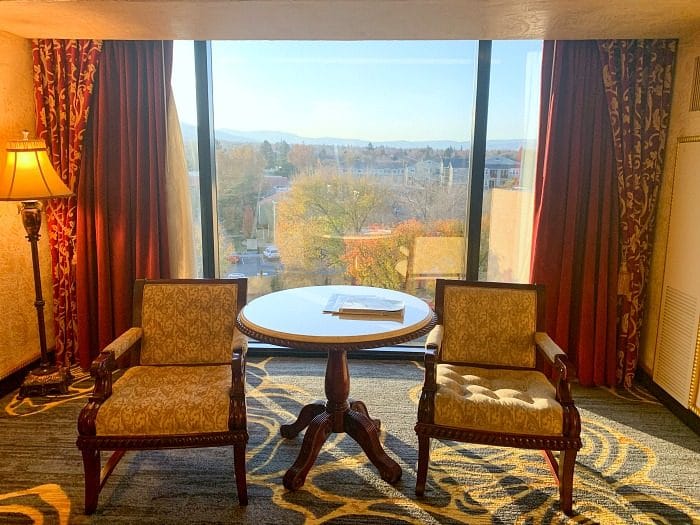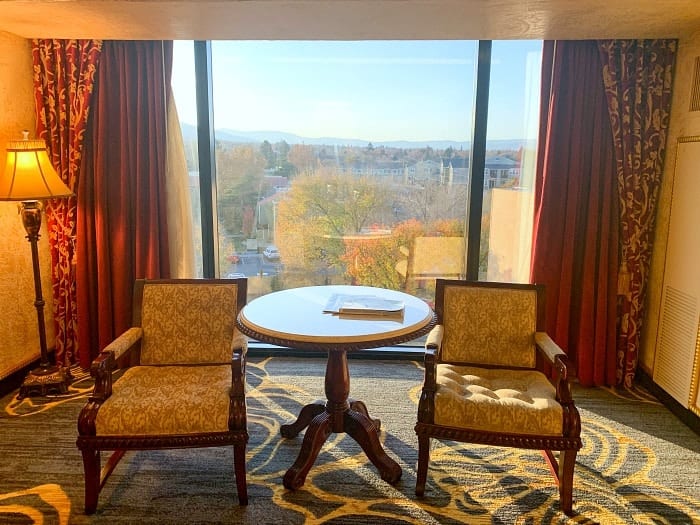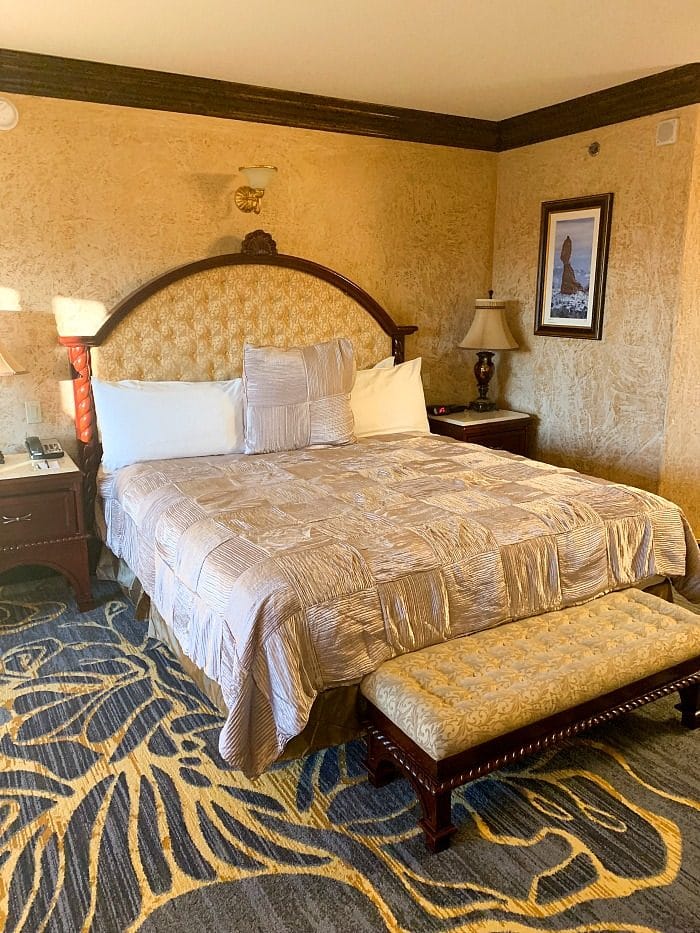 We have 3 girls which means 1 room typically isn't super comfortable. Since someone has to sleep on a rollaway or pull out couch this time we got 2 rooms. They were somewhat attached, but separate at the same time. I liked the way they had that option set up.
Here's how it worked:
1 door led into 2 doors with separate rooms
One room had 2 queen beds, bathroom, tv. etc…
Another had 1 king bed, bathroom, tv. etc….
Each of those rooms had locking doors and were not connected by a door
The outside door, outside of the 2 room doors locked automatically like a normal hotel room door would
Lodging in Reno
You have the security of knowing nobody can enter the area where both of your rooms are located (must use one of the 2 hotel room keys)
If you're using it as a family you can have the outside door locked, yet leave your room doors ajar in order for children to come in and out of your room
I mention this because we have stayed in MANY hotels and have never seen it set up this way. Normally adjoining rooms are just next to one another with a door to the outside hallway.
There is a door connecting the two that can be locked or left open. We enjoyed this room arrangement for the 5 of us.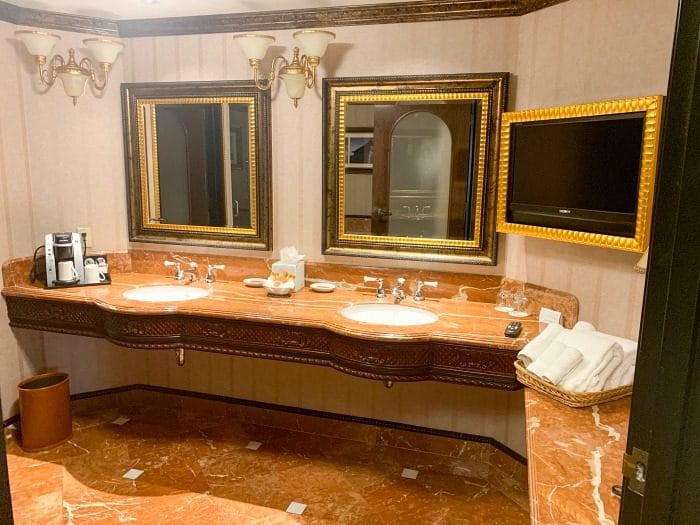 Peppermill Reno Review
Yes, I do appreciate a really roomy bathroom. I am sure I'm not the only one. A really large walk in shower with TWO shower heads was in our room which was great. Lots of room for the both of us to get ready in the morning and evening with a hair dryer available for me.
The next day we headed out to do a bit of site seeing and went to the Riverwalk in Reno first to spend some time. This is the view once we found some parking! It was an amazing day with plenty of paths to walk down and explore and take pictures.
We rented a Lime Bike (if you download the app, use code R3N3F5X to get $3 credit) around the spot you see here which was a fun new experience too. The girls, and my husband, took turns riding it around and it only cost us about $4 for the entire time we had it.
If you've never done it before it is kinda' neat to try. (note, you can only rent/borrow 1 bike per phone/app download – I say this because I planned on getting 1 for each girl to ride around with but could only get 1 to share).
Then we went to South Lake Tahoe on the way to Grandma's house to check it out and it was pretty gorgeous. Cold, yes, but it's late November so that was to be expected. I can see how it would be a destination spot for the summertime for sure but still fun during the colder months.
The road is 2 lanes typically and windy (take some dramamine) lined with trees and on the way we stopped in Truckee also because we always wanted to check out that area. Such a cute town for sure!!
We didn't stay there but it would be a really cute town to stay in year round really with super cute boutique style shops lining the main road and cabins up on the hills.
If you travel and are looking for Reno lodging and where to stay, what to do in the Lake Tahoe area I would highly recommend the Peppermill Resort and Spa and few places we visited. Had we stayed a bit longer we would have explored the other side of Tahoe as well.
If you're traveling further West here's a post on places to go in Southern California as well as things to do in Yosemite with Kids.
If you aren't road tripping with your kids I highly recommend it! It has changed our family for the better.
I cannot imagine not having the memories we've made while on the long list of trips we've taken around the U.S. thus far. We continue to add to them on our road trip blog all year long.
What other things to do in Lake Tahoe or Reno have you done that your family enjoyed??
Want to see a few of my favorite things that I am totally obsessed with?? Take a peek and see how many you might already have…twinsies!
Looking for more easy family recipes and tips? LIKE The Typical Mom Facebook page?
Then sign up for my free newsletter, and follow me on Pinterest! 😉
***** If you LOVED this recipe give it 5 Stars below and let everyone know what you thought about it. 😉