Here are 10 indoor exercises for kids inspired By Nike PLAYlist. Fun homeschool exercises for kids at home they can do for PE, or together as a family to stay in shape. Requires NO expensive exercise equipment so anyone can participate.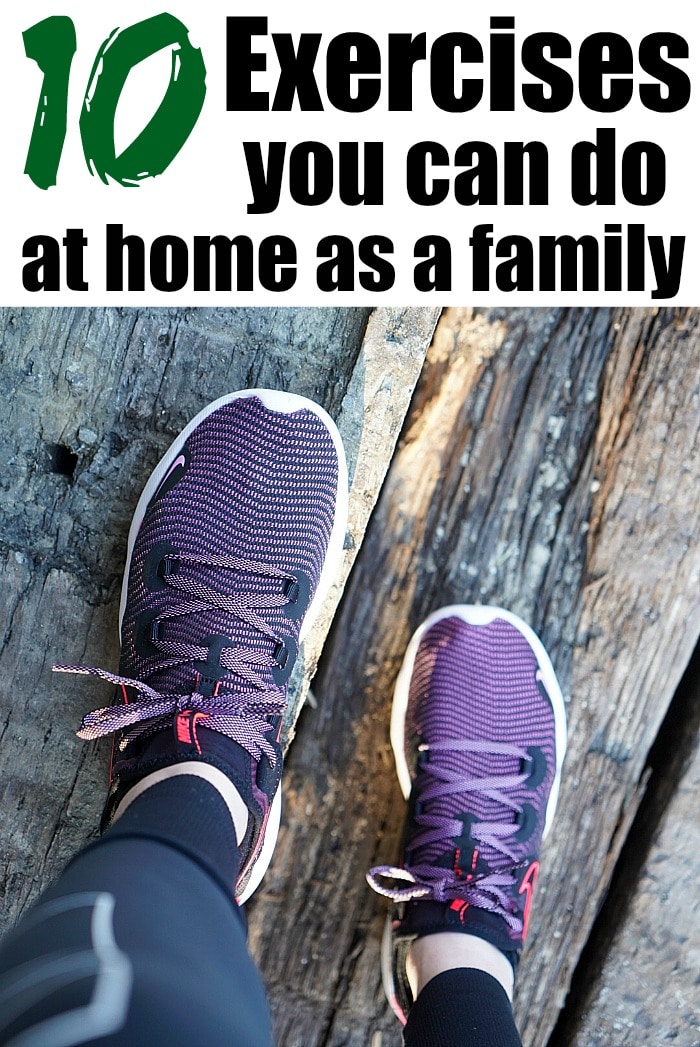 I'm a mother to 3 girls so Back to School has been an exciting time for everybody for years now. One is in college and my younger two are in homeschool middle school.
Indoor Exercises for Kids
I think we all need some ideas for activities to keep the kids active, especially if you're homeschooling and physical education is now your responsibility. I've partnered with Nike to share some resources and easy ideas for you. (sponsored)
NIKE has worked to provide parents more resources to keep their kids moving and entertained during stay at home measures and as we head into the cooler seasons. Nike PLAYlist is a place where kids can find fun ways to work out, be active, and have fun through exercising.
I've provided a bunch of ideas along with some PLAYList activities you can use to fulfill the PE requirement for the year. Get ready to integrate some fun ideas into your home with these play ready clothes!
The best kind of exercise if you ask me is one you don't see as work.
Kids are NO different, they want fun…all the time!
There's no reason why working out shouldn't fall into that category. There's so much you can do in your living room and especially outside!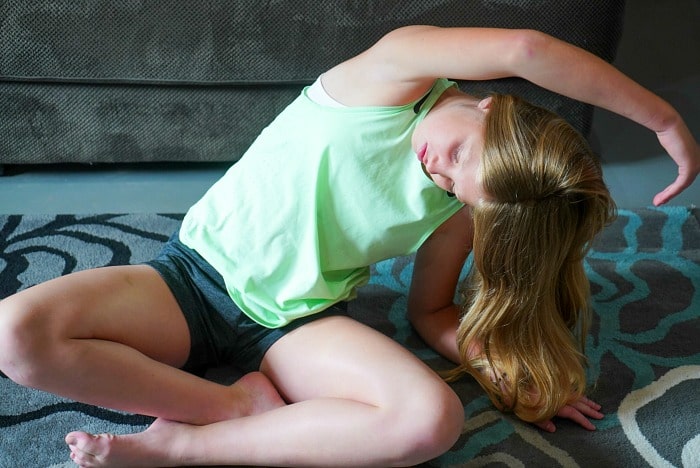 Homeschool PE Ideas
We live in an area that does snow (quite a bit) so it's always helpful to have some indoor activities that integrate the idea of play, fun, and the joy of movement too! Here are a few of their favorites:
Dancing is a great way to get your children up and active while having fun throughout the entire time! If your children love to dance along with others, here is a fun Nike PLAYlist idea from the series to integrate into your life. In this video the siblings found a really fun way to warm up/work out together.
Stretching should always be integrated before or after you work out. Young or old, it is always important to get those muscles ready to work out a bit (or a lot). Here are a few easy ones you can do together:
Sit down with straight legs and try to touch your toes.
Then cross legs "criss cross applesauce". Lean your elbow on the floor and "do a rainbow" over your head like you see here below to stretch. Switch arms and do the same on the other side.
Now get up on one knee and bend your knee. (seen below) Lift the other leg up and hold it there. Switch sides so both legs are loosened.
If you're really into stretching, we got some fun Yoga ideas for you too. For a fun "rock paper scissors yoga" idea, watch this Nike PLAYlist video with your Kids!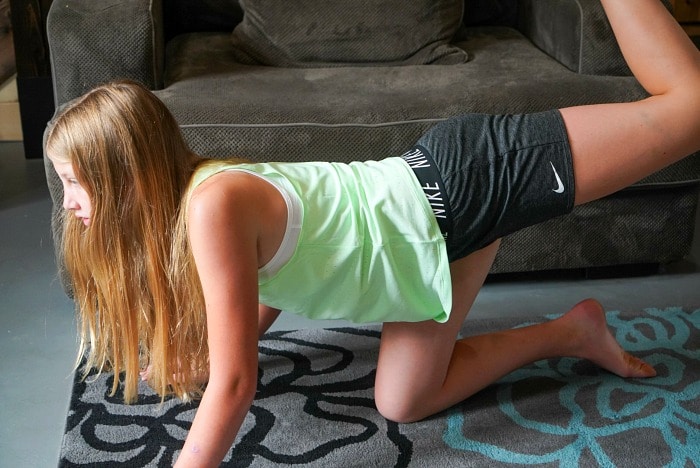 Here are some more activities we came up with;
Fun Exercises for Kids
The Sock Flinger Nike PLAYlist challenge is a game where you can score some points by shooting socks into a bin using stretch bands. It's a great way to challenge your kids while playing a game! Now that you've seen how we can make a game out of anything, try this with your family:

Use napkins to create a hopscotch game in your kitchen or living room.
Get out a long piece of rope and make a jump rope out of it. Challenge each other to see how many each person can do in one minute.
Repurpose shipping boxes into goals by turning them on their sides. Use a balloon or round stuffed animal for an indoor soccer game.

Fill their new Back to School backpack with books and do squats!

Strengthen those leg muscles in a fun way.
All ages can do this + make it a competition to see who can do the most! Set goals and increase the number week after week.
Hold weights and create a whole new way to exercise at home.

Flip the heavy backpack around, have them grasp the shoulder straps with their hands and pull up.

This is an easy way to work those biceps!
Increase the number of books inside for more weight and more reps over time.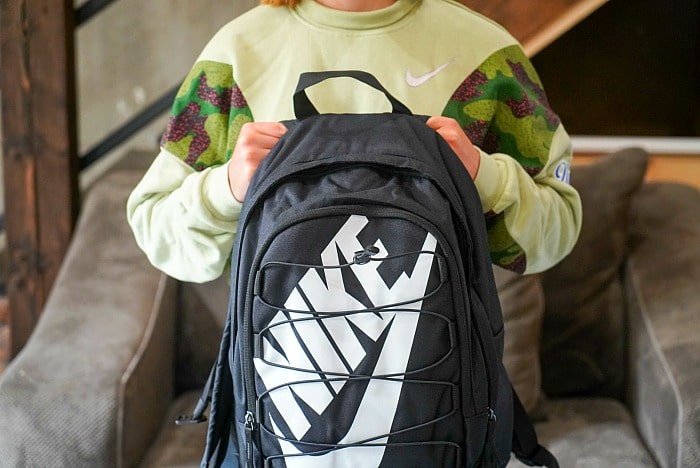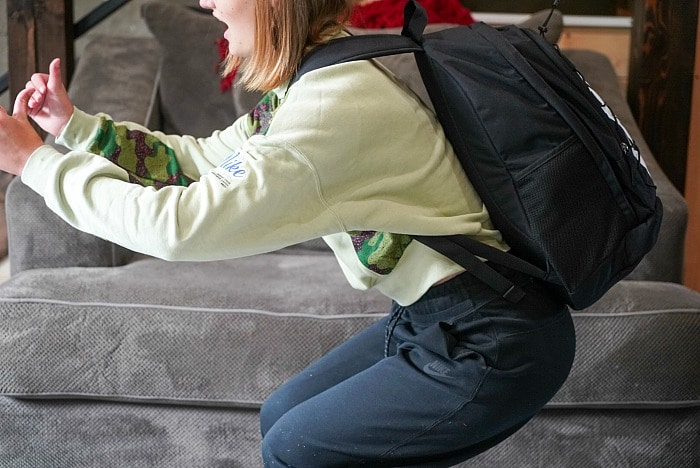 Physical Activity at Home for Students
Have great weather?? Let's head into your backyard for some more ways to move and groove in a fun way together!
Here's an outdoor activity that can be turned into a game. Work those quads by squatting down and not letting that soccer ball fall between you is a favorite around here.
There's always a lot of laughter when they challenge each other to this "game".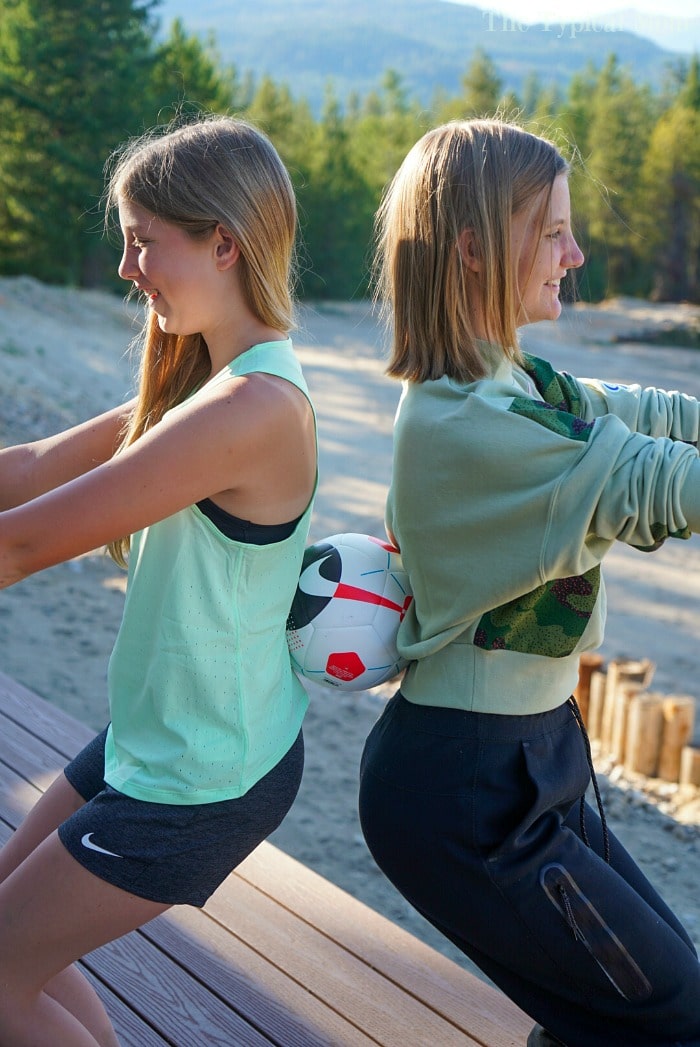 PE Activities for Homeschool Students
Of course if it's gloomy outside you can do this exercise inside as well. In addition to that, the Nike PLAYlist has some great indoor ball activities to support your family fun time too.
Check out this Nike PLAYlist segment where guest athletes on The Replay segments show you how to get creative with this ball exercise that you can try inside!
Don't put that ball away though because while your kids are in their workout clothes they can practice a bit of balancing too! Everyone needs to strengthen those core muscles.

Have them sit on it and lift their feet off the ground now. They can improve balance that way too. Get ready for the giggles when they try for the first time. 😉

If we want to make this a more challenging experience, here is another fun PLAYlist activity on how you can get creative with balancing and even play a game of tic tac toe with it!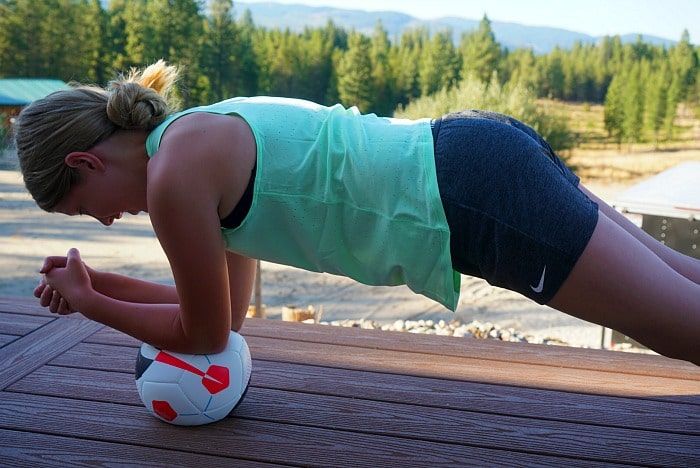 Homeschool exercises for kids
While you still have that ball, you can have your family practice passing and dribbling the ball to one another! To make this more challenging you can incorporate this simple Nike PLAYlist SportsLab Dribble Scotch game into the mix.

This is a great family activity you can do together for sure. Mom and Dad, you're not too old to make these kinds of memories with your kiddos.

Grab some new shoes for yourself (you deserve some) and get ready to have some FUN together this year.

Use your backyard, a large open field at a local park, or try it on the sand on the beach if you live near the coast.
It's almost the end of the year, so we still have time to fulfill those New Year's resolutions you had to get in shape right? Why not? Even if you haven't started, this is time you can spend with your kids that they'll appreciate. You can start anywhere even with a simple bike ride as a family!

Another thing is to integrate their chores. If trash is their responsibility then have them do lunges when taking out the orange Hefty EnergyBag to the cans. Bike riding is probably my girls' favorite activity to do that really gets their heart rate up too.
If you live on a cul de sac or have a large yard they can ride "off road" and you're set!

Live in an apartment or condo? Google bike trails in _______ and see what comes up, I bet there are a lot!
We did that and found a local pump track we now visit weekly, that was a score!

Set up an obstacle course for them to ride through for another activity.
If they love this, create a new one they can run or skip through too! Do it multiple times with something new involved like holding their arms straight in the air. This will incorporate their upper bodies too.
When it comes to that, there is a ton you can do once you have a great pair of running shoes on your feet!
Stretching inside or out is great to do on a daily basis
Jogging in place
Jumping rope
Lots of jumping jacks will get your heart rate up no matter how old you are
How to Make Running Fun
We know that every kid likes to run but let's help them get more creative with this activity! Check out this Nike PLAYlist Shake Up activity where these siblings used their imaginations to run indoors that maybe your kids would enjoy!
But also don't forget these other ideas that you can do with your kids to get them running too:
Sing while you're jogging
Listen to music with earbuds
Run with a friend and talk
Make an obstacle course to run through
Time yourself and make it a competition with friends or family members
Starting it all with a new set of kicks during Back to School is always a great way to begin of course and make your kids excited. They're not the only ones who are getting into more physical education at home this year though.
I desperately needed new NIKE shoes too in order to light a fire under me and jumpstart my motivation to do more physical activities this year. What is your favorite backyard and/or homeschool physical education activity?