Disneyland discount tickets, where to eat, and what to pack are just a few of your Disneyland tips we have for you today from a family who visits often!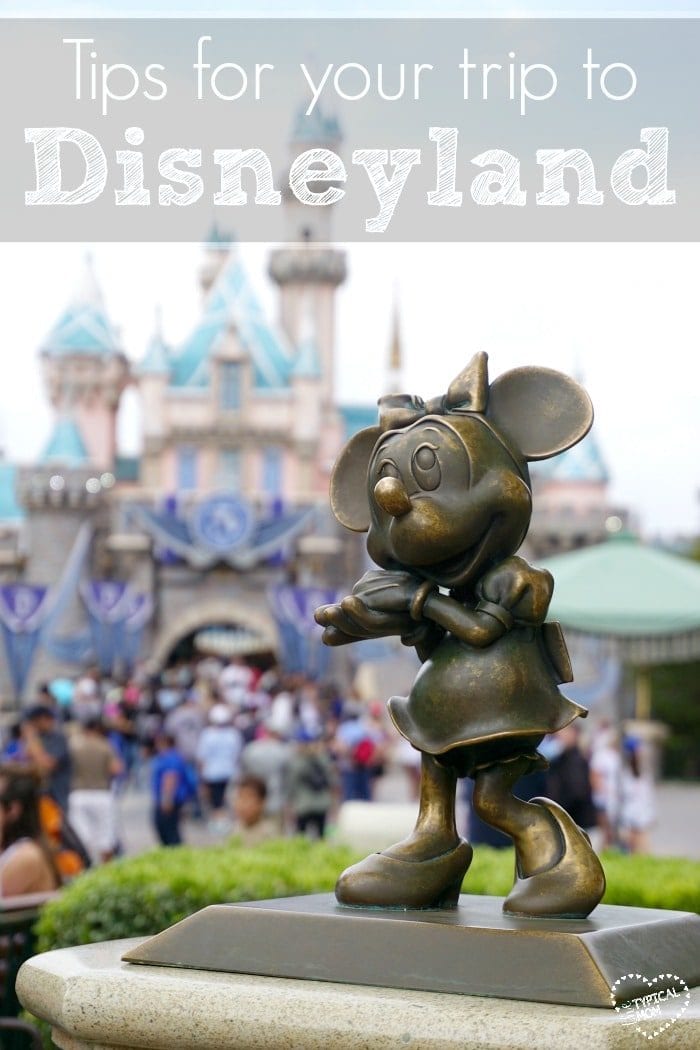 If you are planning a trip to Disneyland let us share a few useful Disneyland tips that has made our day as a family even more magical there. If you've never been to this California amusement park you may need a bit more help than a regular goer and we have lots of tips and tricks on our site to help you! Special thanks goes out to Disneyland Theme Park for sponsoring our visit there so we could share our ideas with you. 😉 (referral links present, originally published 5/16)
How do I get the Most out of Disneyland
I'm a mother to 3 girls and I've lived in Southern California almost my whole life. I remember trips I took to Disneyland as a child, and boy how it's changed since then! While the park has expanded into California Adventure and offering newer rides some things remain the same.
You will most likely see smiles on everyone's faces and people watching is one of my favorite things to do. Yes you will encounter lines but over the years and our many Disneyland trips we have it down pat now as to what we bring. There is a reason for every single item.
Let us share a few of our most helpful Disneyland tips for families with you so your day will be even more magical!!
Disneyland Tips
Buy Disneyland tickets at a discount

– If you are planning WAY in advance you can follow my tips and tricks on how to get into Disneyland for free but that does take a little bit of time.
Either way do NOT pay full price at the ticket booth, there's just no reason for that!
No there aren't a lot of deals out there but you can always find cheap Disneyland tickets here!
Fuel yourself and your children before entering the park

– Nobody is in a good mood and ready for hours and hours of walking if your body isn't fueled up.

If you're driving in pack some sandwiches and drinks so that after you park and JUST before you enter the magical gates your tummies are full and you're hydrated.
You really can eat for free at Disneyland which we've done time and time again. 😉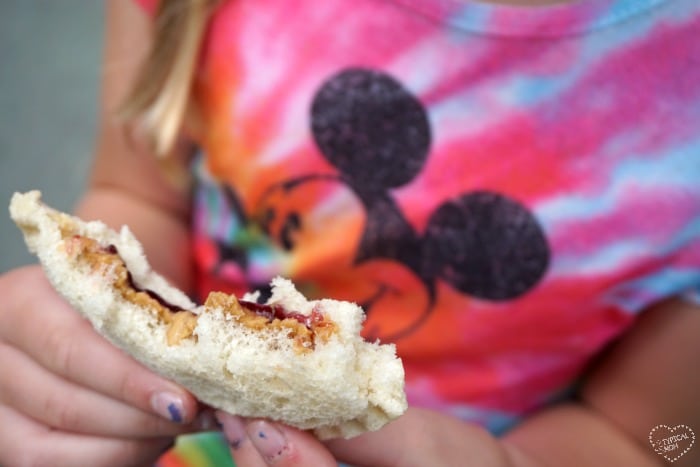 What should you not forget at Disneyland
Give your child a map

– When you enter the park there are maps of the park as well as an event schedule. They'll tell you the time and location of the electrical parades, fireworks and more.
Take a Disneyland map for yourself. Let them have one to carry around too so they can see what's around them and where they might like to go next. If nothing else it's a free piece of entertainment while they're waiting in line.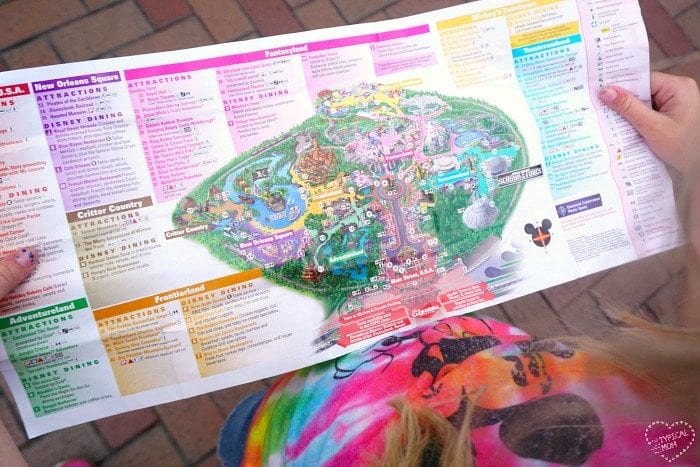 Tips for Visiting Disneyland
Have them carry their own backpack – Yes you need one with the majority of items in it but even if they're little. Beyond 6 or so it's nice for them to have a bag with their own water bottle, map and maybe a snack inside.
It helps you so you aren't getting their water out and putting it in 10 times a day and giving them a bit of control makes them happier.

Bring sunglasses and a hat for everyone

– Even on overcast days everyone is more comfortable with their own pair of sunglasses. We found these at the dollar store and bought a few pair so I didn't care if they got lost or broken. A hat that shades their face is a must too.

Wear sunscreen

– Make sure you lather up before entering the park and get under those short sleeves so you don't miss any little areas (like where the top of their sock hits their ankle).

There is nothing worse than a really bad sunburn the next day (don't forget on top of your ears especially if you're wearing hats).
Hang one of these small containers off their backpack so everyone has some and they can reapply throughout the day.
Bring a notebook & pen or buy an autograph book – It is nice to have an activity to do outside of riding rides all day long. When you need a bit of a break go looking for Disney characters. During our last visit my kids took pictures and got autographs from 6 different characters. There was never longer than a 5 min. line to do so. This is a free activity at Disneyland too so you can't beat that!
You can buy them beforehand here which is cheaper than in the park and you won't have to stand in line or try to find one either!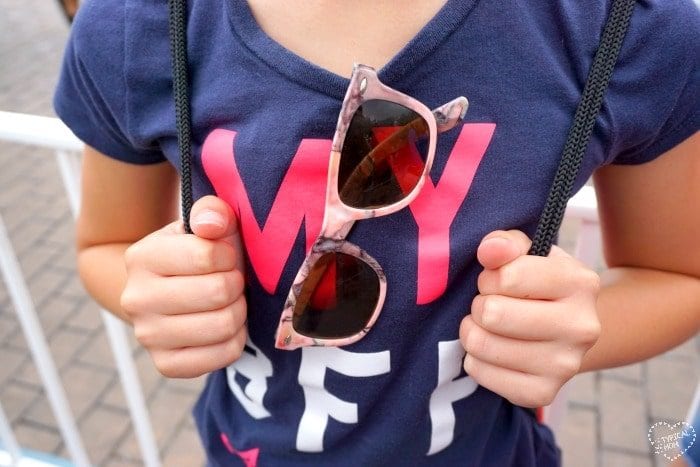 Disneyland Park, where dreams come true and cherished tales come alive. Nestled in the heart of Southern California, this iconic destination is a haven for Disney lovers of all ages. From thrilling attractions to delightful dining experiences.
Disneyland with Kids
This Anaheim amusement park offers a plethora of treasures waiting to be explored too. To make the most of your visit, we present a guide infused with the spirit of the "Tale of the Lion King," providing you with essential tips for an unforgettable adventure.
Before setting off on your journey to Disneyland, make sure to secure your reservations up to 60 days in advance. This will ensure that you can enter the park on your desired day and avoid any disappointments. With the ever-growing popularity of Disneyland, advanced planning is key to a smooth and enjoyable experience.
Hunger may strike during your exploration of the park, but fret not! Disneyland offers the convenience of mobile ordering, allowing you to skip the queues and save precious time. Utilize this feature to savor a refreshing Dole Whip or any other delectable treat available at various food kiosks throughout the park.
The cast members at Disneyland are the true heroes of the park, ensuring your visit is as enchanting as possible. Don't hesitate to approach them for assistance, be it for directions or recommendations. They are there to enhance your experience and help you create lifelong memories.
The early bird catches the worm, and at Disneyland, it means seizing the opportunity to enjoy shorter lines and less crowded attractions. Arrive at least 30 minutes before the park opens to beat the rush and relish the first rays of sunshine as they grace this magical realm.
One of Disneyland's most beloved attractions, Pirates of the Caribbean, immerses you in a swashbuckling adventure. Join Captain Jack Sparrow and his crew as you set sail through a world of hidden treasure, mesmerizing animatronics, and unforgettable music. This classic ride is a must-visit for all aspiring pirates.
Treat yourself to an exquisite dining experience at the Blue Bayou restaurant, nestled within the iconic Pirates of the Caribbean ride. Enjoy delectable Cajun and Creole cuisine while basking in the atmospheric ambiance of this New Orleans-style eatery. The twinkling fireflies and gentle sounds of crickets make it a truly enchanting spot.
When night falls at Disneyland, the magic continues with the spectacular "World of Color" show. Located at Disney California Adventure Park, this breathtaking water and light extravaganza transports you into a realm of Disney's most iconic characters. Arrive early to secure a good viewing spot and be prepared to be dazzled.
Get ready for an immersive journey into the cartoon world with Mickey and Minnie's Runaway Railway. This whimsical and interactive dark ride is filled with surprises and showcases the timeless charm of Disney's most beloved characters. Join Mickey and Minnie on an unforgettable adventure that will leave you with a smile on your face.
To maximize your time and ensure you don't miss out on any magical experiences, utilize the Disney Genie app. This innovative tool helps you plan your day, offering personalized recommendations, attraction wait times, and even the option to make dining reservations. Let the Disney Genie be your guide and make the most of every moment.
Rise with the Resistance is a newer attraction that adults and kids both love. A must see so plan your day around it as it gets packed early in the day.
Brace yourself for an epic battle against the dark side in "Star Wars: Rise of the Resistance." This groundbreaking attraction transports you into the heart of the Star Wars universe, where you become part of the resistance against the First Order.

FastPasses for this highly sought after experience are limited, so plan ahead and secure your spot early to avoid long lines.
As you bid farewell to Disneyland, take a moment to reflect on the timeless tale of the Lion King. Just like Simba's journey from uncertainty to self-discovery, your visit to Disneyland is a chance to reconnect with your inner child, create lasting memories, and experience the magic that only Disney can deliver.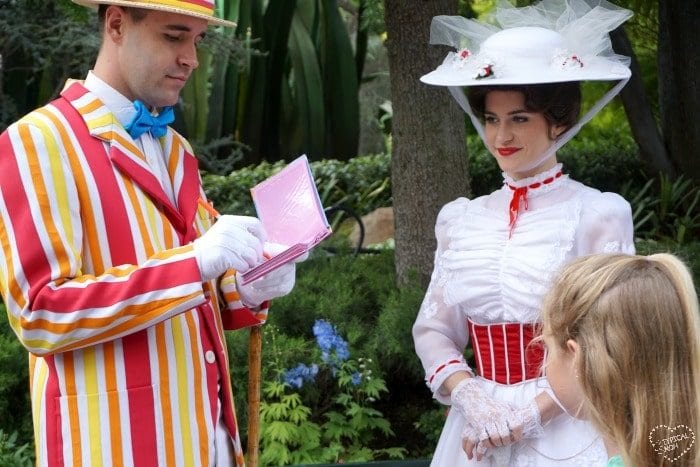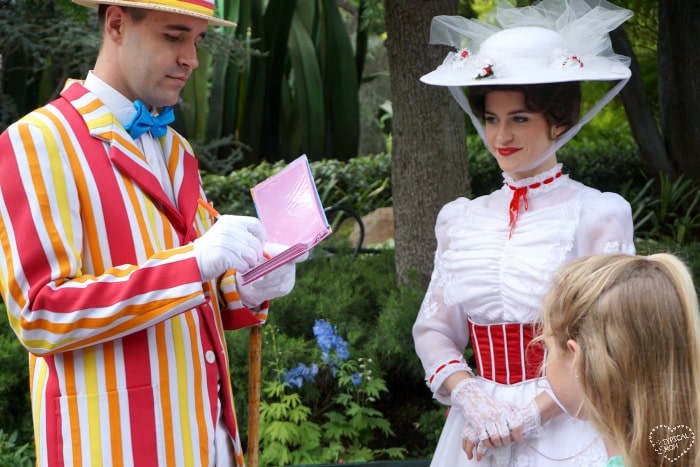 Visit during off peak times – If you have some flexibility plan your trip to Disneyland during off peak days. Typically the summer is much more crowded, and the weekends are as well.
Disney World Tips
If you have the ability to visit on a Tuesday or Wednesday during the traditional school year, and not around a holiday it is best time to visit!! That is when we plan our trips and like this one here we rode ride after ride and the longest wait was around 35 minutes or so.

Bring entertainment

– There are some rides that are more popular than most but a trip to Disneyland just isn't complete unless you ride them. They are worth the wait in line.
For us Peter Pan and Space Mountain are two of those. Always with the longest wait times when we visited you need things to do.

Bringing a small hand held device like an iTouch or phone helps during those longer wait times in line.
This is an old phone we have with a cracked screen that doesn't have phone service anymore. They can play on APPs on it though which keeps them entertained. Perfect for times like this.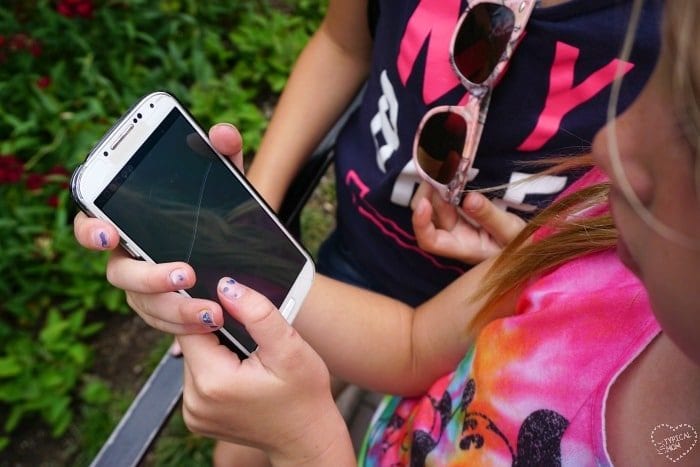 Play Disney I SPY throughout the day

– Disney I SPY game is fun to play They will be kept busy throughout the day. Have them try to find all the items on the page!
It is free to do and if they don't have a pen to mark each one off just have them stick their finger thru the paper! This is one of the Disneyland tips my kids really love.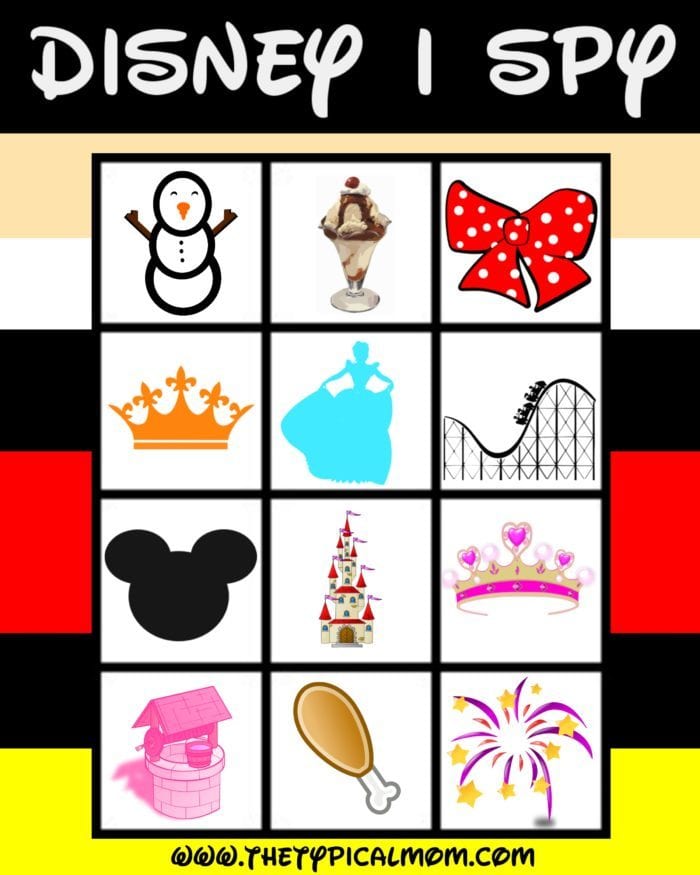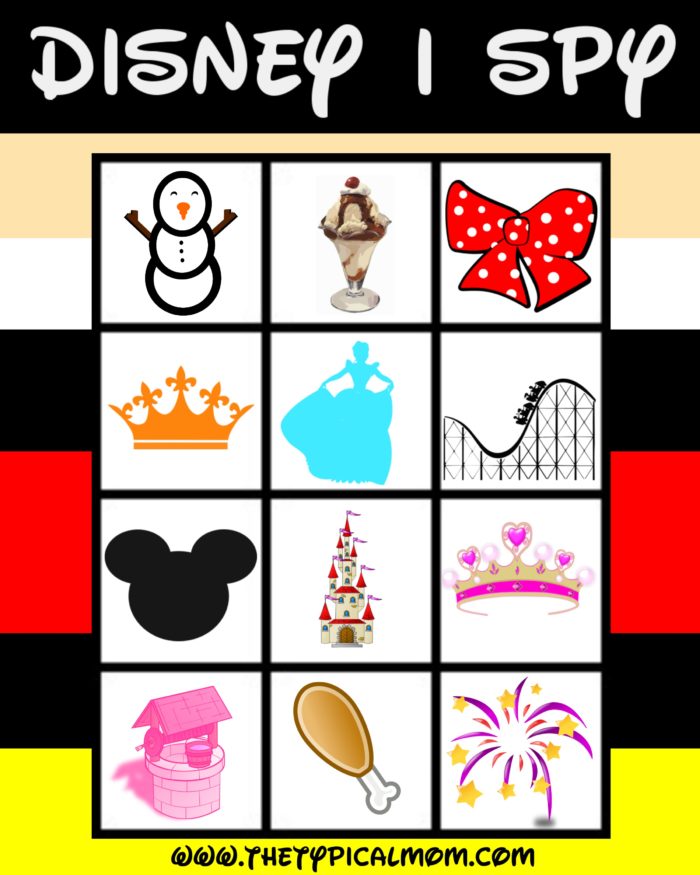 Things to Bring to Disney
Buy larger snacks and meals

– There are TONS of snacks, treats, and meals you can buy at Disneyland and California Adventure.
Keeping them fed and hydrated will keep them happier (and you). Usually they aren't thinking about food until you get into line and stop for a minute.

We buy larger snacks like this so everyone can share. It's the best bang for your buck like this bag of caramel corn.
Use a hair tie to secure the top when you're done. Put it in your backpack, and you are ready when the "I'm kinda' hungry" times come calling.
We also eat at the restaurants that offer bread bowls (filled with soup or chili). It's big enough for 2, thus spending a bit less. They're very filling to keep you going for the whole day too!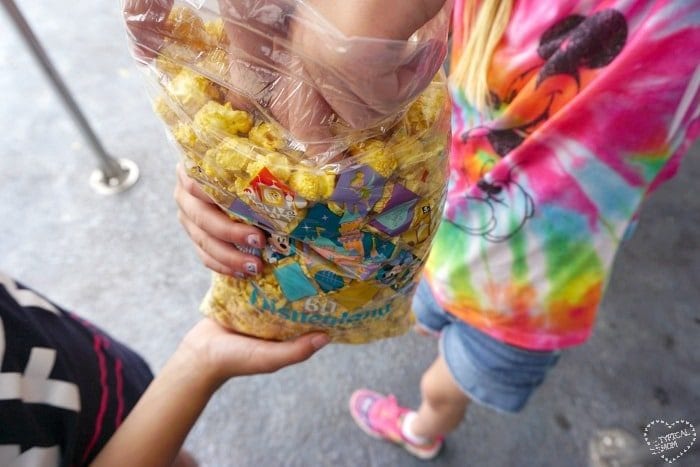 Disneyland tips for first timers
Have fun – Disneyland is not just a place for kids to make memories and act silly. It is a time for you too!! Let loose, laugh, and take lots of pictures!! When I look back at our last visit where we share how to save money at Disneyland. I can't believe how much my kids have grown. You forget how quickly times flies unless you have the pictures to look back on.
Make sure you take video too. I surely will look back on this one and remember just how small she was when she wore these ears. 😉
If you're from out of town here are some other places to go in Southern California you might want to check out.
WAtch our Disneyland video here to see how fun our visit was.
Then when you get home you'll want to continue on with the fun until you visit again. Did you know you could get a free letter from Mickey Mouse this way? It's fun to do.
Disneyland is a place where dreams become reality. So, embrace the tips inspired by the "Tale of the Lion King" and embark on a truly unforgettable adventure. Roar with delight as you immerse yourself in the wonders of Disneyland, knowing that you have unlocked the secrets to a truly magical experience.