What is a Hefty EnergyBag orange trash bags anyway?? If you've seen these orange bags atop recycling bins on the curb let us tell you about this amazing program in Boise!
Our family has always been VERY into recycling and repurposing anything and everything we can. That is why we were intrigued when we started seeing brightly colored orange bags inside some of our neighbors recycling bins. We found out they were part of the Hefty EnergyBag Program. We're here to share what they're all about and why you should grab some bags. Sponsored by Hefty EnergyBags.
What are Hefty Orange Bags For
We've separated our trash and recyclables for years but didn't really realize what plastics could and could not be recycled. Do you??
You'd probably be surprised to know that some plastic items you're throwing in that "other bin" can't be recycled at all and ends up in the landfills. No good. That's why this program was developed!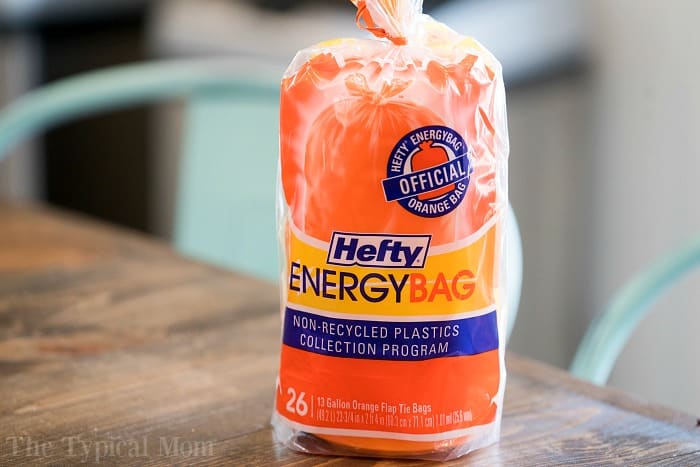 Boise Orange Trash bags
Why do we need this program?
People in the United States create 254 million tons of trash each year!
Over half of this ends up in landfills, that's no good.
The Hefty® EnergyBag® program will change the way you see and handle plastic waste from now on.

Recovering these hard to recycle plastic items (that once ended up in the trash) leads to less fossil energy dependence.
Program leads to less landfill waste which is better for the environment.
What Goes in the Orange Bag
Items like candy wrappers, cake mix bags, and juice pouches (which we go thru like crazy) actually can't be recycled, until now!

I know, I used to think I was good just by throwing it in with all my normal recycling but what I didn't know, is that when those things are loosely mixed in with the recycling – they are either taken out at the recycling center and thrown away anyway, or they can contaminate the normal recycling.
Discouraging for sure. BUT now you CAN recycle them if you throw them into a Hefty® EnergyBag® orange bag!
What happens to these items after they're put into these new orange bags??
They're converted into valuable alternative energy resources.
Plus you have the peace of knowing they won't end up in our landfills.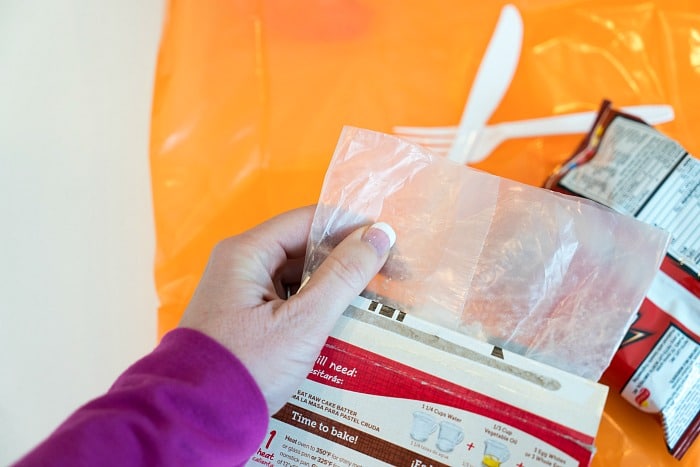 What can be put in orange Hefty bags?
Plastic bag inside cake mixes seen above
Plant containers like you see here

Food wrappers & plates/utensils that are plastic

Meat/cheese packaging
Candy wrappers
Food storage bags
Plastic bottle caps

Bread bags

Chip/snack bags

Fruit/vegetable/salad bags
Pet food/treat bags
Grocery bags
Juice pouches
Yogurt containers

Bubble wrap

Air packs/pillows
Shrink wrap
Plastic envelopes
Find an entire list here
We do a lot of gardening so this was nice to know, we have a lot of those when planting season arises.
What is Hefty EnergyBag Program?
It's quite easy really, just pick up the bags at your local grocery store!
Place another can next to your regular recycling and trash cans, and line it with the orange bag.
Fill it with approved items, printable below.

We live in Boise and our town participates, yay!!

You can find more Boise program information here.
Omaha, NE and Cobb County, GA. do as well!

Then when your bag is full just tie it up and put it on top of the rest of your items inside your recycling bin.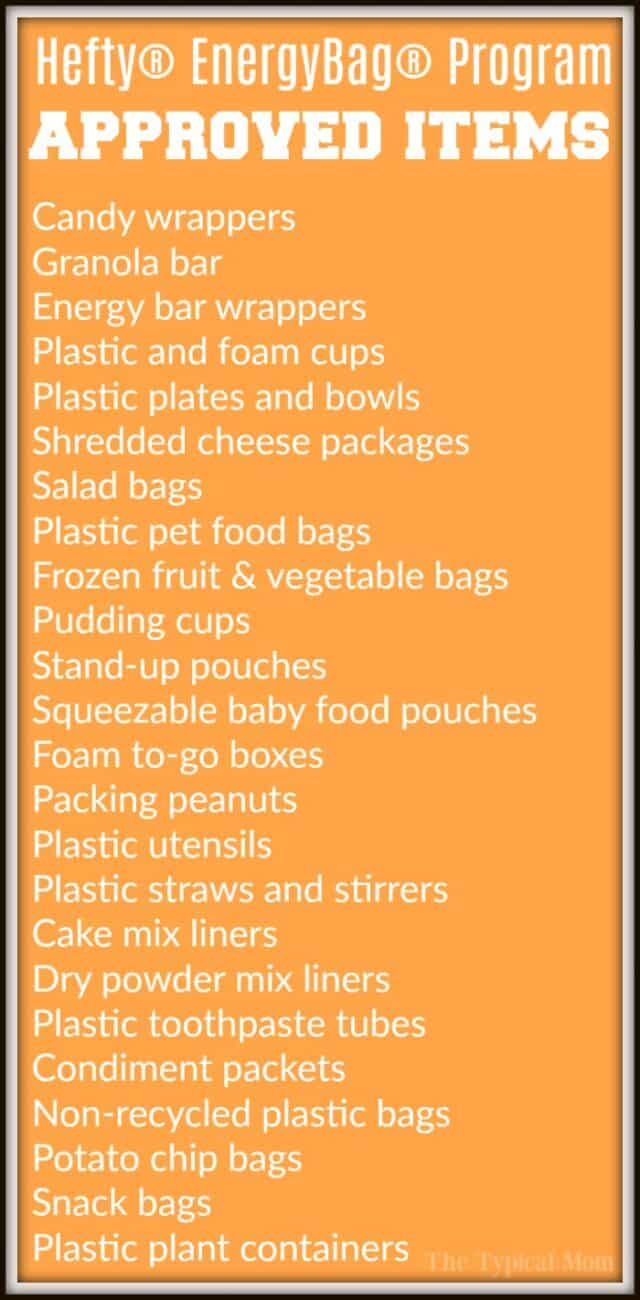 Hefty Orange Energy Bags
How can you get your family (and kids) involved?
Explain this program to them and why it is important for our environment.
Watch the Hefty® EnergyBag® Program informational video on their site to learn more about the program together.
Demonstrate which items should go into these bags, and what belongs in the "regular" recycling bin they've been using.
Print this list of approved items and put it on the fridge. Or tape it on the side of the can holding this new orange bag!
Build a compost bin together
Over time everyone will start to remember how to separate items properly, but having a list at the beginning is helpful.
Then when you're at home it will become second nature. It's a great way to conserve energy
Are you ready?? Have we answered all of your questions?? If not let us know below so we can respond. We'd love you to get involved as we have.