How to cut a pear in half, into slices, cubed and fancy is here. If you want to can pears, enjoy as a snack or add into a recipe we can help.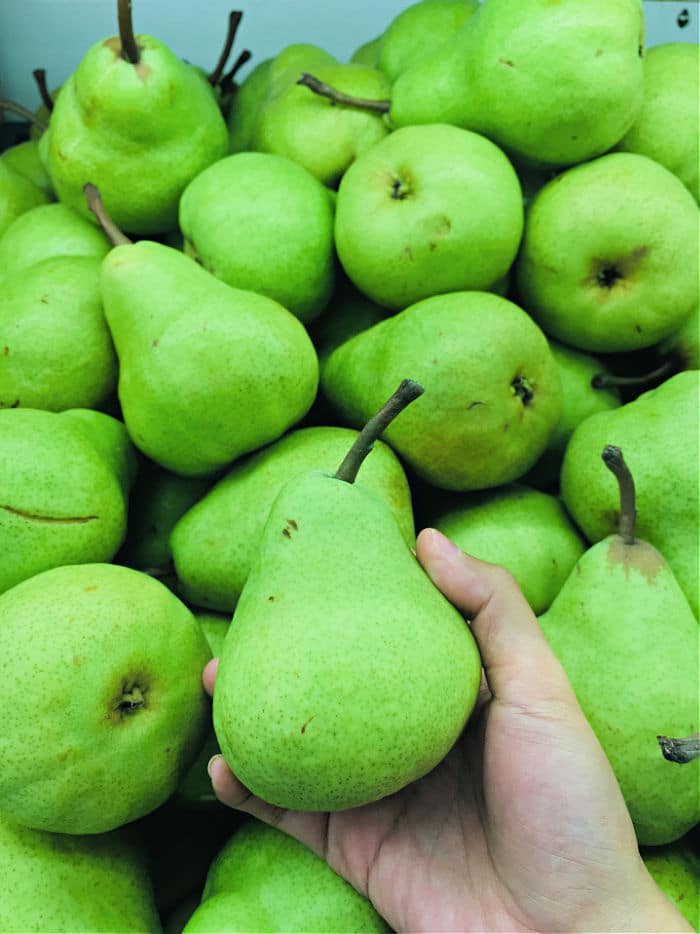 Want to know how to cut a pear? We have all the things here to help you do just that. Whether you want to snack on it or integrate it into a dump cake with fresh fruit they are great all year round. (affiliate links present)
How to Cut Pears
Learning how to cut a pear is actually a simple process. Depending on who you talk to, some people start by peeling the pear. Others simply start cutting into one right away.
Regardless of whether you want halves or slices, here are some simple tips on how each one is done. Eating as a healthy snack or adding into an ambrosia or fruit salad. You'll see below that you have options. And options are always good!
How to cut up a pear
One of the biggest reasons that people cut them up is that they want to enjoy eating them in the desired shape. We get a lot with our Imperfect Foods orders every week so we have tried it all!
Slicing pears isn't difficult, so just keep that in mind before getting started. The first thing that you need to do before you start cutting on the side is that you want to remove any dirt. (no one wants to taste dirt when they're biting into juicy produce!)
You can easily rinse it underneath cold water. Alternatively you can also use a fruit scrubber brush to gently scrub away any dirt and grime.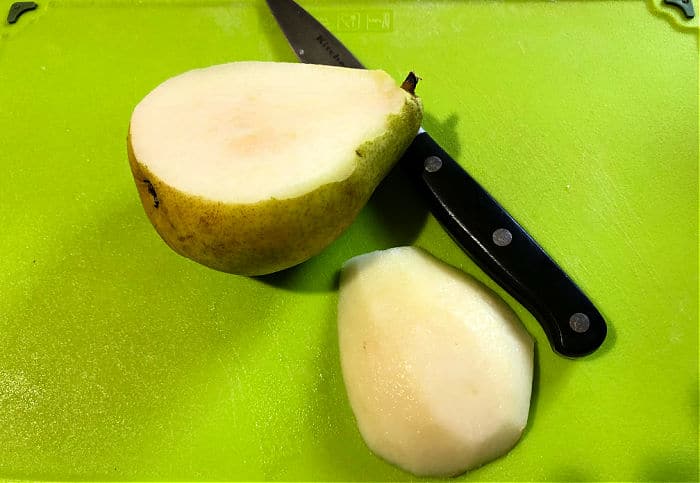 How to cut a pear in half
Cutting two pear halves is the easy part! If you want to peel the outer skin off, you can do so after washing it with a fruit peeler. That is the fiber of the fruit though so you are losing a bit of nutrition if you do. If you're not worried about it, you can leave it on as well – both options are just fine!
How to cut a Barlett pear
Truth be told, there really isn't a wrong way to slice it. You'll want a sharp knife to cut pear in half lengthwise, then into the shapes you want. Get out your favorite cutting board, and you're going to be just fine.
When it comes to slicing, start by cutting it perfectly in half. Then set the flat side of the pear down on the cutting board and thinly slice away. You won't want to eat the middle core so slicing off the sides is your first step.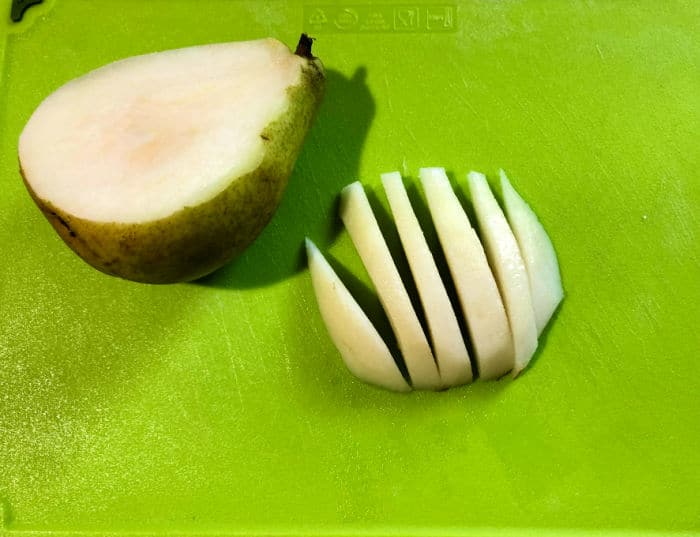 How to cut a pear into cubes
If you want squares start by making thicker slices than what you see above. Then cut crosswise on those to make cubes. Cubed pears are great for adding to a fruit salad or are fun to add to jello molds also.
How do you cut fruit fancy
The fun part about this fruit is that you have options. You can slice, cube or just go crazy and chop them into bits. If you want to be fancy – this is where a melon baller comes into play! Once you slice the pear in half, cut out the core, and then use a melon baller to scoop out some pear balls.
This is a super fun way to have a fancy look added easily to fruit salads, fruit cocktails, and more!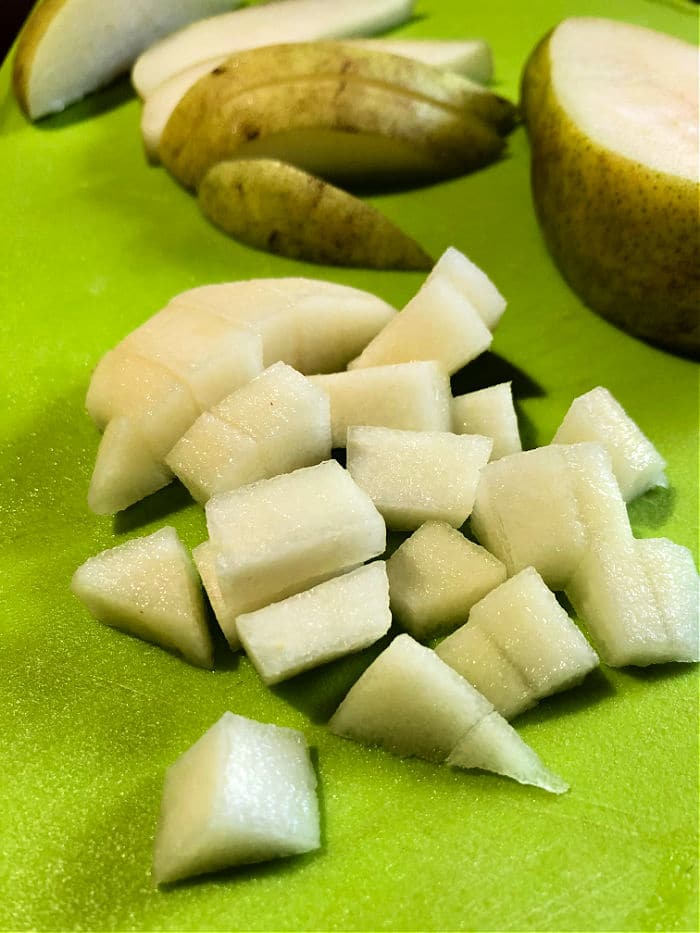 How to cut fruit for garnish
Sometimes, you just want to cut it up to look pretty but not necessarily be eaten. The fun part about using a cut-up pear for a garnish is that you can eat it later if you want or just have it be "pretty" to fancy up a dish.
The easiest way to cut up for garnish is to cut into thin slices to stick on the edge of a serving bowl or dish or to use the melon ball and add them as "ice cubes" to a fancy drink. You could even freeze the balls and use those instead of ice with water to add flavor to your sparkling sangria drinks.
How to prevent cut fruit from turning brown
If you're like me, you like to meal prep in advance to save yourself some time later down the road. I get it – we're twinning in this regard! If you want to slice up and have them ready for later, you can do so and avoid having them turn brown.
Once they are cut, you need to add some lemon juice drops to the top of the slices. This will help them stay fresh, keep them looking fresh, and no one will know the difference.
You can also slice them up fresh and save for later as well, using the same method. The only difference is that you would then add them into to a freezer-safe bag and keep them stored in the freezer until you're ready to use. Move them to the fridge to thaw – and you're ready!
Now that you know how simple it can be to cut up a pear, which method are you going to use? Remember, there's no wrong way to cut it, just different. As long as you're fueling your body with a healthy and delicious option, you really can't go wrong!
Want to see a few of my favorite things that I am totally obsessed with?? Take a peek and see how many you might already have…twinsies!
Looking for more easy family recipes and tips? LIKE The Typical Mom Facebook page?
Then sign up for my free newsletter, and follow me on Pinterest! 😉
***** If you LOVED this recipe give it 5 Stars below and let everyone know what you thought about it. 😉