How to cook bone marrow 4 different ways is here! Roasted, in the slow cooker, Instant Pot or Ninja Foodi, baked in the oven or air fryer.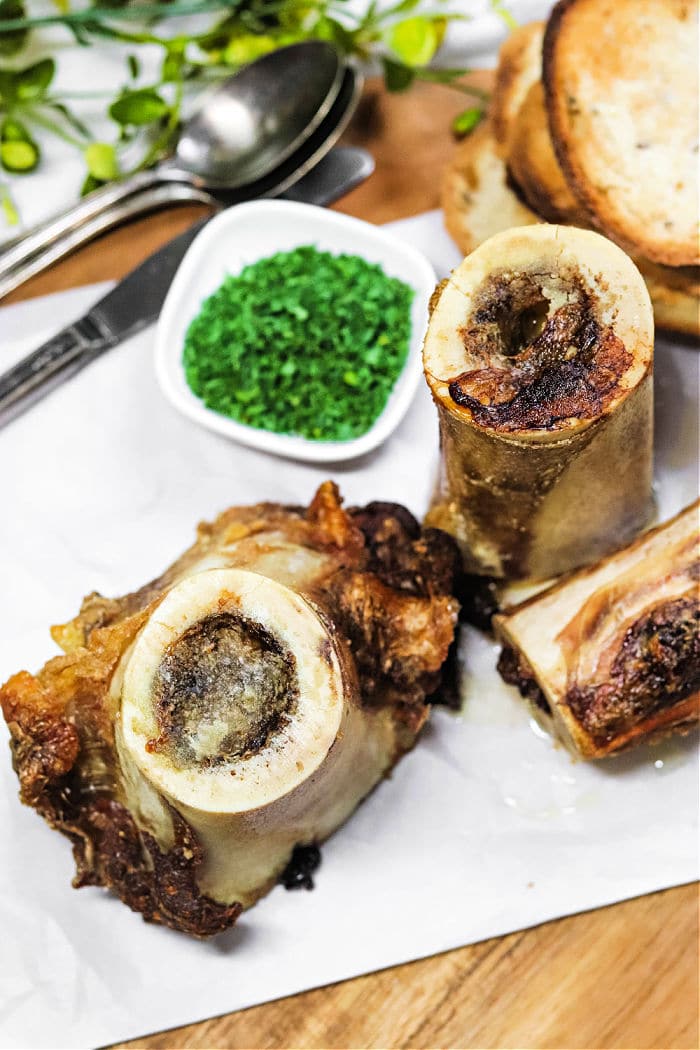 If you are wondering how to cook bone marrow we have it all. New to making this but you've had it at a restaurant and thought it was just amazing. It is easy to roast it in the oven, in the Crockpot, pressure cooker or even your air fryer now. Take your pick and enjoy it all year long now. Just one of our cooking basics tips. (affiliate links present)
How to Cook Marrow Bones
Have you been to a high end restaurant and been served these? Or maybe you got a side of an amazing spread which you later found out was this. But how the heck would I make that at home because it was so out of this world I have to have the rest of my family try it. Well it's easier than you think and you can get a few at the grocery store.
This is what mine looked like when I first started making this YUM. Super cheap, usually starts out frozen in the meat department.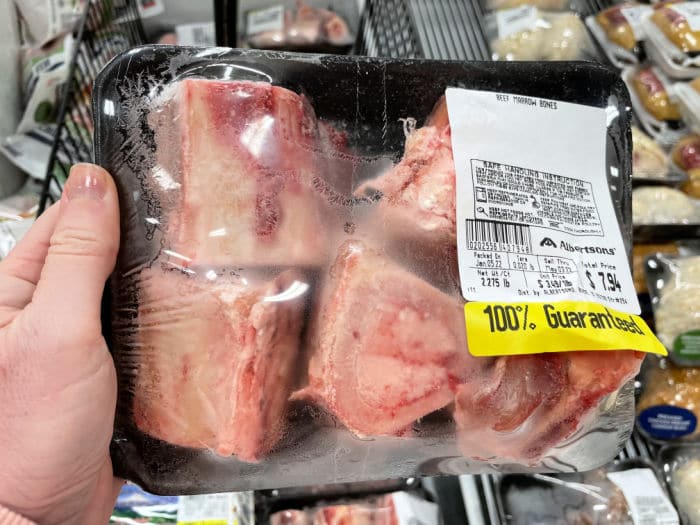 How to Prepare and Serve Bone Marrow
So we will share a few different methods. You can use your oven in a roasting pan or on a foil lined baking sheet. Simple just with some sea salt and pepper on top you just sit the cut side down so they are kinda' standing up at attention. While they roast slice a loaf of crusty bread so that is ready when you scoop out the marrow spread.
Bone Marrow Butter
Insides of 6-8 pieces after cooked, softened, and cooled
Mix with 1/2 cup of softened salted butter
1/4 cup of chopped finely parsley
Add 1/4 tsp of fresh diced thyme
Then 1/4 tsp of sea salt or truffle salt
If you use a food processor you can get it to be really nice and smooth and ready to spread in less than 15 minutes time.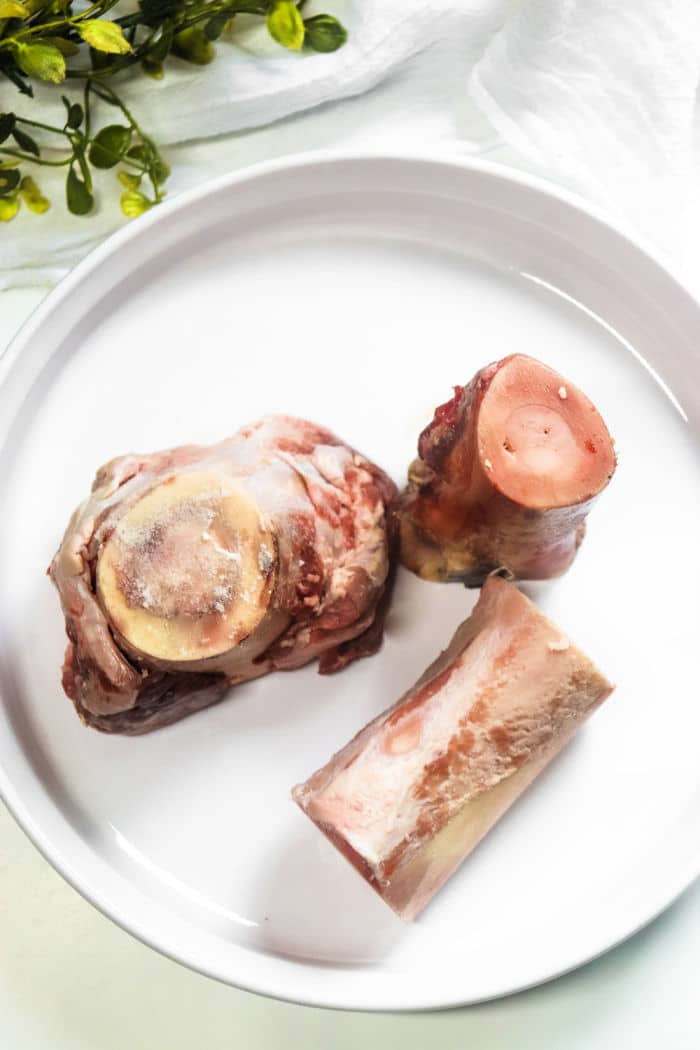 How to Cook Beef Marrow Bones
Let's start with probably the most popular method. If you have never made these yet I would start with our Instant Pot beef bone marrow method. In no time at all the middle of the bones gets soft and creamy, sometimes so much that it will dislodge from the center. NO worries though you just use a slotted spoon to scoop up the goodness.
I have used frozen and defrosted and it doesn't seem to matter either way, it's still super quick and you can add great flavors to the broth it cooks in. Use a small spoon to grab the YUM out of the center and serve immediately, or store in a mason jar for later. Buttery smooth and delicious served on toast.
It reminds me a bit like cooking oxtails in that a lot of it is bone and you have to pick the inners out to enjoy. It's a decent amount of work but the outcome is amazing.
Bone Marrow Pressure Cooker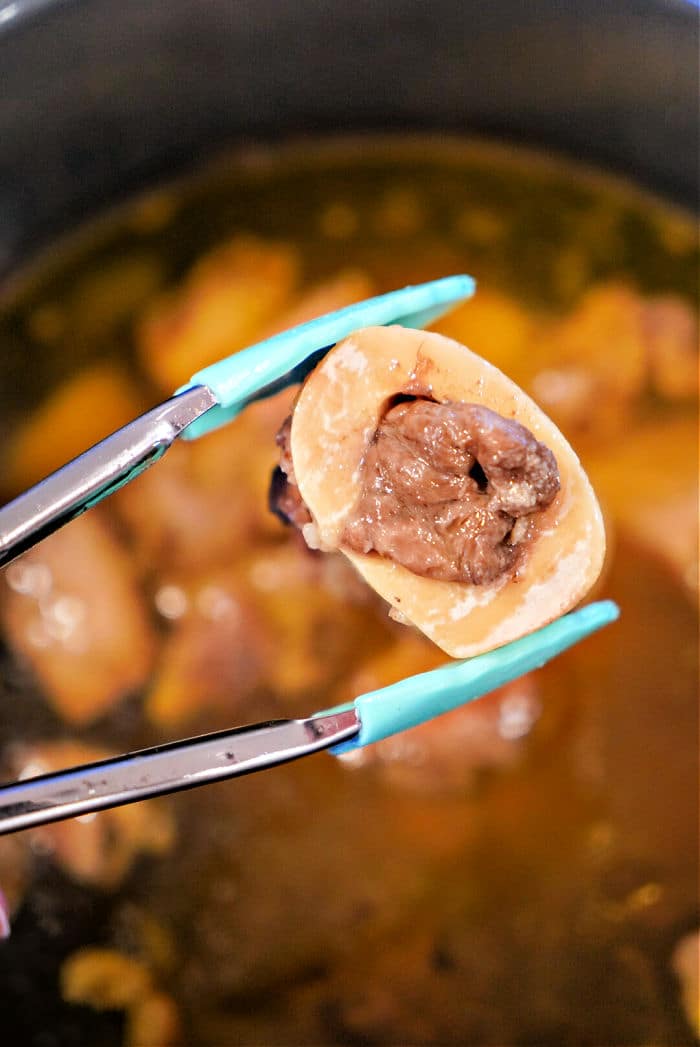 Cooking Bone Marrow
Second to that if you like using your small kitchen appliances would be to make air fryer bone marrow. I know, you probably didn't think this was possible right?? Totally amazing. With that high heat you love when you make all other kinds of air fryer beef recipes, this too gets crispy but tender inside.
You can add a bit of sauce on top if desired or just make roasted bone marrow in air fryer as is like you see here. Sprinkled with a little bit of seasoning you can then enjoy as a spread or let your dog enjoy a bit.
You can click on the blue link above to get all the instructions for this. A great way to roast without heating up your whole house with the oven on in the summertime for sure.
How do you cook bone marrow in the oven?
Want to make these babies in the oven?? That is easy as well and if you don't have countertop cookers then that would be your go to method. You just need a baking sheet and I would put a piece of parchment paper on the top of that. You always want to set them upright so they don't fall over.
Preheat oven to 450 degrees F
Set on baking rack standing up, if cut crosswise or you cut the bones so the middle is exposed, have the "meat" facing up.

Tray should be placed in the middle of the oven

Roast beef bone marrow for about 20 minutes (15 – 25 minutes is the range depending on the size)
When the middle starts to puff up and is tender to the touch it is ready
Remove and allow to cool slightly
Use a small spoon or these mini spatulas to scoop out the center and enjoy spread on toast
I use a lot of the same seasonings as I do with baked oxtails but you can choose your own.
Roast Bone Marrow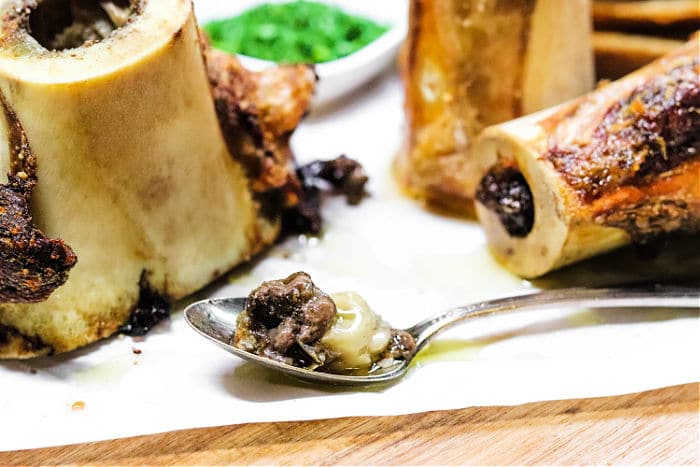 Can you put Bone Marrow in the Slow Cooker?
Totally, it is very similar to our slow cooker oxtail instructions really. You just need some liquid to "steam" them overnight on low heat. Add any and all seasonings you want it to have on top. So basically you just;
Sit pieces upright inside your pot
Pour 2 cups of water or bone broth into the bottom with seasonings you like
Close the lid and set to low temp
If you have a timer on your Crockpot you can set to 8 hours, or just start before you go to bed and turn off in the morning
Last but not least you can make smoked beef marrow on your Traeger too if you want to give that a whirl. So really 5 different ways are shared here so you can try them all!!
What Temperature Should Bone Marrow be Cooked To?
Is it safe to eat bone marrow? Yes as long as you get it to a safe internal meat temperature of 145 degrees F. You can use your normal thermometer for food to do this. It is best to remove the pan out of the oven before testing so you get an accurate temp.
Want to see a few of my favorite things that I am totally obsessed with?? Take a peek and see how many you might already have…twinsies!
Looking for more easy family recipes and tips? LIKE The Typical Mom Facebook page?
Then sign up for my free newsletter, and follow me on Pinterest! 😉
***** If you LOVED this recipe give it 5 Stars below and let everyone know what you thought about it. 😉