Ok so who doesn't like cupcakes…and sundaes??!! Well I thought there would be a good way to combine the two and make a fun sundae bar at home this weekend using waffle bowls which are WAY more fun than muffin wrappers…and edible! These cupcake sundae bowls turned out so well and are now the way we plan to make treats when we want both cake and ice cream. They are really easy to make, and you can just bake a few or a whole bunch if you're getting ready for a birthday party. Here's the recipe and how we did it. (affiliate links present)
Aren't these fun??!! The whole thing is edible so there is no waste and look so much cuter than just making cupcakes with wrappers! We were making a sundae bar at home for just the 5 of us so I didn't want to make the whole box of cake mix which is where my recipe for 6 cupcakes comes in really handy for this too. Here is what you will need and how to make this cute birthday party dessert idea.
Cupcake Sundae Bowls
1 box of cake mix (whichever flavor you like)
Recipe for 6 cupcakes (or make the whole box as directed if you want to make 24)
Waffle bowls (small version)
Cookie sheet or muffin tin
Here is how you make them:
Make cake mix as directed
Put a piece of parchment paper on your cookie sheet or put waffle bowls in muffin tin holes spreading them out so edges don't touch (large muffin tin is best to make sure they stay in holes)
Put amount of waffle bowls you want on your sheet or muffin pan (do NOT use any that are cracked as batter will leak out)
Pour about 1/3 c. of cake mix batter into waffle bowl
Put in oven at 350 for about 12 minutes or until cupcake springs back just as though you were baking cupcakes "normally"
Allow to cool
Top with ice cream and sprinkles!
If you love this fun idea check out how to make ladybug cupcakes too, those are always a hit at parties!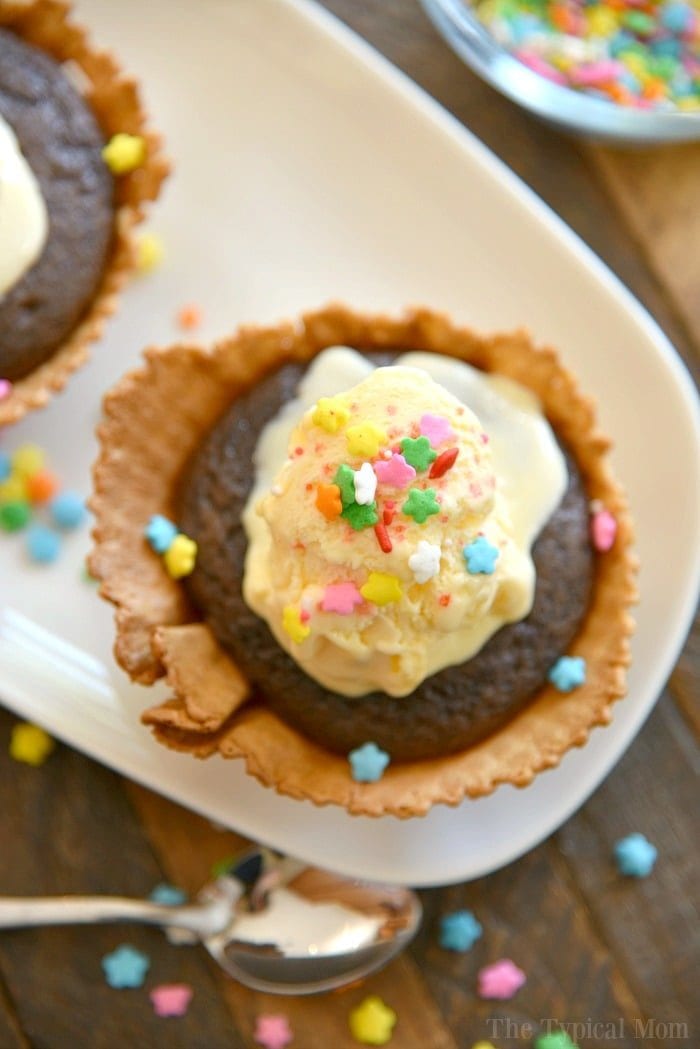 For more easy recipes, tips and free printables please LIKE The Typical Mom on Facebook and follow me on Pinterest! You can also sign up for my free weekly newsletter which is packed with goodies I know you'll love. 😉