We love taking road trips with our 3 kids! It is a great way to get out and see the country and it is far less expensive than flying (especially with a family of 5). Through the years we have come up with many road trip activities for kids to keep them busy in the car so the two of us can actually talk and keep us sane without hearing "are we there yet?" too often.  Enjoy! (affiliate links present)
Road trip activities for kids
It's about the journey. Everyone is eager to get to the final destination, especially when you're headed out for an exciting vacation. But you can make the journey, itself, almost as interesting. We did an 8 hr. (each direction) road trip last summer with the five of us complete with a Tween, Kindergartener & 4 year old. The most important thing I did was plan stops every 2-3 hours to explore, take a potty break & grab a "new snack" if possible. Preparing your kids for what they are in store for is important as well. You can't minimize the # of hrs. in the car, however it is important to set accurate expectations in terms they can understand like " 2 more potty break stops & then we are there" for our 4 year old, & giving the older children a watch so they aren't asking "how many more hours to go" is good to prevent pulling your hair out along the way.
Give kids some control. It has to be frustrating as a child being cooped up for long periods of time in a car with bothersome siblings, we all want a little peace & quiet during long trips. There are many times when we pass something interesting to see & talk about it, but for many long stretches of road it is pretty boring. Giving them control of their "section" (seat) & giving them "their bag" full of activities they can choose from is important. Before you head off get 1 bag per child (I use the reusable Trader Joe's bags, they are large & sturdy + I can reuse them) & fill each one with things each child that age would be interested in. Your best bet is to include a variety of items (suggestions below) + go to the Dollar Store beforehand & find interesting things & new snacks they've never seen before….this will buy you a few more hours of peace as they figure this new "treasure" out! Save 1 empty wipe container per child as well & use that as a "crayon box" of sorts. These are good for easy to lose items, pencils to write with, crayons to draw with, & can be reused as a snack container later once you've reached your destination & want to go for a hike. Just unload the pencils etc… & pack the wipe container with a lunch for each person, or a snack box to be put into Dad's backpack & you're off.
List of Take Alongs for Kids
*Coloring Book-crayons in wipe container
*Spiral Notebook-colored pencils in wipe container
*Color Wonder book & markers-no mess 🙂
*Crossword Puzzle book for kids
*Books, FREE Kindle books to download
*Activity workbook appropriate for age
*Small toys to play pretend (if you have another wipe container, fill with my little pony,barbie, dinosaurs,matchbox)
*Stickers-use with spiral notebook/color book
*Lanyard + Parachord + how to book/rainbow loom for older kids to make bracelets/keychains
*Treasures found at the Dollar Store before leaving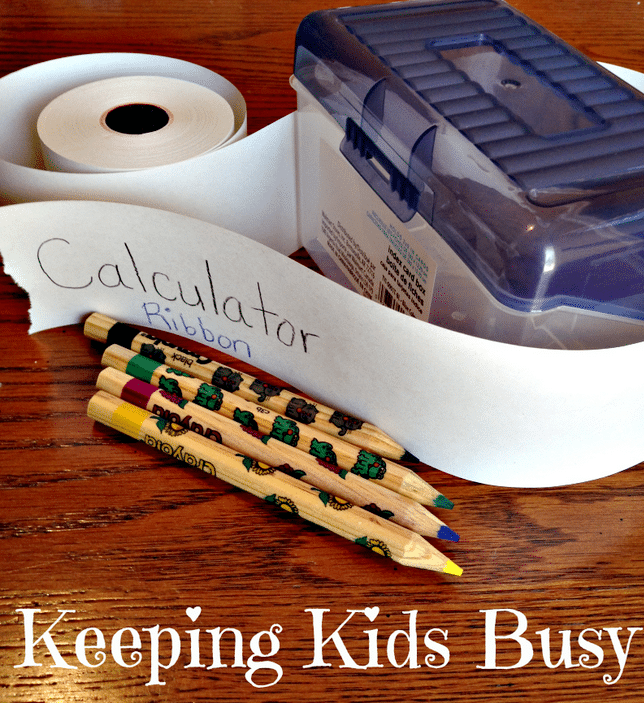 Electronics + Tips to make things EASIER
*iPod/iPad- download new songs before leaving
*Leapster/MobiGo etc – get a "new" game before leaving, many on craigslist or Ebay
*Headphones for ea. child, cheap over the head are best, earbuds are hard for young kids
*"NEW" Movies for DVD (under $5), can borrow/swap "new" ones from friends to save $
*Download new movies/shows from Netflix/Amazon on to iPad/Kindle before leaving
*MiFi device is handy to have so you can have internet access in the car
*Chargers for all your electronic devices + extra batteries
For more busy bag ideas for road trips check out this post too!
For more easy recipes, tips and crafts please LIKE The Typical Mom on Facebook and follow me on Pinterest! You can also sign up for my free weekly newsletter which is packed with goodies I know you'll love. 😉