Queen Mary Chill tickets are here. Visit this great ice sculpture event in Long Beach plus visit the Queen Mary boat there too while you're there.
We visited Queen Mary CHILL experience last year and this year and it was SO fabulous!! A great way to start the holiday season where they have tons of ice sculptures, some made into slides, and an area where you can slide down in inner tubes for a really thrilling ride! I want to thank Queen Mary CHILL for sponsoring this post last year and inviting us in to visit all they had to offer this year so we could share our pictures and experiences with you.
Let's start with the most exciting part…..the CHILL, and yes it is cold, part where all the ice sculptures are. I would suggest wearing a coat, gloves for SURE, and a hat is helpful for this part. You can buy tickets here.
These are pictures from 2015 so things may have changed but this is what we experienced when we went that year. Inside the dome structure is this incredible slide(s) coming out of an ice sculpted Queen Mary ship! Kids can slide as many times as they'd like, or until their noses freeze. 😉
Queen Mary CHILL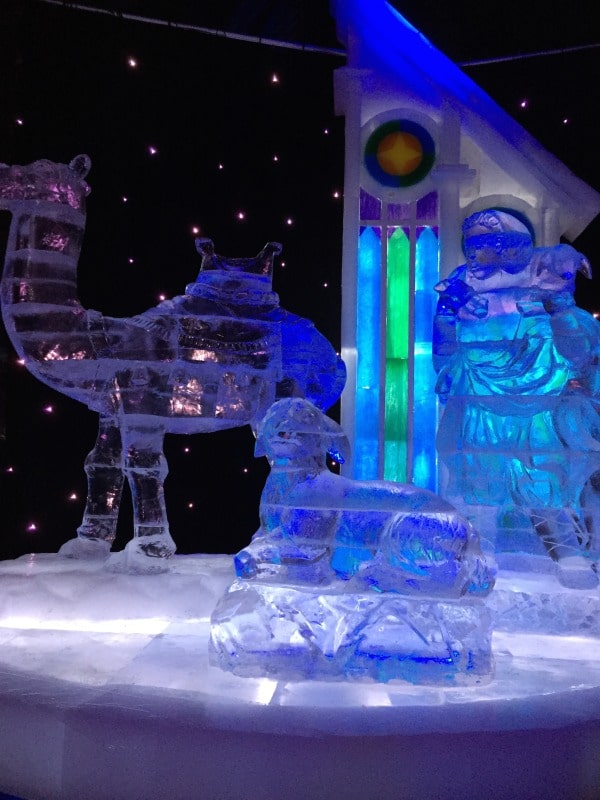 Before and after the slides there are many sculptures created out of ice like this nativity scene, there were other parts of this too next to me.
There is a lot to look at, walk through, slide down, and admire while you're inside the Queen Mary CHILL area.

You are free to go back in later if you choose to.  When we went there were NO lines, others have said there were some, but lucky enough we were able to go in  and out of everything without any waiting. You can purchase an ELF pass too that comes with an express lane feature which is great.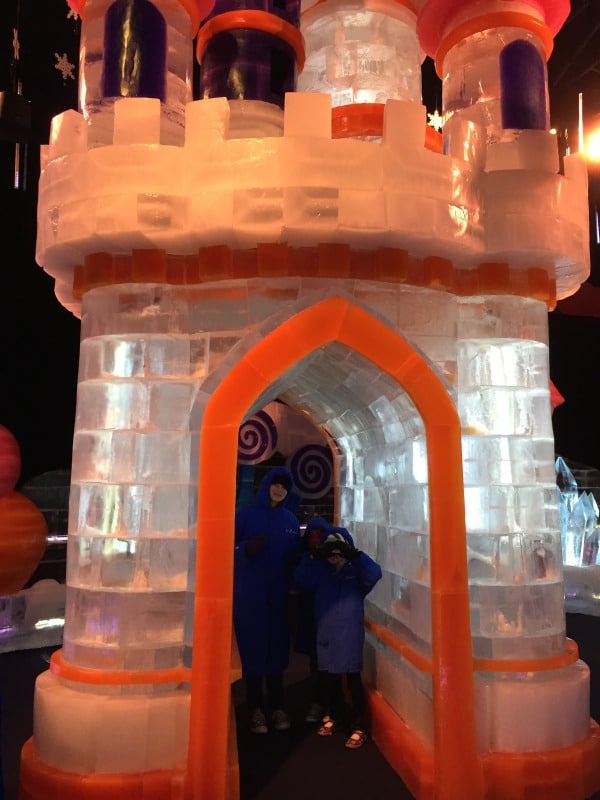 This Queen Mary CHILLy area is really something to see, from little kids to adults everyone was impressed. It is truly nothing you have or probably ever will experience before and well worth the drive and wait if there is one!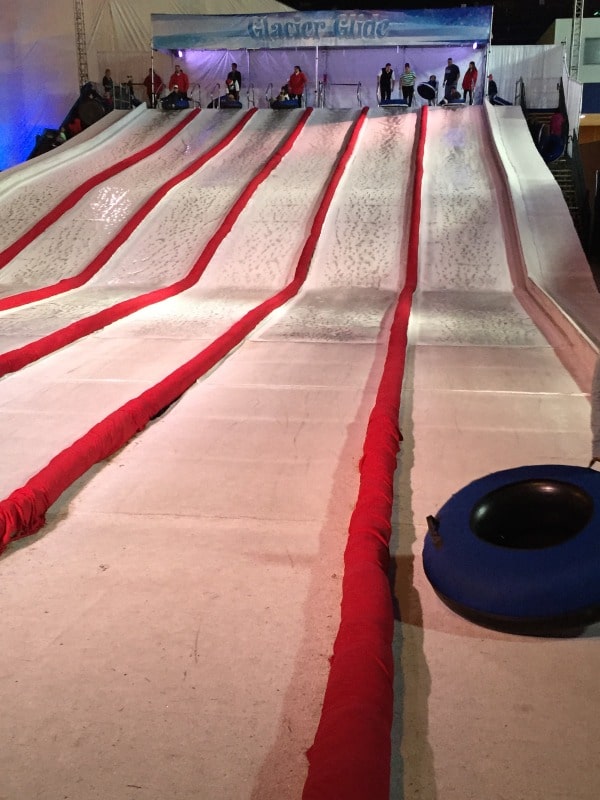 Once we were outside the ice CHILL area we headed toward the tubing area for some unlimited tubing fun (included in your ELF pass)! It is a long slide, and even my husband and I had a good time "racing" the kids to the bottom. Kids and adults of all ages were having a blast. We spent quite a bit of time going up and down up and down this tubing area since there weren't any lines at the time, and it wasn't too cold to sit there and watch them having fun.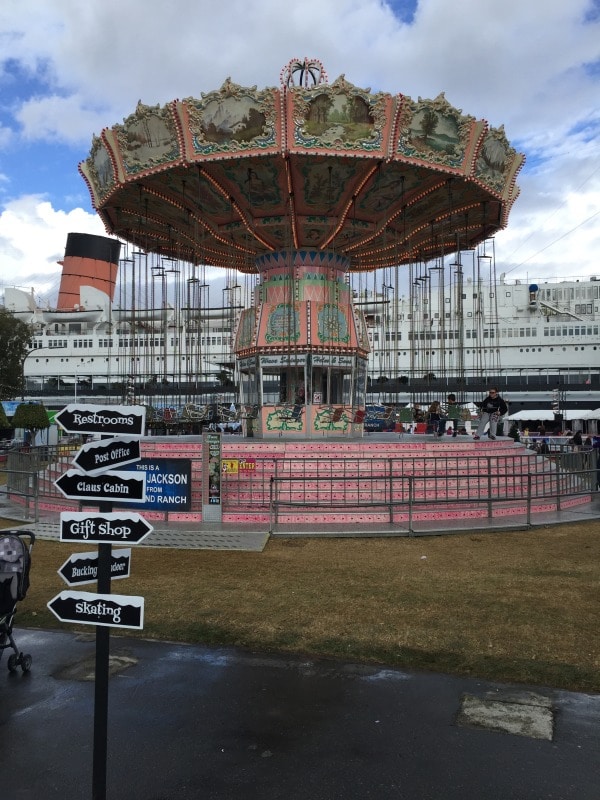 Once we were done tubing we headed outside for some unlimited fun on the "old fashioned" swings!! Our bracelets included this too and the kids had fun riding it over and over again. My husband and I found a nice bench to sit at, relax, eat some lunch (they have many catering trucks and stands there) and talk while the kids were swinging it up. 😉
We were lucky that day because Keurig was there handing out FREE cups of coffee, iced tea, tea or lemonade!! I am not sure if they were there every day but it was a fantastic surprise, and kept us nice and warm all afternoon!
One more stop and a great surprise before we left was that Santa and Mrs. Claus were waiting in their cabin to see us! The kids were thrilled to sit on his lap (they hadn't yet this year), and I was thrilled that I got to save a crowded trip to the mall and $20 for a picture since they let me use my camera to snap this shot and develop it myself…..woohooo, makes a Mama happy!! Queen Mary CHILL experience is great for the whole family I say! This is our second time here and it is better than the last. They continue to add great things to the experience each year and it has become a great family holiday experience we've added to our yearly adventures!
For more easy recipes, tips and crafts please LIKE The Typical Mom on Facebook and follow me on Pinterest! You can also sign up for my free weekly newsletter which is packed with goodies I know you'll love. 😉