It's National Laundry Day and now is the perfect time to focus on life skills for children. How to do laundry with our printable laundry checklist is one of the most important of them all!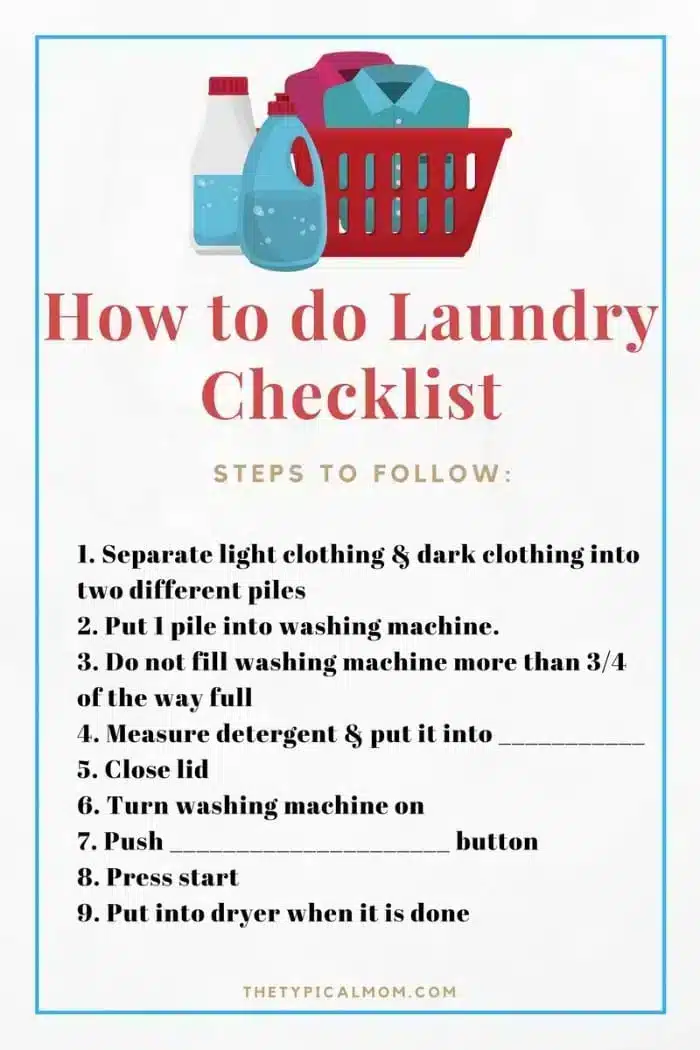 There are many things we try to instill in our kids when they're young but as they get older there are other life skills for children that they must learn in order to spread their wings and leave the house, one of which is how to do laundry!
It's something that can go very wrong if you don't do it right, and something you will do the rest of your life. We started teaching our kids how to do laundry when they hit about 12 years old and now that I have a teenager who will leave for college in just one year (mom cries). I'm so glad we started early.
Printable Laundry Checklist
Tell me this is a familiar sight in your house too! They come home from school after playing "an awesome game of kickball" in the school yard, or working on the garden in your backyard, and their clothes now look like this.
That is what childhood is all about right?? Yes there is a time to stay out of the dirt and look "pretty" and presentable but I really do try to give my kids the freedom of choosing what they wear, and do my best to not cringe when stains appear.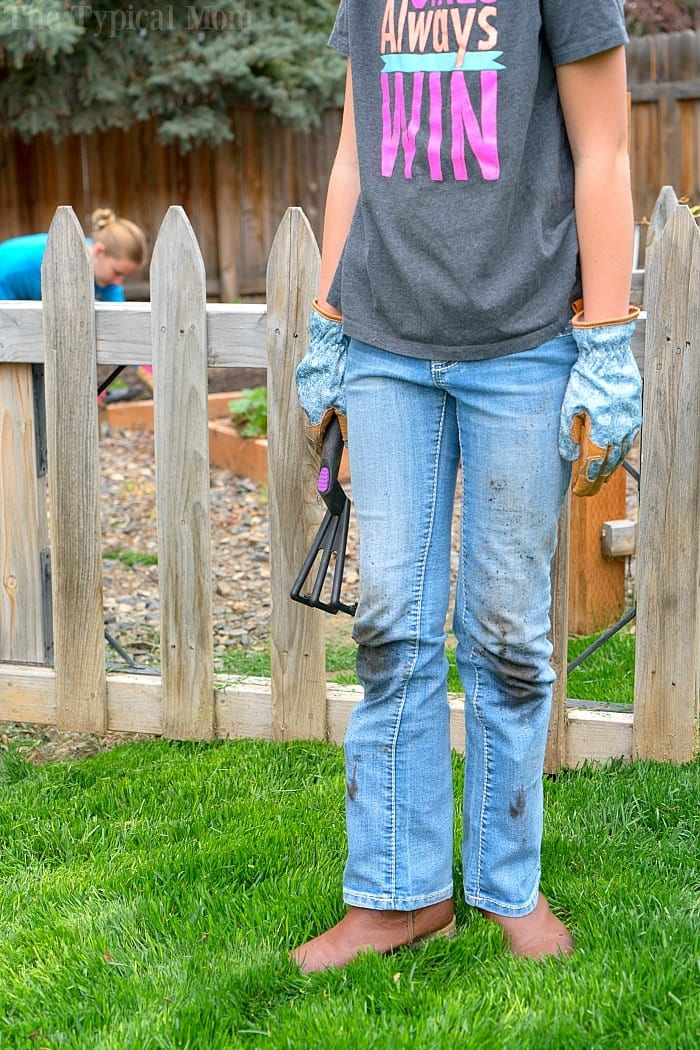 How to do Laundry
We have what we call a "dirty clothes bin" in our house. These are clothes I don't mind them painting or gardening in, and expect that they will come back disgusting. Of course these need to be washed too, but need a bit more "fight" to get clean (if you know what I mean).
When it's laundry day (when isn't it laundry day with 3 kids) they all get kinda' piled together in whites and colors though and with the right stain fighting detergent free of perfumes & dyes (important because my middle daughter has very sensitive skin) like all® free clear you can bet that they all come out clean!
Because it's free of perfumes & dyes it is the #1 recommended brand by dermatologists, allergists and pediatricians for skin sensitivity…which she needs + it fights tough odors with new all® free clear Odor Relief. Yes….even the dirty knees come clean!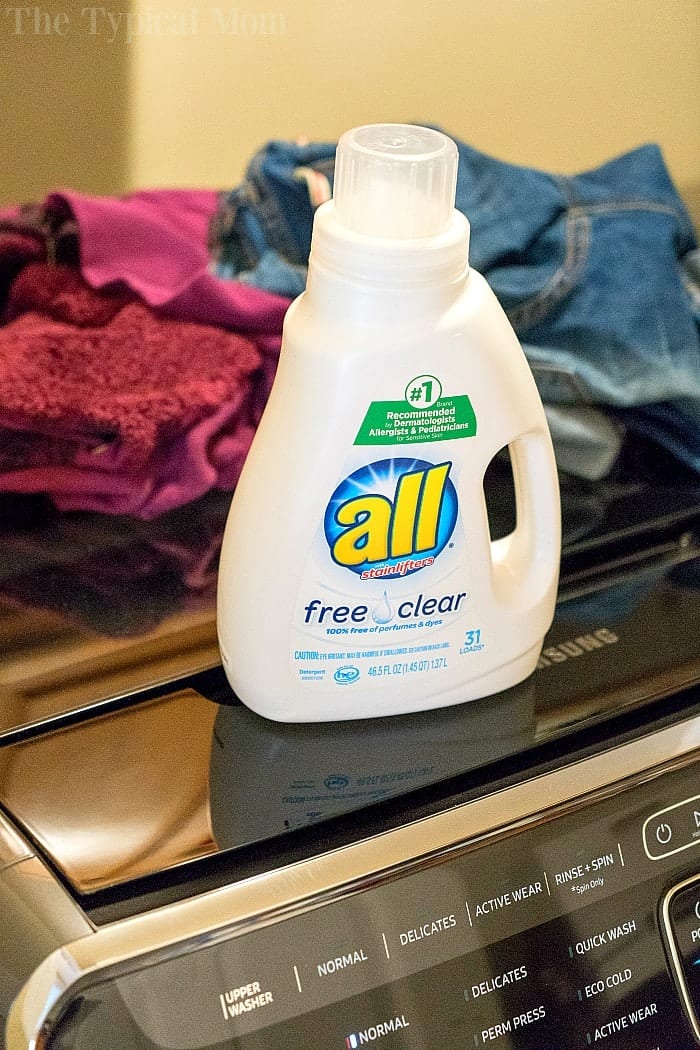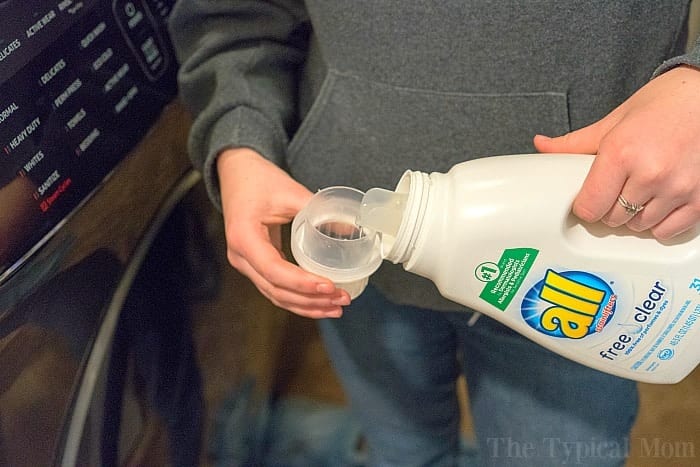 Teaching children to do laundry
Take them in one at a time (10-12 yrs. old is a perfect time to start) and explain the steps!
National Laundry Day is the perfect time to focus on this life skill. 😉
Show them how to separate the dirty clothes into 2 different piles (sometimes 3 if we have a lot of pinks, I have 3 girls after all).
Explain why you separate the laundry and what will happen if a dark or red piece of clothing ends up in the white pile and washed.
Put one pile into the washing machine, and have them help you do it.
Measure out the all® free clear detergent and show them the line where you fill it up to (you will have to handle this part).
Pour it either into the machine or detergent drawer (different on each machine)
Show them where the button is to turn the washing machine on, have them press it.
Show them the start button, let them press it. If you have to press another button in between explain why you're doing that.
Even if you have to handle step 4 yourself they can learn how to do the rest and give themselves a sense of accomplishment that they can do it!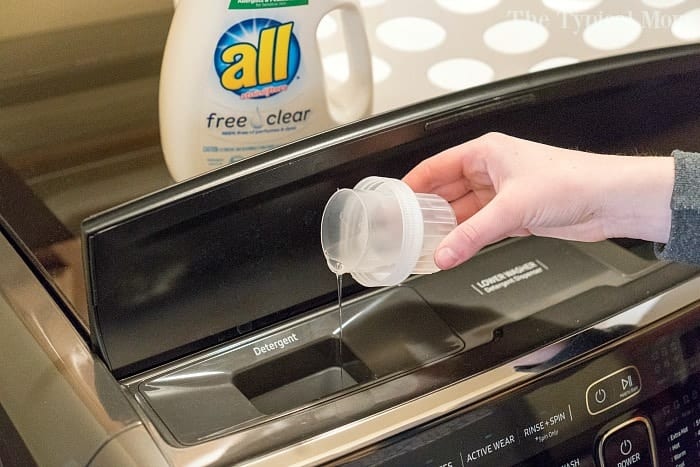 Laundry Printable
After you have explained everything, print out this how to do laundry printable checklist.
Fill out the blanks according to your washing machine. I left 2 spaces, where to put the detergent (some put it in a receptacle and some directly into the machine itself). What button to push once you turn the washing machine on (gentle, normal, or whatever other setting they should use).
Go over it with them again with this printable, step by step. Make sure they understand that if they follow the list they will learn a very important life skill which is to do their own laundry.
It is important to involve your children in tedious life skills they will need to do the rest of their lives like laundry, loading the dishwasher, setting the table, vacuuming, etc….. We only have 18 years or so with them in the house and not only do they need to learn them to be on their own. In our house everyone contributes!
Start teaching your kids how to do laundry during National Laundry Day on April 15th and make it a stain fighting partayyyyy! 😉
"All" clean!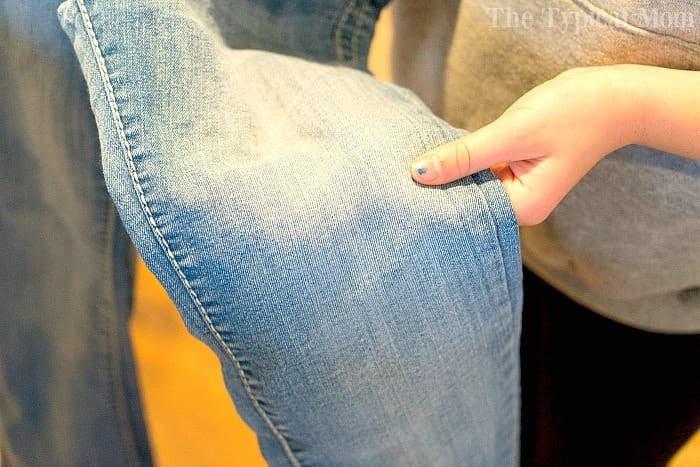 Now that you've got that tackled it is time to focus on odors. Odor Relief and POWERCORE All are ready for those!
What tough odors and stains come into your house often???!! This is a sponsored conversation written by me on behalf of all. The opinions and text are all mine.