Pressure cooker chicken and rice casserole recipe made in our Instant Pot, Crockpot Express or Ninja Foodi is the best creamy dinner ever! Family favorite and so easy to do.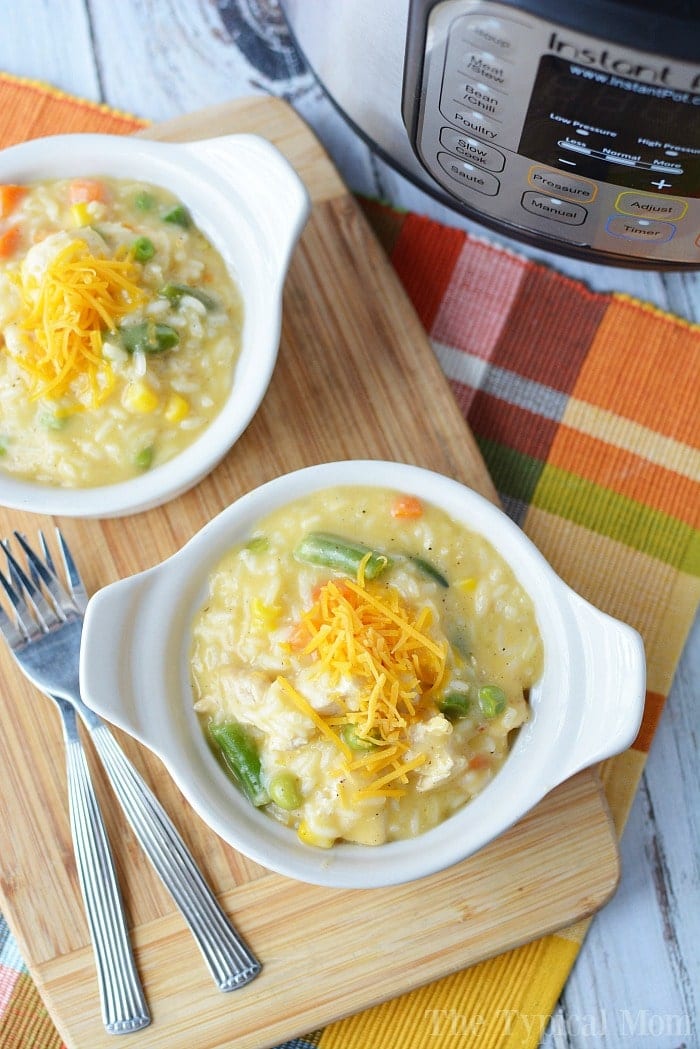 We eat a lot of chicken, rice, and vegetables so it only made sense to make all three in my Instant Pot vs. the stove top now. This amazingly easy pressure cooker chicken and rice recipe takes just 15 minutes to cook and prepare. Even my kids say it's a great recipe. We love casseroles and this basic Campbells chicken and rice is from my childhood. Now it cooks a lot faster though. It's one of our favorite Instant Pot recipes, and listed there amongst many other easy dishes you should try! (originally published 3/17, affiliate links present)
Adding vegetables to this dish gives it great flavor, texture, and I find the more I include them in our dinners the more my kids like them. Of course you can omit if you wish. 😉
This pressure cooker chicken and rice with cream of chicken soup dinner is something the whole family loves!
Seasoned with just some salt and black pepper, it's so easy to throw together. I use frozen vegetables to make things easier.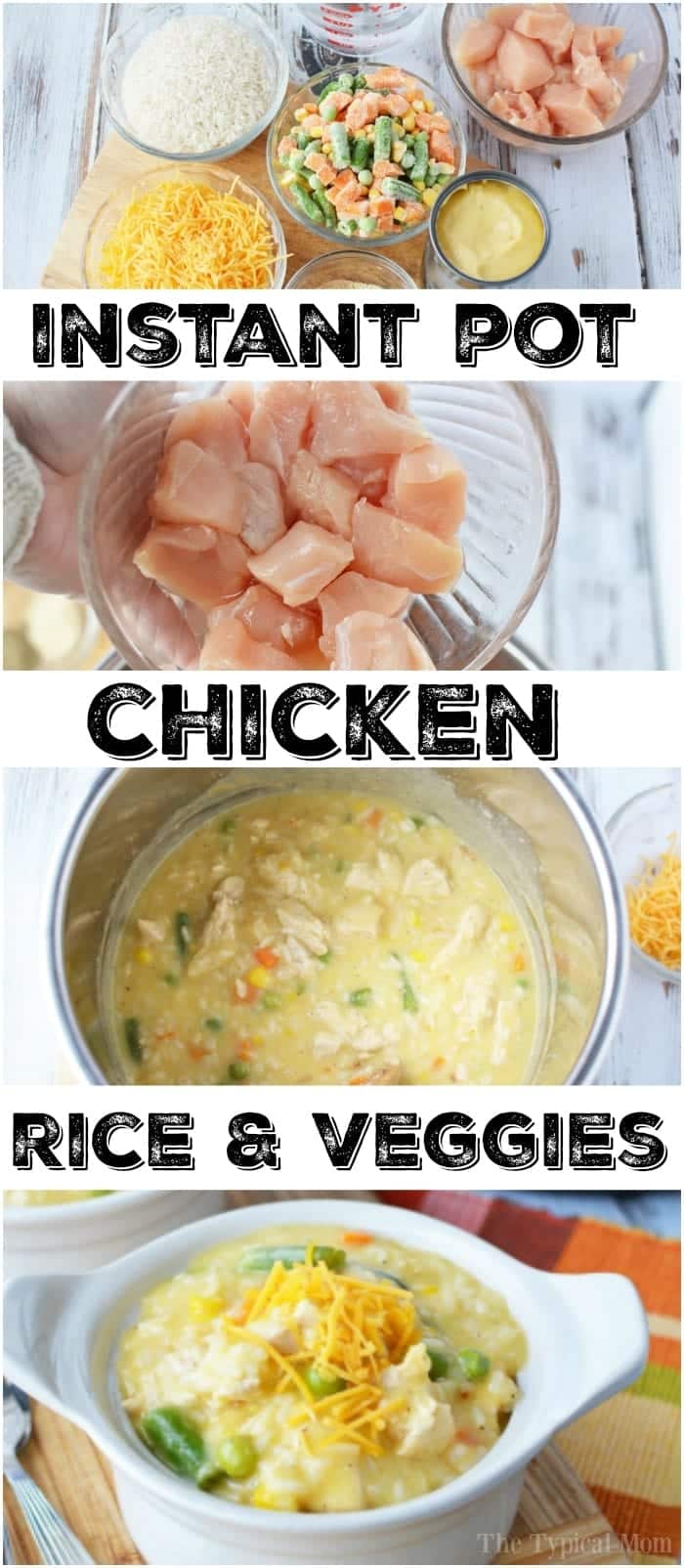 If you have ever made the Campbell's chicken and rice dish this is very similar but cooked in my Instant Pot so timing and a few more ingredients were added to it.
I ate something similar A LOT growing up with everything just dumped in a pot on the stove top. I really loved it and was made often because it was cheap. Pretty healthy Instant Pot dinner recipe too.
It has everything in a comfort food you'll want including a bunch of mixed vegetables that cook in no time.
Add any other spices you enjoy, I add just a few myself. If you want to use fresh green beans and baby bellas follow the directions here for our Instant Pot chicken mushroom casserole.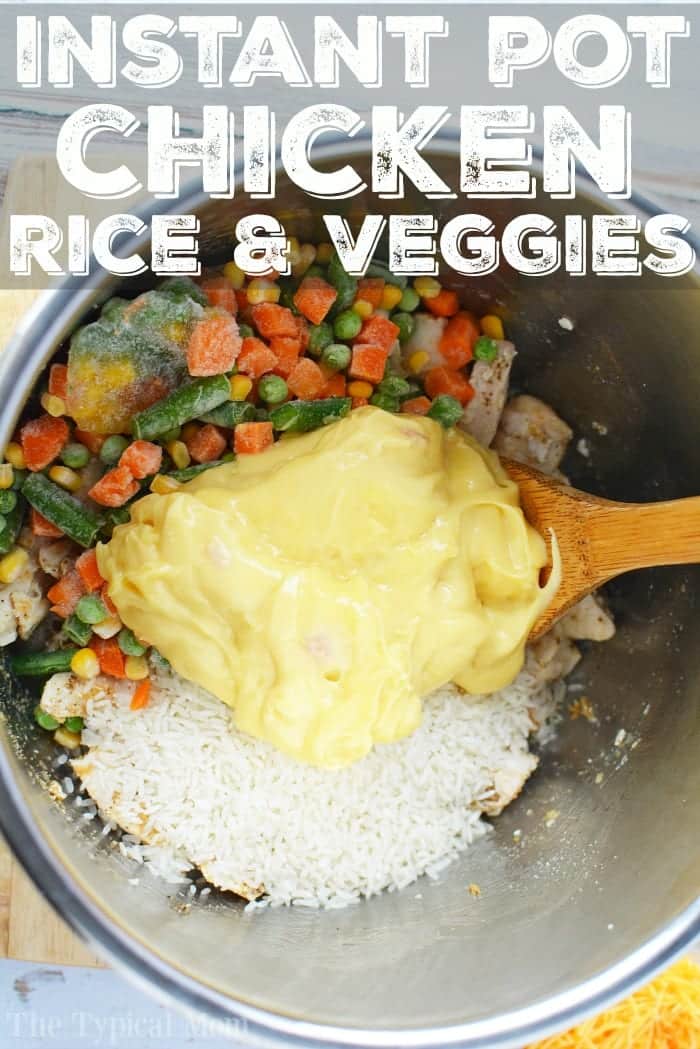 I first made this Instant Pot chicken and rice recipe using whole chicken breasts.
Mine came out really well but several people had issues with them not cooking through. Or their pot did not reach pressure so I have revised this recipe.
Now the recipe reads with the chicken cut up into cubes so there shouldn't be any issues any longer!
I've made lots of other dishes in my Instant Pot because it makes dinner time quick and easy.
If you don't have one and are a busy mom I would HIGHLY recommend it. It's a pressure cooker with 6 other functions so you can replace a lot of your other kitchen appliances too. I have a Crock Pot Express and Ninja Foodi. I use all three to make this.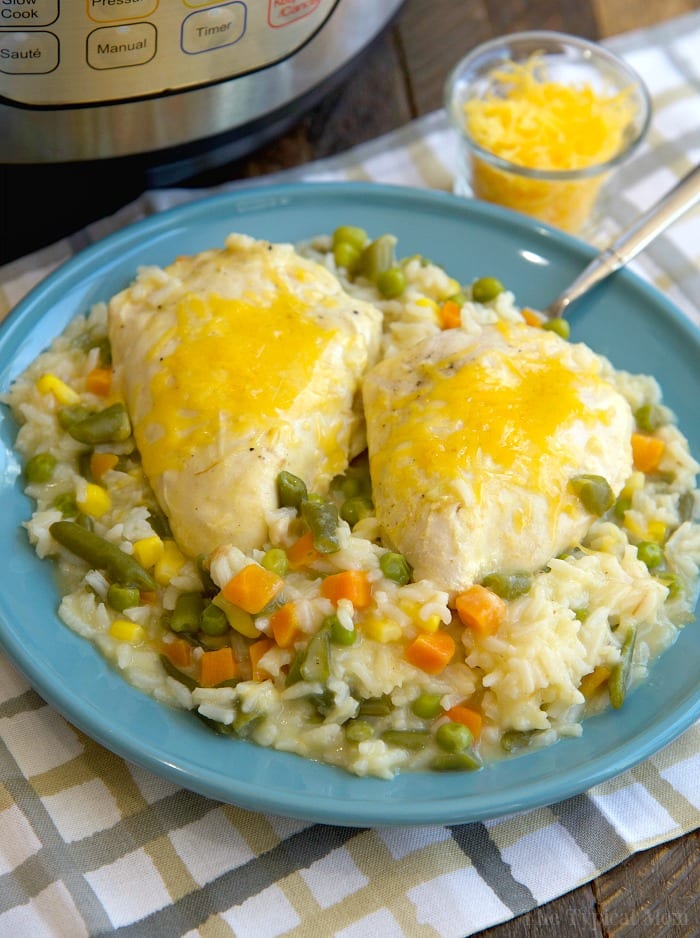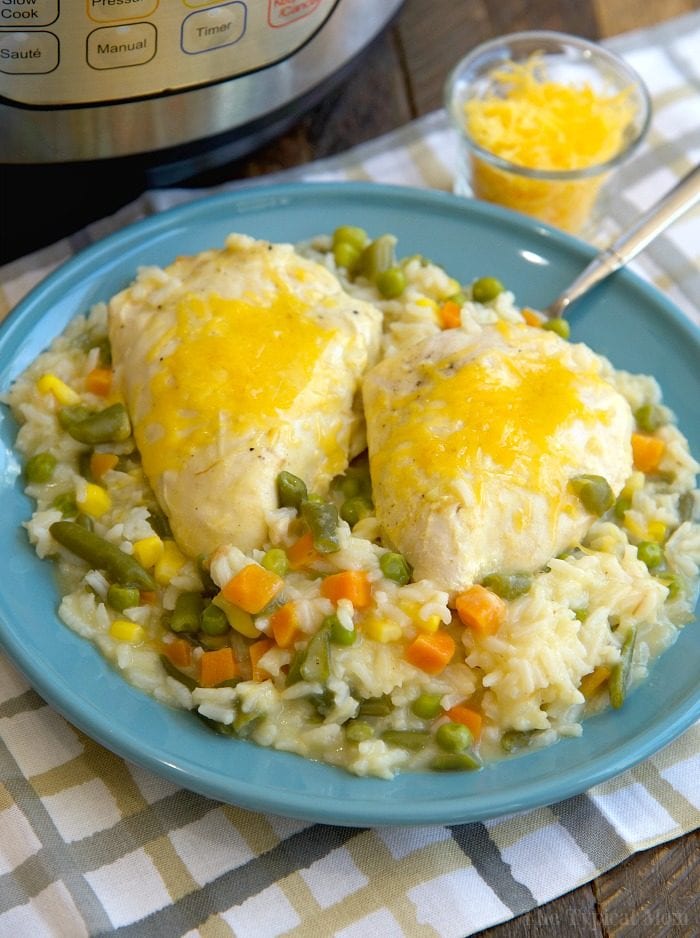 At first I was intimidated because I had never used one before. Now that I've tinkered with it I use it every day and share new pressure cooker recipes each week. They are all yummy and super simple to do like this one.
Here's what you'll need to make this Pressure Cooker Chicken and Rice
Cup of rice (not instant white rice, we like Jasmine rice)
Chicken breasts

could use chicken thighs

Frozen mixed vegetables
Cream of chicken soup
Chicken broth – can use water but broth is so much better
1/2 cup Cheese (optional but so good, we like sharp cheddar)
Season the chicken with salt and pepper
Onion
Olive oil
Instant Pot or pressure cooker – I have a 6 qt.

I HIGHLY suggest you get a non stick pot too!
Variations of this Instant Pot chicken and rice recipe
I have used rotisserie chicken vs. raw chicken – just use 2 breasts and dice the chicken up, then skip the first step where the chicken is browned, just put it into the bottom of the pot
I've used a 10 oz. bag of frozen broccoli florets (seen here) instead of frozen mixed vegetables and it tasted amazing too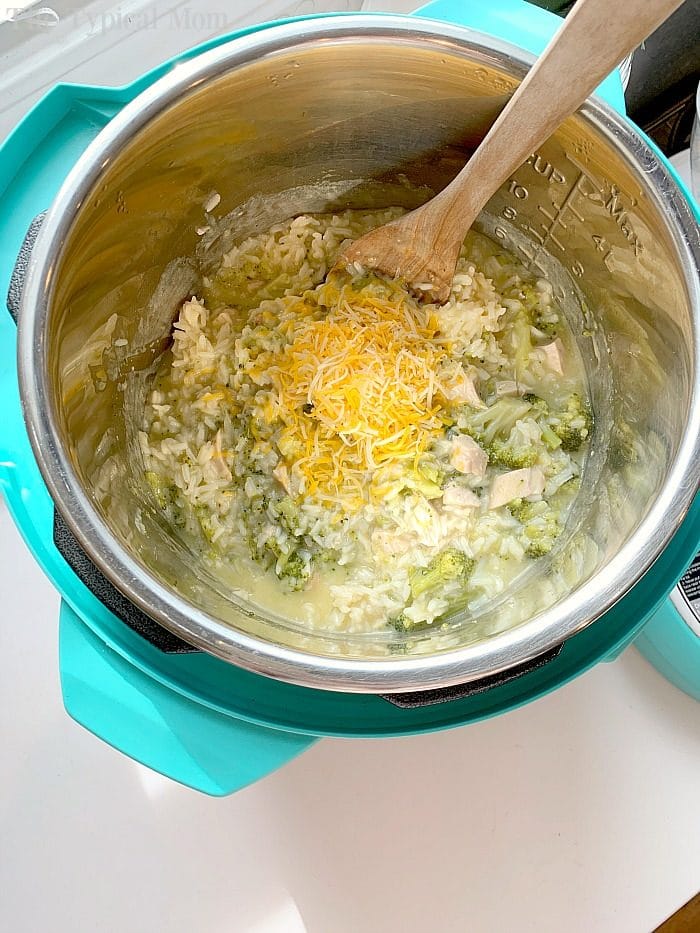 Just quick release and the cooked rice is so tender! Chicken is flavorful and it's just the best. I haven't made it with brown rice yet but others have, comments below.
I modified the recipe I found here but adjusted some ingredients and the time as well for it to come out moist and ensuring the rice was done perfectly.
If you love this easy dinner idea try our other easy Instant Pot chicken recipes here are a few
If you want to make this using noodles instead of rice follow our pressure cooker chicken noodle casserole directions.
Here's a step by step video showing you how to make our Instant Pot chicken and rice dish
Pressure Cooker Chicken and Rice
Amazingly easy pressure cooker chicken and rice casserole recipe we make in our Instant Pot the other night for dinner. Just 19 minutes cooks chicken, rice and vegetables perfectly. My kids absolutely love this meal and it's simple for me to throw it all together. A great way to get them to eat vegetables too!

Instructions
Put cubed chicken pieces and diced onions into Instant Pot with olive oil and set to saute, cook until chicken is cooked on the outside (will continue to cook in next step so outside just needs to be cooked/white in color). Turn pot off!

Sprinkle with seasonings. Add cream of chicken soup, frozen vegetables, and broth into your pressure cooker. Stir together WELL until clumps of cream of chicken are smoothed out.

Sprinkle rice on top and DO NOT Stir!!

Put lid on Instant Pot, close steam valve and set to manual, high pressure for 9 minutes.

Allow to naturally release for 3 minutes when done, let out rest of steam, and carefully lift lid. Add cheese now and stir until melted or serve topped with cheese.
Video
Nutrition Facts
Pressure Cooker Chicken and Rice
Amount Per Serving (4 oz)
Calories 528
Calories from Fat 171
% Daily Value*
Fat 19g29%
Cholesterol 93mg31%
Sodium 1209mg53%
Potassium 743mg21%
Carbohydrates 51g17%
Protein 35g70%
Vitamin A 2625IU53%
Vitamin C 15.3mg19%
Calcium 153mg15%
Iron 2.4mg13%
* Percent Daily Values are based on a 2000 calorie diet.