Ideas for Summer birthday party gifts and how to make your own gift wrapping station in your home with little to no money at all. Great DIY project.
Yes, it's about that time. The time when all the celebrations for June and July babies come up, and Summer birthday party gifts are needed. I think this is the best time of year for birthdays personally. From pool parties to beach days full of presents and smiles it is fun to shop for, and you can get really creative with the presentation. Let us how you what we created for the Avengers beach pool we went to recently. 😉 (originally published 5/15)
I have 3 children, so the amount of Birthday party invitations can get a bit overwhelming at times.
Instead of purchasing something practical (who wants clothes for their Birthday when you're 6), we like to come up with items that can be used throughout the season.
Water play is great if you live in an area that is always warm (California).
Or art sets are perfect for any location, and containers of fun like this are great for road trip activities too!
If you're anything like me you do almost all of your shopping online. I can find just about everything there, but when it comes to finding birthday party gifts my kids usually want to be hands on and see what they're giving away.
So, if you can't find what you want by letting your fingers do the walking online head to your local store. Focus on items that are timeless. To us that means beach and pool fun, and art sets. You can find great ones for both boys and girls which is nice, and pretty much every store will have something in these categories.
Then comes a card to complete your gift.
Always have your child put their personal touch on that.
You can always find lots of cards that will match the party theme, or have them make one of their own with some construction paper and markers.
As a treat you could purchase an extra art set for them to keep in the gift wrapping station so it's always there. A sort of card making station is what you could include in that area for them. 😉
It is a great writing activity as well, let them write what is on their mind without helping (unless they ask).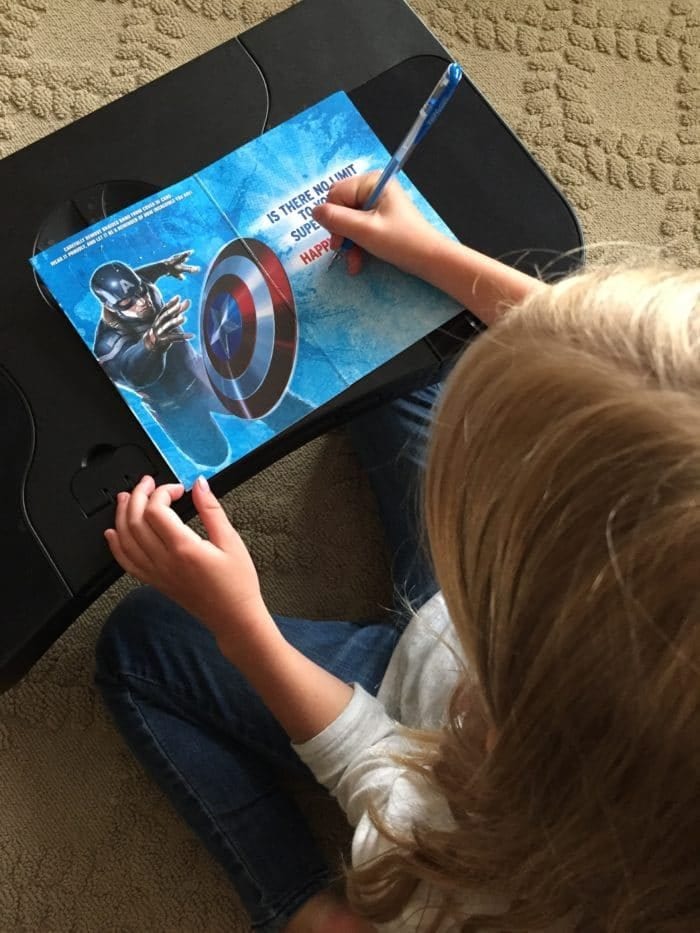 I love how sweet little ones can be when writing to their friends. Of course there was a cute message inside the Hallmark card she chose, but a personal touch was needed from her to her sweet friend!
See the fun we had putting this Summer gift basket together below! Since the card was SO cute we wanted to make it an integral part of the gift so there was no sense in hiding it behind the envelope.
We displayed it by simply taping the back to our water blasters inside the basket to make it a great addition to our Avengers gift!
The next day I returned to the store to stock up more of their $.47 cards since I had a few fun occasions coming up.
All at once we had Daddy's Birthday, my Sister in law's Birthday, and my 8th grader was getting ready to graduate (I'm not that old yet right??!!). I went to see what they had for all 3….there was a lot to choose from.
I like to pick up these inexpensive cards and stash them away in my gifting center I created at home.
It is really easy to do! If you have an empty desk or a "makeup area" like the one you see here in my bathroom, you can easily transform it into a gift wrap station.
I don't have much makeup so I made this "desk" in our bathroom into a gift wrapping station years ago. In the drawers I keep all the tissue paper, ribbon, and pens I need. Underneath I have an under the bed tupperware tub where I keep gift bags and items that are too big to keep in the drawers.
On the desk I have 2 card boxes. The shoe box holds children's birthday cards that my girls' can choose from when they are going to a party. In the box to the left I keep all the $.47 cards I stock up on inside.
It has made my life a lot easier, especially when my child comes home with an invite for a party that is in the next few days. Everything is here for me to sit down and write a nice note, or add a special card for a party!
What type of cards do you buy most often & for what occasions?