Sofia the First Mermaid doll is great for the bathtub. A perfect gift for girls at Christmas time or for a birthday too. Comes with accessories and more.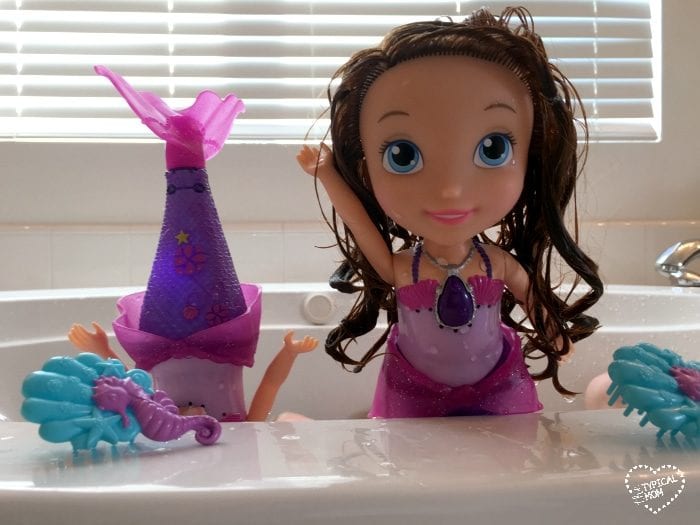 If you have girls like I do you know they love anything princesss, frilly, and best of all mermaids!! Pair any or all of these together and they're in heaven. Mine loved when their Sofia the First mermaid dolls came in the mail….and it really does do a lot of cool things PLUS makes bath time extra fun! Special thanks goes out to Disney Junior for allowing them to swim with their new friends & celebrate National Princess Week with her!
Sofia The First Mermaid Toy Review
It didn't last long in the box as it was meant for the bath so. Even though it was 4 o'clock in the afternoon they had to jump in the tub of course. lol.
Not only does she have a mermaid tail but it lights up and the tail spins around too which was really cute…..here's a peek of what it looked like when they got it and were playing with the light feature. Super cute!
Sofia the First Mermaid Magic Princess Sofia as she is called comes equipped with the 3 small batteries it needs to spin the tail and light up too which is a huge plus as a Mom.
Perfect for the bath it is a great incentive when your little one is not too into tub time, and is fun out of the water too.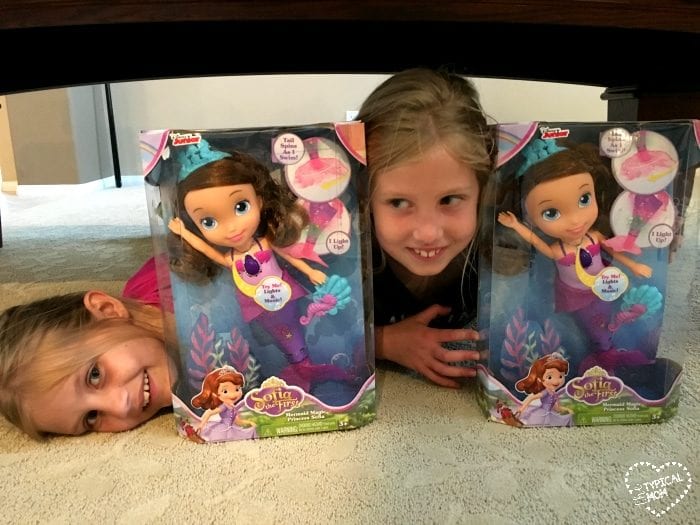 Sofia the First Toys
Whether you're buying it for a the best toys, as a surprise, or to encourage more fun during bath time it's a fun toy for girls. Especially those who love anything Princess!
It comes with a brush and a great head of hair too. These are perfect for "beauty parlor days" at home. We have those often with 3 girls in this house. We make meringue bites together too. 😉 Find more info. and you can purchase Sofia the First Mermaid Magic here.