It's that time of year again! Time to get the warmer clothing down, keep your crockpot on your counter (because you'll use it so often that there's no sense in putting it away), and look up some great crockpot soup recipes! We have several slow cooker favorite recipes we make quite often in our house, and I have a few from fellow friend bloggers to share too….it's always nice to have a variety.
I love my slow cooker! Honestly I use it year round, but much more often when it's cold outside. Soup recipes are great because they're usually easy to throw together, everyone loves a warm soup, and you can just throw one side of bread together and you're ready to eat. Here are a few of our favorites! Crockpot Baked Potato Soup Recipe – This is one we cook quite often at home. I came up with this recipe that is so simple and flavorful and it literally cooks all by itself all day long! Doctor up with leftover ham and/or bacon too. (updated and republished 10/16)
Crockpot soup recipes
Crockpot Italian Wedding Soup – One of our favorites that is healthy and easy to make.
Chicken Soup in the Crockpot – classic chicken noodle soup make right in the slow cooker.
Crockpot Chicken Enchilada Soup Recipe – This is such a great recipe with a kick! You can doctor it up to be as spicy or mild as you'd like and it is full of several different ingredients for a really hearty meal. A great crockpot soup recipe to make when yo have leftover chicken!
Tomato Bisque Crockpot Recipe – Even my kids like this one! I am not a tomato lover but tried this once and I was hooked. It is full of fresh ingredients, a little more work than some of my others but SO worth it. Keeps warm and great in the crockpot and a great dish to bring to a potluck!
Slow Cooker Fiesta Chicken Recipe – From Who Needs a Cape – We love this recipe! With lots of hearty ingredients I like to use a rotisserie chicken when I make this one to make it even easier to throw together.
5 Ingredient Crockpot Chili Recipe (chili falls into the soup category for us) – We literally make this crockpot soup recipe atleast once a month…..and even during the Summertime. It takes less than 10 min. to throw together and is great over rice!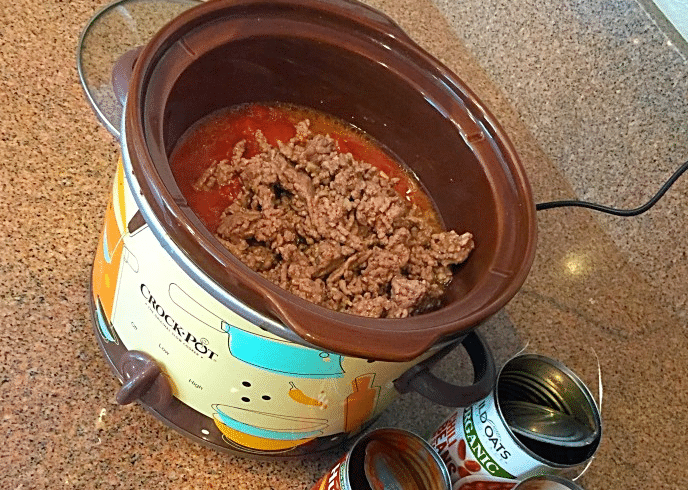 Slow Cooker Chicken Noodle Soup – from Cooking Classy – If you love chicken noodle soup you will love this easy crockpot chicken noodle soup recipe. full of all the traditional ingredients you normally see in this down home dish…add or delete more depending on your liking.
Slow Cooker Split Pea Soup – from Favorite Family Recipes – I love a great split pea soup, especially after Easter or Thanksgiving when I have leftover ham and want to use it in something other than sandwiches!
Crockpot Taco Soup Recipe – from home.made.interest – We love tacos but this is a great crockpot variety to try. Taco soup in the crockpot is a great soup. If you love variations of tacos try our recipe for homemade taco salad bowls here too!
French Onion Crockpot Soup Recipe – from The Yummy Life – I am not an onion lover but this soup is great. Cooked in your slow cooker and topped with cheese is full of warm ooey gooey goodness.
Slow Cooker Chicken and Wild Rice Recipe – from The Creative Bite – I love the chicken and wild rice they have at Panera, and this one ranks right up there with the one they have there but it cooks all day in your crockpot….love that!
For more tips and easy recipes like these crockpot soup recipes sign up for my free newsletter and follow me on Pinterest.