Let me share my Mealthy Multipot review with you so you can make an informed decision! What is the best pressure cooker to buy, and what makes them different.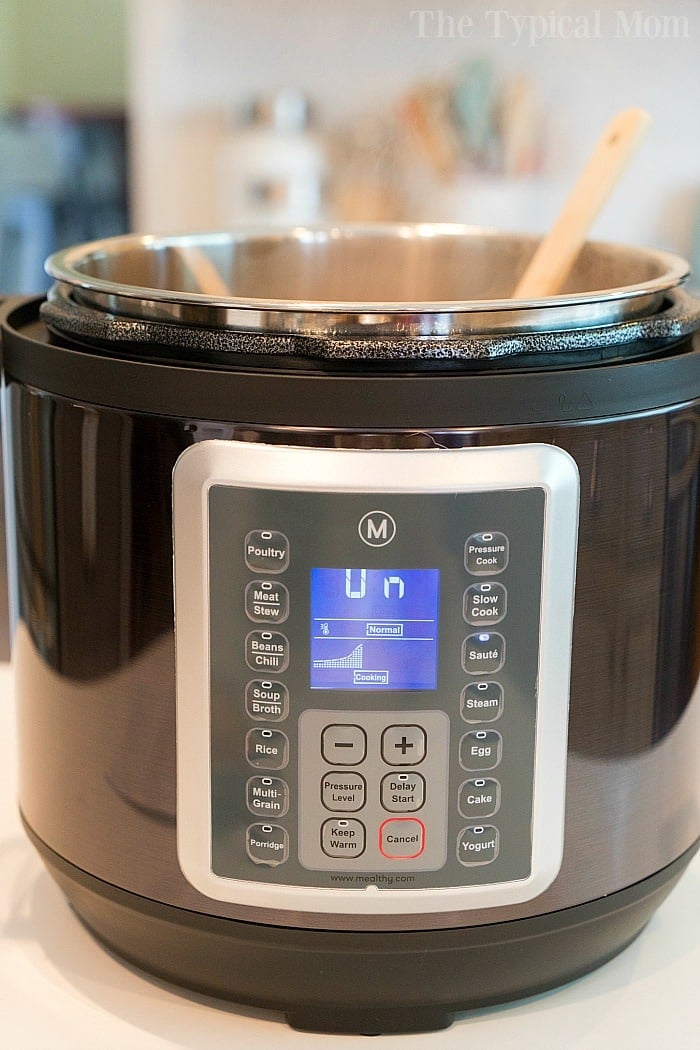 Are you new to pressure cooking and considering a Mealthy pot?? Or…do you want a second electric pressure cooker and wondering if this is a good choice? Let me share why I like this pot, how quickly it cooks meals, and how it isn't like the others on the market! Special thanks goes out to them for gifting us this 8 quart unit so we could share our findings with you.
Pressure Cooker Mealthy Review
I did an Instant Pot vs Ninja Foodi comarison a while ago. Now we are explaining how this multi cooker is similar and different than the others on the market.
And we will be sharing the NEW Mealthy CrispLid too! With both you can then make easy air fryer dinner recipes and TONS of cheap and easy Instant Pot recipes that you can make in your Mealthy too. Here is the biggest difference!! Look!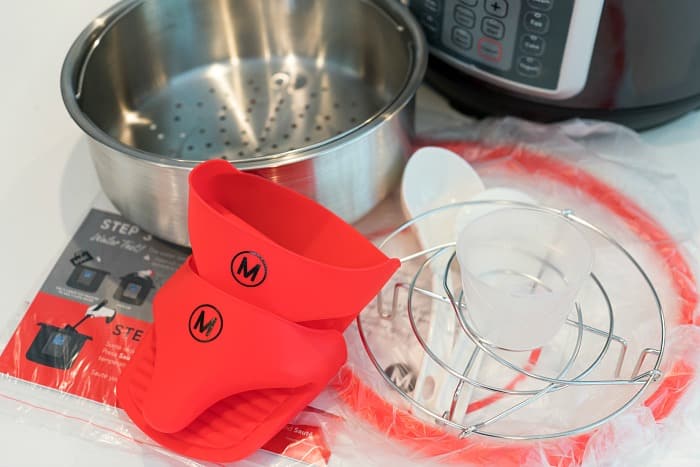 Mealthy MultiPot
Yes…you get all these items inside your box and the 6 quart is always under $100.00!
They sent me the 8 quart Mealthy Pot since my other machines are smaller. I wanted to see the difference in sizes too.
The price difference is so slight that I would recommend the larger version for sure.
BOTH come with everything you see above including:
Trivet with handles
Mini silicone mitts
Stainless steel steamer basket
Extra silicone gasket, or sealing ring you might call it
Measuring cup
Small ladle
Rice paddle
Of course you can get additional pressure cooker accessories but the main ones are included.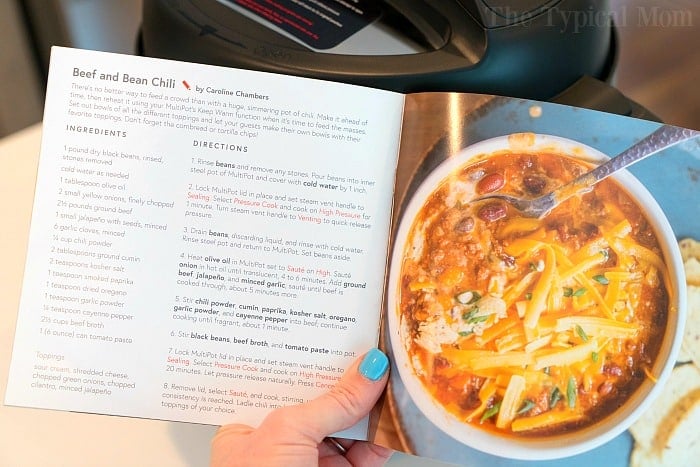 Mealthy Cookbook
I used this recipe as a base but of course tweaked it slightly to fit what was already in my fridge and pantry. 😉 That's how we roll around here…..
You can't go wrong with this mild chili recipe and baked potatoes for dinner!
Mealthy saute function
The Instant Pot and Ninja Foodi have this button too, on the Crockpot Express it says brown/saute.
I found that theirs heated up a bit quicker.
It also was quite a bit hotter it seemed and cooked the initial steps in no time at all.
Was pleased with it!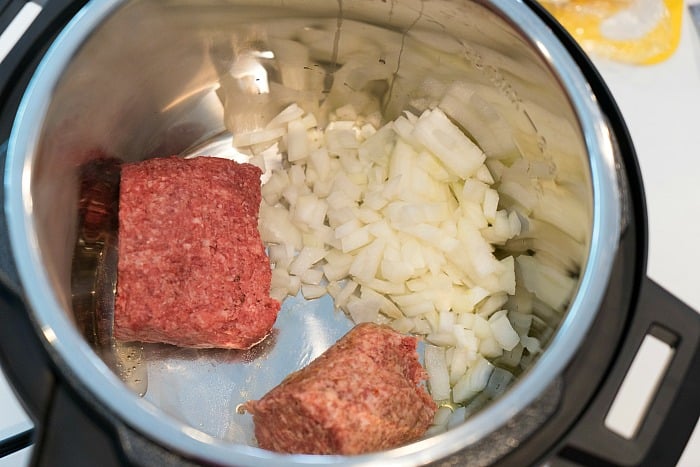 Pressure cooker function on the Mealthy:
Uses the button that says pressure.
You're able to adjust from high to low.

Some Instant Pot models do not allow for this.
Love that you're able to choose either.

It also automatically starts once you set the heat level and time.

You have to press Start on both the Crockpot Express and Ninja Foodi pots which I don't like. (because sometimes I forget that step and it's no bueno)
Is a multi cooker the same as an Instant Pot
Yes!
Essentially they do the job of a slow cooker, electric pressure cooker, rice cooker, steamer, yogurt maker, saute pan, and more.
A single appliance that does the job of 7 in 1 different kitchen appliances.
What is the best multi pot?
If you're looking for an inexpensive pressure cooker that comes with just about everything you need from the get go the Mealthy is it!

It offers all the same functions as the other more expensive models on the market today.
Like I said, that is the main difference between all 4 major brands.

One other big difference is the type of inner pot.

If you prefer a stainless steel cooking pot the Mealthy and Instant Pot offer that.
Like a non stick pot? Ninja Foodi and Crock Pot Express come with that.

It is not Teflon, it's ceramic.
Using this information it is ultimately up to you, but I love sharing how similar they all really are.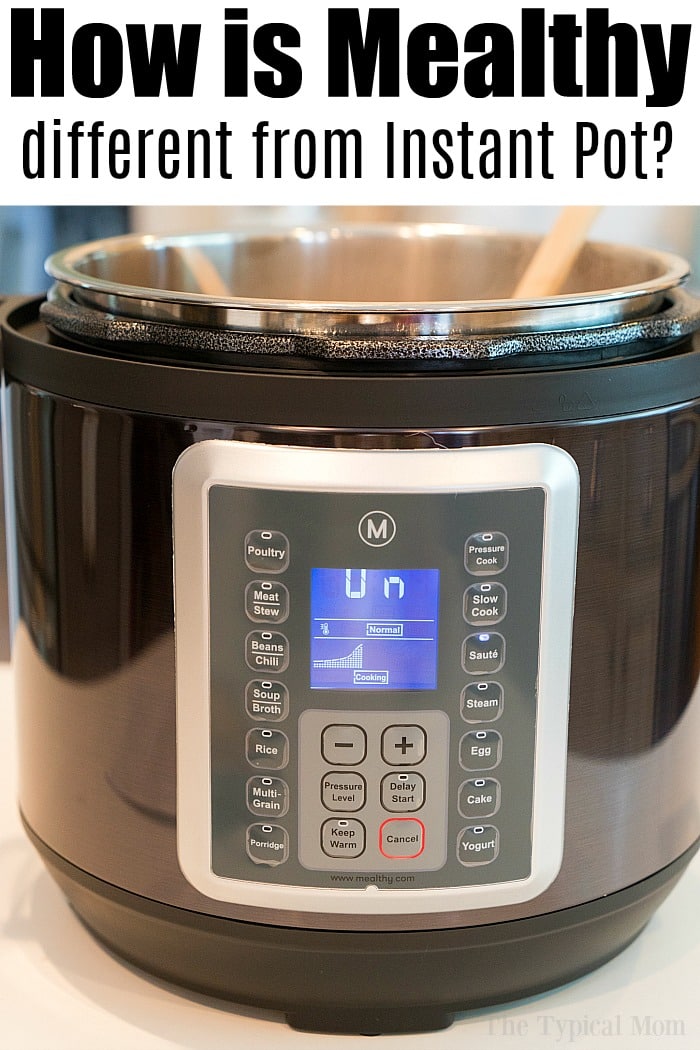 Mealthy buttons
Poultry – works perfectly for pressure cooker whole chicken
Meat/Stew – great when cooking beef stew meat
Beans/Chili – used when starting with dry beans
Soup/Broth – slower cooking which you want to make pressure cooker soups
Rice – ONLY way we cook rice! Automatically sets time so white rice comes out perfect
Multi-Grain – never used it
Porridge – way to make pressure cooker oatmeal
Pressure Cook Function- use this almost daily honestly
Slow Cook – haven't had much luck with this, I'd rather use my "old fashioned" Crockpot
Saute – replaces your stovetop entirely really
Steam – haven't used this enough to talk about
Egg – haven't used but probably handy automatic button for hard boiled eggs
Cake – haven't used for this
Use some or all of them. Primarily I only use the first five only. Like I don't even bother with the rest. Instead I use high pressure with the timing I know works well. At the beginning the buttons are handy.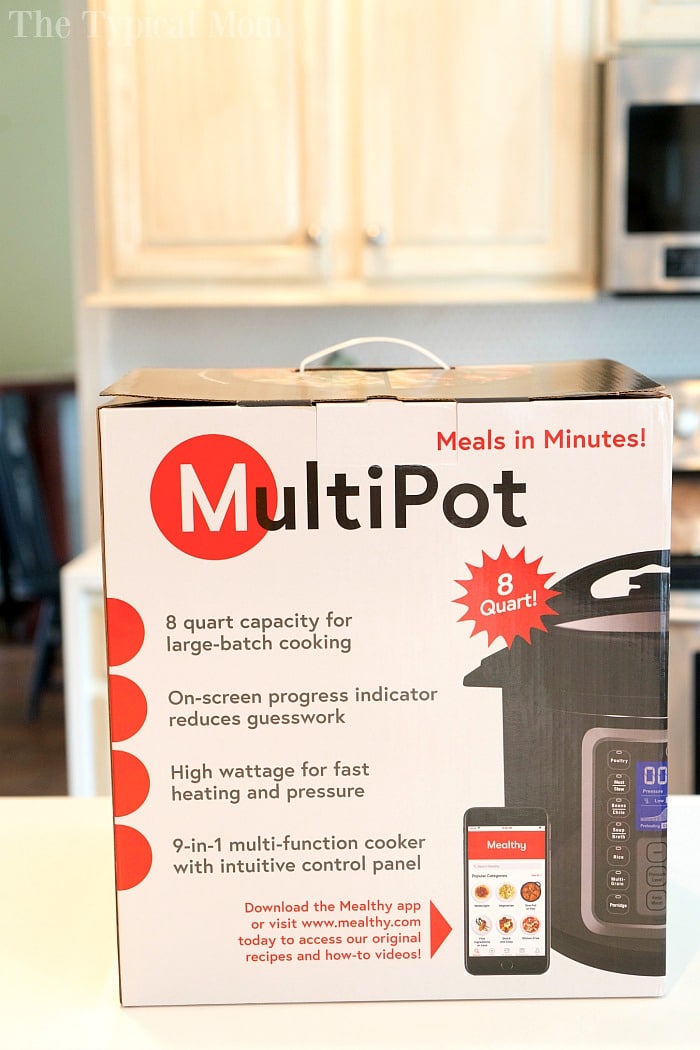 This is what the box looks like when you get it delivered to you, or get it at the store. I love that they have an app with lots of recipes you can choose from. Of course you can use all of our pressure cooker Ninja Foodi recipes in this pot right now too.
How do you clean a Mealthy pot lid?
Start with washing it with warm soapy water and a soft sponge.
Remove the steam valve (just lift up on it to take it off).
Take out the inner sealing ring, wash that separately to get into all the nooks and crannies.
Then thoroughly rinse the underside and outside, allow to air dry.
It's dishwasher safe too so if you'd rather just take these 2 items off and put all 3 pieces on the upper rack.
If sealing ring still stinks mix ½ a lemon + 1 cup distilled vinegar + 1 cup of water and rub this on. Can submerge in liquid too for intense smells.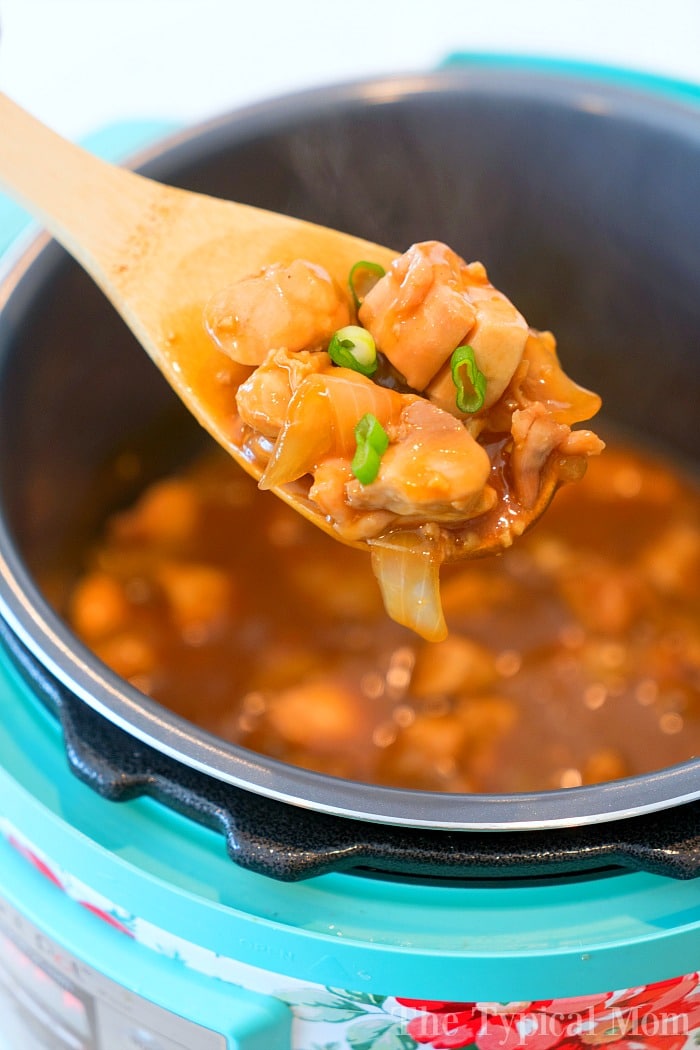 Mealthy recipes
We have a ton of Instant Pot recipes you can follow and there is literally nothing different about them.
There are recipe videos in almost every one to help you learn how to use your pot.
Tips and tricks for making each meal perfect are shared.
I provide step by step instructions and short cook times for all my recipes. I promise you that food cooks in NO time at all when you use this fancy new kitchen appliance.
And there's no need to be afraid of the steam release valve. As long as you keep your fingers and skin away from it when you turn it to vent you'll be just fine!
There is also a Mealthy App you can download to your phone! This recipe app is free and handy to have with you in the kitchen!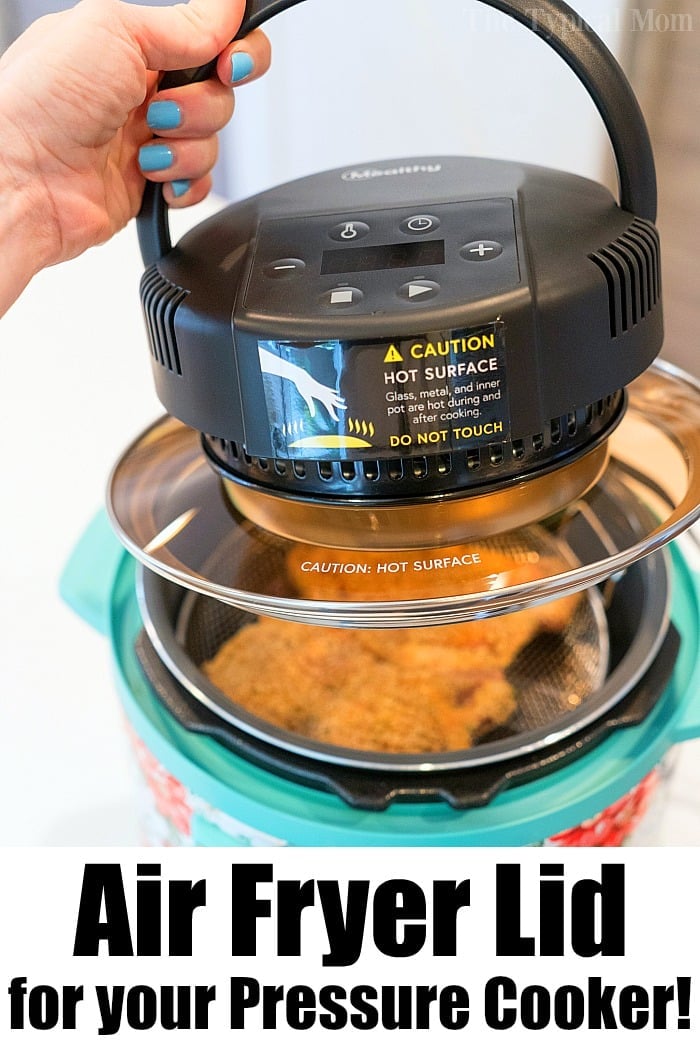 ** Looking for a pressure cooker and air fryer machine??!! Just WAIT because they're coming out with the first air fryer lid that fits on both the Mealthy pot and Instant Pot. More details to come on that when mine arrives so I can share how well that works for me. 😉
If you're still deciding if pressure cooking is for you let me tell you it should be a resounding YeS! Makes meal prep a snap and I literally do not use my oven or stovetop anymore other than a birthday cake or two. It's that life changing!
And if you love pots that do more than one function, you'll love the Multo CookingPal pot too.