The Multo CookingPal is the latest innovation when it comes to intelligent cooking all the things! The ONE small kitchen countertop appliance that has 10 functions. It can cut, chop, grind, knead, grate, weigh, sauté, steam, boil, mix, emulsify and more. Get ready to make dinnertime easier.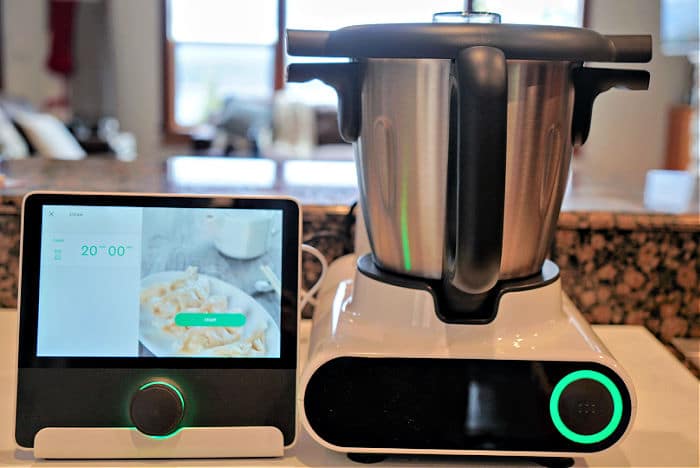 Thinking about buying a Multo CookingPal multi cooker? I just got one and let me tell you it does a TON of different things. Let me share what I think of this new gadget on the market and how I think it can help you eat together more often at home. Special thanks goes out to Multo for providing me a machine so I could share my review with you.
CookingPal
The name is pretty darn right. This multi cooker will become your buddy in the kitchen as it shows you what you need to do right on the screen. That is right, connect to your machine and there are recipes loaded right in there. Click on which one you want to try and it will walk you right thru the process with ingredients necessary.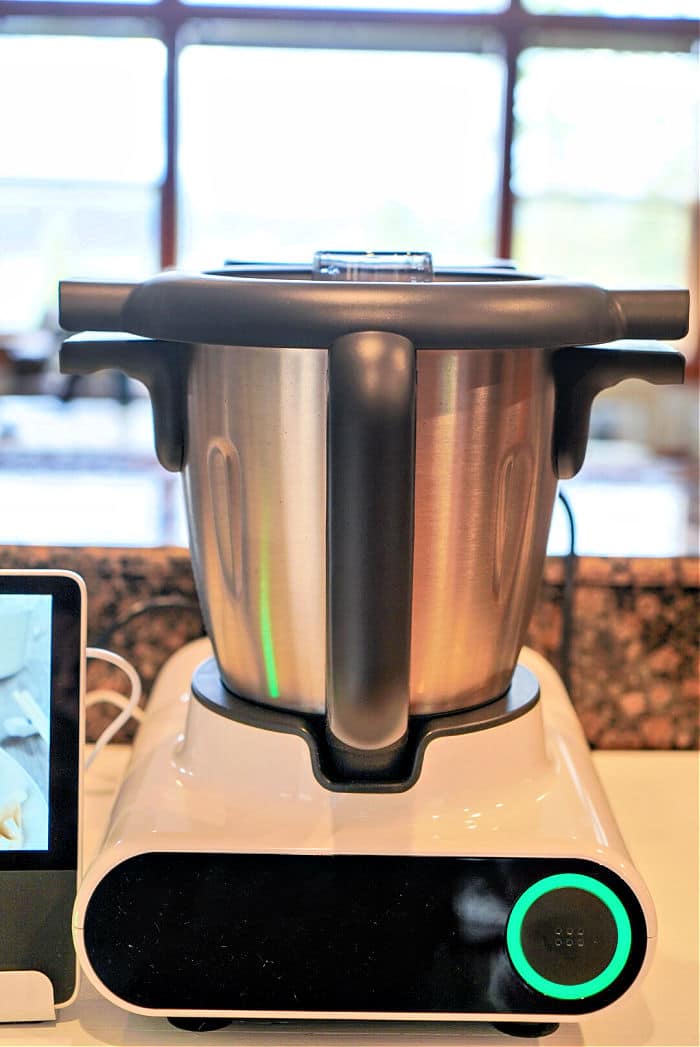 Each week they add 5 new recipes into their network as well so you will never get bored of all the things you can create for your family. From seafood, to beef dishes, chicken and pasta, the list goes on and on. Instead of baked pork chops in the oven which heats up your entire house you can cook them in this device now.
Multo Review
Just scroll thru all the recipes on the main screen unit and find what you want to cook. If you like to meal plan on the weekend this is great too. Look at all the ingredients you'll need, make a list, shop, and during the week you'll have everything you need on hand.
No more searching the internet for new family friendly meals, they are right there on your kitchen counter to find.
It comes with everything you need too. Inside the main unit that looks like a blender there is the blade you'll need to mix up a few smoothies, milkshakes, or even our favorite tomato bisque soup. Lower this basket inside if you want to steam some veggies or make a meatloaf instead.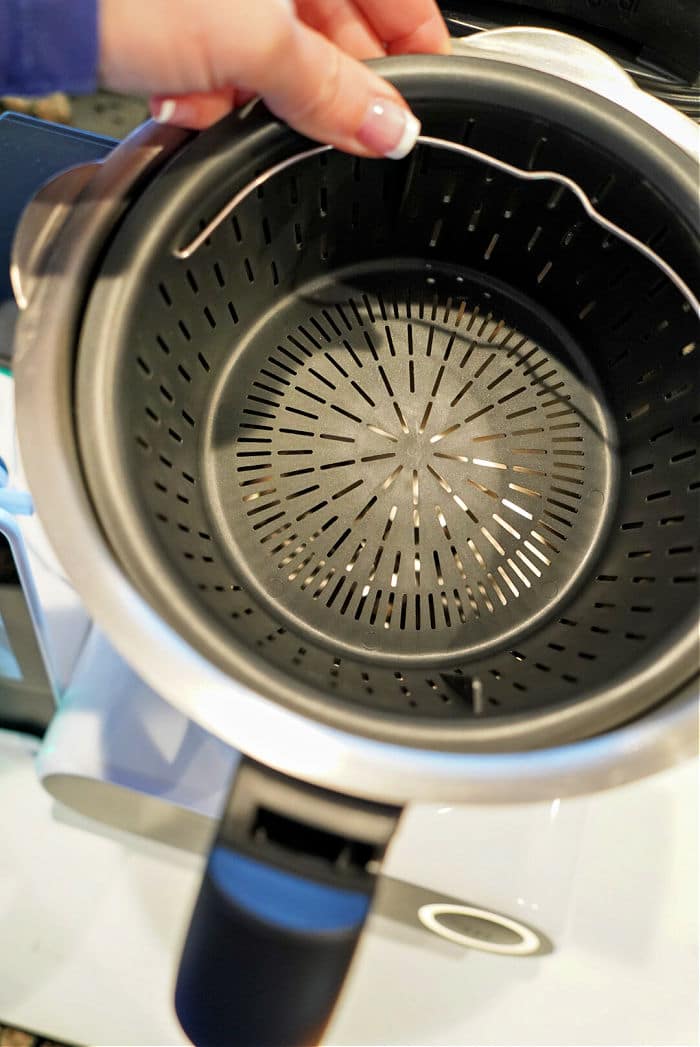 Multo CookingPal Review
The Multo intelligent cooking system comes with everything you would need to steam, blend, and cook all the things. All you need are the items necessary in the recipe you choose. The following accessories and items are included in your box.
3 piece steamer set
Custom lid and measuring cup
Butterfly whisk
Steamer simmering basket which you see above
Mixing bowl / blender with blade inside
Smart Kitchen Hub is what you see above
This is like the brain of the device. You control everything from here. I took a while to really check it out and see how user friendly it was. Totally intuitive as to how to make all different types of meals.
You first connect it to your home WiFi. Then it needs to charge just a little bit and then you'll be ready to choose what you want to make. Like I said there are 5 new guided recipes uploaded into the database regularly so you will never get bored. From steaming simple broccoli, to cooking fish and a side dish at the same time are there.
Do It All Kitchen Appliance
You just tap on the one you want and it will open up a list of ingredients necessary. The step by step instructions are below. Even if you are new to using this device they are very easy and spelled out for beginners. So if you want to steam it first let's say you would click the Modes button on the top left of the screen.
There you can choose to knead, steam, saute, etc… Click on saute and set the cook time you want.
Tap on the minutes to set to the correct number of minutes and hit start. It will send a signal to the Multo machine and will start cooking. Ensure the lid is closed and secure when necessary.
How Does Multo Work
To do this you push it on and rotate it to the right so the little bump on the lid slides under the lip of the device behind the mixing bowl. There is a built in scale which comes in really handy during meal prep if you're figuring out how much time it will take too.
Be gone with all of your other small kitchen appliances because you won't need separate steamers, food processors, or blenders clogging up your pantry now. Just ONE does it all for you, the home cook.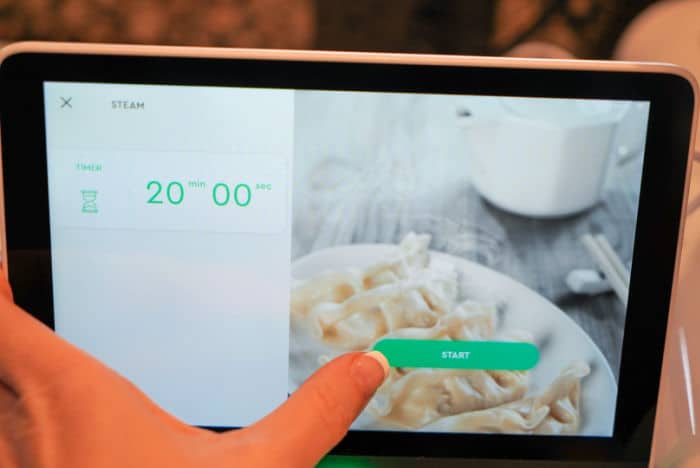 Multo Recipes
Like I said, there are tons loaded on to this device right when you get it. Just scroll thru all of them or filter thru with what you have on hand. Choose the protein you have like pork, chicken, beef or seafood. It will pull all of those specific ones for you.
This is great for us because I like to buy in bulk what is on sale and freeze it. I will take out what needs to be cooked that week and search from there. Here are a few that they offer on the smart screen as examples:
Creamy chicken Fricassee with rice
Quinoa risotto
Pineapple mango salsa
Homemade peanut butter
Ratatouille
Cauliflower gratin
Chicken noodle soup
And if you just want a keto low carb friendly dish they have those too. Bacon wrapped chicken breast is probably top on that list of possibilities.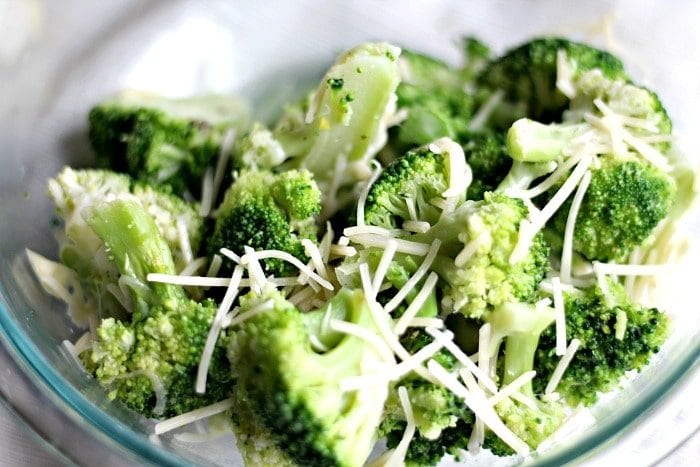 Multo CookingPal
Use it to cook an entire dish or just a side like you see here. Experiment with it. At the beginning choose the beginner recipes, move to advanced and then you will get the hang of it. Then you can make anything you want on your own.
Ready to give it a try on your own?? Since you probably live to far to come on over and try it at my house you should just order your own.
Want to get $80.00 of the CookingPal right here?? <—— Click this link and then enter coupon code ATYPICALMOM at checkout.