Our smoked turkey rub recipe is amazing and only needs a few ingredients you have in your cupboard. Looking for the best turkey dry rub for meat, this is it! On top of our smoked turkey with dry rub is best but even used on an oven roasted bird is amazing too.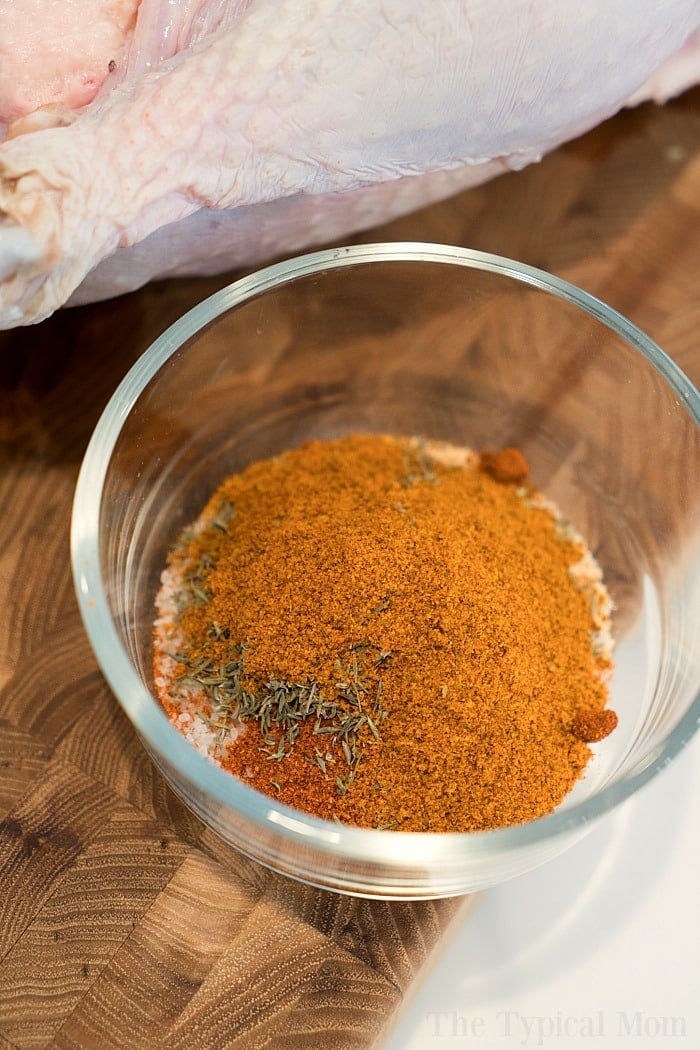 Picture crunchy turkey skin after smoking for hours in your Traeger or other brand. Oh yes, that's what you'll get when you use this smoked turkey rub recipe. Paired with one of our easy smoker recipes you'll get your mouth watering too. (affiliate links present)
Turkey Dry Rub
This is NOT JUST for turkey y'all, you can put it on any meat to make it come out amazing!! We have coated pork chops, chicken thighs and even steaks with this sweet and savory mixture and it takes all meats from good to OH MY wow.
You can also of course cook it any way you want but smoking is our #1 favorite method. If you're looking for a dry rub smoked turkey recipe we have instructions for that below, or use your own cooking method and this mixture. Just ne of many dry rub recipes on our site.
This smoker cookbook has some more great ideas if you want to cook outside more regularly.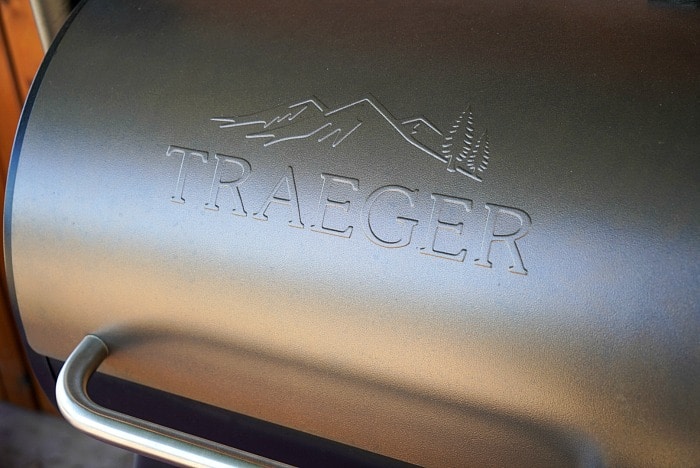 Turkey Rub for Smoking
You can even use this if you're making an Instant Pot turkey or pressure cooker turkey breast too! I'm telling you, this combination of seasonings is the bomb!!
We've even drizzled a bit of olive oil on an Instant Pot frozen turkey breast with this sprinkled on the top. Amazing.
It's seriously great on just about everything.
The "secret" to why it tastes so good is this little can right here. Once you have it there are TONS of other great Old Bay recipes to make with it after that. You might think of it as just a seafood seasoning but oh my can you make so many other great things with it y'all, trust us.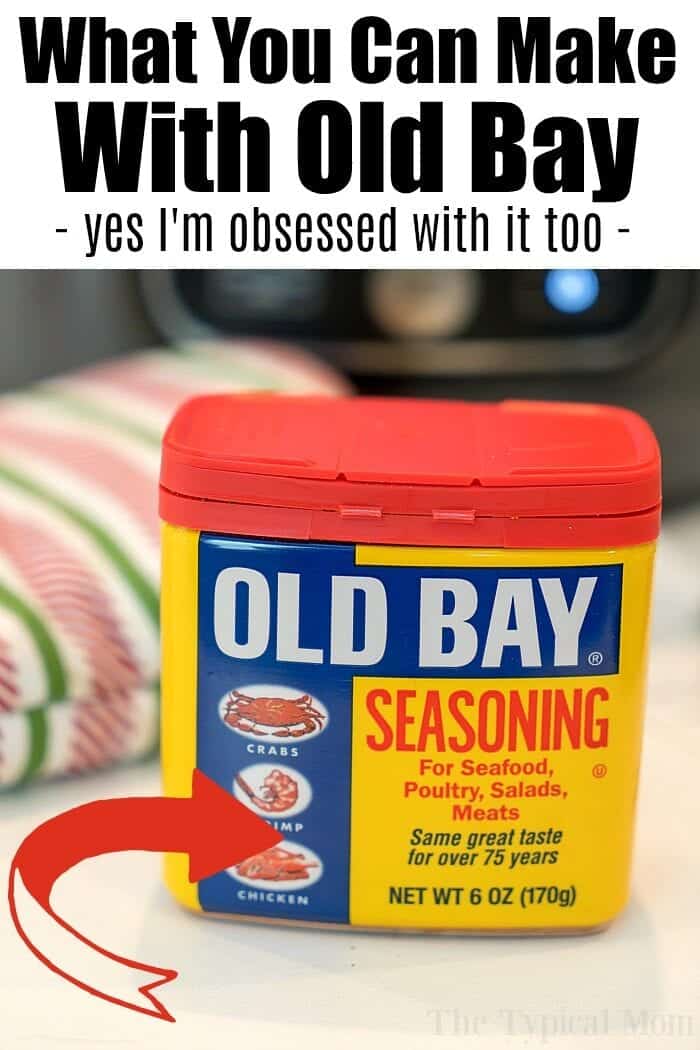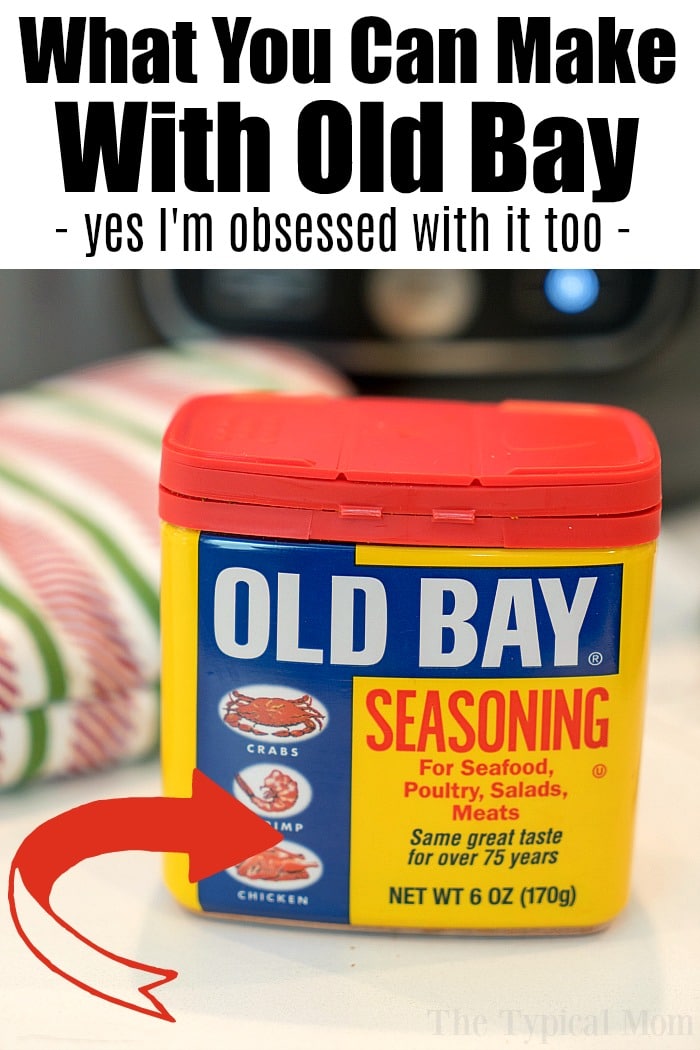 Smoked Turkey Dry Rub
When you try this you are going to be blown out of the water really. With this said you could easily use it on chicken throughout the year as well. The easiest way to do this is make in a large batch and store in a sealed container to sprinkle on without any measurements all the time.
Which is better dry or wet brine turkey?
I have tried it both ways. We've also made this and a simple turkey brine that is wet but I will tell you that this dry rub is the BEST!! For a simple wet brine for a 12-14 pound turkey use 6 quarts of water with 1 ⅓ cups of kosher salt (if using Morton's, use a bit less than a cup).
Dry brining a turkey of course uses no water. You just spray on some olive oil, rub the turkey with this mixture you throw together in a small bowl and bam, you're done. It takes less than 15 minutes to make
Good Turkey Seasoning
Do you have to brine a turkey?
Well no, but brining helps make a turkey super juicy and extra flavorful. If you refer to Bon Appetit it says all you have to do is rub salt on it the night before.
That's a sort of dry brine. In blind taste tests a dry brined turkey far outranked a traditionally brined bird. I think the one thing that we use that may be a bit unexpected is Old Bay!! My favorite seasoning for all things.
Smoked turkey rub
Old Bay seasoning
I'm obsessed with this seasoning. If you've never tried it, buy a container full and you can make a bunch of other things with it too.
Sea salt
Garlic powder
Cayenne
Paprika
Thyme
Olive oil spray
Paper towels are helpful
Thermometer to check internal temperature
Wood chips or pellets if you're smoking
Optional add ins:
Black pepper
A bit of brown sugar for some sweetness
A bit of olive oil spray is handy to have in order for your dry rub to stick well. Another tip is to use a wad of paper towels to dry the outside of the turkey skin. Then your olive oil will stick nicely and following that you will add your rub all over. You want a thick coating all around, just allow the excess to fall off before cooking.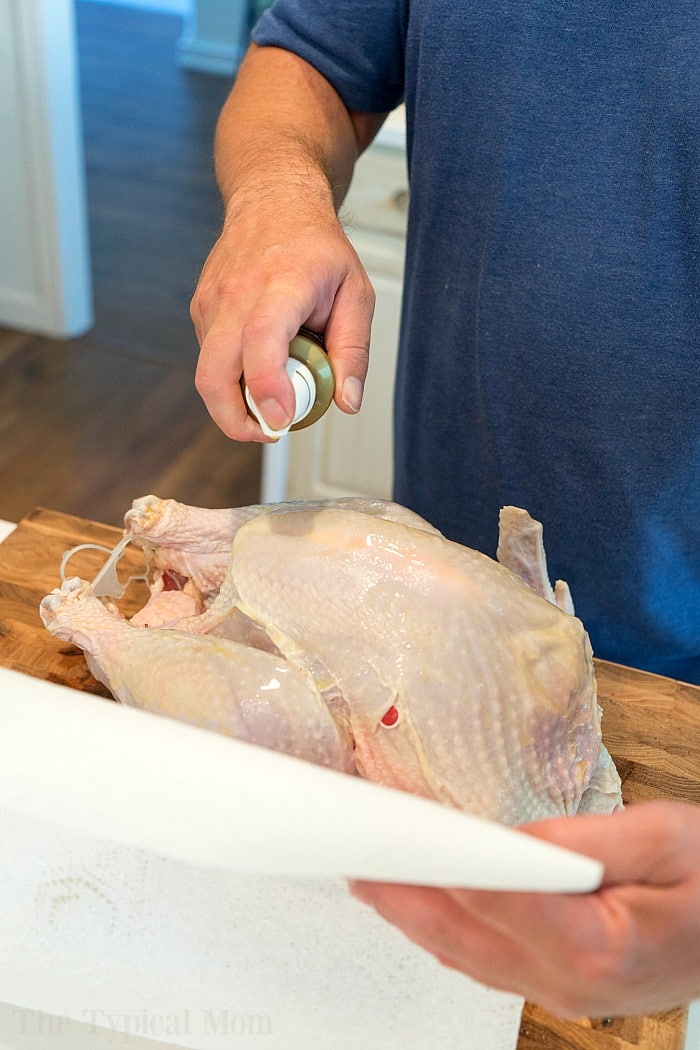 Dry Rub for a Smoked Turkey
Here are the steps to take so it comes out perfectly moist turkey. You'll want to remove the wrapper and bag out of the cavity. Save items in baggie for later if you choose to add them to your gravy mix or discard.
There are mixed opinions on whether you should rinse your turkey but we generally do.

Preheat your smoker to 240 or 250 degrees now if you're making the best smoked turkey.
This is our very favorite way to make it. Using your Traeger or other brand creates the most flavorful meat and skin. Guaranteed you'll be amazed.
If making a sheet pan turkey, preheat oven to 400 degrees F.
Place on a cutting board and pat dry with some paper towels.
In a bowl mix together your turkey dry rub ingredients.
Rub it generously on the outside skin.
Cook at this time following the directions in your recipe.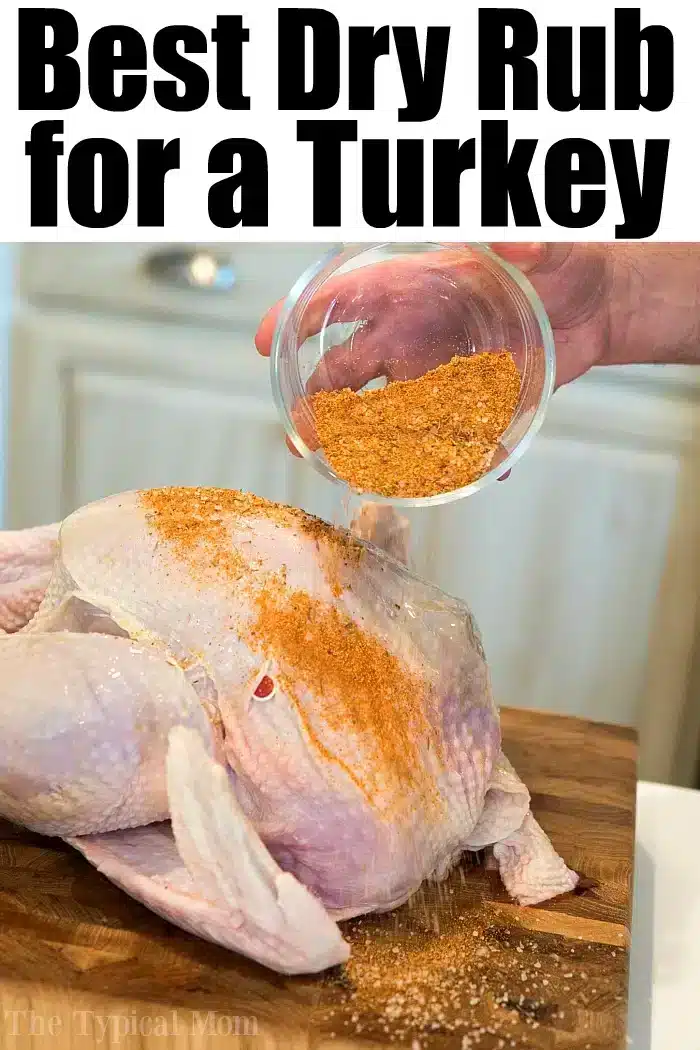 Do you cover a turkey when cooking it?
It depends on the recipe.
It is helpful if it is browning too quickly,.
You can cover it all with a loose foil tent.
Or just cover the parts with a bit of foil that are getting too brown so the others can catch up.
Of course make sure to check the internal temp. of the thigh to ensure it is at 165 degrees, and middle of turkey breast reach 155 degrees F.
Make sure your meat thermometer is inserted into the middle of each piece once it has been removed from the heat source. This will achieve an accurate reading.
If it is not done quite yet, put back in or on and recheck every 1/2 hour or so to ensure it doesn't overcook and dry out.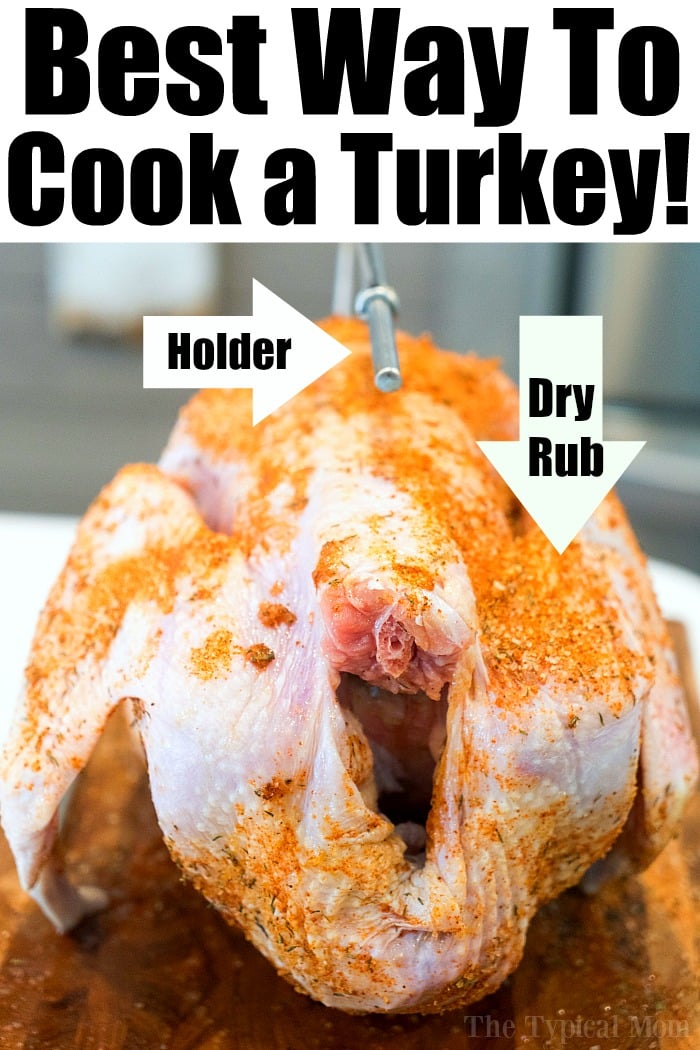 Here are a few questions you might have in mind before mixing together your ingredients.
How long do I cook a 16 pound turkey?
The rule of thumb for cooking a turkey is 13 minutes per pound.
This size would be estimated to cook in about 3 1/2 hours.
Some factors like brining the bird, cooking with an empty cavity, baking on a sheet pan, or leaving the legs un-trussed will contribute to much faster cooking though.
Can I season my turkey the night before?
The night before your turkey goes in the oven or smoker you could season it with this blend. I will say I've never done it and would assume the flavors would be even more intense.

Before cooking, remove the turkey from the wet brine if you're using that. Rinse it well under running water and pat dry inside and out with paper towels. You can rinse off this dry rub recipe too if you think it will be too strong. We prefer to season using this recipe the day of, and not rinse at all
Here's a guide for how long does a turkey take to cook. It is handy to have when you are at that time of year. There would be nothing worse than being ready on the big day and your meat still frozen solid.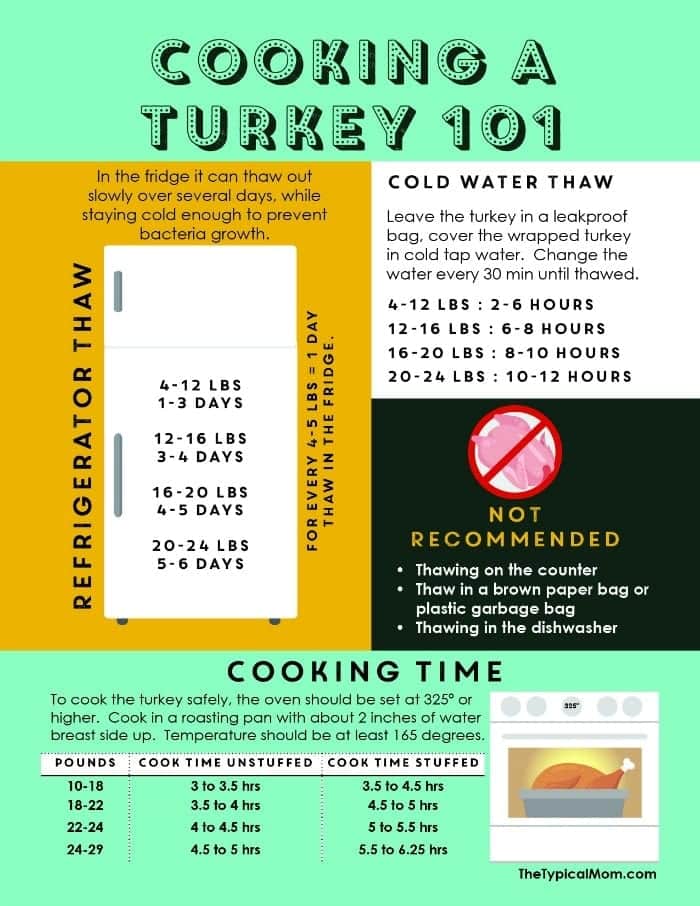 Turkey side dishes
Cream corn casserole is the most popular
We have even made Crockpot mashed potatoes and even a sweet potato mash in the air fryer as well.
Creamed spinach
Biscuits, breads, and easy dinner rolls
Macaroni and cheese
Instant Pot green bean casserole is great if you want to save room in your oven.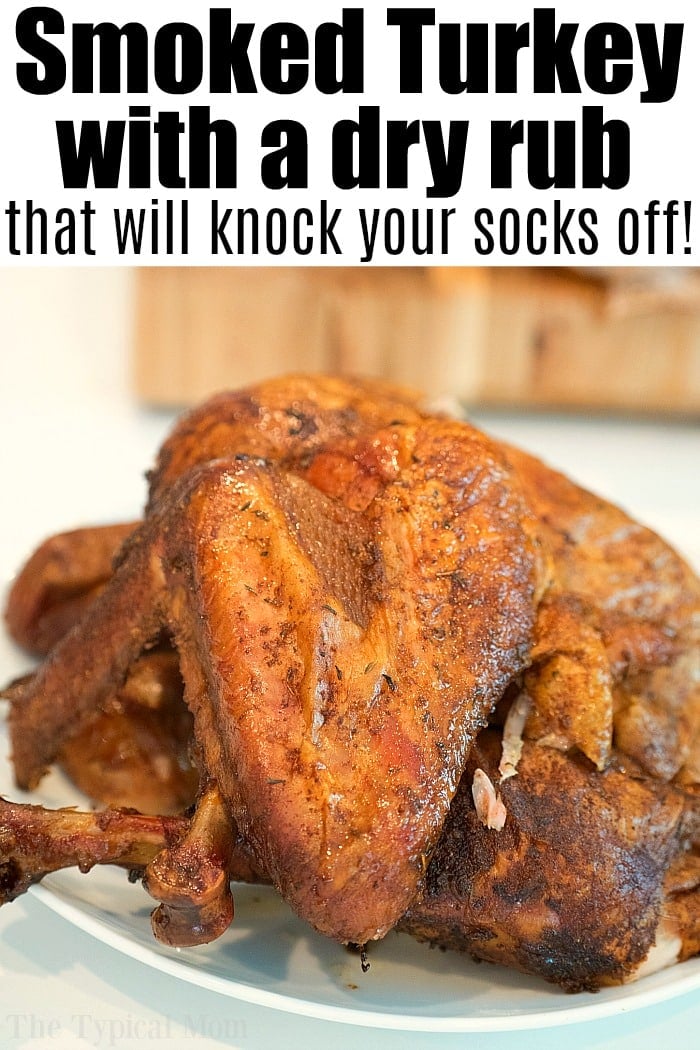 How do you use a rub on a turkey? It's quite simple. You just need your hands and a bird that's been blotted dry and we prefer a bit of olive oil rubbed on to the skin initially. This will allow your seasoning to stick well.
You could use this dry rub well beyond the holidays. It is great on just about any meat really.
Try it on smoked pork chops too for a beyond amazing flavor. Let us know what you think of this in the comments below!
Use your electric or pellet grill to cook and enjoy every bite at a time. Let us know what you think!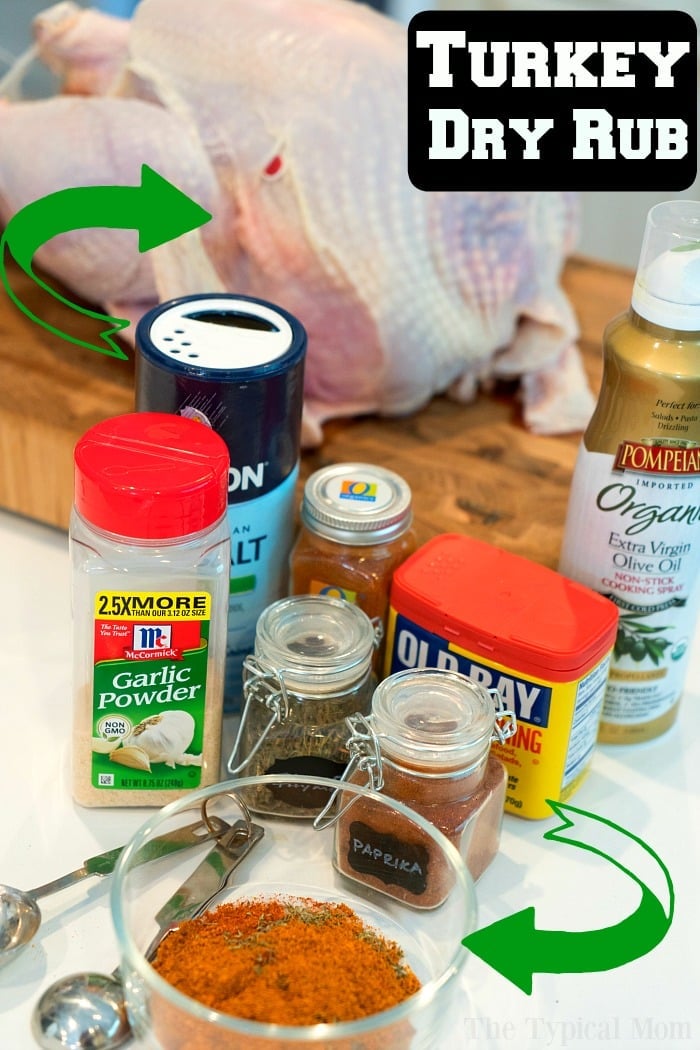 Want to see a few of my favorite things that I am totally obsessed with?? Take a peek and see how many you might already have…twinsies!
Looking for more easy family recipes and tips? LIKE The Typical Mom Facebook page?
Then sign up for my free newsletter, and follow me on Pinterest! 😉
***** If you LOVED this recipe give it 5 Stars below and let everyone know what you thought about it. 😉
Smoked Turkey Rub Recipe
Our smoked turkey rub recipe is amazing and only needs a few ingredients you have in your cupboard. Looking for the best dry rub for meat, this is it!
Instructions
Mix all dry ingredients in a bowl well.

Spray your turkey with olive oil after it has been rinsed and patted dry with paper towels.

Apply your turkey rub liberally to the top and bottom of your bird.

Cook, smoke, or bake however you'd like at this point.
Nutrition Facts
Smoked Turkey Rub Recipe
Amount Per Serving (1 oz)
Calories 5
Calories from Fat 9
% Daily Value*
Fat 1g2%
Sodium 1164mg51%
Potassium 17mg0%
Carbohydrates 1g0%
Protein 1g2%
Vitamin A 180IU4%
Vitamin C 0.6mg1%
Calcium 5mg1%
Iron 0.3mg2%
* Percent Daily Values are based on a 2000 calorie diet.