What is a bundt and how long to bake a bundt cake is answered here. How do you make one that is fluffy and doesn't break when you remove it from the pan. This is an easy way to bake a large or mini bundt cake that is so pretty for dessert with your family.
Tricks and tips to baking a bundt cake are here, and why would you make one in this shape?? OH let me count the ways because I love these so much. These aren't just for sweet breads either, our breakfast bundt cake is killer! Read on y'all. (affiliate links present, originally published 8/22)
How to Make a Bundt Cake
To start you are going to need one of these gems. There are TONS of varieties in stores and online with a bunch of indentations and shapes that can be baked right in. You can see our favorite bundt pan from Nordic Ware right here that's good all year, but I do love my Christmas wreath bundt for the holidays. 😉
Once you have the proper pan you'll want to decide which type of baked good you're going to make. Typically if your recipe makes enough batter to normally fit into a 9×11″ (or so) pan you could use this round pan instead. Not only does it cook faster and more evenly but is so so much prettier.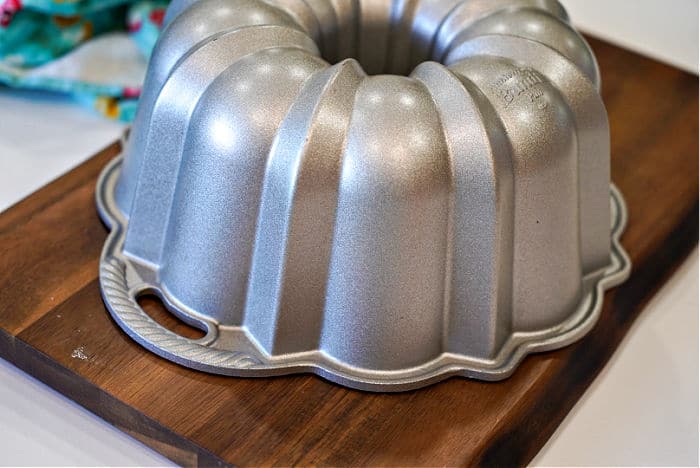 Copycat Nothing Bundt Cakes
Ok so if you have one of these stores nearby you may have bought a few for gifts or yourself. They are rather expensive, as you know, but you could very easily make copycat versions right at home with the right recipe and kitchen ware. I will share links to a few of your favorites below.
What's the difference between bundt cake and regular cake?
A bundt is round instead of square or rectangular with a hole in the middle. You'll find that using a round fluted pan like this will cut down on your bake time and it will cook more evenly. It's really pretty too when you flip it upside down on a plate to serve. Great with or without a glaze on top.
What makes a cake a bundt cake?
The shape. You can use the same batter and instead of baking it in a rectangular pan you could pour into a fluted pan instead. One thing to remember when using this alternative method is to ensure the inside is sprayed well with non stick spray so it slides out nicely when done.
You can even find and use a mini bundt pan to bake a bundt cake in a pressure cooker and air fryer!! Yes, that is right. We have made air fryer banana bread, Ninja Foodi cake and Instant Pot coffee cake in this baby.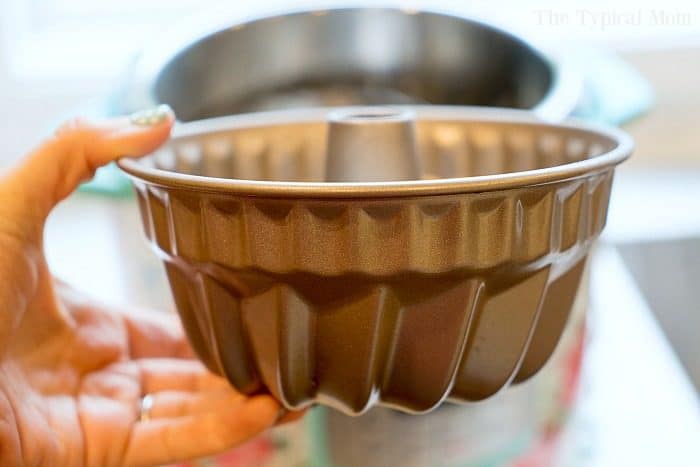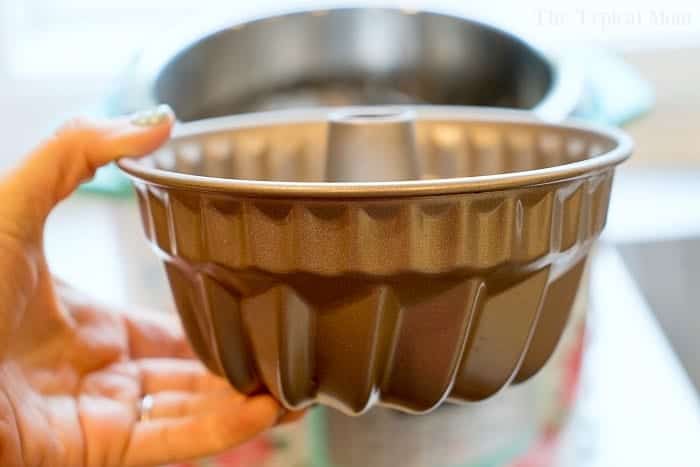 How Long to Bake a Bundt Cake
That depends on the temperature you are baking at but typically 45-60 minutes. Lower temps will yield a moister cake so like the one below I like 350 F. For that a good timing for my oven is 53ish minutes. Middle rack is always best to use. Sometimes this is called a tube pan with fluted sides.
How Do You Know When a Bundt Cake is Done
I like to use the finger test. What that means is instead of waiting until the toothpick is dry (if you do it will be dry), instead touch the middle of the side of the loaf with your finger. If it springs back, take it out!! Leave on a cooling rack for 15 minutes before attempting to flip over on to a plate to cool completely.
Best Bundt Cake Recipes
There is one other style too, as you can see here below. If you want to make muffins a bit larger, and prettier you could opt to pour your batter into this bundt pan muffin tin. Picture a Costco muffin size but with a hole in the middle. That is pretty much the size you get with this method, it's kinda' fun.
You can either spray the inside with vegetable oil (best way to get into the nooks and crannies) or spoon a bit of melted butter inside and swirl that around.
That is the biggest tip I have for you when answering what is a bundt cake and how do you make one, it needs to be greased or you'll regret it.
There is nothing worse than taking all that time to prepare your pumpkin zucchini muffins (which I have made with this), and when they're done they come out in a bunch of pieces. NO fun. YOu really want the cake to come out clean. One other plus to mini cakes baked this way is that they only about 20ish minutes vs. almost an hour and there's no slicing involved.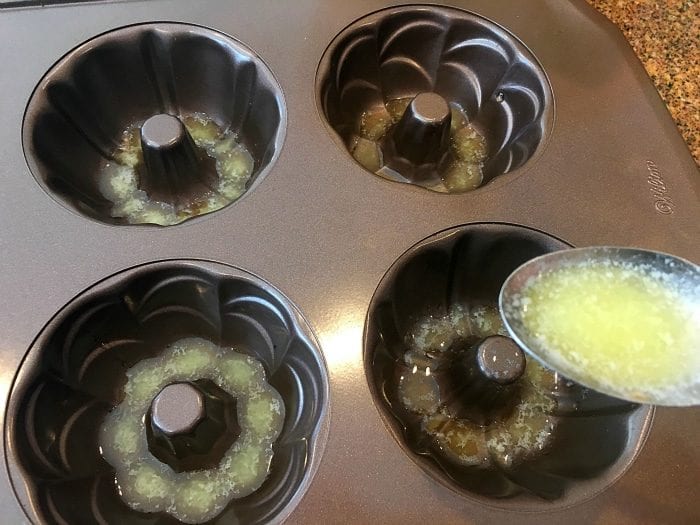 Round Fluted Pan Recipes
Sometimes you'll hear the term fluted vs. bundt, it is basically the same thing. PotatO potAto if you know what I mean. It isn't just dessert you can make with this, we have even cooked stuffing in one, and bread in a bundt pan in it! Ok so I said I would share a few other favorites, a few others are;
Below we share a moist pumpkin bread recipe you can make in this pan. The general rule is if you have enough batter for 2 loaf pans you could make a this style instead. If this style is new to you, cake baked in a bundt pan, or even a pound cake style, comes out even more moist than a 9×13 if you ask me.
Bundt Cake Ingredients
Below we are going to explain how long to bake a bundt cake with a pumpkin batter for the Fall months. You are going to need;
2 ½ cups sugar + same amount of all purpose flour
1 teaspoon baking soda, ground nutmeg, allspice, cinnamon and ground cloves
¼ teaspoon salt
1 cup canola or vegetable oil
3 eggs at room temperature
1 (15 ounce) can pumpkin puree
And 1 teaspoon vanilla extract or half this and half almond extract
Aaaaand this pan too
Homemade Cream Cheese Frosting
8 ounce packages cream cheese, room temperature
2 cups powdered sugar, sifted
1 teaspoon vanilla extract
This frosting is great on top of red velvet too.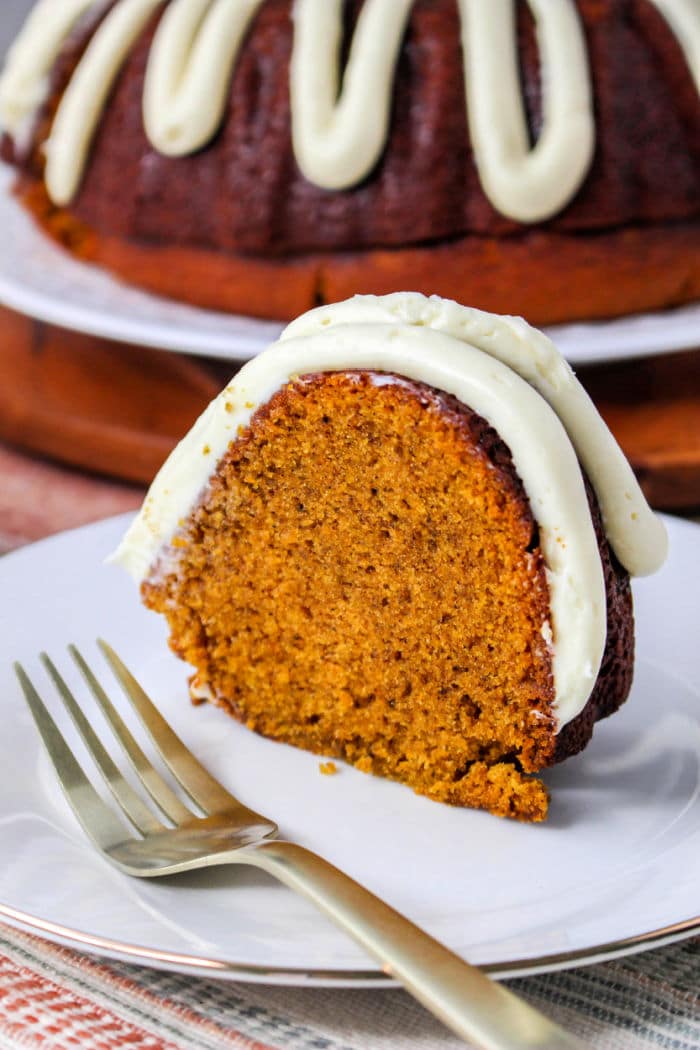 Pumpkin Bundt Cake with Cream Cheese Frosting
Like I said, you can use your own recipe for a cake you love but we could enjoy pumpkin all year long and not get sick of it. There are TONS of varieties to making a 2 ingredient bundt cake with just a box of cake mix and a can of soda too. You could make different ones for a month and never double the same combo.
How to save leftover bundt cake
You want to keep it moist so only slice what you are serving. Leave the rest whole and wrap tightly (once cooled) in plastic wrap. Leave on your counter, not in the fridge, for up to 3-4 days and slice off what you want as you go. Drizzle with leftover frosting or chocolate glaze and enjoy the next day(s)!
Want to see a few of my favorite things that I am totally obsessed with?? Take a peek and see how many you might already have…twinsies!
Looking for more easy family recipes and tips? LIKE The Typical Mom Facebook page?
Then sign up for my free newsletter, and follow me on Pinterest! 😉
***** If you LOVED this recipe give it 5 Stars below and let everyone know what you thought about it. 😉
How Long to Bake a Bundt Cake
This is how long to bake a bundt cake so it stays moist and fluffy in the oven. How to know when it is done so it doesn't over-bake. Homemade pumpkin bundt cake recipe below to try it!
Instructions
Preheat the oven to 350 degrees. Prepare a bundt pan with nonstick cooking spray. In a large bowl, whisk together the sugar, flour, and seasonings until well blended.

In a separate bowl, whisk together the oil, eggs, pumpkin puree, and vanilla extract until completely blended. You could use a stand mixer to make it easier.Add the wet ingredients to the dry ingredients and stir until well combined.

Transfer the cake batter to the prepared bundt baking pan with a bit of non stick spray inside. Bake the cake on the middle rack for 45-55 minutes or until a toothpick inserted into the middle comes out mostly clean with crumbs attached. Allow the cake to cool completely on the wire rack.

To make the frosting, beat 1 package of room temperature cream cheese until smooth, about 3 minutes. Add 1 cup of powdered sugar and 1 tsp. vanilla. Scrape down the sides as needed. Spoon into a piping bag or freezer bag, snip tip off and squeeze over the top once cooled.
Nutrition Facts
How Long to Bake a Bundt Cake
Amount Per Serving (2 oz)
Calories 274
Calories from Fat 18
% Daily Value*
Fat 2g3%
Cholesterol 41mg14%
Sodium 157mg7%
Potassium 48mg1%
Carbohydrates 62g21%
Protein 4g8%
Vitamin A 68IU1%
Vitamin C 0.1mg0%
Calcium 14mg1%
Iron 1mg6%
* Percent Daily Values are based on a 2000 calorie diet.