Great crockpot side dishes for Thanksgiving that range from traditional to updated ideas. Baked and mashed potatoes in the crockpot this year.
I recommend pulling out everyone's slow cooker to use them as for all these Crockpot side dishes. Once food is cooked transfer it to one of them and keep on warm. That way while other things are finishing they won't get cold. Works like a charm!
Take a look at our Thanksgiving sides post for the entire list of recipes.
Slow Cooker Mashed Potatoes
5 lbs sierra gold potatoes or red potatoes, diced with peel
Cup of water
A cup pf butter, cut into chunks
1 tablespoon salt, plus
¾ teaspoon ground black pepper
One and 1/3 cups milk, warmed
Directions
1. Place the potatoes, water, and butter into a slow cooker.
2. Season with salt and pepper.
3. Cover, and cook on High for 4 hours.
4. Do not remove the excess water from slow cooker. This adds to the creamy texture.
5. Mash potatoes with a masher or electric beater, adding the desired amount of warm milk to achieve a creamy consistency.
6. Keep warm on low until serving.
7. Potatoes keep consistency for a couple of hours after mashing. Just keep the lid on the slow cooker and serve directly from there.
Depending on how much you are making a 2 quart crockpot is a great size for about 5-6 people and the larger 8 quart version like this one is better for
Slow Cooker Side Dishes
If you want really easy, give our slow cooker cabbage a whirl sometime.
Green Bean Casserole – I have 2 recipes, I have another recipe for green bean casserole here.
2 tablespoons butter
2 tablespoons all-purpose flour
1 teaspoon salt
1 teaspoon white sugar
1/4 cup onion, diced
1 cup sour cream
3 (14.5 ounce) cans French style green beans, drained
2 cups shredded Cheddar cheese
1/2 cup crumbled buttery round crackers
1 tablespoon butter, melted
Directions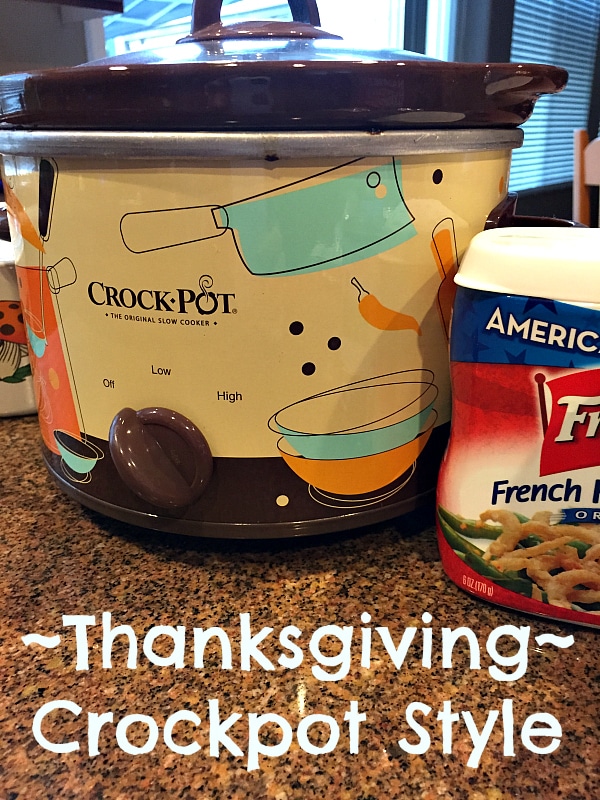 Preheat oven to 350 degrees F (175 degrees C).
Melt 2 tablespoons butter in a large skillet over medium heat. Stir in flour until smooth, and cook for one minute. Stir in the salt, sugar, onion, and sour cream. Add green beans, and stir to coat.
Transfer the mixture to a 2 1/2 quart casserole dish. Spread shredded cheese over the top. In a small bowl, toss together cracker crumbs and remaining butter, and sprinkle over the cheese.
Bake for 30 minutes in the preheated oven, or until the top is golden and cheese is bubbly.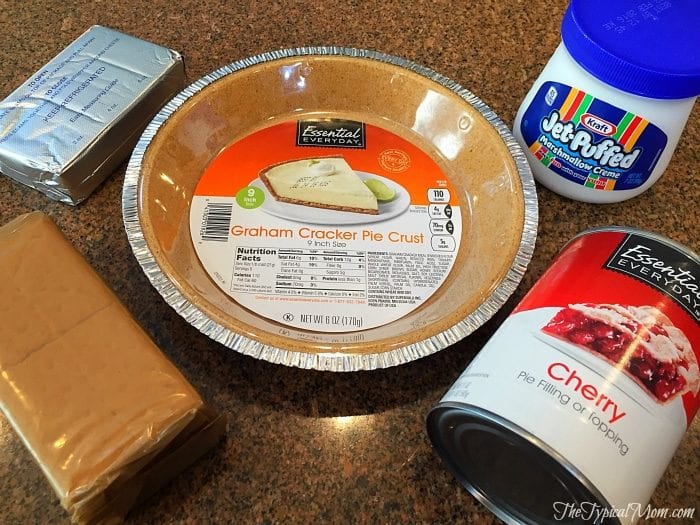 Block of cream cheese
Box of graham crackers
Jar of marshmallow fluff
2 tubs cool whip
2 cans cherry (could use other flavor) pie filling
Makes two 8×8 pans or one 8×12 pan full – I like using a veggie platter and serving this with graham crackers broken into 1/4 pieces, vanilla wafers and apples!
Directions
1. Crush 1 pkg. of graham crackers, distrubute evenly, pack down & cover bottom of pan(s).
2. Mix together softened 8oz. pkg. of cream cheese & 1 jar of marshmallow fluff.
3. Mix one tub of cool whip into cream cheese mixture, then the second tub.
4. Spread mixture evenly in the pan(s), smoothing to edges.
5. Top with cherry pie filling.
6. Break up remaining graham crackers & serve as dipping "spoons"
Want to see a few of my favorite things you might want to write on your Christmas list this year??!! 😉 Take a peek and see how many you might already have…twinsies!
Looking for more easy family recipes and tips? LIKE The Typical Mom Facebook page?
Then sign up for my free newsletter, and follow me on Pinterest! 😉
***** If you LOVED this recipe give it 5 Stars below and let everyone know what you thought about it. 😉