Great crockpot side dishes for Thanksgiving that range from traditional to updated ideas. Baked and mashed potatoes in the crockpot this year.
I recommend pulling out everyone's slow cooker to use for all these Crockpot side dishes. Once food is cooked transfer it to one of them to keep on warm. That way while the other things are finishing up in the oven they won't get cold. Perfect when cooking for the holidays. Just a few of all of our easy Crockpot recipes. (affiliate links present, originally published 5/14)
Crockpot Side Dishes
Take a look at our Thanksgiving sides post for the entire list of recipes. Some are in the slow cooker to save oven space and others are made the old fashioned way. A mixture of all is great during the holidays.
Slow Cooker Mashed Potatoes you're going to need:
5 lbs sierra gold potatoes or red potatoes, diced with peel
Cup of water
A cup pf butter, cut into chunks
1 tablespoon salt, plus
¾ teaspoon ground black pepper
One and 1/3 cups milk, warmed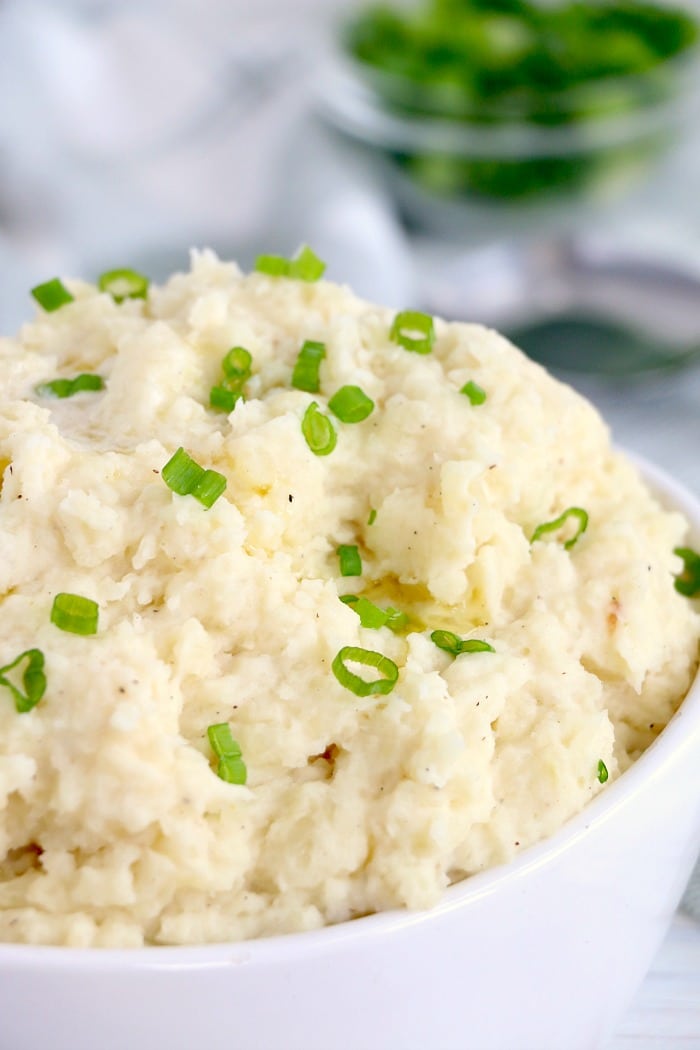 Thanksgiving Crockpot Side Dishes
If we have a lot of people over I will make a few different types of taters. Pair these with easy slow cooker baked potatoes and garlic Ninja Foodi mashed potatoes and everyone can choose their favorite one. It's a cheap side that usually everyone wants to add to their plate so it's always best to have enough for everyone.
OH and don't forget a pot full of cheesy potatoes, especially if you are serving during brunch time. Slooooooow cooked in a Crock Pot they are kinda' like the ones you get at Cracker Barrel but right at home. Super easy to throw together with hashbrowns or diced taters.
Depending on how much you are making a 4 quart crockpot is a great size for about 5-6 people and the larger 8 quart version like this one is better for a crowd.
Now let's move on to another old fashioned Thanksgiving side dish favorite, slow cooker recipes with green beans!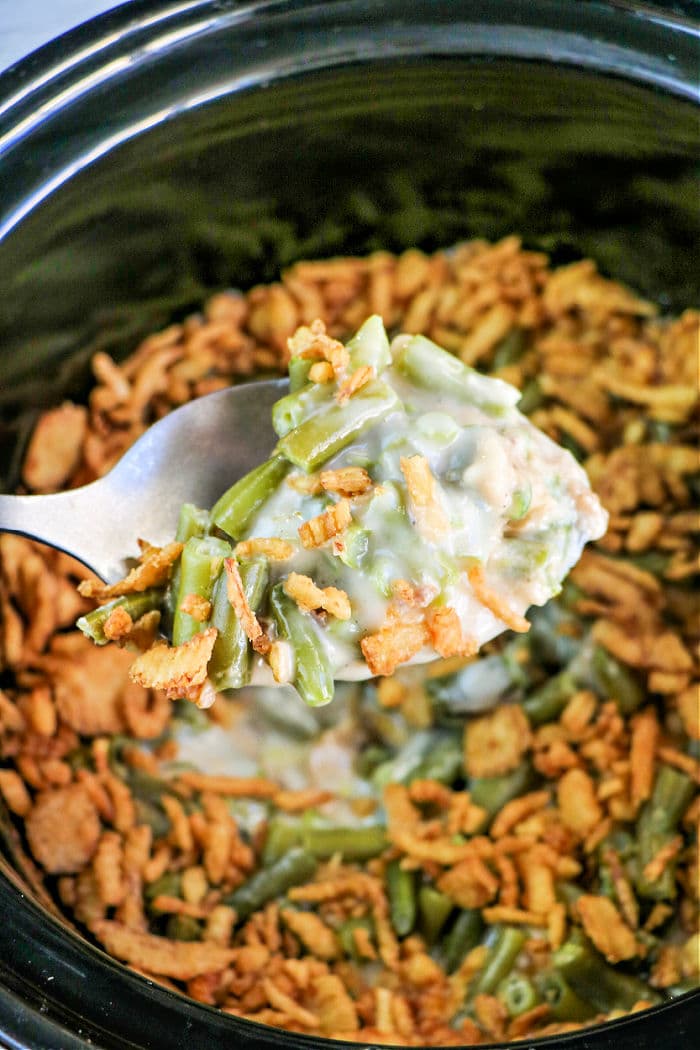 Slow Cooker Side Dishes
Crockpot Green Bean Casserole is the easiest method of all – I have 2 recipes for this + another recipe for oven baked bacon green bean casserole here.
If you want to use your Crock and then transfer to an oven to crisp the top follow these directions:
2 tablespoons butter
Two tablespoons all-purpose flour
1 teaspoon salt
One teaspoon white sugar
1/4 cup onion, diced
A cup sour cream
3 (14.5 ounce) cans French style green beans, drained
2 cups shredded Cheddar cheese
1/2 cup crumbled buttery round crackers
1 tablespoon butter, melted
Green Beans in Slow Cooker + oven
Preheat oven to 350 degrees F (175 degrees C).
Melt 2 tablespoons butter in a large skillet over medium heat. Stir in flour until smooth, and cook for one minute. Stir in the salt, sugar, onion, and sour cream. Add green beans, and stir to coat.
Transfer the mixture to a 2 1/2 quart casserole dish. Spread shredded cheese over the top. In a small bowl, toss together cracker crumbs and remaining butter, and sprinkle over the cheese.
Bake for 30 minutes in the preheated oven, or until the top is golden and cheese is bubbly.
Side Dishes in Crockpot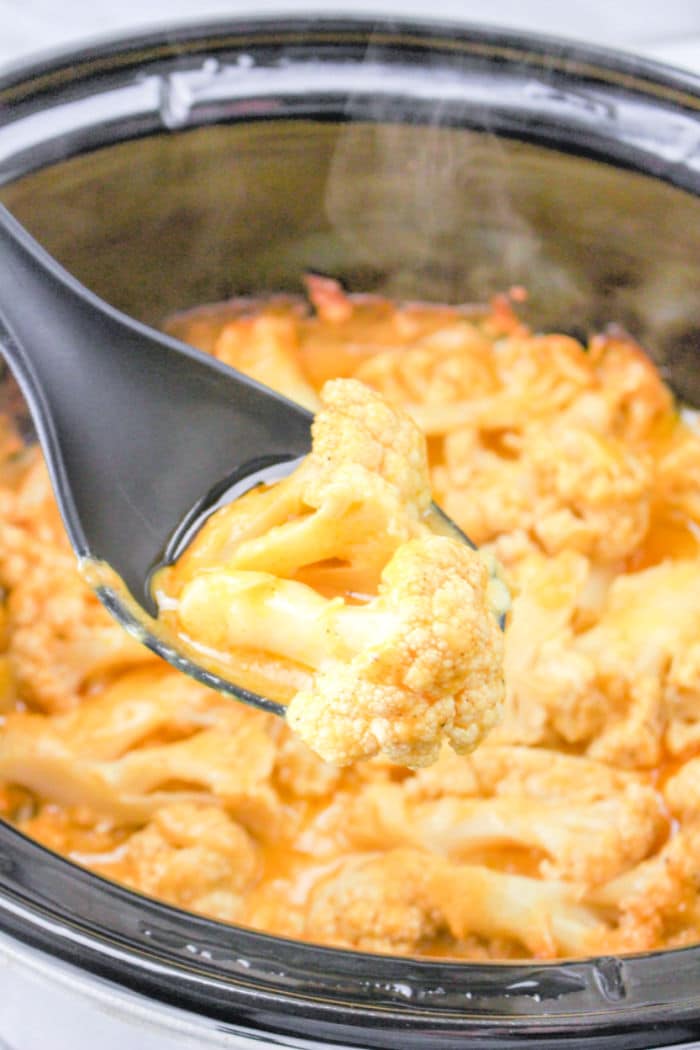 Slow Cooker Vegetables
Ok let's move on to another type of veggie. Get out all the cookers you have y'all, you can make it all and just leave it as is in the pot for serving too. Makes it so much easier on you so you don't get stuck in the kitchen all day. You should be enjoying your guests, not cooking or serving.
Our slow cooker cheesy cauliflower dish is a cheesy bite of goodness and always a favorite. I kid you not even my kids will have a second helping of this baby.
Now here's a cheap side dish with some green. You should definitely give our cubed slow cooker cabbage a whirl sometime. It comes out super tender with just a few seasonings like butter cabbage in Crockpot and not much more. You can add a bit of heat or diced bacon to amp it up if you like.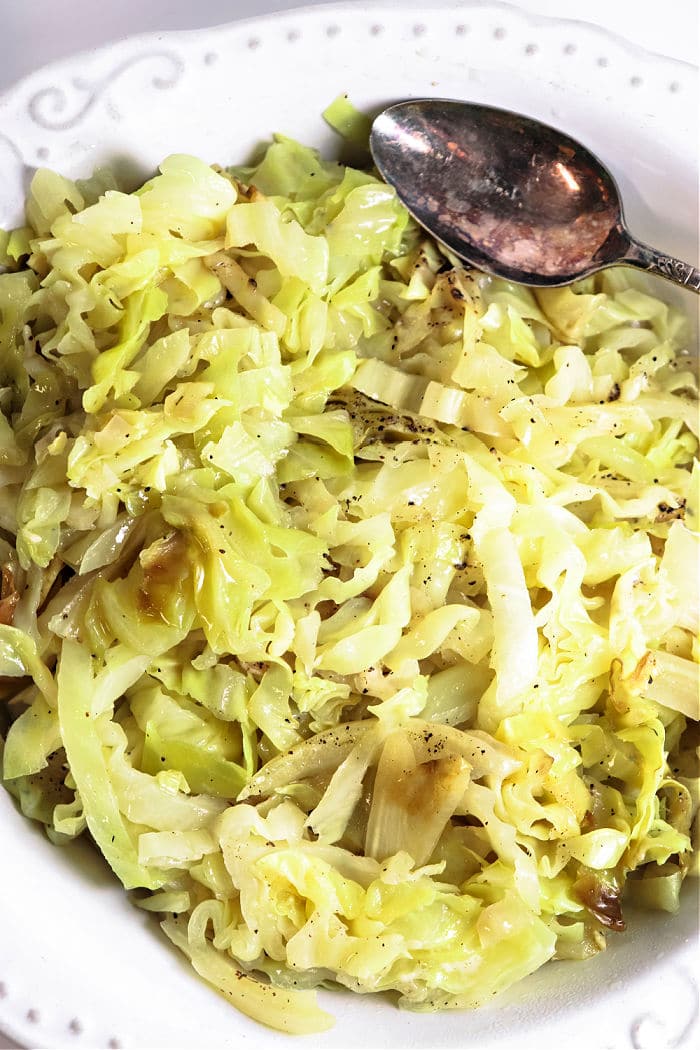 Crockpot Potluck Side Dishes
Taking something to someone else's house is not tricky if you use this pot. Make sure you have one with a locking lid so you can transport it easily in the car. A cheap and sweet dish like Crockpot glazed carrots is always a huge hit, even with kids.
Along the lines of sweetness our slow cooker apple butter is always a hit. Make with a batch of pork chops for sure. If you are having a brunch or breakfast bar this is great with toast, bagels and slow cooker eggs too.
It isn't just vegetables you can make in this thing though y'all. Did you know you can bake in a slow cooker too? You totally can and yes it surprised me as well. The trick is to put a paper towel in between the lid and the pot itself. What that does is absorb the moisture as it steams so the top doesn't get wet.
We have made a few things this way such as no yeast slow cooker rolls as well as recently cornbread! That is right, you can cook Crockpot cornbread as well, with or without chiles in it.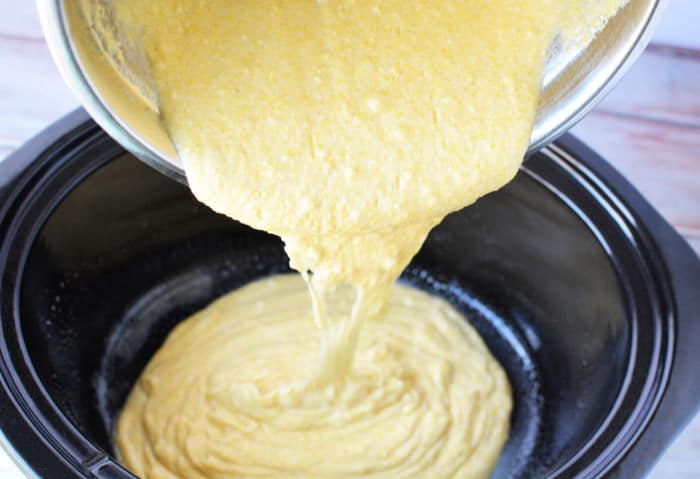 Side Dish Recipes
Ok we're not done yet though. We do have a bunch of Instant Pot side dishes to choose from too if you have that machine. Those can be made in an IP or Ninja Foodi. I would not use the slow cook options on those machines, they don't work at all for that. Instead just use the traditional Crock.
Air fryer side dishes are also wonderful. You can then get a bit of a crisp on things like butternut squash or even bake bread in it. For things like slow cooker risotto that you want super soft, low and slow is always best.
Now moving on to a favorite of mine, brussel sprouts in the Crock pot. Ok they may be more of an acquired taste, I didn't love them until I was an adult either. You can make them more sweet with a bit of brown sugar vs. savory. Let's talk about the kids, we want them to always be happy.
Mac and cheese in slow cooker is always a winner with everyone for sure. It can cook all day long and goes with just about any protein out there for the holidays. Baked beans is another….
So far that is all that we have but I post one new recipe each day on my blog so I'll continue to update it as we go. Every Christmas we always try to integrate a new dish so this list will continue to grow year after year. 😉
Want to try something outside the cooker too? Make our Cheesecake Cherry Dip with grahams as a dessert or easy side dish.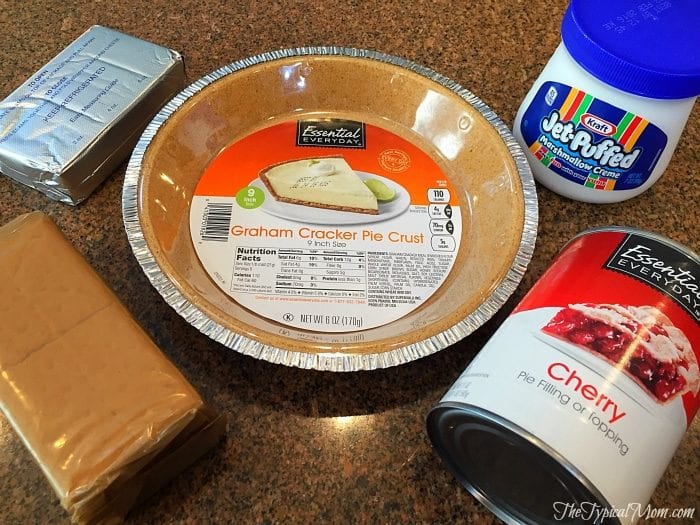 Want to see a few of my favorite things that I am totally obsessed with?? Take a peek and see how many you might already have…twinsies!
Looking for more easy family recipes and tips? LIKE The Typical Mom Facebook page?
Then sign up for my free newsletter, and follow me on Pinterest! 😉
***** If you LOVED this recipe give it 5 Stars below and let everyone know what you thought about it. 😉
Crockpot Side Dishes
Lots of Crockpot side dishes with vegetables, corn bread and sweets are here. Easy slow cooker sides for Thanksgiving, Christmas or for dinner.
Instructions
Spray inside of pot with non stick spray. Add carrots topped with brown sugar and salt. Put pats of butter on top of all of that.

Cover with lid and cook on high for 4-5 hours stirring halfway through the cook time. Turn to warm and serve when as tender as you would like.
Nutrition Facts
Crockpot Side Dishes
Amount Per Serving (1 oz)
Calories 130
Calories from Fat 36
% Daily Value*
Fat 4g6%
Cholesterol 9mg3%
Sodium 256mg11%
Potassium 382mg11%
Carbohydrates 24g8%
Protein 1g2%
Vitamin A 19054IU381%
Vitamin C 7mg8%
Calcium 50mg5%
Iron 0.4mg2%
* Percent Daily Values are based on a 2000 calorie diet.