Top 10 Barbeque hacks that will make outdoor grilling easier and your party more fun! How to best clean your charcoal grill, tips on presenting side dishes and how to cook dessert on your bbq too! We love cooking outdoors with our Charbroil grill and smoker, here are our tricks to make the best food ever!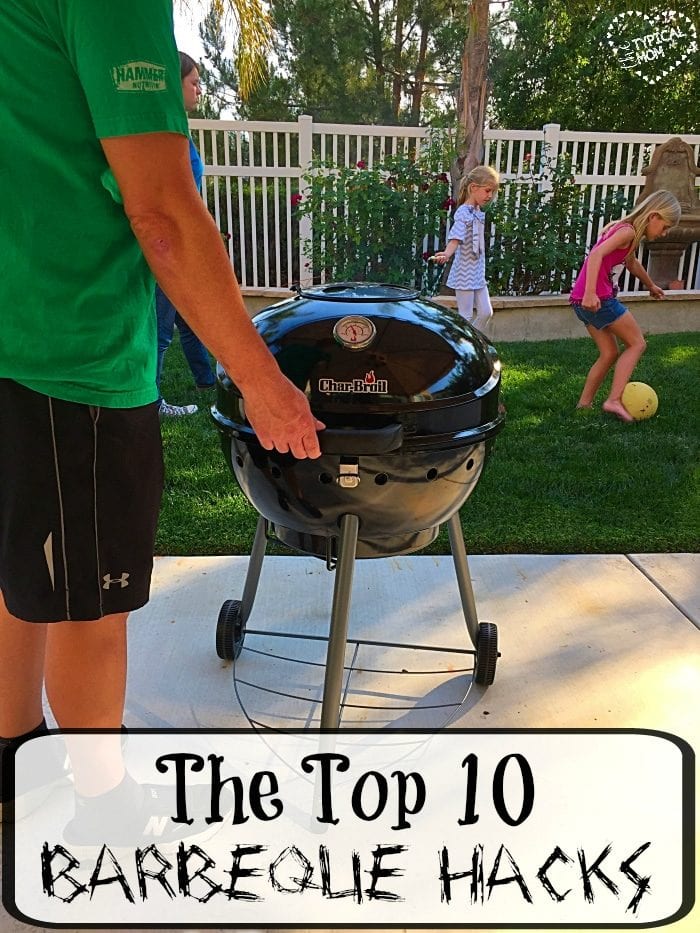 It is that time of year again…we are so excited!! The weather is warmer, the kids are spending the afternoons outside, and it is time to light the bbq! Tonight we lit our Char-Broil grill, grabbed some burgers, chicken, and some other goodies I will show you later and grilled our first meal for the season. As we prepared our meal I jotted down the top 10 barbeque hacks we use on a regular basis….let me know if you have any I should add!! Here we go………. (originally published 5/15) This post brought to you by Char-Broil. The content and opinions expressed below are that of The Typical Mom.
We LOVE to BBQ!! As soon as it gets a bit warmer outside we are ready with our burgers, tongs, and friends to cook up some great food.
I got to thinking the other day and realized there are a lot of tricks or hacks we use that others may not know of, so I'm here to share our top 10 barbeque hacks with you!
Here are our Top 10 Barbeque Hacks
Soak your skewers

in water for about 10 minutes before putting meat on them so they won't burn, also use two skewers so the meat doesn't slide off or rotate around when they're cooking.
Simmer your ribs for an hour in a mixture of 1 can orange soda and water (enough so they are submerged) before putting them on the grill. You can also put them in the crockpot for 5-6 hours on low submerged in apple juice. Both techniques provide the most tender and juiciest ribs cooked on your Char-Broil charcoal grill ever!
Use half an onion to make your grate non stick. Cut an onion in half, rub along the top and the meat will not stick nearly as much. Then use the other half to scrub the food remnants off when you are done grilling.
Of course don't let the other half of your onion go to waste so put it in a baggie and use it for this or cooking later.
If you have a bunch of onions I'd try making our delicious mozzarella stuffed bacon wrapped onions on the grill…oh my are they ever heavenly.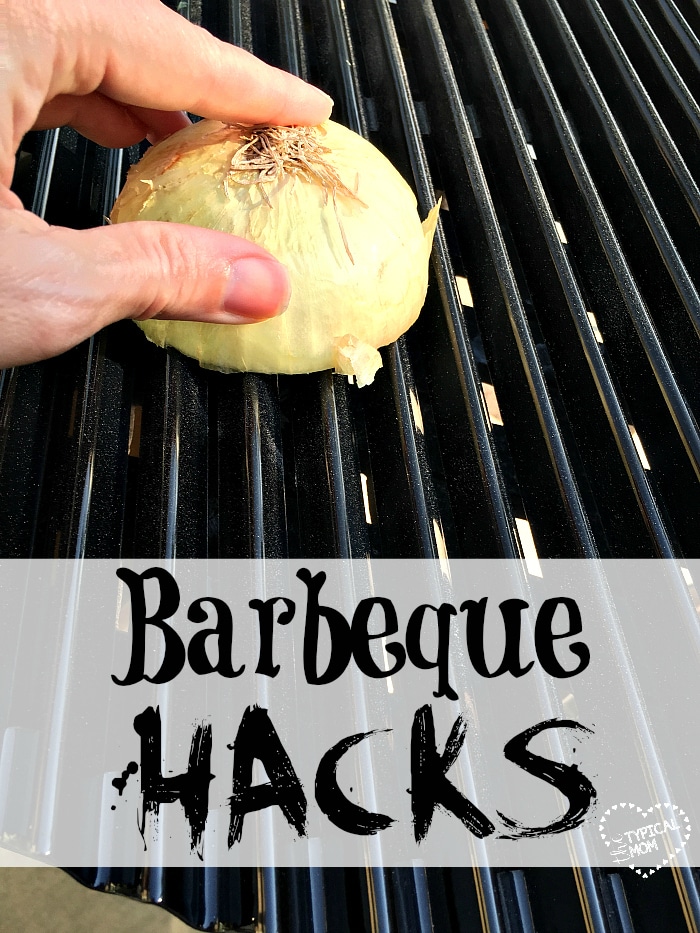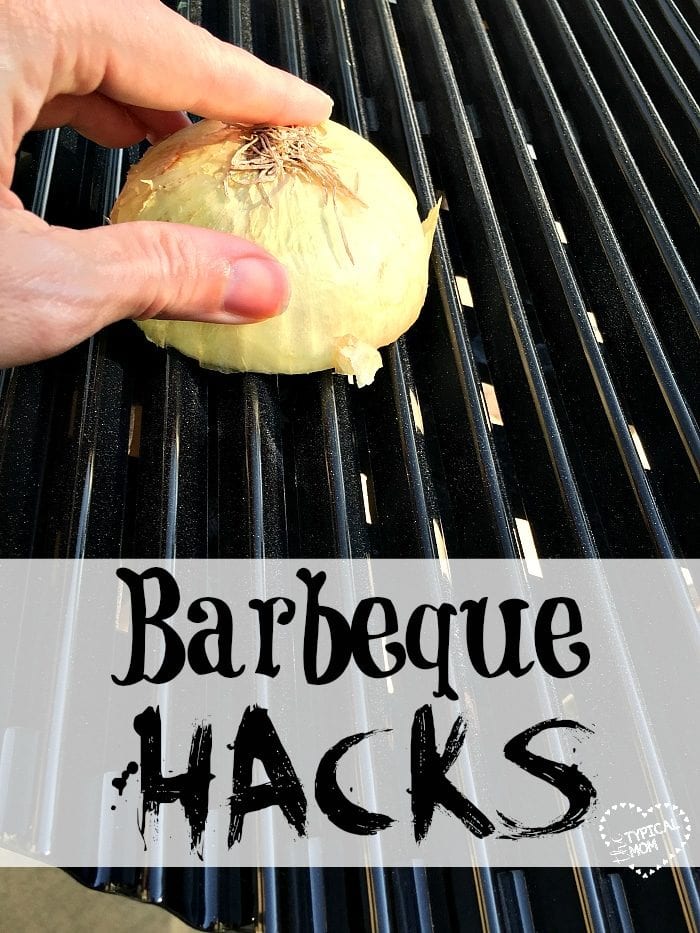 Use smaller squeeze bottles (like you see in restaurants) for your ketchup, mustard, and even BBQ sauce. Easier for kids to use, creates less of a mess, and you can later buy in bulk and refill these containers (you will see a pic. of them below).
Use two heavy duty paper plates to keep burgers and other meats warm after you take them off the grill. Use one on the top and one on the bottom to keep the heat in. You can also buy the aluminum trays and fold in half to create a warm environment for the meat until everything is done.
Use a muffin tin for all your condiments. I use press and seal wrap to line the bottom of a large muffin tin pan. Then I add all the items we will want and it is easier to carry out, and looks better than throwing it all on one plate too. You can grab those aluminum disposable muffin tins too so clean up is super simple!
I feel like when you present burger toppings like this my kids are more likely to load it up and try new things on top because it looks fun!!
This is a great way to present and serve a relish tray too! Fill the holes with mini pickles, olives and other fun finger foods and refill along the way.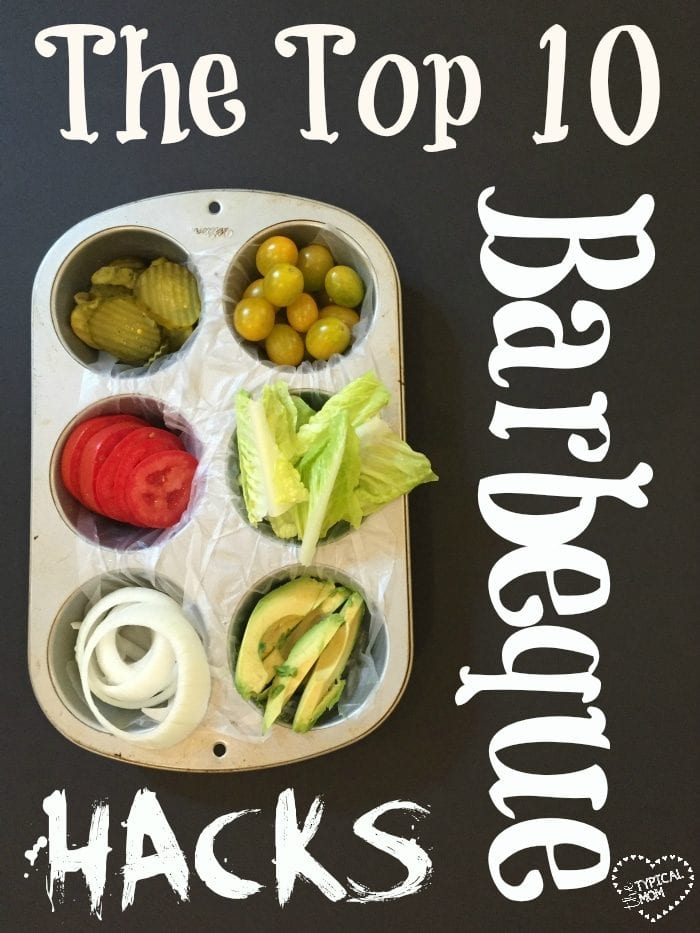 Leave the skin on your fish

. Then set the skin side down on the Char-Broil grill and do NOT move or flip it over. Allow it to cook on a cooler portion of the grill and cook all the way thru the skin up. If you're looking for easy electric smoker recipes here are tips for that too….the smoked salmon is amazing!
Use your ketchup or BBQ squeeze bottle to write on the bottom of the buns. If someone wants a well done burger, write well on the bottom and so on and so forth so the griller knows how many of each they need to cook, then match it with the correct bun (here is a pic of the squeeze bottle too).
Use small styrofoam cups or containers for runny things like baked beans so they don't run into your bun and make everything else mushy.
Use bananas to make "Banana S'mores" on the barbeque for dessert!! The skins provide a great container, so just stuff them full of goodness (chocolate and marshmallows) and put them on after the meat is done to slowly warm up and it will become an ooey gooey bbq dessert for everyone to LOVE! We have 3 more BBQ Dessert recipes here for you to enjoy as well.
Do you have another one to add to our top 10 barbeque hacks list??
You can get the Kettleman grill we have  here & in my husbands words "that is the best charcoal grill I have ever cooked on".
If you love Charbroil you've gotta' check out their smoker too!
We love it and have come up with a bunch of smoker recipes that taste amazing and create the most delicious flavor….. either on the barbecue or the smoker really…..we love cooking outside!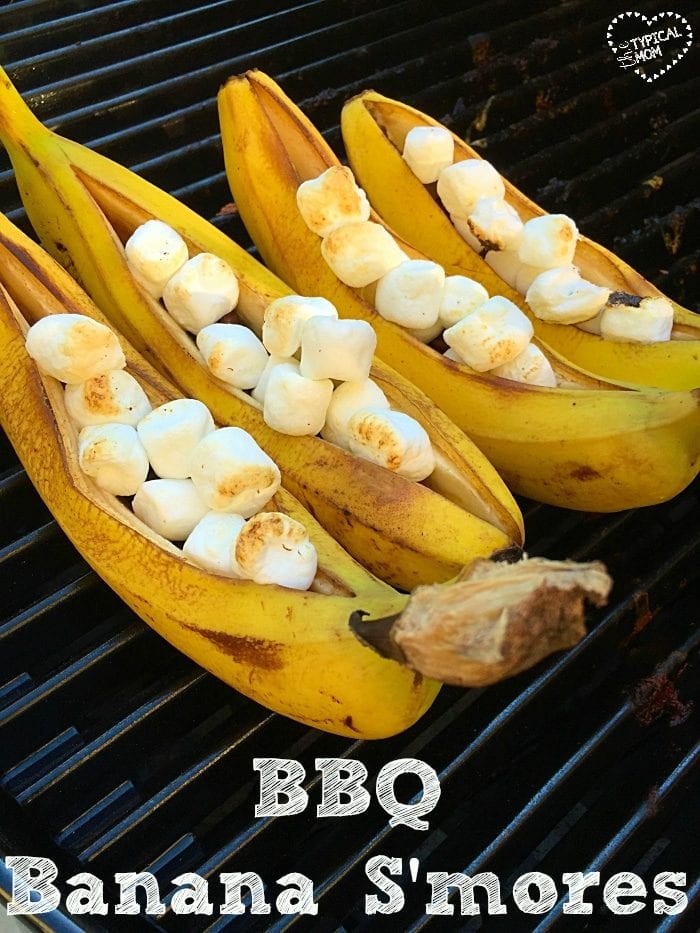 As a bonus I want to share our favorite BBQ recipe here using the outside of a pineapple to cook the moistest chicken you'll ever taste!
Of course all of these great barbeque hacks work best when you have a KILLER grill to cook on, like the  Char-Broil Kettleman Grill you see here that we have!
Super easy to use, clean, and cooks everything evenly too (oh and a great price at $99, you know how I count my pennies). See for yourself!
For more easy recipes and crafts please LIKE The Typical Mom on Facebook, sign up for my newsletter, and follow me on Pinterest!
Visit The Typical Mom's profile on Pinterest.