Most amazing caramel pumpkin monkey bread you will ever make and it is really easy too!! The best Fall breakfast or dessert I've ever made!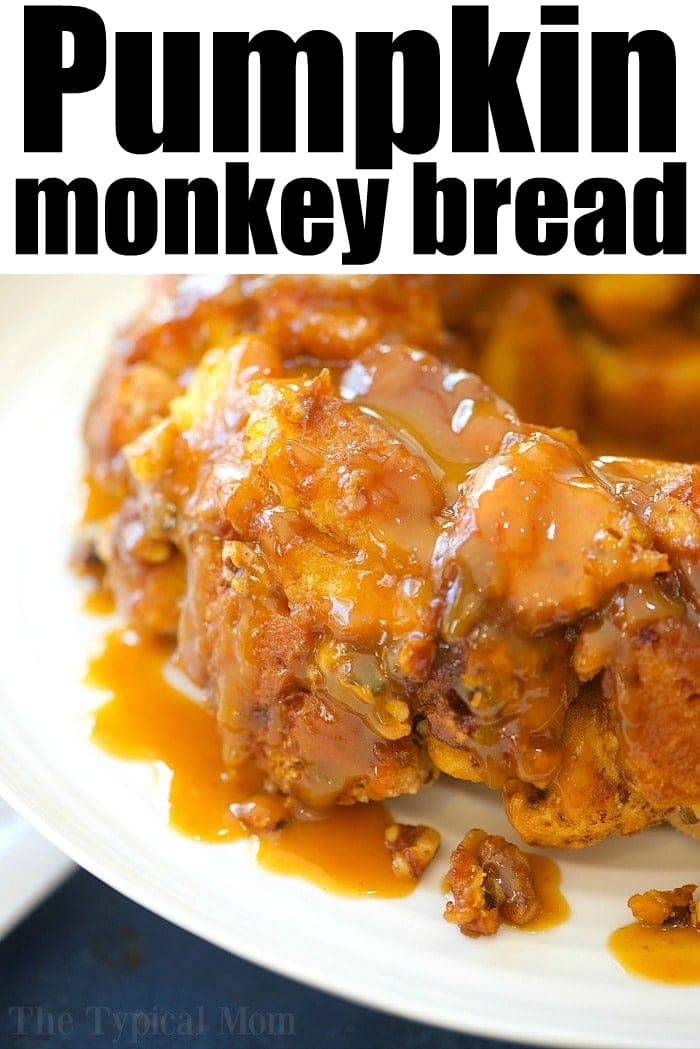 I will say with all honesty that is this caramel pumpkin monkey bread is the MOST delicious recipe I have ever created!! If you've never made monkey bread with biscuits from the refrigerated section of the store it is an easy thing to do and you can mix it up with lots of different flavors too like this one for Fall. It's so addicting and of course easy to do. Let me share with you how to make it so you can drool over it too. 😉 (originally published 8/16, affiliate links present)
Seriously this pumpkin monkey bread is just amazing!!
Since Fall is upon us I chose to add caramel and pumpkin flavors but the choices are endless once you know the basic steps.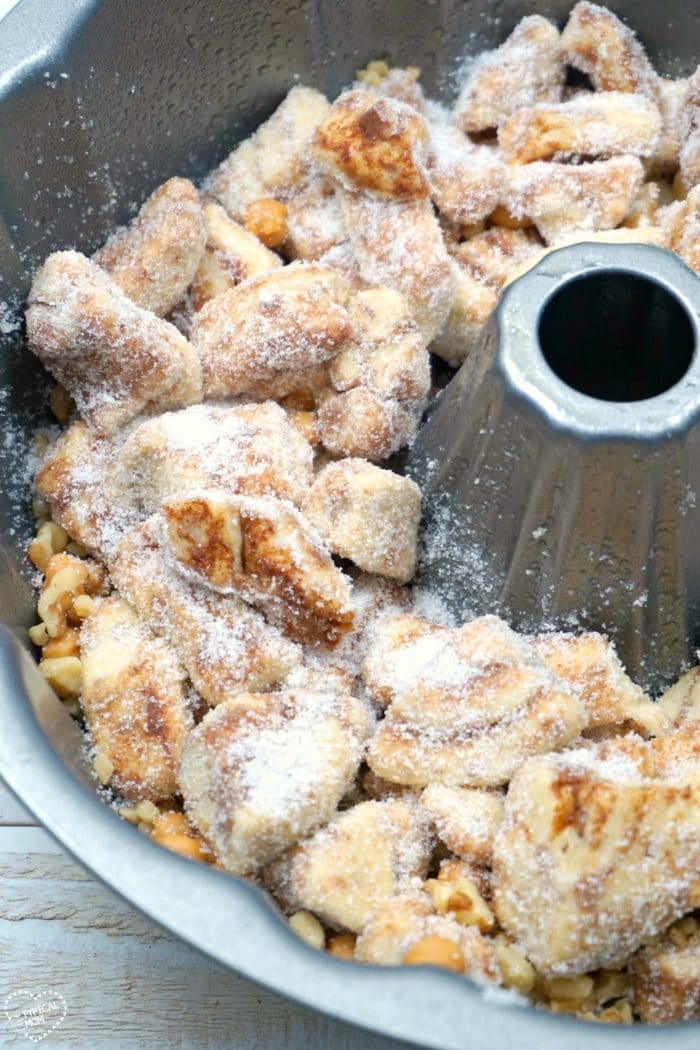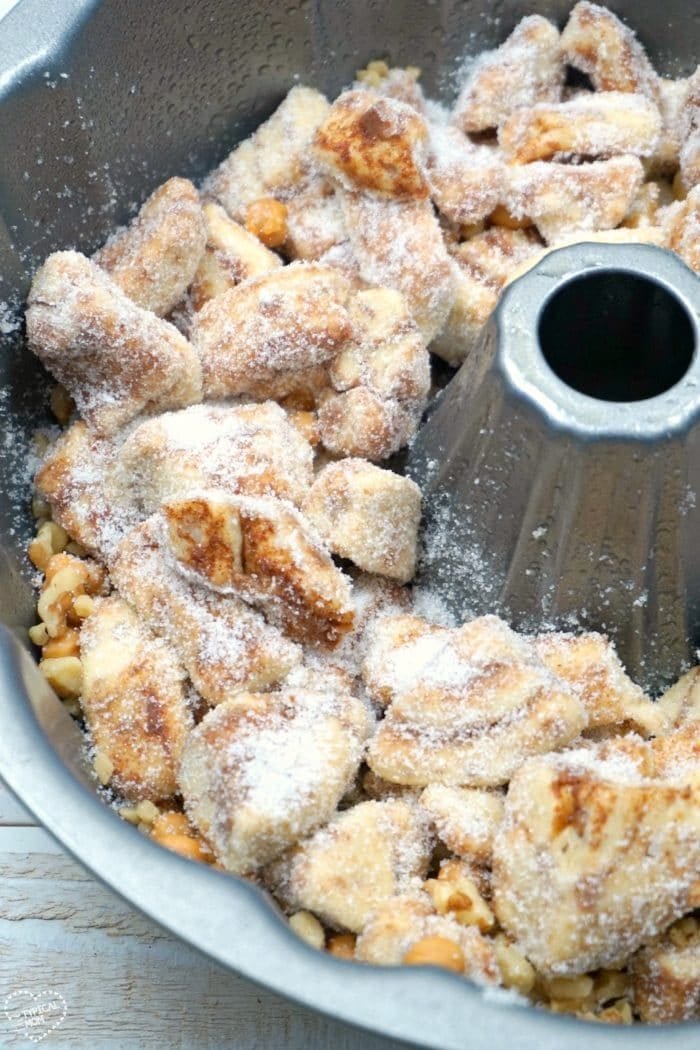 We have bought monkey bread before in the frozen section and it is okay. Once you realize just how easy monkey bread is to make you will taste the difference AND you can fool around with the flavors.
Beware…it is addicting.
You probably have most of the ingredients to make caramel pumpkin monkey bread.
I chose to add caramel bits this time but you could swap out for nuts too. I'd use a bundt pan that is already non stick in order for it to slide out easily. My favorite one is listed below.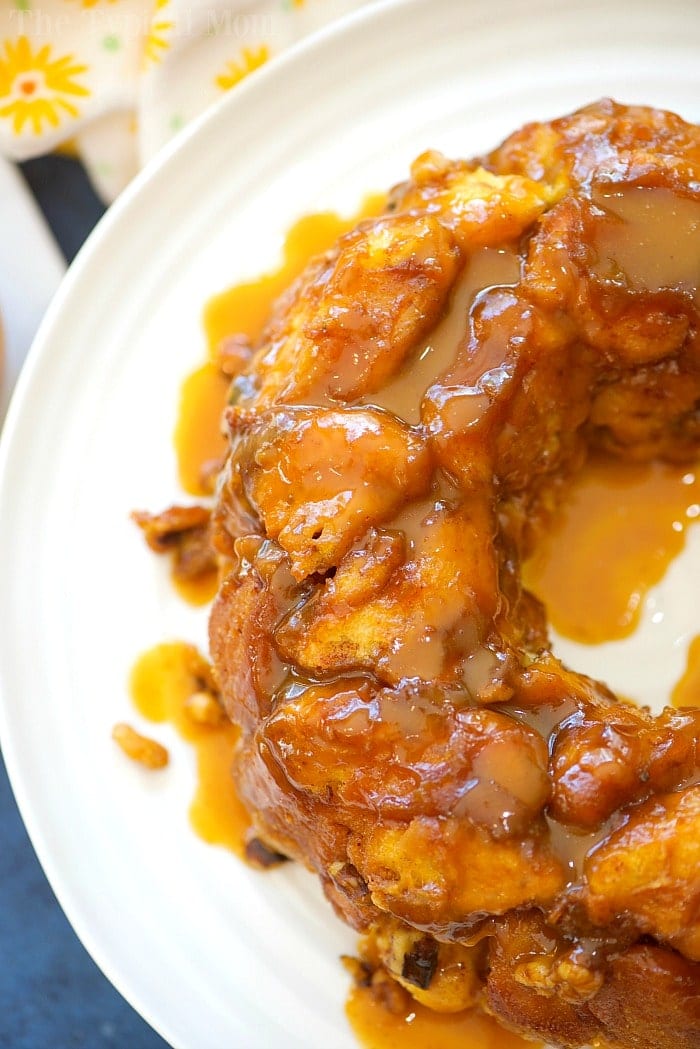 So like I said this pumpkin caramel monkey bread is easy to make because you use two cans of cinnamon rolls as the base and a few ingredients as the "sauce". Especially now that it is Fall I love pumpkin anything but you could omit that part during other times of the year. Caramel cinnamon monkey bread would be fab too.
Here are the steps to follow + a video
Cut your cinnamon roll biscuit dough into 4 equal pcs. each.
Spray bundt pan with non stick cooking spray or rub with some melted butter.
Put granulated sugar into a gallon baggie.
Put 1/2 of your cinnamon biscuit pieces in sugar, zip closed and gently toss so they get nice and coated.

You can use a small bowl for this too but I feel like a baggie works better.

Sprinkle these half into your pan followed by any caramel bits and/or crushed nuts on top.
Followed by other half that's been coated with sugar.
Over the stovetop on medium heat, or in the microwave in a bowl melt your brown sugar, butter, pumpkin puree and pumpkin spice. Mix until well combined.
Pour half of this pumpkin mixture on top of all pcs. in bundt pan.
Bake until golden brown on top and cooked through.
Allow to cool a bit, flip on to a plate, warm rest of pumpkin mixture and pour on top.
Serve warm!
.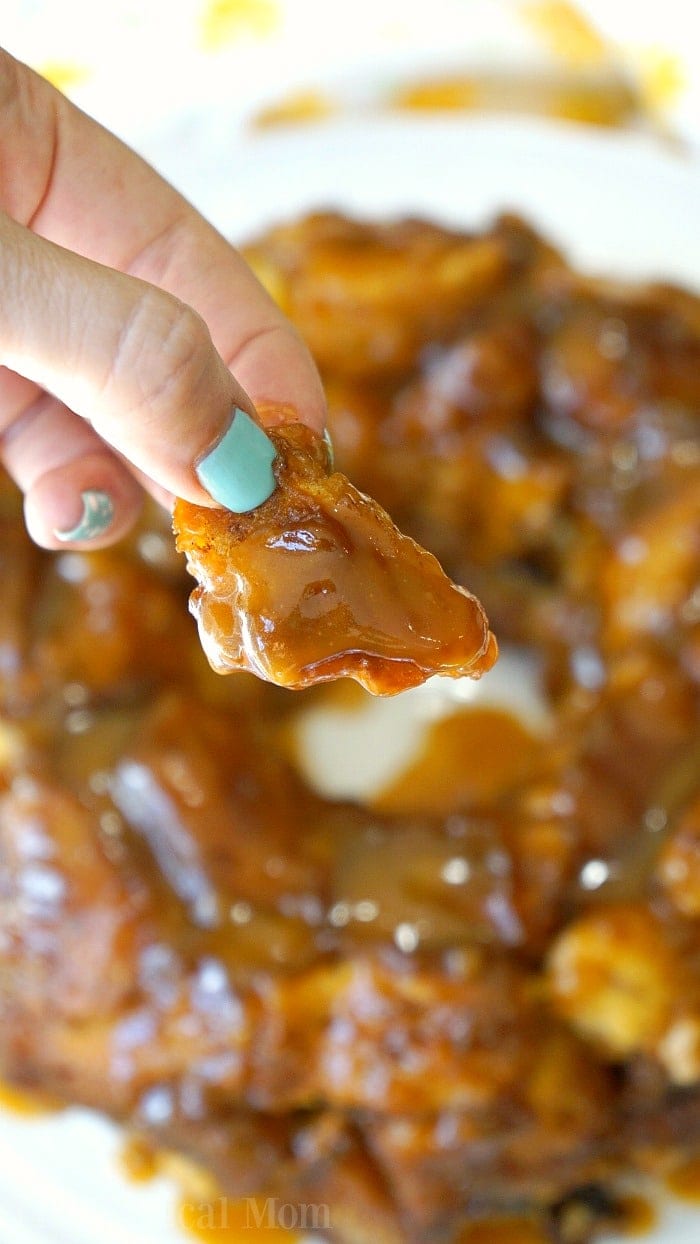 How do you know if monkey bread is done?
The easiest way is to move a few pieces around in the center and see if underneath those is still doughy. If so allow it to bake a bit longer. You don't want underdone biscuit or cinnamon rolls. It should also be golden brown on the top like you see here.
Ok and if you want to take this over the top or make it "prettier" you could sprinkle a bit of powdered sugar on the very top.
Why is monkey bread called this?
The origin comes from the pastry being a finger food. The person enjoying it would essentially be picking it apart like a monkey would. 😉
Does monkey bread need to be served warm?
Well I guarantee if it cools off it will still be devoured no matter what BUT yes it is best served warm for sure.
If you love this caramel pumpkin monkey bread recipe you should try our: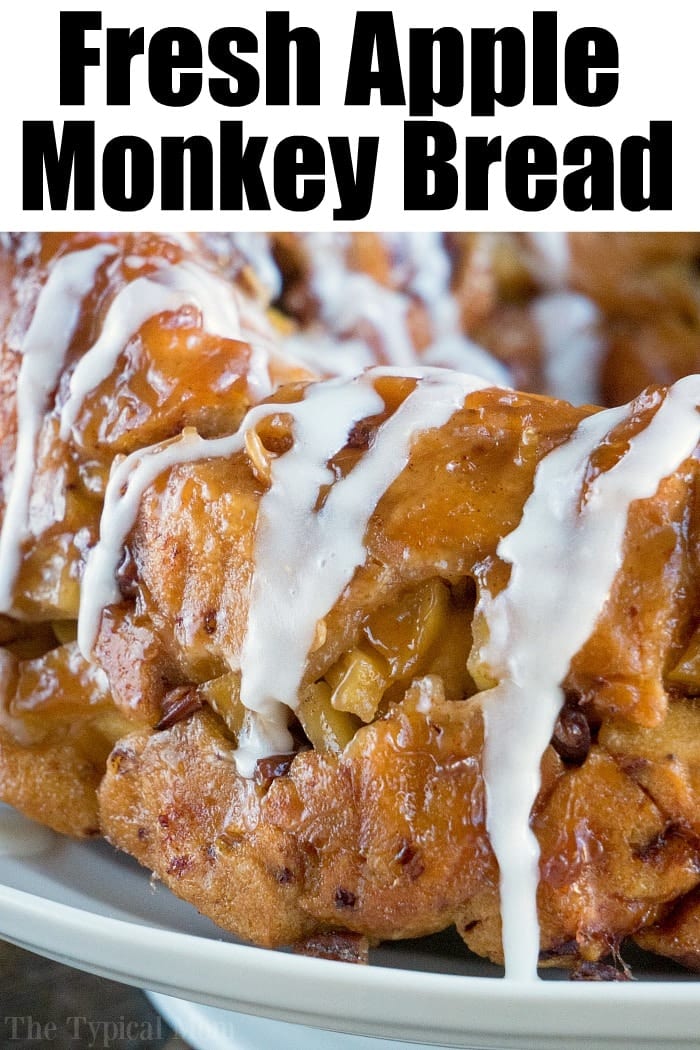 Here is another twist on the traditional Pillsbury cinnamon roll monkey bread you may have tried. Fresh apples are great baked into desserts and/or pastries, and cheap too. With some melted frosting on top and a bit of cinnamon you can make another Fall breakfast, or serve it at a brunch get together with friends. I assure you this will also be a huge hit amongst family and friends.
Can I freeze monkey bread?
Well we've never had any left after the 5 of us get to it BUT if you did you could freeze it. Just wrap each piece in plastic wrap and then put those inside a freezer bag. They should stay good for up to a month. Do NOT store monkey bread dough in the freezer, just the cooked leftovers. This is because freezing will make the yeast inactive.
Nutritional information is below. Now jump to the recipe and make it y'all!!
For more easy recipes, tips and crafts please LIKE The Typical Mom on Facebook and follow me on Pinterest! You can also sign up for my free weekly newsletter which is packed with goodies I know you'll love. 😉
Caramel Pumpkin Monkey Bread
This is the most amazing caramel pumpkin monkey bread you will ever make and it is really easy too!! The best Fall breakfast or dessert I've ever made!

Instructions
Cut up cinnamon rolls into 4ths.

Put white sugar in a large baggie (or a bowl). Add half of the cinnamon rolls that have been cut into bag, close, and gently shake to coat pieces (or put in bowl and gently stir pcs. with sugar until coated).

Place one layer of cinnamon rolls into bottom of bundt pan (spray well before starting to add anything).

Sprinkle some caramel bits, then walnuts, then another layer of sugar coated cinnamon roll pieces until everything is gone and layered inside the bundt pan.

Microwave butter, brown sugar, pumpkin, and pumpkin spice for 30 sec., stir, then 30 more sec. until it's warm and bubbly.

Pour half of mixture on top of layers inside of bundt pan.

Put in preheated oven at 350 degrees for 30 -35 min. checking after 30 min. to ensure it doesn't get overdone.

Take out and loosen sides with a knife. Let it sit for at least 10 min. before turning over.

Put large plate or cutting board on top and flip over (should slide out if you sprayed it well). Reheat butter mixture and pour on top. Serve!!
Video
Nutrition Facts
Caramel Pumpkin Monkey Bread
Amount Per Serving (4 oz)
Calories 479
Calories from Fat 270
% Daily Value*
Fat 30g46%
Cholesterol 61mg20%
Sodium 212mg9%
Potassium 116mg3%
Carbohydrates 54g18%
Protein 2g4%
Vitamin A 1325IU27%
Vitamin C 0.8mg1%
Calcium 42mg4%
Iron 0.6mg3%
* Percent Daily Values are based on a 2000 calorie diet.