Ground beef in oven is a great way to cook beef for tacos or other recipes if you have no other way. Using a sheet pan it's done quickly in just 15 minutes thawed, or how to cook frozen ground beef in a bit longer than that. The best kitchen hack ever for dinner time.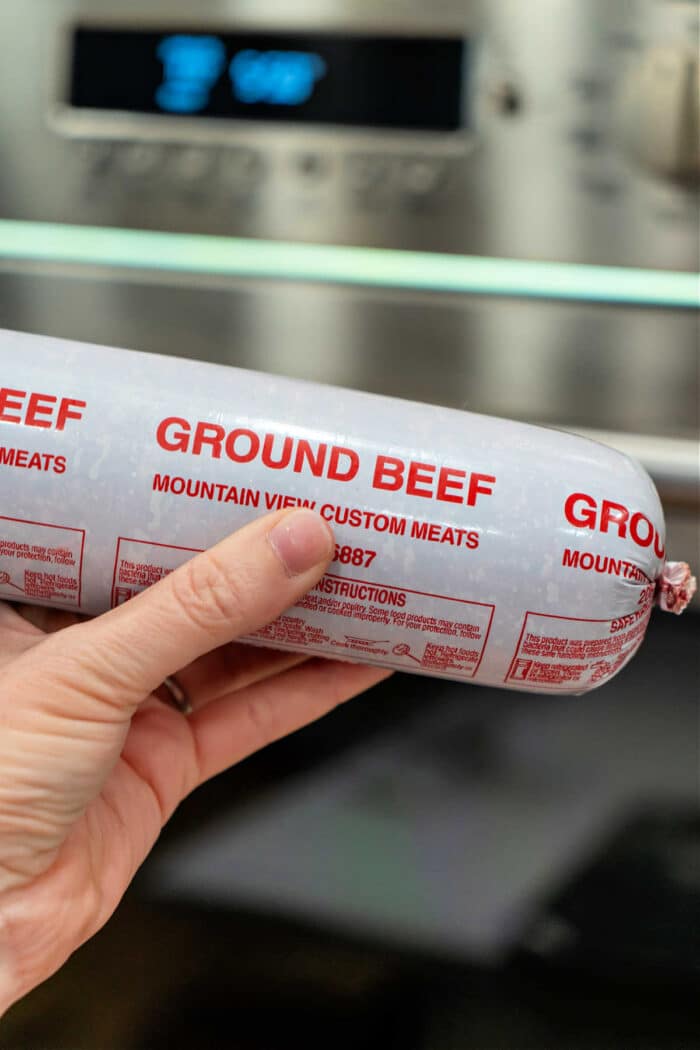 We first shared how to cook frozen hamburger patties in the oven, but you don't want them like that. Sheet pan ground beef can be handy for making dishes like sloppy joes or burritos if that is all you have. Just break up, bake and enjoy this high protein meal. (affiliate links present)
Cooking Ground Beef in the Oven
There are actually tons of ways to use ground beef for a meal. We keep adding more and more to that list so bookmark that post first off. I will not say that I use this method very often at all, but it is nice to know all the options in case you're traveling and may not have any other way to cook this style of beef.
Typically I will use a hot pan on the stovetop with a bit of olive oil to brown, and maybe add seasonings or sauces like when I do when making 3 ingredient sloppy joes. If all you have is an oven you could still make that sauce on the side and then toss with the meat when it has been cooked.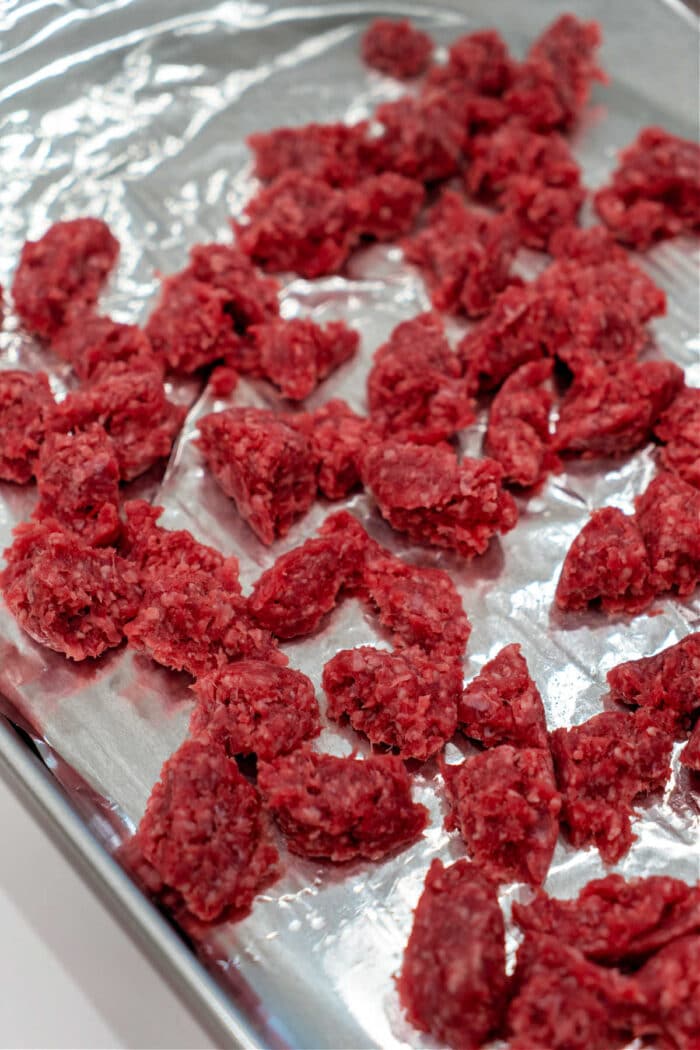 How to Cook Ground Beef in the Oven
Depending on what you want to do with it when done you can season or leave plain. You will need some foil though to create a sort of tent so it won't dry out. If you are against cooking ground beef in aluminum foil at all you could instead use a cast iron pan with a lid, or Dutch Oven I suppose. Without a cover the moisture will escape and it won't get as tender.
Lining the pan itself with foil isn't entirely necessary as long as it is non stick already. Makes it a lot easier to clean when done though so there's that. 😉 If I am making taco meat I will sprinkle on a few tbsp of seasoning on top of the meat before tenting it so it can bake on.
Can you cook ground beef in the oven?
Yes!! We will show you how to do it on a sheet pan right here. If all you have is an oven to cook, you can still brown ground turkey or beef nicely for dinnertime.
How long does it take ground beef to bake in oven?
You are looking at 13-15 minutes depending on the temperature you set it too. I like to cook for 14 minutes with foil and then uncover it for 1 more minute. That gives the meat a chance to brown on the top just a bit and have some of the grease evaporate.
We go over How Long to Cook Ground Beef in all different ways here. Use whatever works for you at the time.
Cooking Hamburger in Oven
There is not a lot of difference when it comes to how long to cook ground turkey and this one. The biggest change is the amount of fat you'll have remaining. Turkey is much leaner so there won't be as much grease on the pan but the timing is about the same.
Hamburger and ground beef are two ways of talking about the same thing really. Broken up into pieces vs. Baked Hamburger Patties kept in a patty cuts down the cook time overall. The smaller the bits the faster it will brown too obviously. You just;
Preheat oven to 400 degrees F. Line a baking sheet with aluminum foil.
Unwrap thawed lean ground beef and cut into slices.
Use a spatula or wooden spoon to break up into as small of pieces you want.
Cover the top with foil and put into preheated oven for 14 minutes
Remove foil for 1 more minute to brown ground beef on the top.
Use a slotted spoon to transfer to a bowl to use in your ground beef recipe of choice.
There you have it, in under 20 minutes! In the recipe card at the bottom you can print recipe so you can keep it on hand, or just come back.
Ground Beef on a Sheet Pan
Seasoning ground beef is essential for creating flavorful and delicious dishes, whether you're making burgers, meatballs, tacos, or a hearty Bolognese sauce. Here are some common and tasty ways to season ground beef:
Start with the basics. Sprinkle salt and freshly ground black pepper over the ground beef to enhance its natural flavors. Salt helps bring out the meat's taste, while pepper adds a subtle kick.
For added depth of flavor, mix in some onion powder and garlic powder. These powdered forms of onion and garlic infuse the ground beef with savory and aromatic notes. Great idea if making homemade spaghetti sauce.
For a more pronounced taste, sauté finely chopped fresh garlic and onions in a little oil until they become fragrant and translucent. Add them to the ground beef on top for a robust flavor profile.
A splash of Worcestershire sauce adds a rich and tangy taste to ground beef. It also helps tenderize the meat and adds a depth of umami flavor.
For an Asian-inspired twist, use soy sauce to season ground beef. Its savory and slightly sweet taste pairs well with various dishes.
Experiment with herbs and spices to suit your dish's theme. Common choices include dried oregano, basil, thyme, cumin, chili powder, paprika, or even a pinch of ground cinnamon for a unique twist.
If you like some heat, add a few dashes of your favorite hot sauce to the ground beef for a spicy kick.
Adding cheese slices are usually easier when cooking burgers in the oven whole but could be done. I would use Kraft slices or shredded so they melt easier uncovered.
If you love the flavors of a quick meatloaf, you can sprinkle a packet of French onion soup mix over the top to add a lot of flavor easily.
How to Save Leftover Ground Beef
Saving leftover ground beef is a practical way to avoid food waste and have a head start on preparing future meals. Here are some steps to help you properly save and store leftover ground beef:
After cooking, allow it to cool down to room temperature before storing it. Leaving it out at room temperature for too long can lead to bacterial growth and spoilage.
If you have a large amount, especially if you are batch cooking, consider dividing it into smaller portions. This way, you can defrost only the amount you need for each meal, reducing waste and ensuring it stays fresh.
Transfer the cooled beef into airtight containers. You can use plastic or glass containers with well-fitting lids. Alternatively, you can also use resealable plastic bags.
To keep track of the freshness, label each container or bag with the date of storage. This will help you know how long it has been in the refrigerator or freezer.
If you plan to use the leftover ground beef within a few days, store it in the refrigerator. It should stay fresh for up to 3-4 days when properly refrigerated.
For longer storage, place the containers or bags of leftover ground beef in the freezer. When stored properly it can last for up to 2-3 months without significant loss of quality.
Thawing Frozen Ground Beef When you're ready to use, you have a few safe options for thawing.

The best methods are to transfer it to the refrigerator and let it thaw slowly overnight or use the defrost function on your microwave.
If you're in a hurry, you can thaw in a sealed plastic bag submerged in cold water, changing the water every 30 minutes.

When reheating, ensure it reaches a safe internal temperature of 165°F. Then make Big Mac casserole and enjoy a second meal out of it!
By following these steps, you can safely store and use it later on, reducing food waste and making meal preparation more convenient.
Want to see a few of my favorite things that I am totally obsessed with?? Take a peek and see how many you might already have…twinsies!
Looking for more easy family recipes and tips? LIKE The Typical Mom Facebook page?
Then sign up for my free newsletter, and follow me on Pinterest! 😉
***** If you LOVED this recipe give it 5 Stars below and let everyone know what you thought about it. 😉
Ground Beef in Oven
Ground beef in oven is a great way to cook hamburger for tacos or other recipes if you have no other way. Using a sheet pan it's done quickly in 15 minutes.
Equipment
1 sheet pan

aluminum foil

1 spatula
Instructions
Preheat oven to 400 degrees F. Line a baking sheet with aluminum foil. Unwrap thawed ground beef and cut into slices. Then use a spatula to break up into as small of pieces you want.

Sprinkle the top with salt and pepper (and any other seasonings you normally use).

Cover the top with foil and put into preheated oven for 14 minutes, then remove foil for 1 more minute to brown slightly on the top.

Remove and use a slotted spoon to transfer to a bowl to eat as taco meat or other ways.
Nutrition Facts
Ground Beef in Oven
Amount Per Serving (1 oz)
Calories 230
Calories from Fat 162
% Daily Value*
Fat 18g28%
Cholesterol 64mg21%
Sodium 61mg3%
Potassium 245mg7%
Protein 16g32%
Calcium 16mg2%
Iron 2mg11%
* Percent Daily Values are based on a 2000 calorie diet.