Air fryer corn dogs are the bomb! They cook way faster this way to get that nice crunchy texture on the outside with a tender hot dog in the center. From frozen to crisped in no time for dinner!
With 3 girls we aren't strangers to frozen foods. Now that we have this nifty kitchen appliance, we've been making everything in it including air fryer corn dogs! If you're looking for easy air fryer recipes such as this one, we have tons on The Typical Mom blog! (originally published 12/19, participant in the Amazon program, affiliate links present)
Corn dogs in air fryer
I mean seriously, these are as good as you remember getting them at your local fair! Really crispy crunchy on the outside but still tender and warm on the inside. These are frozen, we have homemade corn dogs in air fryer here too. Game changer y'all.
There are two ways to airfry corn dogs. You can microwave until tender and then crisp the outside breading or just throw them in straight out of the freezer. I will share both methods below. If you have an extra minute I would do the two steps because they turn out best that way.
FIRST – You should sign up for my free newsletter so you get new posts emailed to you twice a week and never miss out on anything! If you love air fryer recipes too, here are some resources to start with: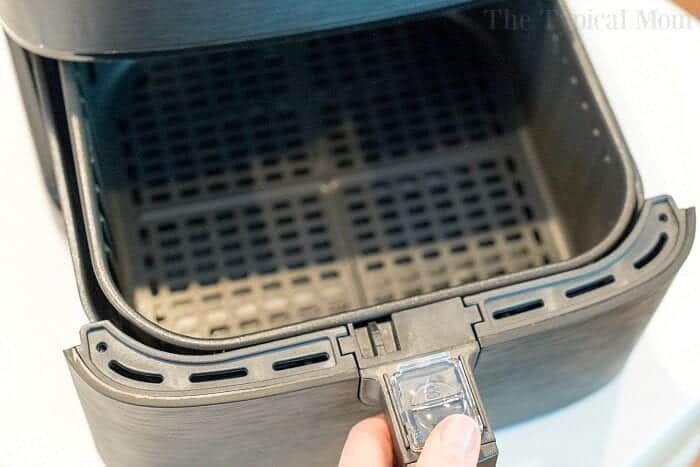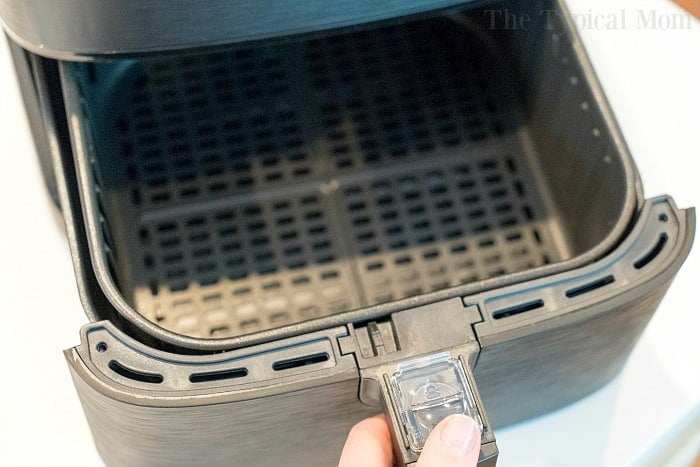 How Long to Cook Frozen Corn Dogs in Air Fryer
About 7 minutes if you go straight from the freezer to air crisping. However there is a second method, that I actually use more often that is faster. I actually prefer to microwave them until tender when squeezed, then air fry for about 3-4 minutes. That way you can ensure the middle is hot, then crisp the cornbread outside.
Frozen Corn Dogs in Air Fryer
Here are a few questions you might have before you get started on these.
How do you cook corndogs in the air fryer?
Preheating to the correct temp for 5 minutes is key. Then 6 minutes is about right to get the outside nice and crispy. The key is though, to leave them in the basket, closed for 4 minutes to warm the insides.
Can you cook a hot dog in an air fryer?
Absolutely. We've made air fryer hot dogs quite often. No more boiling water and a lightly crispy outside is so much better anyway.
How do you make frozen corn dogs crispy?
Corn dogs in the air fryer are the best!! Baking in the oven takes SO much longer and doesn't get that deep fried crisp like a hot air machine does.
How do you cook frozen corn dogs in an air fryer?
We will answer that for you today. Let me tell you, making frozen foods in an air fryer is a game changer!! Just 6 minutes and done.
We started with making air fryer tater tots and air fryer frozen chicken nuggets. We just couldn't stop from there. Let us show you how we do it and why this method is seriously the bomb!!
Corn Dog Cooking Instructions
How do you know how long to cook each item? We created our printable air fryer cook times chart (link above) to help you out! There isn't a time for corn dogs exactly but many frozen foods are on it.
For these I estimated the time and temp. from the oven directions on the back.
How do you cook frozen corn dogs?
Do you have to preheat an air fryer? I always do!
360 degrees for about 8 minutes worked pretty awesome. The trick to getting them perfect was the flip halfway through.
Then stop once they are as crispy on the outside as you want, and leaving them in for at least 3 minutes after that.
This added time at the end allowed the middle of the hot dog to get warm too. If you skip this step it is a bit lukewarm in the very center.
How long do you air fry mini corn dogs?
I still set to the same temperature, but 5 minutes is usually long enough to crisp the outside batter. Same goes for the larger ones. Leave them in once the timer is up for 3-5 minutes to get the insides warm too. 😉 This is now my girls' favorite crunchy crispy snacks.
Frozen corn dogs in air fryer
We have made air fryer hot dogs and chili dogs too and those were pretty amazing! BUT when you just want a quick snack right out of the box, this is a great one.
All you need is a box of them! That's it!
If you want to get the outside super crispy you can use a bit of olive oil cooking spray. I didn't think that was necessary but to each their own.
Air frying gives just about anything that deep fried crunch that everyone just loves. BUT you don't soak up all that cooking oil so it's way lower in fat and calories. It's a win win big time. You can make air fryer hot dogs too.
Same thing with making frozen mozzarella sticks in air fryer , they are so much better in this little "magic machine".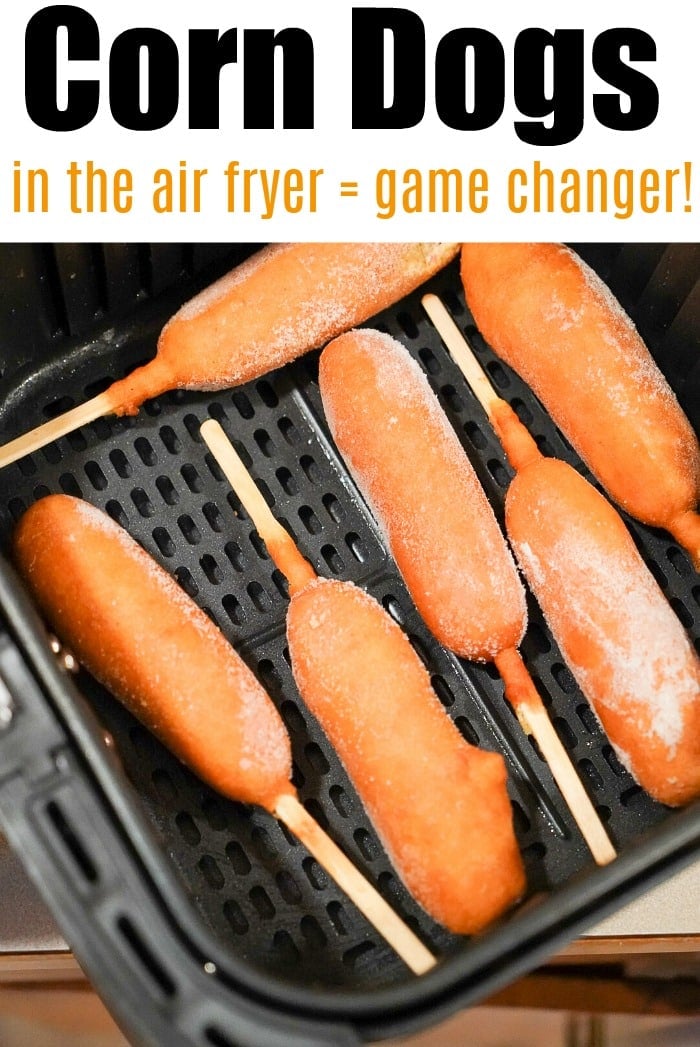 Frozen Korean Corn Dogs
If you love these, we do, you can cook these perfectly too. I would recommend laying on a paper towel and microwaving for 45 seconds first. Preheat machine at 380 F for 5 minutes and lay inside. Cook for 3-5 minutes depending on how crispy you want the outsides.
Could you make these homemade with cornbread or tempura batter? NO. Unfortunately wet batters do not work when you're air frying foods. You must use a dry breadcrumb, crushed cornflakes or Panko style crumbs to coat the outside.
Normally the best way to do this is to dredge the item in whisked egg, then dry crumbs, and then put it into your air fryer basket. This is how we made our popular air fryer zucchini chips!
If you'd like to make a fun version of Instant Pot corn dog bites, I suggest following this recipe in your Instant Pot instead. You can use traditional cornbread mix with this. All you need is an egg mold and a trivet.
Air fryer frozen corn dogs
They won't get crispy like these air fryer corndogs but they're fun and yummy nonetheless.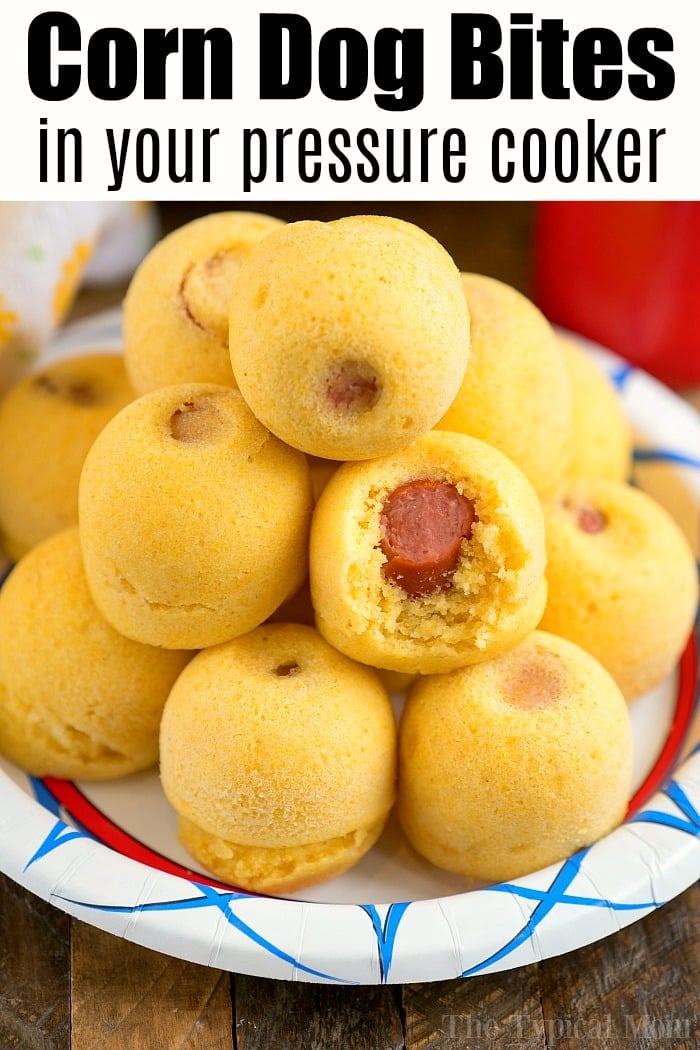 Best frozen foods for an air fryer
This is a great one. Try it and tell us know how much better they are than before in the comments below!

we love air fryer fish sticks and a frozen burrito in an air fryer
You can cook frozen chicken wings in an air fryer too. The ultimate in air fryer appetizers.
My kids make grilled cheese in an air fryer, Monte Cristo sandwiches and air fryer quesadillas all the time too
Ninja Foodi Corn Dogs
Want to see a few of my favorite things that I am totally obsessed with?? Take a peek and see how many you might already have…twinsies!
Looking for more easy family recipes and tips? LIKE The Typical Mom Facebook page?
Then sign up for my free newsletter, and follow me on Pinterest! 😉
***** If you LOVED this recipe give it 5 Stars below and let everyone know what you thought about it. 😉
Corn dog air fryer
Air Fryer Corn Dogs
Air fryer corn dogs are the bomb! They cook way faster this way to get that nice crunchy texture on the outside with a tender hot dog in the center.
Instructions
Preheat air fryer to 360 degrees for 5 minutes. Put frozen corn dogs in air fryer basket, without overlapping, and close drawer.

Set to 360 degrees for 6-8 minutes flipping halfway through, or until they're as browned as you like on the outside.

Once browned as desired and timing stops turn off machine. Allow corn dogs to sit in the basket, closed, for 3-5 (ideally) minutes to continue heating the middle.

Open basket and enjoy with favorite dipping sauces.

** Alternatively you could microwave for 1 minute per corn dog, then put into preheated air fryer for 6 minutes flipping halfway thru. Then enjoy, you don't have to leave in the machine for this method.
Nutrition Facts
Air Fryer Corn Dogs
Amount Per Serving (3 oz)
Calories 20
Calories from Fat 3
% Daily Value*
Fat 0.3g0%
Sodium 222mg10%
Potassium 54mg2%
Carbohydrates 5g2%
Protein 0.5g1%
Vitamin A 82IU2%
Vitamin C 1mg1%
Calcium 7mg1%
Iron 0.2mg1%
* Percent Daily Values are based on a 2000 calorie diet.