This garlic pull apart bread recipe paired with Walmart's Marketside soups are the perfect lunch or dinner for your family, especially when you're short on time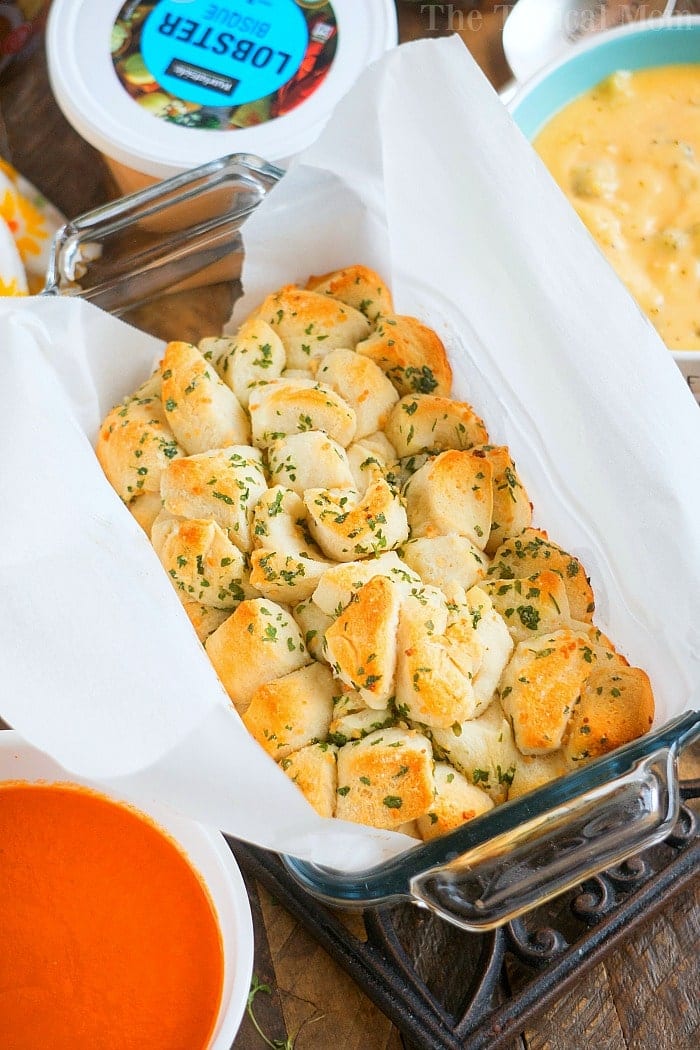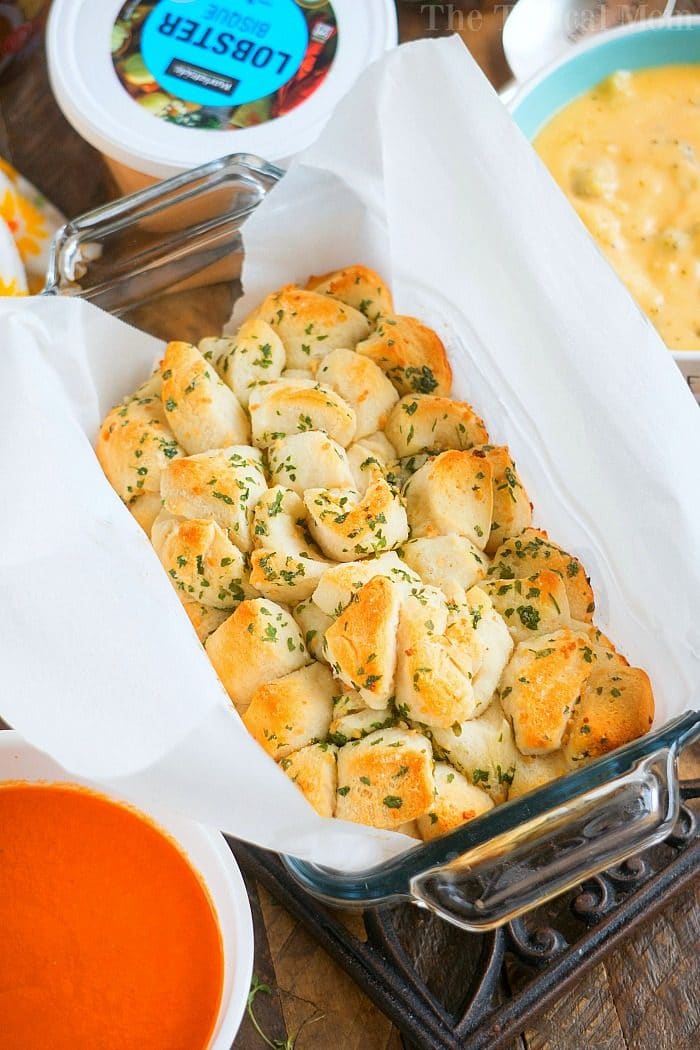 Who else is a busy mom (hand raised), BUT still wants to make family dinners a priority??!! Me too!! Yes I love homemade meals but when one child works, the other one has flute practice, and we have some DIY project going on at the same time there isn't always time for that, but I've found solutions for those busy days. Take a peek at our semi-homemade pull apart bread recipe paired with Marketside Soups from Walmart….SO good I tell you. Special thanks goes out to Walmart for sponsoring our post so we could share our go to busy weekday meal with all of you.
Let me show you how easy this meal is to throw together, and how you can enjoy it at home too. 😉
Who doesn't love soup for dinner right??!!
Especially on those chilly days when it looks like it is going to snow and all you want to do is throw on jammies around 5pm and enjoy a warm dinner with your kiddos….yep, that would be me!
OH You Too??!! We could definitely be friends then. 😉
Which one do you think would be your favorite……..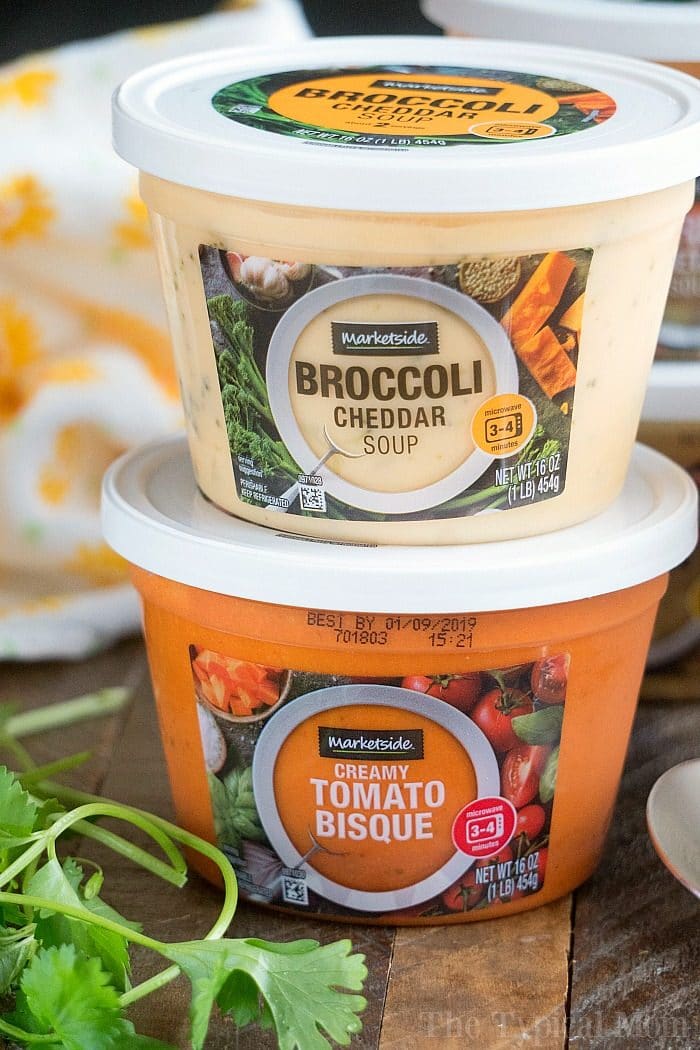 Ok, so here is the trick. Well, it's not a trick really, it's a tip. When you walk into Walmart to do all of your grocery (and everything else) shopping, head near the bakery section and look at the center aisle area with all the refrigerated goodies…you'll find their Marketside Soups right there!
I know, there are a TON of varieties for a price range of $2.87 to $4.97…one for everyone in your fam, even lobster bisque!! All soups come in various sizes (16 and 32 oz)
These are the Marketside soups (16 oz each) I bought to go with our garlic pull apart recipe this week:
Lobster Bisque – Seen below, I know…can you believe they have that for just $2.87??!!
Broccoli Cheddar – I will share pictures of that later, my husband's fave.
Tomato Bisque – This was my choice, and my oldest daughter too
Chicken Tortilla – Has a little kick we love
Garden Vegetable – Perfect for my vegetarian oldest daughter
Chicken Noodle – Always a fave.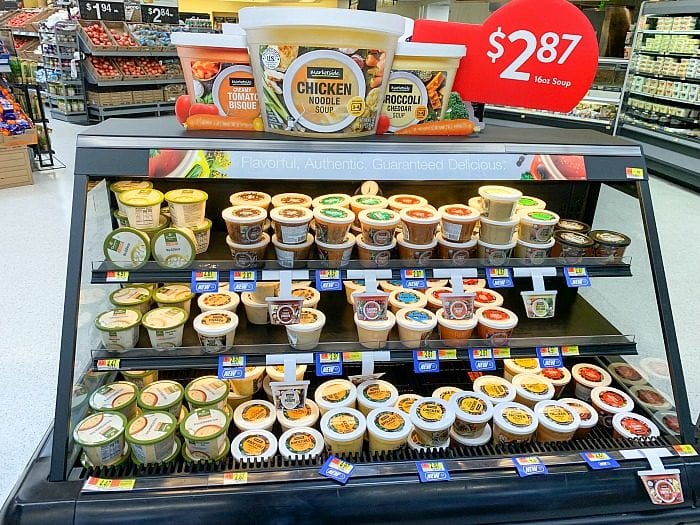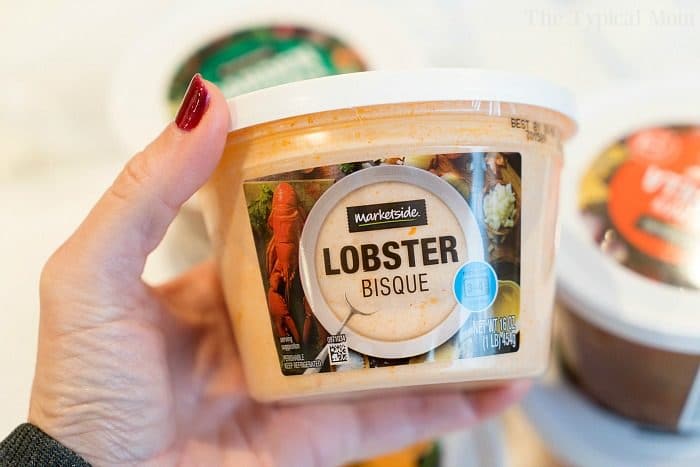 Besides the large selection of soups, the flavors are great and each one only takes 3-4 minutes to heat up.
On busy days I can grab one for everyone in the house, pick up ingredients for this easy pull apart bread recipe and know I can have dinner on the table in about 30 minutes flat!
This is what you'll need to pick up at Walmart so you can do the same…….
1 Walmart Marketside soup per person
2 – 10 count Great Value containers of refrigerated biscuits
Butter
Parsley – I used jarred, found with spices in baking aisle
Minced garlic – I use jarred
Garlic salt
Thyme – I had some fresh in my fridge, you could use jarred or omit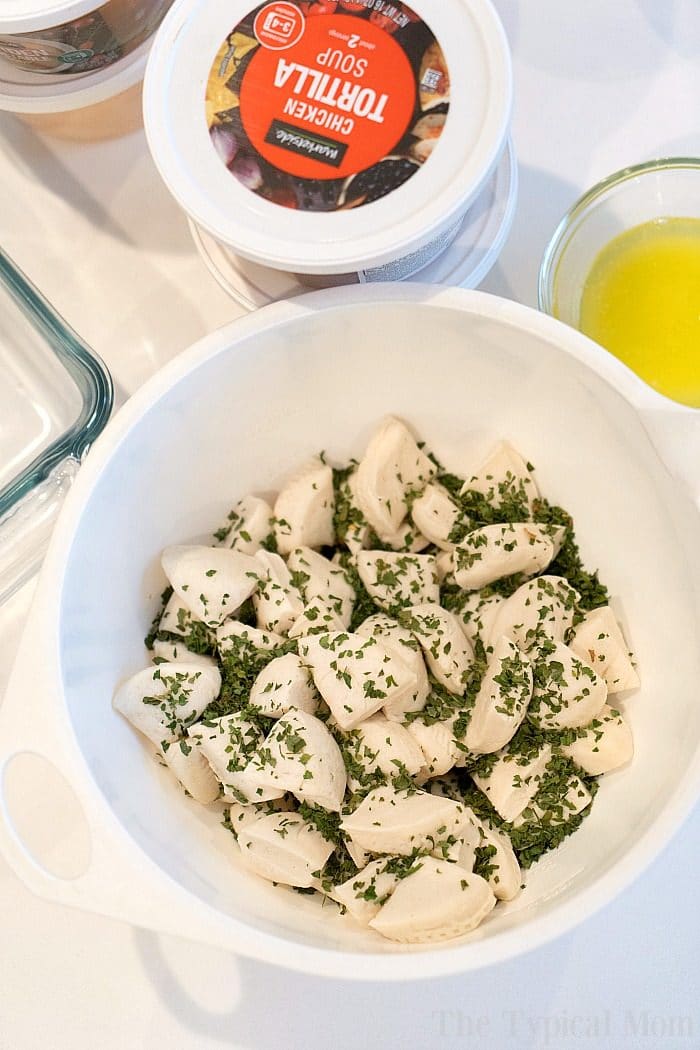 This is what it looks like in the preparation process. You just want to make sure you are gentle when mixing all the ingredients together with your biscuits as they can stick together or break apart easily if you're rough.
AND this is the tomato bisque soup I paired with it.
I actually ended up dropping one piece of my pull apart bread into the soup and scooping up each one with my spoon for each bite, it was perfect with a bit of drizzle outside that evening.
My husband's broccoli cheese was tasty too….of course I stole a bite. 😉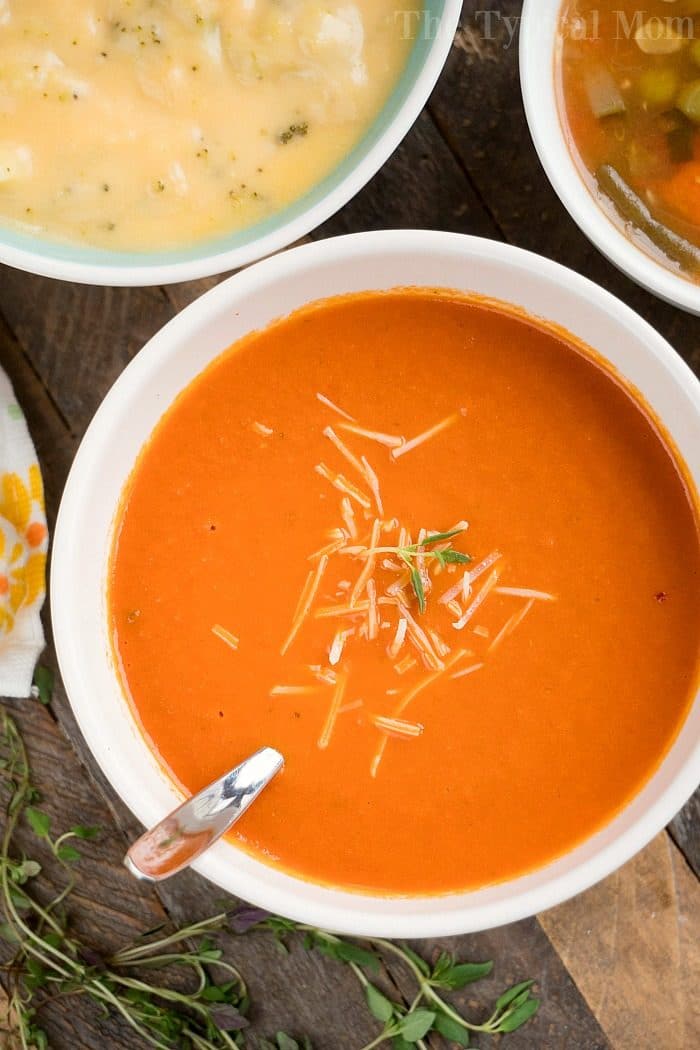 Ready to try this easy peasy meal yourself tonight??
Head to Walmart and pick up the few items you'll need. There are so many different soups to choose from that you could easily pick up enough for two nights in a row so you can see which ones are your favorite.
Which ones have you tried so far??
Pull Apart Bread Recipe
This garlic pull apart bread recipe paired with soup is the perfect lunch or dinner for your family, especially when you're short on time
Ingredients
2

packages

refrigerated biscuits

Great Value, 10 count, found in refrigerated section of Walmart

1

tbsp

parsley

dried or fresh

1

sprig

thyme

1

tbsp

garlic

minced, I use jarred

1/4

tsp

garlic salt

1/4

c

butter

melted
Instructions
Preheat your oven to 350 degrees. Cut each biscuit into 4 equal pieces and put into a bowl.

Sprinkle in your parsley, thyme, minced garlic, garlic salt and gently mix together.

Melt your butter and pour over your biscuit pieces. Gently stir to coat pieces but not so much that biscuits start to break apart or stick together.

Put a piece of parchment paper into a loaf pan or spray with non stick spray.

Dump your coated refrigerated biscuit mixture into your loaf pan. Bake for 28-30 minutes or until the top is golden brown.

Once you take it out to cool a bit put your Marketside soups into bowls and into the microwave for 3 minutes each, then pull apart some of your garlic bread loaf and serve that on the side or drop a few right into the soup!
Nutrition Facts
Pull Apart Bread Recipe
Amount Per Serving (3 oz)
Calories 632
Calories from Fat 297
% Daily Value*
Total Fat 33g 51%
Cholesterol 21mg 7%
Sodium 1615mg 67%
Potassium 344mg 10%
Total Carbohydrates 75g 25%
Protein 9g 18%
* Percent Daily Values are based on a 2000 calorie diet.