Savory monkey bread is the best along side pasta!! Super easy to make and looks beautiful as an appetizer or side dish or any occasion. Make as a side dish or our breakfast bundt cake with egg and bacon.
We love monkey bread whether it is sweet or savory, but this easy savory monkey bread recipe gets a thumbs up when we serve it with spaghetti for dinner!! It is really a great side dish when serving pasta, or bring it to a potluck as an appetizer and it will be a hit! Here is the recipe for savory monkey bread. (affiliate links present)
Savory Monkey Bread with Canned Biscuits
We've used this same recipe but made a sweet cherry cheesecake monkey bread that is great for breakfast or dessert. And this savory one is perfect for dinner. You just need your favorite spices, a bundt pan, and 2 packages of refrigerated biscuits.
Just like our Canned Cinnamon Roll Recipe, you don't want to fill your pan more than halfway full with pieces so the amounts listed below would be max. If you want to double it you'd want to make two different batches, not together. The reason being is it will be too thick and the middle won't bake all the way thru.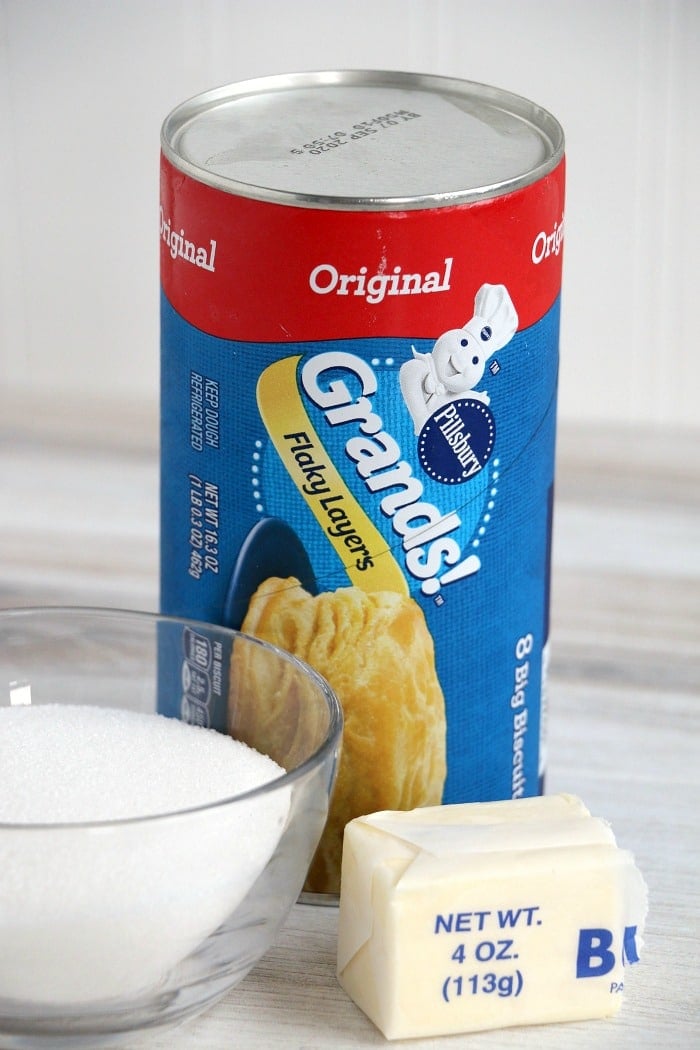 How to Make Savory Money Bread
There are many different brands and styles of these biscuits in refrigerated section. Some are larger like Grands and the "regular" size too. Pillsbury is the name brand but you'll likely find a store brand as well. I don't find there is a huge difference between the two myself if you're buying the butter or buttermilk type.
If you do buy the larger size like you see above you'll want to cut them into more pieces. The small can be in fourths but the others should be closer to 6 dough balls so it creates a pull apart bread effect in your fluted pan.
Too large and the middle will remain a bit sticky and doughy with the sides getting too dark and crunchy for your liking. It is a fine balance and you definitely don't want to eat uncooked dough.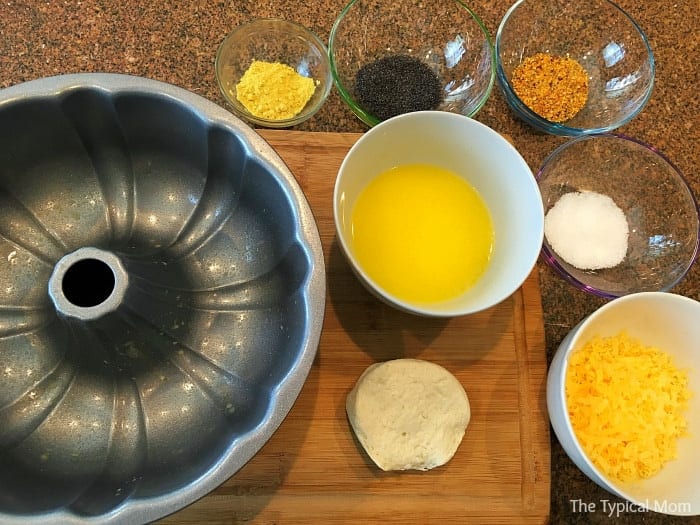 Savory Monkey Bread in Fluted Pan
Take your time and choose your favorite toppings. We love cheese of all kinds so that was a must, and if I have some air fryer garlic stored that is my all time favorite one. Then you will get a garlic butter flavor that soaks in nicely. Sesame seeds are another one that is nice when toasted on the outsides.
What is a bundt and why would we insist on using this pan. Well if you use something like a square or rectangular baking pan it won't cook thru properly. The middle is too far away and gets too thick. Using this type of fluted pan allows the "middle" to only be a few inches from the outside.
Garlic Savory Monkey Bread
I used a few different toppings; ground mustard, poppy seeds, a garlic salt mixture, kosher salt, and cheddar cheese.
First cut your large refrigerated buttermilk biscuits into quarters.
Then melt your stick of butter and dunk one dough ball at a time into the butter
Put one cut biscuit piece into one bowl of your toppings.

can use dried herbs
minced garlic
parmesan cheese
poppy seeds
garlic powder
shredded cheddar cheese

Place in bottom of bundt pan that has been sprayed with non stick spray.

I would suggest you generously grease the inside even if you have a non stick bundt pan. You really want to ensure it slides out nicely when your savory monkey bread is done.

Put into preheated oven for 350 degrees.
Bake for approx 30 minutes baking time or until top is golden brown and when you pick up one of the top pieces the one underneath is not still sticky/raw.
Allow to cool and continue to cook in the bundt pan when you take it out. Dip in garlic butter when served
Non stick cooking spray is the best but you could brush with melted butter inside or even a bit of crisco rubbed on with a paper towel.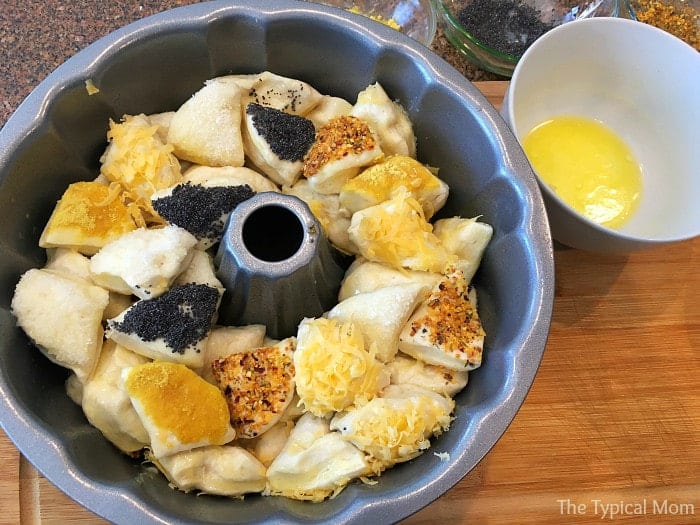 Monkey Pull Apart Bread
Here is the garlic monkey bread recipe you can follow step by step and print out too. This savory style monkey bread recipe is really a pretty side dish if you have people over, is perfect along side a pasta dish, or use along side another appetizer like one of our hot dips!
If you have leftovers it saves rather well but you need to keep it moist. Allow it to cool completely and then slide what is left into a gallon freezer bag. Push all the air out so it is sucked in tightly. You could wrap tightly with plastic wrap too. Keep on the countertop for up to 3 days and rewrap when taking a serving.
It will moisten up even more if you put some in a bowl with a small pat of butter. Microwave it for about 30 seconds and within 24 hours it will almost taste and feel fresh again. This and our round sandwich bread made in this same pan should show you that you can bake all sorts of things in it beyond cakes.
Refrigerated Biscuit Savory Monkey Bread
What are some popular savory ingredients used in monkey bread?
Some popular choices for savory monkey bread include cheese, herbs (such as rosemary, granulated garlic, thyme, or parsley), bacon bits, bits of olives, diced sun dried tomatoes, or even jalapeños or chili flakes for spicy.
Can savory monkey bread be made with store-bought dough?
Monkey bread with canned biscuits or refrigerated pizza dough works great. Using pre-made dough can save time and effort in the preparation process. However, if you prefer homemade dough, you can certainly make your own from scratch.
Another choice is using frozen rolls. You have to allow them to defrost for about 45 minutes before slicing and preparing them as directed below. Here's a quick rundown. Let us know what you think!
Want to see a few of my favorite things that I am totally obsessed with?? Take a peek and see how many you might already have…twinsies!
Looking for more easy family recipes and tips? LIKE The Typical Mom Facebook page?
Then sign up for my free newsletter, and follow me on Pinterest! 😉
***** If you LOVED this recipe give it 5 Stars below and let everyone know what you thought about it. 😉
Savory Monkey Bread with Canned Biscuits
Savory monkey bread with canned biscuits is the best along side pasta!! Super easy to make and looks beautiful as an appetizer or side dish or any occasion.
Ingredients
2

cans

refrigerated biscuits

I used Grands, one can buttery style, one original

1

stick

butter

melted

4

tbsp

sesame seeds

4

tbsp

salt

sea salt/kosher salt

4

tbsp

poppy seeds

4

tbsp

garlic salt

1/2

c

cheese

cheddar shredded I used

4

tbsp

ground mustard

optional
Instructions
Cut your refrigerated biscuits into 4 pcs each.

Melt your butter and put all spices in their own small bowl.

Spray your bundt pan with nonstick spray.

Dunk each piece of biscuit into butter, then into one of the spices (go light on the salt).

Put into bundt pan. Alternate spices around the pan so they are mixed up.

Put into preheated oven for 350 degrees.

Bake for approx 30 minutes or until top is golden brown and when you pick up one of the top pieces the one underneath is not still sticky/raw.

Allow to cool and continue to cook in the bundt pan when you take it out.

When cooled carefully flip the pan over using a plate or cutting board on the top so it comes out in one pretty bundt.
Video
Nutrition Facts
Savory Monkey Bread with Canned Biscuits
Amount Per Serving (2 oz)
Calories 400
Calories from Fat 216
% Daily Value*
Fat 24g37%
Cholesterol 25mg8%
Sodium 5473mg238%
Potassium 212mg6%
Carbohydrates 38g13%
Protein 7g14%
Vitamin A 280IU6%
Calcium 148mg15%
Iron 3.3mg18%
* Percent Daily Values are based on a 2000 calorie diet.