Tender dutch oven pork roast with rice is packed with flavor! Made at home or over the campfire for dinner this pulled pork will be a new favorite meal.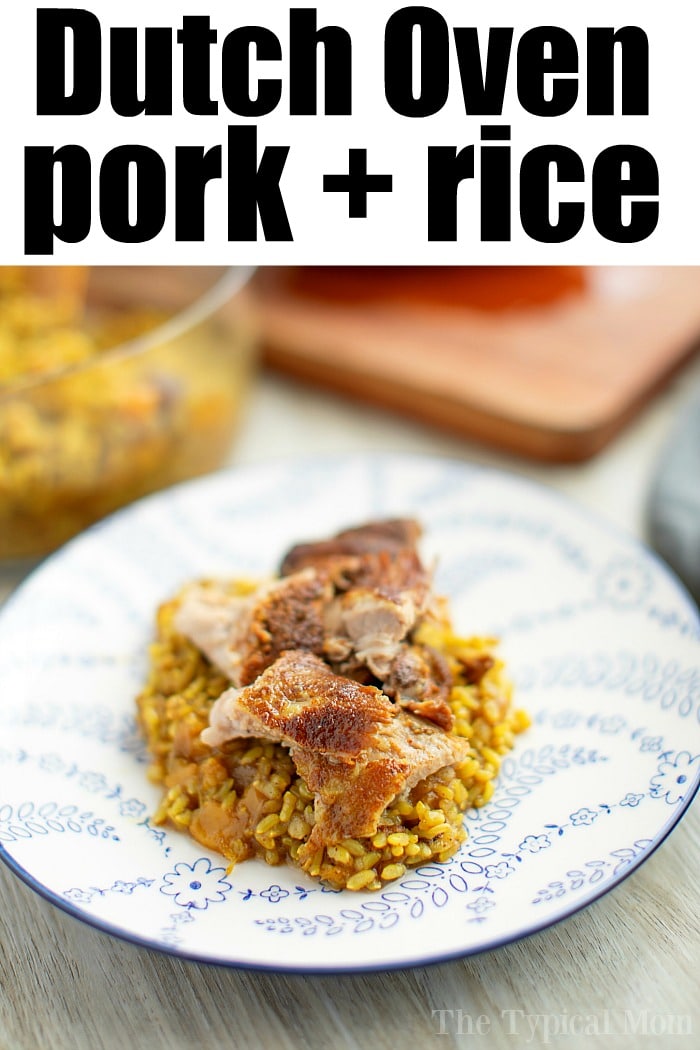 Are you obsessed with dutch oven recipes? We are! Even if we're just at home, a cast iron pot is just super easy to cook in. This cast iron pork roast with rice is our latest creation. (originally published 1/20, affiliate links present)
Pork Roast in Dutch Oven
We've made a pork shoulder before in our pressure cooker and yes that came out incredible. Sometimes you want it cooked low and slow for a few hours so it's s tender the meat just falls apart when it's touched.
If you want to use your oven though this is another method that works just as well. Using a cast iron pot traps the steam and allows the meat to break down and get very fork tender and delicious.
FIRST – You should sign up for my free newsletter so you get new posts emailed to you twice a week and never miss out on anything! If you're new to using this enclosed cast iron pot, let me share a little information: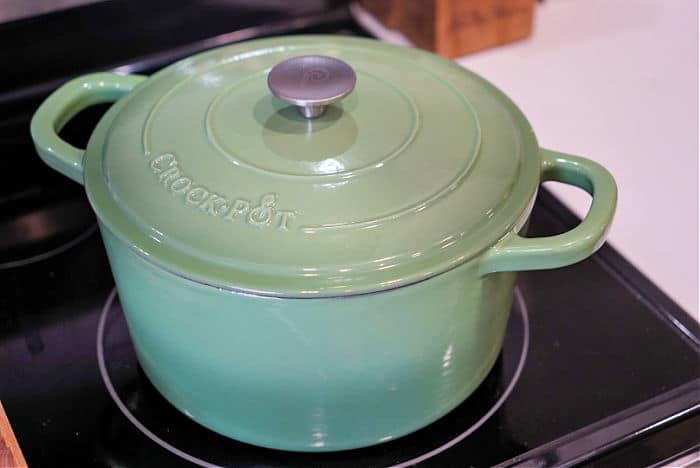 Pork Shoulder Dutch Oven
If you wanted to use this cut it would just take a while longer since there is a larger bone present. Other than that I would follow the rest of the recipe as far as the sauce goes. I would leave out the rice though because it might get overdone and mushy.
This is a great one to try with a dry curry rub recipe you can use on just about any other large cut of meat for a ton of flavor. We have used it on our air fryer rump roast too.
Of course if you have your own recipe for a dry rub you're obsessed with, you could use that too. Totally up to you. There is also a great sweetness added with diced fresh mango.
Dutch oven pork roast recipe
Dutch oven – 7 quart has been a good size for us
4 lb. pork roast (if larger or smaller, timing will vary)
Brown rice (optional add in)
Water
Mango
Coriander
Brown sugar
Cinnamon
Paprika
Garlic powder

throwing in a few garlic cloves when you add the rice would be good too

Salt and pepper to taste at the end
The first step is to mix together pork dry rub ingredients and liberally rub it all over on the top and the bottom of the meat. Use all of the seasonings in the bowl so you get a nice intense flavor on each piece of meat.
Dutch Oven Pork Roast with Potatoes and Carrots
If you didn't want the sweetness you could skip the fruit and instead put in large chunks of veggies. Quarter taters and whole carrots that have been peeled and throw those babies in at the beginning.
This was our first attempt at a dutch oven pork anything. We cook this dutch oven whole chicken all the time with vegetables and it turns out so well that I thought I'd give this a whirl the other night.
Pulled pork is just so incredible. Served on slider buns is probably one of our favorite ways to eat it. Slather a bit of extra sauce on top with a side of cole slaw and OH MY.
What veg goes with pulled pork?
You could really pair it with anything under the sun but a few of our favorites are:
A side of air fryer green beans gives the meal a bit of crunch
Okra
Or just serve it with white rice on the side if you don't want to cook it all together.
First you're going to heat your cast iron dutch oven over medium high heat on your stovetop and heat olive oil inside of it. Brown the outsides, turn the roast so all sides are "toasted".
Dutch Oven Pulled Pork
When it is halfway done and it's been in the oven for an hour it is time to add the water, mangos and uncooked rice so it will be done all at the same time.
In a small bowl mix together your brown sugar, remaining water, uncooked rice and mango goes in last.

you don't have to add the fruit if you don't want to have a sweet and savory dish
I imagine you could replace with peeled and diced apples too

Pour this mixture around the outside of your meat. We need to bring to a boil so the rice can cook tender and perfect.
Put lid back on and the cast iron pot back in your oven to cook for another oven. This will finish cooking the pork and make the rice tender.
Once done take the pot out and rest it on the top of your stovetop for 15 minutes covered. You want your meat to be really tender and resting will help with that.
Serve rice and meat with some vegetables and Dutch Oven bread, with pan juices spooned on top for best results.
Then open, fluff your rice and shred or slice your pork roast into servings.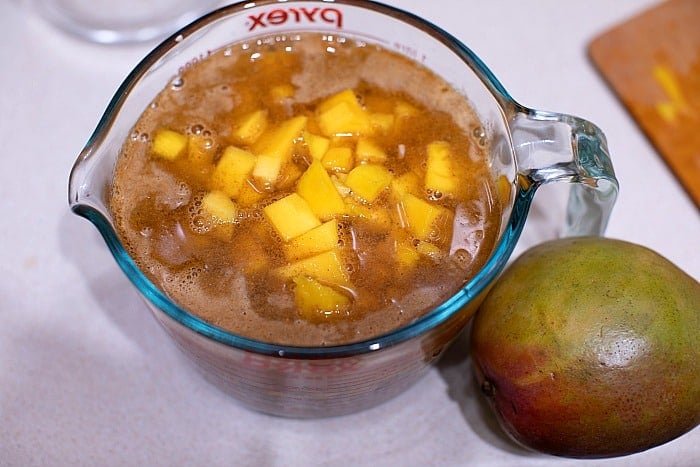 Want to try cooking a tender pork loin after this? We make pork tenderloin in an air fryer too from frozen! Just serve either one with 1/2 cup of twice baked potatoes or mashed potatoes and seriously even your kids will love it!
What temperature should a pork roast be cooked to?
The National Pork Board recommends cooking pork chops, roasts, and tenderloin to an internal temp between 145 degrees and 160 degrees which would be medium. Allow it to rest at least 3 minutes to maintain juiciness.
Larger cuts continue to cook as they rest too and typically increase 10 degrees while it sits. SO, you should remove it from the heat at 150 degrees F, followed by a 10 minute rest ideally.
How long will pulled pork last in the fridge?
Leftovers pork is the same as leftover ham or other cooked meats. The safe storage life of these cooked meats is 3 to 4 days in the refrigerator.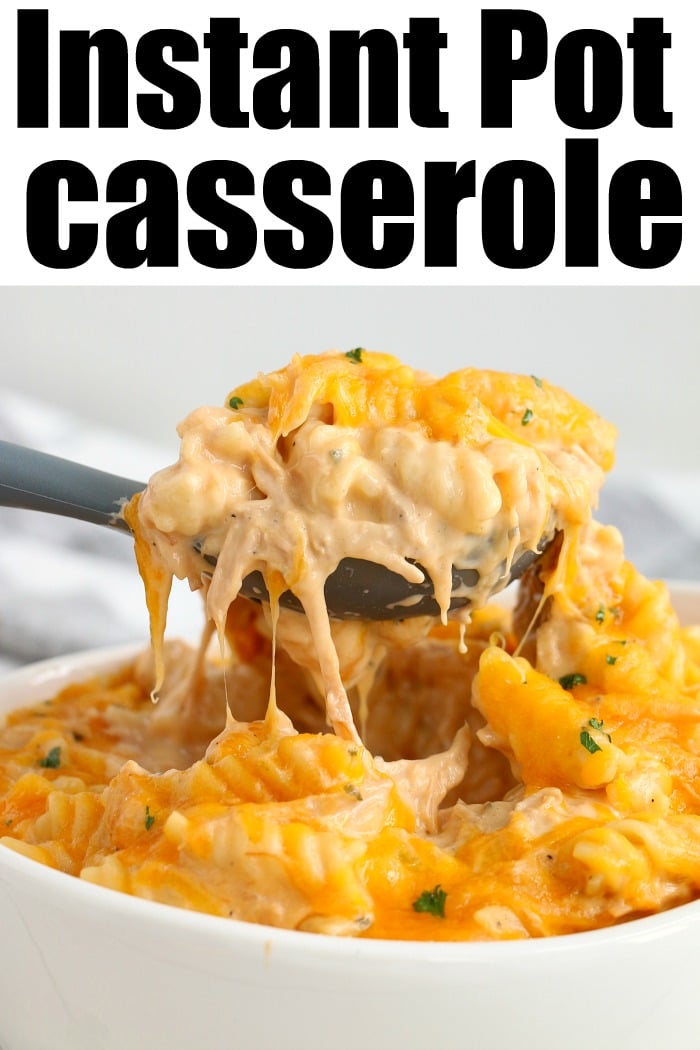 Can you reheat shredded pork?
Yes. Just place the pulled pork in a microwave safe dish, add some liquid to keep it moist, and heat on high for two minutes. It may need a bit longer depending on how much you're heating, you just want to get an internal temperature of 165 degrees with a meat thermometer.
I personally like to add what I have left in a recipe to bring new life to it like our Instant Pot casserole here!
Try our dutch oven stew next and see if you love this new method of cooking too.
Want to see a few of my favorite things that I am totally obsessed with?? Take a peek and see how many you might already have…twinsies!
Looking for more easy family recipes and tips? LIKE The Typical Mom Facebook page?
Then sign up for my free newsletter, and follow me on Pinterest! 😉
***** If you LOVED this recipe give it 5 Stars below and let everyone know what you thought about it. 😉
Dutch Oven Pork Roast
Tender dutch oven pork roast with rice is packed with flavor! Made at home or over the campfire for dinner this pulled pork will be a new favorite meal.
Instructions
Add olive oil to your dutch oven. Heat over medium high heat on your stove. Preheat oven to 350 degrees F.

In a small bowl mix your curry, coriander, salt, garlic powder, cinnamon and paprika together. Rub this spice mixture all over pork roast. Place pork roast in the heated dutch oven and brown on all sides, about 4-5 minutes each.

Add 1 c. water, cover, and put dutch oven into oven and bake for 1 hour. Remove pot and in a bowl add the rice and brown sugar in with the remaining 2 cups of water and stir. Add the diced mango if you want to add that, then pour this into the dutch oven around the pork roast.

Cover, bake an additional 1 hour or until roast is tender and reaches 145 inside. Remove roast and allow to rest covered for 15 minutes before cutting/shredding and serving. Fluff rice with a fork and serve.
Nutrition Facts
Dutch Oven Pork Roast
Amount Per Serving (3 oz)
Calories 434
Calories from Fat 90
% Daily Value*
Fat 10g15%
Cholesterol 143mg48%
Sodium 412mg18%
Potassium 1057mg30%
Carbohydrates 30g10%
Protein 53g106%
Vitamin A 915IU18%
Vitamin C 17.8mg22%
Calcium 49mg5%
Iron 2.8mg16%
* Percent Daily Values are based on a 2000 calorie diet.