Slow cooker pork roast onion soup mix recipe is tender and out of this world delicious. Easy to prepare this one pot meal for dinner. If you love our Lipton soup meatloaf recipe, this will be a hit too.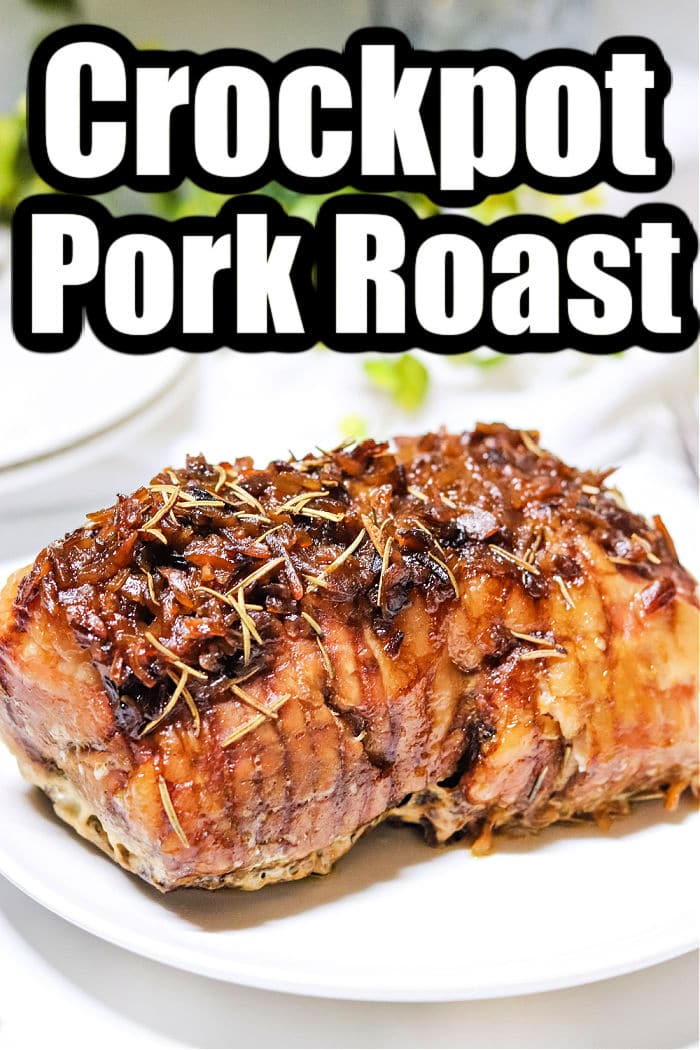 I'm obsessed with easy, and healthy, that is where this slow cooker pork roast onion soup mix recipe comes into play. A protein packed full of flavor one pot meal that is perfect for shredded pork in Crockpot to serve inside tacos. One of many easy Crockpot recipes on our site. (affiliate links present)
Pork Roast Onion Soup Mix Recipe
If you always have a box of this quick flavor mix in your cupboards too, we can be friends. 😉 It has always been a favorite way to flavor our easy meatloaf recipe, and make beef roast with onion soup mix too. Mix it up with a bit of olive oil, coat the outside and you're ready to get that baby tender.
I think when it comes to large hunks of meat like this, low and slow is a great way to cook it. The oven will dry it out a bit too much. This uses fresh or defrosted meat. If yours is still rock hard, follow our Instant Pot frozen pork roast recipe here.
FIRST – You should sign up for my free newsletter so you get new posts emailed to you twice a week and never miss out on anything! Let's talk a little bit about slow cooking shall we?? First off I have a few different varieties and I love them all. Each one has an occasion to be used like….
This is my favorite 6 quart programmable one with a locking lid so it's great for bringing to a potluck too.
If you just want to serve a few appetizers you should get this one that sit side by side one another.
I prefer not to use liners, but rather just spray olive oil inside before adding my food for easier cleanups.
Let me give you a peek of my pretty thang I bought recently. It goes with my kitchen so I can just leave it out on the countertop all the time. 😉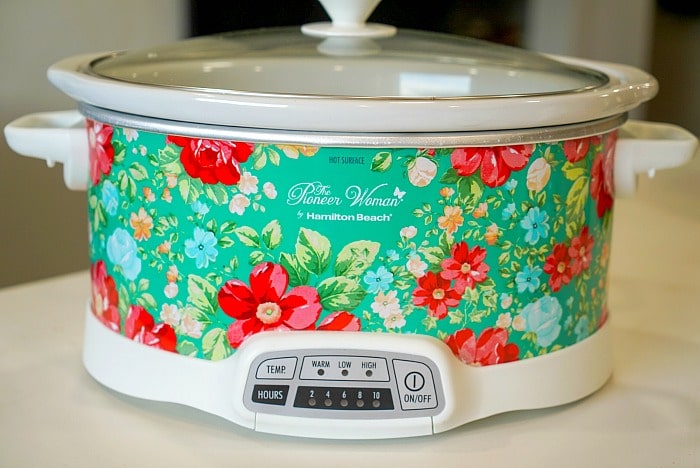 Slow Cooker Pork Roast
Sometimes I find these on sale at the store and I stock up. We have a large deep freezer in the garage so it's a great way to save money and cut down on the amount of times I have to go to the store. Especially when it's Winter and I'm very comfortable inside when it's snowing, this is a huge help.
Having a QUICK prep time is another win. I like to get to work in the morning, and sometimes have to take off for the whole day. If I can throw dinner in to start cooking in less than 15 minutes I'm all about it. This is a really simple 4 ingredient recipe for those times.
Do you need liquid to cook pork in slow cooker?
If it is a very large piece like that, no. Believe it or not the little bit of olive oil will drip down and with the drippings from the meat that emit while it cooks you will have plenty to steam it essentially. At the end you can then thicken what's at the bottom of the pot to make onion gravy if you wanted to as well.
With thinner pieces like our Crockpot pork chops I would add some broth to keep them moist though.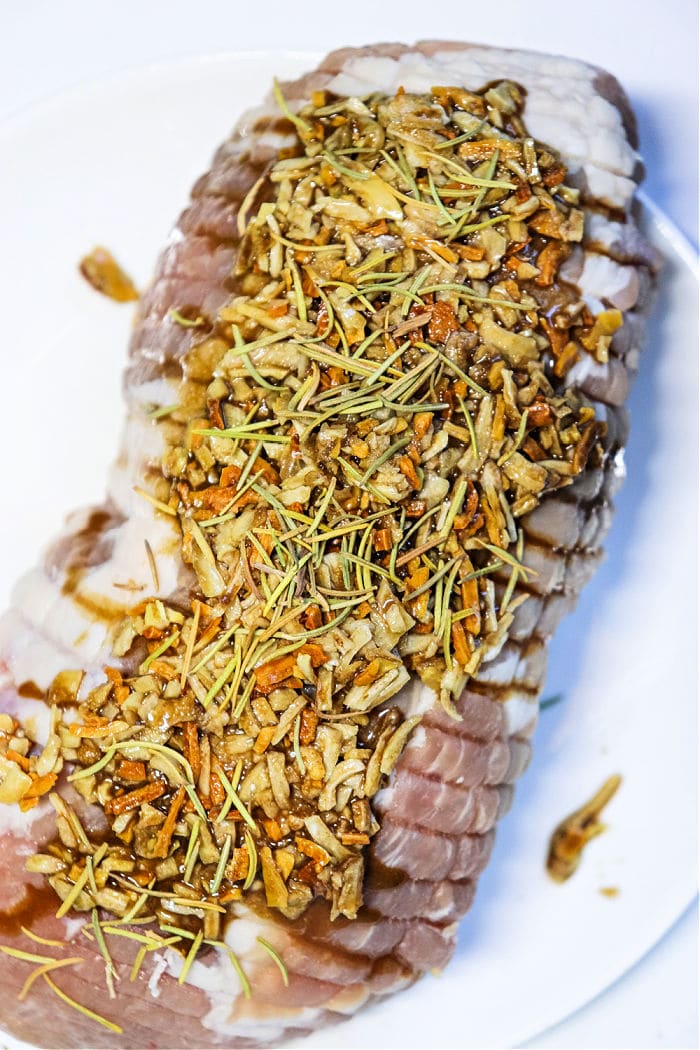 Crock pot Pork Roast
If you wanted even bolder flavors you could substitute the oil for balsamic vinegar instead. That turns out wonderful as well if you love the taste of that. Literally all you do is whisk together the packet, a bit of liquid, set meat inside, pour that on top and start.
Love onions? You can certainly cut up into thick slices and sprinkle those all over. A super inexpensive way to add a bit of texture. Keep in mind that the timing for this is based on a piece that was 3.5 pounds. If yours varies from there you would need to adjust the timing.
Since this is an easy pork recipe you will need to ensure it is cooked all the way thru before eating it. Unlike beef where you can cook it with a bit of pink left inside, you must use a thermometer to hit 145 degrees F internal meat temperature in the thickest part.
Note: Remember that you should always allow meat to rest at least 10 minutes before slicing. This will keep it tender and moist on the inside. Another thing to note is that it will continue cooking while it's resting so if you take it out at 145 F it will likely rise another 5-10 degrees.
Slow Cooker Shredded Pork
SO don't overcook the heck out it unless you want it broken down for shredded pork. For that I would suggest halfway thru the cook time to slice your hunk into 3-4 equal sized pieces. Submerge in liquid again and continue cooking covered. This will give it a better opportunity to break down and soak up the juices.
This is similar to what I do when making Instant Pot pork tacos. First I cut into smaller chunks so it can break down easier. You can either slice at the beginning and shorten the cook time, or wait until hour 4 or so and break it down then.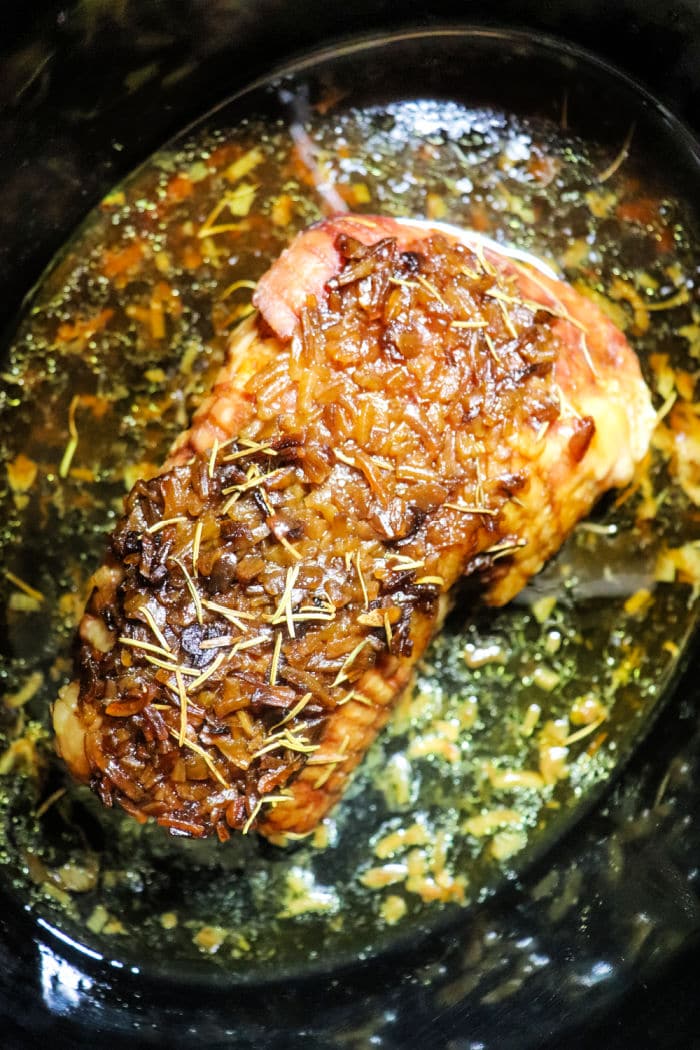 Can you overcook pork in slow cooker?
It's hard to do so with all the fat in this meat. I mean anything can get dry after a really long time but typically this type of protein just gets more tender the longer it's in there so you don't have to worry about it as much as if you were making frozen chicken in Crockpot or something. That's so lean it would be a problem.
This is what you're going to need:
Pork loin roast

for tenderloin follow our pork tenderloin slow cooker recipe instead, it's smaller

1 pkg dry onion soup mix
A bit of olive oil, chicken stock, balsamic vinegar, or even red wine
Fresh rosemary is a nice touch
Slice an onion and add if you have it on hand
Like I said, if you want to slice it at the end, follow directions below as is. If you want it shredded then I usually slice the hunk into 4 equal pieces, pour sauce on everything, and check after 6 hours on low. I do not like cooking large pieces of protein on high, ever.
Onion Soup Mix Pork Recipe
This is how this easy recipe is to prep. There is a printable recipe card at the bottom of the post as well.
In a small dish whisk the onion soup mix and olive oil. Lay your piece of meat inside slow cooker

Pour this mixture over the top.
Sprinkle on rosemary.
If adding onions, slice and sprinkle slices around meat.

Close lid and slow cook on low for 8 hours.
You can serve these in small tortillas with red cabbage cole slaw on top as tacos, over a bed of white rice or as roast and vegetables with a side of red potatoes sprinkled with salt and pepper.
Another idea for this "paste" with your soup mix, you could make our baked pork chops and use this instead of our dry rub. Both are total comfort food x100.
Want to see a few of my favorite things that I am totally obsessed with?? Take a peek and see how many you might already have…twinsies!
Looking for more easy family recipes and tips? LIKE The Typical Mom Facebook page?
Then sign up for my free newsletter, and follow me on Pinterest! 😉
***** If you LOVED this recipe give it 5 Stars below and let everyone know what you thought about it. 😉
Slow Cooker Pork Roast Onion Soup Mix
Slow cooker pork roast onion soup mix recipe is tender and out of this world delicious. Easy to prepare this one pot meal for dinner.
Instructions
In a small dish mix together onion soup mix and olive oil. Lay meat inside slow cooker and pour this mixture over the top. Sprinkle on rosemary. If adding onion sprinkle slices around meat.

Close lid and cook on low for 8 hours. Slice or shred meat and serve inside small tortillas for tacos, over rice, or alone for a low carb meal.
Nutrition Facts
Slow Cooker Pork Roast Onion Soup Mix
Amount Per Serving (2 oz)
Calories 259
Calories from Fat 90
% Daily Value*
Fat 10g15%
Cholesterol 107mg36%
Sodium 94mg4%
Potassium 647mg18%
Carbohydrates 1g0%
Protein 38g76%
Vitamin A 1IU0%
Vitamin C 1mg1%
Calcium 11mg1%
Iron 1mg6%
* Percent Daily Values are based on a 2000 calorie diet.