We love staying at Great Wolf Lodge Southern California! It has an indoor waterpark and super fun themed hotel rooms in Anaheim with bunk beds too. Here's a peek at our stay there and what you can do with your family at this family resort.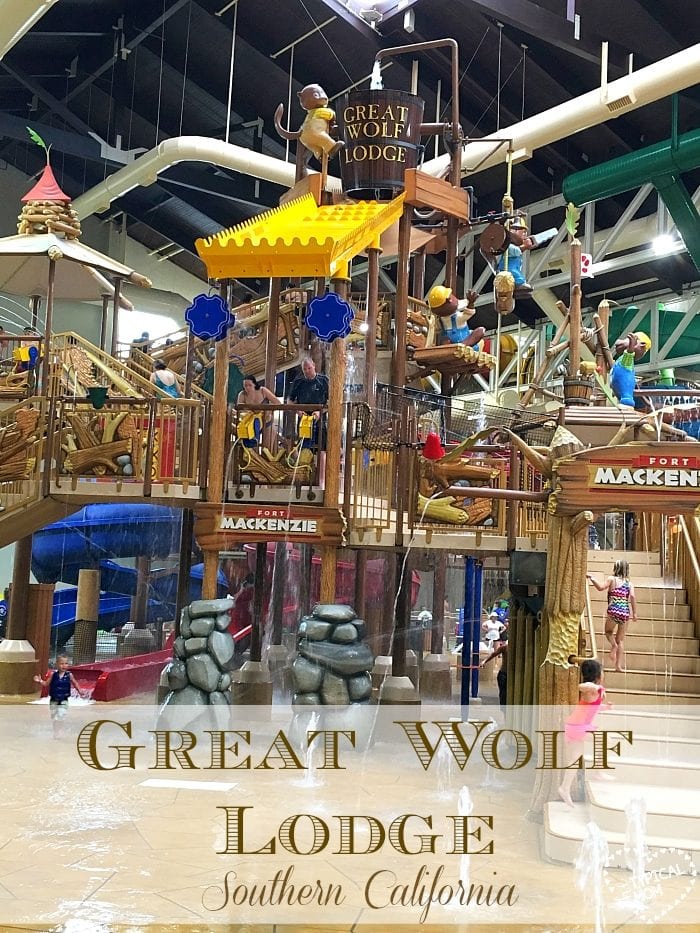 Have you heard of the Great Wolf Lodge? I had seen ads and deals for it occasionally for locations in the midwest and was always envious that there wasn't one here to enjoy….until now!! Great Wolf Lodge Southern California just opened off Harbor Blvd. in Garden Grove and we got to stay there!! Just one of our favorite places and featured on our road trip blog post. Sponsored visit. (originally published 11/16)
Great Wolf Lodge Anaheim Review
If you've never seen what it's all about let me show you what we've been dreaming about. You can see our Great Wolf Lodge video we took here too.
This is just a peek of the inside of their water park area above. There is a lot more to see and SO many pictures to share. Great Wolf Lodge Southern California is not just for kids either. They make sure to cater to parents.
There are lots of comfy seats, great food, and larger slides for us to enjoy too. Super family friendly hotel, let me show you what we did there.
Take a peek inside Great Wolf Lodge Southern California
We stayed in their Wolf Den since there were 5 of us.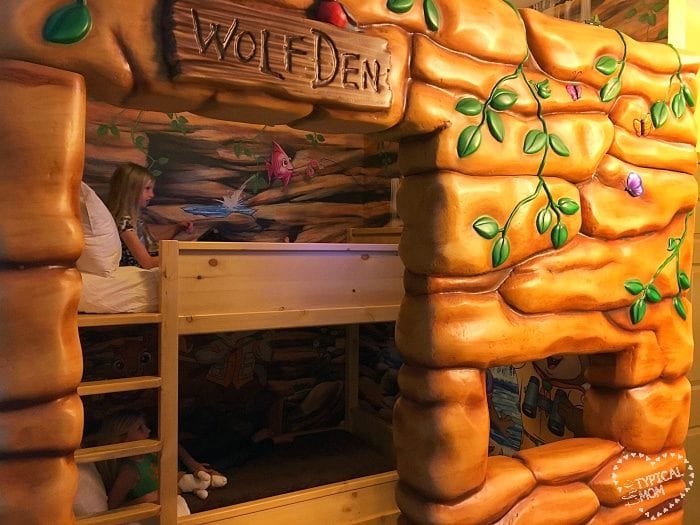 How many nights should you stay at Great Wolf Lodge?
3 is ideal so you have one full day without checking in or out on those days. You really need at least 2 so then you'll have half when you get there and a full day of enjoying all the other areas they offer.
The fun bunk beds were in a little "wooded" area of their own. With a flat screen tv that played quietly they could choose from children's channels all on their own. Great when we needed a little down time. The couch pulled out for my oldest daughter and could've easily slept 2 if we had 4 kids.
It had a large television across from our Queen bed and the view was pretty amazing on the 9th floor!!
At all the Great Wolf Resorts you will find several different styles of rooms. Whether you're visiting this one that is near Disney California Adventure and Knotts Berry Farm, or in Kansas City. All of them in the United States can accommodate whatever size group you have.
You can reach it easily whether you fly into Orange County or Los Angeles International airports. If arriving late just notify the front desk of that, that's no issue.
Beds were really comfortable with a desk so I could get a bit of work done. There were even talking "friends' within the kids wolf den that talked! There are several room options depending on how many people there are in your family. For 4-5 people this one worked out really well.
All have heating and air conditioning of course that can be adjusted to your liking on the wall.
Now on to all the fun they had downstairs, and there was a lot to do!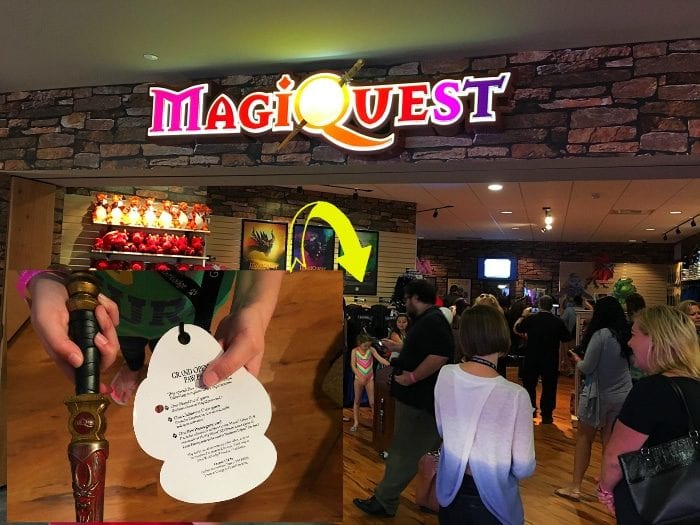 What is the best age for Great Wolf Lodge?
We had three girls with us from 6 years, 8 years old and my oldest at the time was 13. ALL of them had a great time but if I had to narrow it down to the overall best I might say from 8 years to 12 or so. I will say there are areas for older middle school age and even High School will enjoy like the arcade, bowling and such.
The water area has something for everyone but does cater to smaller elementary age kids.
Great Wolf Lodge Anaheim CA Review
The first evening we explored the downstairs where there was LOTS to do including their exclusive game called MagiQuest. Throughout Great Wolf Lodge are portals such as this one. Many have games and interactive stations where kids use their personalized wands to do special quests.
My oldest two daughters explored the hotel one afternoon trying to find new adventures. A great activity for them and they can bring them home as a souvenir. Then bring them back on their next visit too.
Here's a peek at their indoor bowling alley too! It's next to the entrance to the 40 foot indoor water park bucket that you must check out too.
Then it was time for some glow in the dark mini golf! All of these activities are on the same floor. You can go from one to the other and use "Paw Points" to participate in any of them.
Points are put on cards and the kids and/or attendant swipes them to play arcade games. There are bowling games or other fun activities too!
Bowling was great because they used much smaller balls that were great for little hands.
The pins were held up with ropes it looked like so after they were knocked down it just tightened and they were right back up again. No long wait times. 😉
The arcade had a lot of different games for younger kids as well as teenagers.
They had a Lazer Frenzy experience too which was cool too….kinda' reminded me a bit of Mission Impossible!
There were no lost tokens as money is turned into Paws. Put on a credit card they just swiped as use as they wished. Ticket redemption offered a variety of treats and toys to take back to their room too.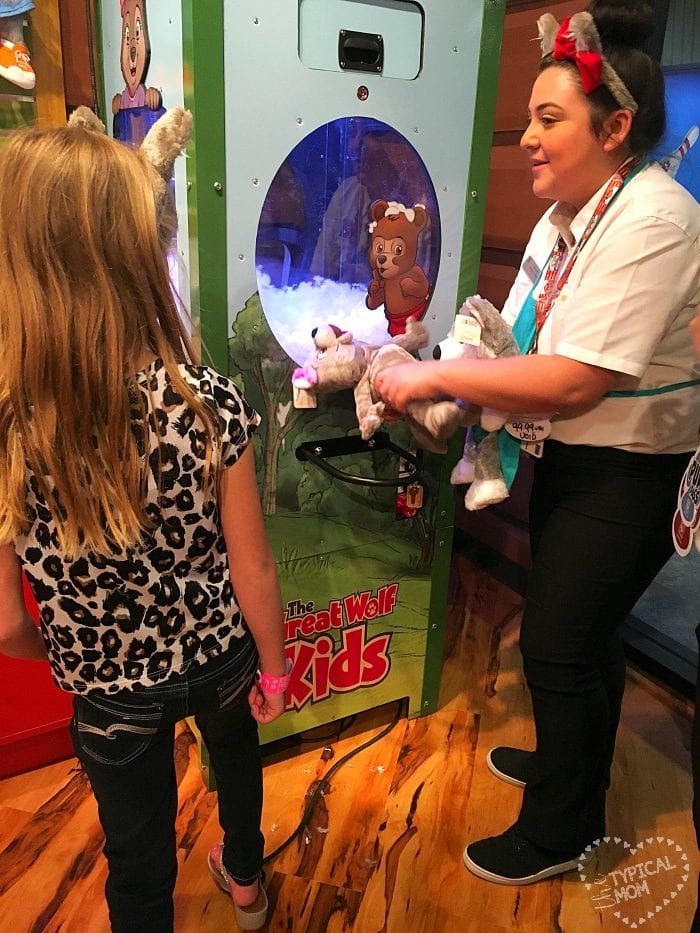 Before we headed to dinner they stopped by the Great Wolf Lodge Creation Station. There they could make a stuffed friend to carry around and sleep with.
With a wall full of furry friends to choose from, and another wall of cute outfits, there was a lot of pondering. We came home with a cute raccoon as well as Wiley and Violet…..their adorable "mascots".
Remember when I said Great Wolf Lodge had great food….well let me tell you about it! We got to meet a few of the chefs who test and plan the meals at many of the Lodges. They said they totally revamped the menu several years ago to include local produce. Everything is grown within 50 miles of the Southern California location, and it was amazing.
We mainly ate at the Loose Moose Family Kitchen. It is buffet style, but they also have several other restaurants that have a menu with organic meals. The most amazing mushroom risotto served at Lodge Wood Fired Grill.
Great Wolf Lodge is also very cognizant of those with dietary restrictions, need gluten free meals or have allergies. They go above and beyond to make sure everyone has a fantastic meal that they can eat and enjoy. The next day we were off to their waterpark!
They have this great spot for littles that is gated. You can keep an eye on them better this way. It is not deep and has a lot of small equipment and slides for them to play on.
Great Wolf Waterpark California
There are several larger slides and a huge "toilet bowl" that extends outside the hotel. The entrance and slide back out are inside the Great Wolf Lodge…pretty cool. For some chill time there is a lazy river and a pool outside.
It was a bit gloomy on the days we stayed there so we stayed inside most of the time. It was really nice and warm whether you were in or out of the water. On a warm sunny day this outside area would be fabulous!
There is a bar where they serve food just behind me where this picture was taken. So you can spend all day there and not leave the inside/outside water park area.
After a bit of pampering at Scoops, their kid's spa, we were off to get jammies and hit story time. This was adorable!
Great Wolf Lodge CA Deals
The characters you see here talk, sing, and tell stories! It is in the lobby next to their buffet. When they are leading up to story time they have staff members come out to dance with the kids. It was adorable to watch!
If you're planning to visit Disneyland while you're staying here, I have a way to get discount Disneyland tickets.
You can also find deals here to stay at Great deals are here!
It really is a great place to stay when you have kids!
With everything under one roof you can do so many things together, even if you just stay for the weekend. Everything is geared toward children but they do a great job of keeping parents in mind.
There were many areas to sit and relax. I could talk to my spouse while enjoying great food and watching our kids have a blast.
For a limited time on their website they are offering a grand opening special. The waterpark entrance is included in your stay too! * Update, you should check with the location you'd like to visit to see if guests are required to wear masks. Wisconsin dells, Traverse city, Washington, etc have their own regulations.
Want to see a few of my favorite things that I am totally obsessed with?? Take a peek and see how many you might already have…twinsies!
Looking for more easy family recipes and tips? LIKE The Typical Mom Facebook page?
Then sign up for my free newsletter, and follow me on Pinterest! 😉
***** If you LOVED this recipe give it 5 Stars below and let everyone know what you thought about it. 😉