Ok so we make these cherry cheesecake egg rolls pretty often but thought I'd use that idea and make some cherry cheesecake bombs this time (yes, we just made up the name). Filled with the taste of cheesecake, cherries, and a bowl of warm cherry filling to dunk them in it's a heavenly breakfast or dessert treat you must try for yourself! Here is the recipe and tutorial. (affiliate links present)
I know, heavenly looking right??!! It is the same idea I've made in the past where you mix cream cheese and marshmallow fluff to create an easy cheesecake mix, add your pie filling and wrap it up well before baking. You could use any type of pie filling, blueberry would be amazing too. I use a glass pie plate and a pyrex bowl in the middle so it can all bake together, and be served this way too! Serve it as a breakfast "danish" dish, or for dessert either way it is fun to pull apart and have a yummy surprise inside each piece.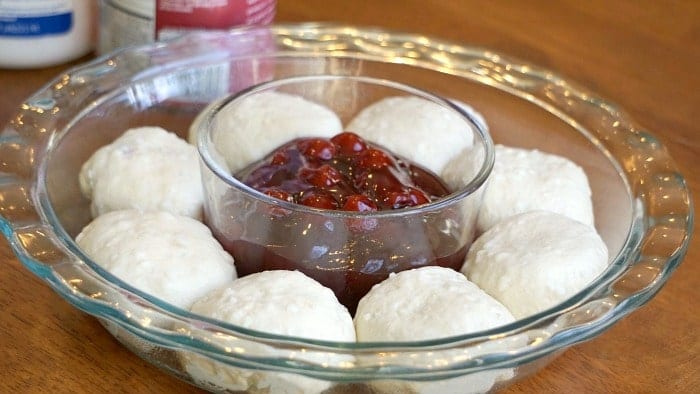 The most important step once you fill the inside of your flattened biscuit is to fold up the sides and pinch all pieces together so it is totally secure and the contents won't ooze out. Spoon as much filling in as you can so it is as ooey and gooey when done but not so much that when you fold it up and pinch up ends it oozes out. Put folded side you pinched together securely on the bottom so when you're done it looks like this. Here's the recipe.
Cherry cheesecake bombs
Ingredients
7 oz. container marshmallow creme
8 oz. block cream cheese (room temperature, softened)
1 can pie filling
1 can large refrigerated biscuits
1 c. vanilla frosting, melted
Instructions
Mix marshmallow creme and cream cheese until well blended. Flatten large biscuit with fingers. Spoon in cheesecake mixture, plus 2 cherries from pie filling can. Fold 2 sides/ends of biscuit up and pinch together, fold other 2 sides up and pinch together. Pinch ends together securely until there are no spaces or way filling can ooze out. Put glass bowl in middle of glass pie plate. Spray non stick spray on outside where biscuits will bake. Put filled biscuit on outside of glass bowl. Do this to all 8 biscuits. Fill bowl with pie filling and put in oven at 350 for about 20 minutes or until biscuits are brown and done on underside too. Melt frosting in microwave for 20-30 seconds and spoon over biscuits. Serve.
https://temeculablogs.com/cherry-cheesecake-bombs/
It is really a fun dish to make if you have brunch at your house, a book club get together, Moms group or just for Saturday breakfast as something different! If you love these cherry cheesecake bombs you've got to try our bacon and cheese pull aparts that are made the same way!
For more easy recipes, tips and crafts please LIKE The Typical Mom on Facebook and follow me on Pinterest! You can also sign up for my free weekly newsletter which is packed with goodies I know you'll love. 😉