Here's a great recipe for sesame beef stir fry that is done in less than 30 minutes and full of fresh vegetables and meat. You've got to try this!!
We LOVE simple and fresh recipes, but it must be easy with our busy schedule and both of us working full time. I found the most fantastic way to cook fabulous meals like this sesame beef stir fry dish, and others, in no time at all…and have all the ingredients delivered right to your door, let me show you what I mean. Special thanks goes out to HelloFresh for sponsoring this post so we could share their service and this great recipe with you.
PLUS, I have a Hello Fresh coupon code below.
Ok, so when the kids got home from school on Monday my delivery was there waiting for me….just in time for dinner! I ordered the family box and had the ability to choose which 3 meals I wanted to be included in my box, this was just one of them! You can try HelloFresh out and get $40 off your order using the code 222525ACK8LF too!
This was my first Hello Fresh delivery so I really didn't know what to expect. I thought it would include all of the ingredients I would need for 3 recipes minus the perishables. I figured I would have to run to the store to get that but they were in there too!!
Ok, that made me a little excited. I was in no mood to head to the store (who ever is).
Each individual box had all the ingredients you needed, right down to the sesame seeds. Underneath were 3 large ice packs and all the meat for all 3 meals. Every busy mother's dream!!
I started with the sesame beef stir fry for that night. The booklet that came had step by step directions to make each meal. Thank you very much HelloFresh!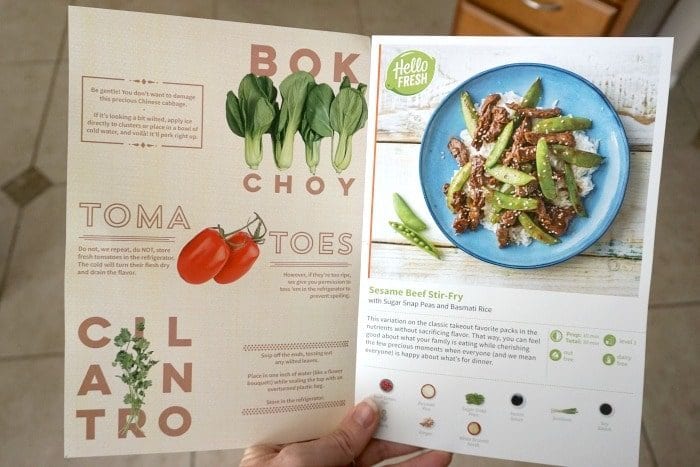 If you're familiar with Jamie Oliver he's even partnered with HelloFresh to encourage families to get cooking together. This is an easy way to do that because the recipe it is delivered with the ingredients you need. It's ready in just 30 min. too !
You can find the entire recipe for this sesame beef stir fry here. You can try HelloFresh out and get $40 off your order using the Hello Fresh promo code 222525ACK8LF too! Enjoy my friends!
Ready to celebrate an occasion at home? Looking for other easy meals?