How to cut bell peppers to stuff, fajitas, a burger topping or side dish. Everything you need including how to blanch bell peppers too
How to cut bell peppers doesn't have to be hard! Even though you need to be sure that you're cutting peppers in a way that you're actually going to use them, this step-by-step guide will teach you all the things. Have a sharp knife and a good cutting board and let's go! (affiliate links present, originally published 9/21)
After these easy tips, slicing bell peppers will be something that anyone who declares themselves as home cooks will be able to do!
How to Cut a Bell Pepper
These are so versatile because you can make fajitas, use as a burger topping or serve as a healthy side dish. If you want to make easy stuffed peppers you'll need to know how to blanch bell peppers too.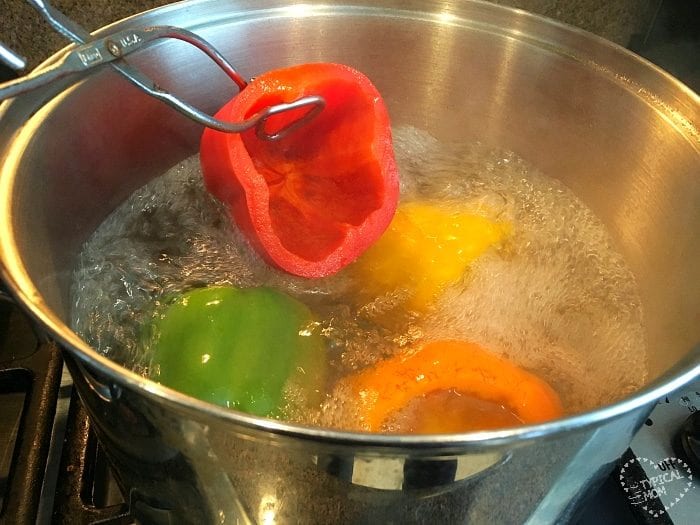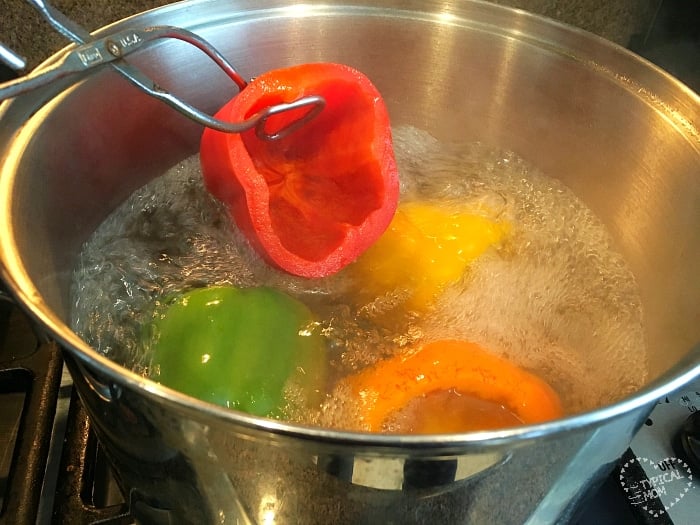 There are actually multiple ways to cut a bell pepper. From dicing bell peppers to cutting the side of the pepper, we'll go over a simple step-by-step guide to give you all the options available to cut peppers for stir fries, salads, and snacks.
How to Cut Bell Peppers into Strips
If you're looking for a simple snack, thinly slice the top of the pepper off, remove seeds and slice into strips. Dip into Ranch or as is and enjoy on the go!
Start by cutting off the top stem of the pepper, as well as the bottom of the pepper. You can then easily cut out the middle of the pepper that holds all the seeds. (discard that to the side)
Once you've cut the top and bottom of the pepper off, cut it in half and half again. (Basically, you're cutting the pepper into thick chunks) Lay them flat, and be sure to lay the pepper skin side up.
Put your hand on the pepper as you're cutting the slices so that way the pepper stays in place and doesn't slide around on the cutting board. Slice into thin strips, as thick or thin as you want. Air fryer peppers are great for fajitas, snacking, and stir fries.
How to Cut Peppers into Rings
Making pepper rings is so easy, and it looks fancy too. Start by cutting off the top and the bottom and cleaning out the pepper seeds.
Then, just lay the pepper on its side and use a sharp knife to slice down and make rings. Don't make the rings too thin, or they'll be floppy and might tear apart. You can do these same steps to cut other types of peppers too.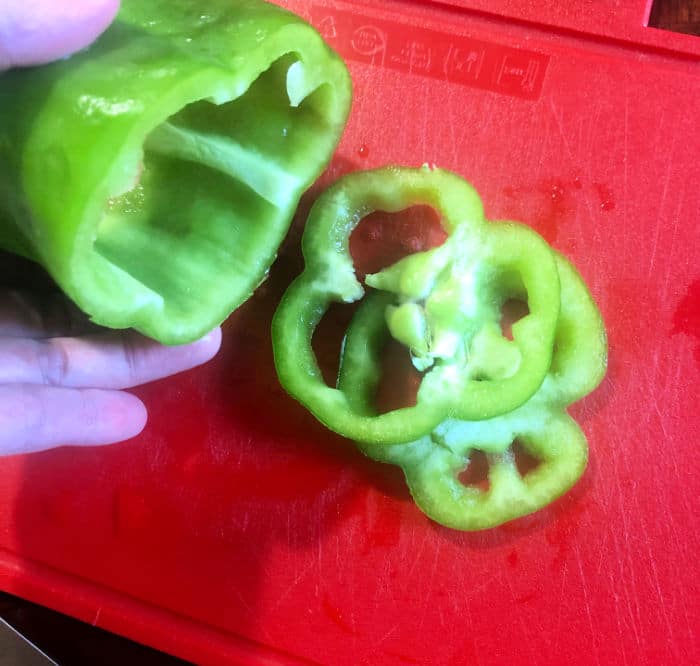 I like to make them thick so that when I bite down on them, I like a crunch. The great thing about making pepper rings is that you control if you want them thick or thin. Play with the thickness every time you cut them so you can get them perfect.
Pepper rings are great for adding to salads or for cracking an egg inside of them for breakfast stuffed peppers. A hearty and healthy meal! I also love adding them to salads, too.
How to dice bell peppers
Rings and strips are nice, but sometimes I want to have them diced up to add to my salads and more.
Once you follow the steps above for cutting strips of peppers, you can then just dice up those strips to make them smaller and bite-sized. Diced peppers are great for salad toppings, omelet ingredients, or a simple snack for the kids.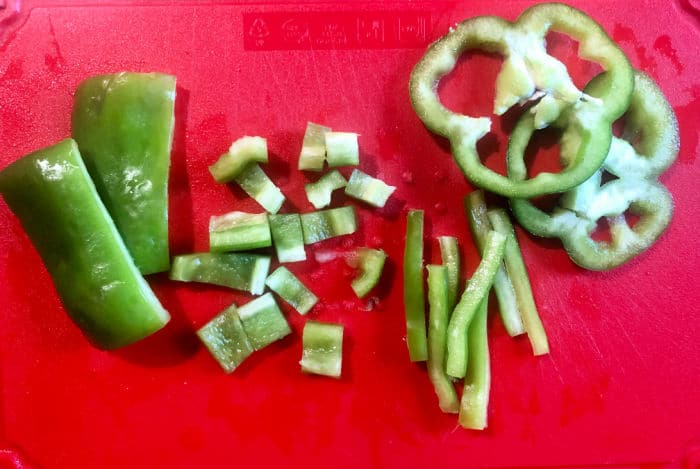 How to Cut Mini Peppers
The good news is that cutting mini peppers is basically the same as cutting larger peppers. They're just a tad bit smaller in size! Be careful with the knife when you're cutting them, as it does add a degree of difficulty when they're smaller.
You can start by cutting off the tops and bottoms of the peppers and then removing the seeds. Then, follow the same directions listed above to cut them into strips or rings.
How to Store Bell Peppers
Meal prepping is great for getting ahead during the week, and cutting peppers can be a great way to do that. If you slice and dice them but don't plan on eating or cooking them right away, you need to be sure that you're storing them in the best way possible to keep them fresh.
Learning how to cut and store is simple. Just keep them in an airtight container in the fridge. They will stay fresh for 2-3 days in the refrigerator. Factor that storage time in when you're preparing meals. (you can meal prep for a BBQ, a party, or just cut up the peppers before they get too ripe from setting out on the counter)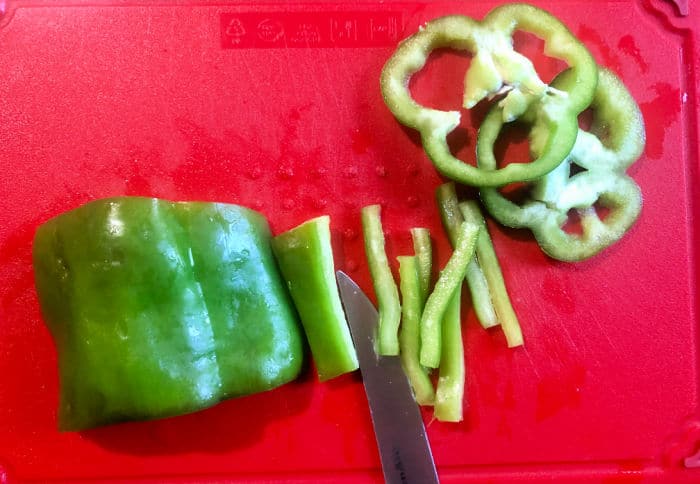 You can also freeze cut peppers as well by adding them to a freezer-safe bag. Once you slice and freeze the peppers, they will stay fresh for about 5-6 months. Then you can cut down on the prep, stuff, and this is how long to cook stuffed peppers when done.
Frozen peppers are really great to have on hand and are perfect for adding to soups and our cabbage stew.
If you have a vegetable garden, this is a great way to get all the fresh peppers that you can and save them for later in the year. There's nothing quite like having garden-fresh veggies in your soup in the dead of winter!
Want to see a few of my favorite things that I am totally obsessed with?? Take a peek and see how many you might already have…twinsies!
Looking for more easy family recipes and tips? LIKE The Typical Mom Facebook page?
Then sign up for my free newsletter, and follow me on Pinterest! 😉
***** If you LOVED this recipe give it 5 Stars below and let everyone know what you thought about it. 😉