Here are a few games to play at home with kids, starting with giant checkers! With just napkins, a tablecloth and juice pouches you can make a game of checkers + other cheap activities!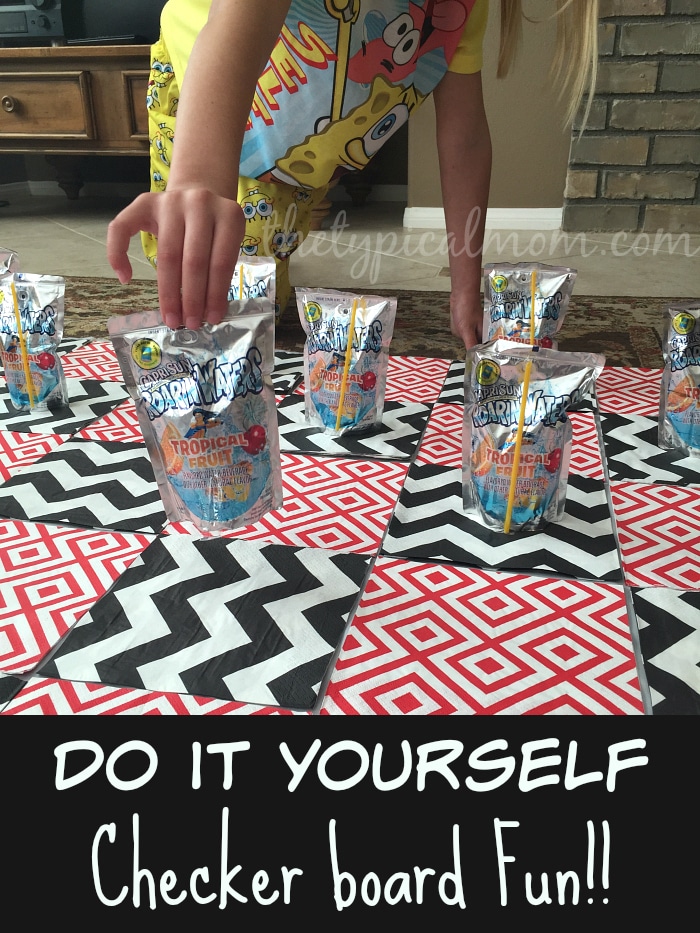 I am always trying to come up with easy games to play at home with kids that are entertaining for all of us, and simple to put together. We created a really fun one last night using napkins, a tablecloth, and Capri Sun Roarin' Waters drinks. Let me show you how you can create one for a fun family game night together, & bring it out when the Nickelodeon Kids Choice Awards are on too! Special thanks goes out to Walmart for sponsoring this post so we could share our fun idea with you. (originally published 5/15)
Giant Checker Board
We always have a freezer, and cupboard full of Capri Sun drinks because I have 3 active girls who take 1 in their lunches to school each day.
Plus they drink a few each on the weekends while watching their favorite shows on Nickelodeon. Soccer practices need them too. As you can see I buy them by the cart full when I find a great deal or we are about to run out.
I thought about how we could incorporate all of these in a game to play during family game night and during commercial breaks while watching our favorite shows. I had an idea….but first I needed to replenish our stock at Walmart!
Did you know you can freeze them??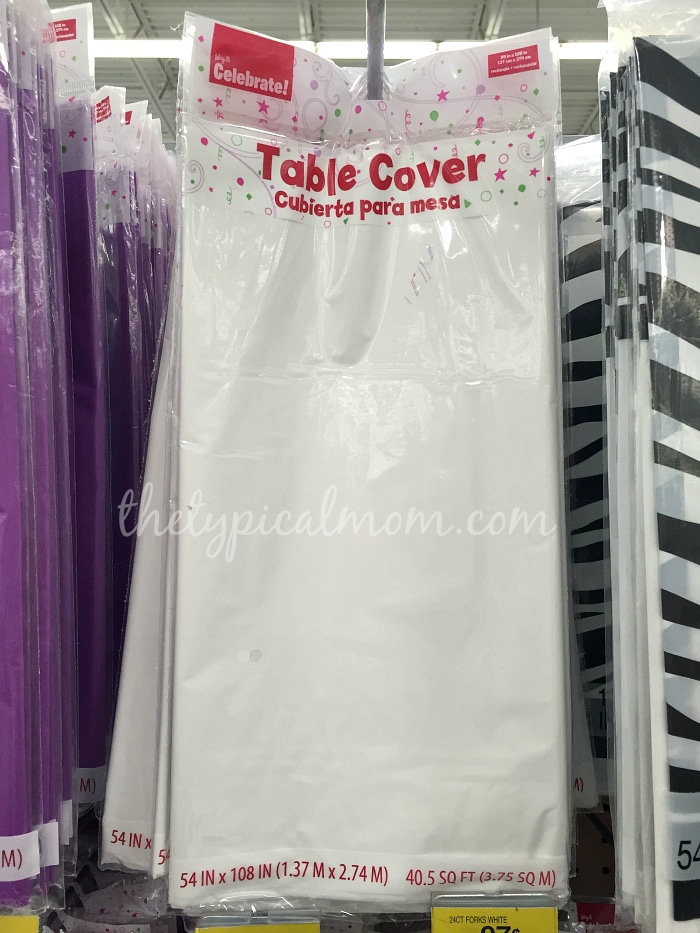 How to Make a Board Game
My next step in creating my game for that night was to head over to the party section and grab a plain white tablecloth. They're less than $1 which is a big score, and all I needed now was something to use as squares for my checker board creation……napkins would do the trick!!
I chose two different patterns, one for the spots you could land on and one color for the spots that were off limits on the board.
The Capri Sun drinks would be our markers, and while I was in the juice section picking up my 30 packs I grabbed 1 box of Capri Sun Super V pouches to use as our Kings in the upcoming game!
Then I headed for the other items…..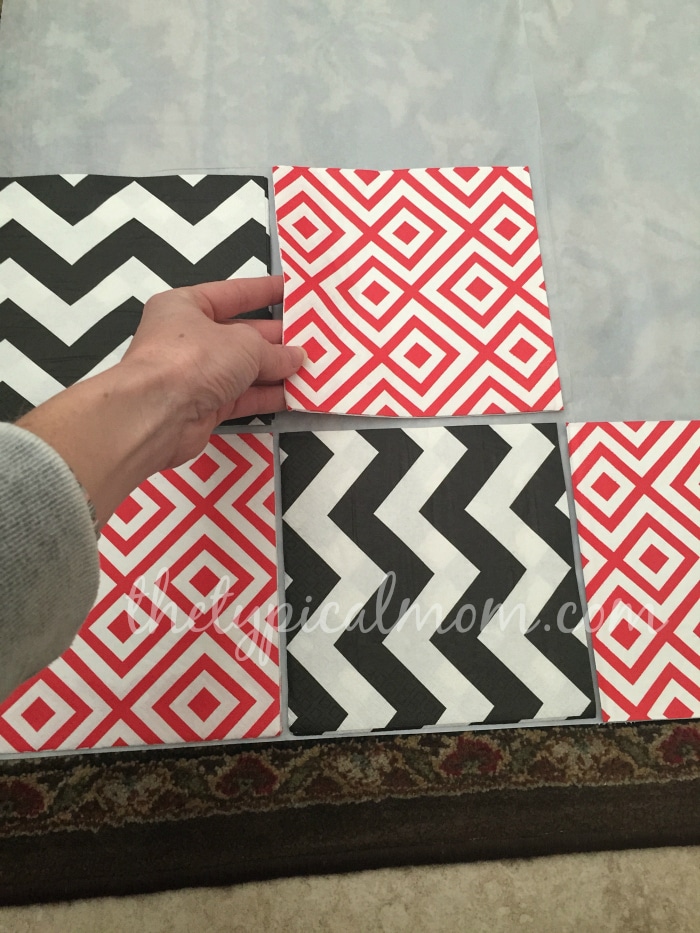 I unfolded the tablecloth and it was exactly the right width, just a bit long.
We made a pattern with the two different types of napkins. 8 napkins across and 8 napkins high to make a perfect checker board with the correct number of spaces. I was getting closer!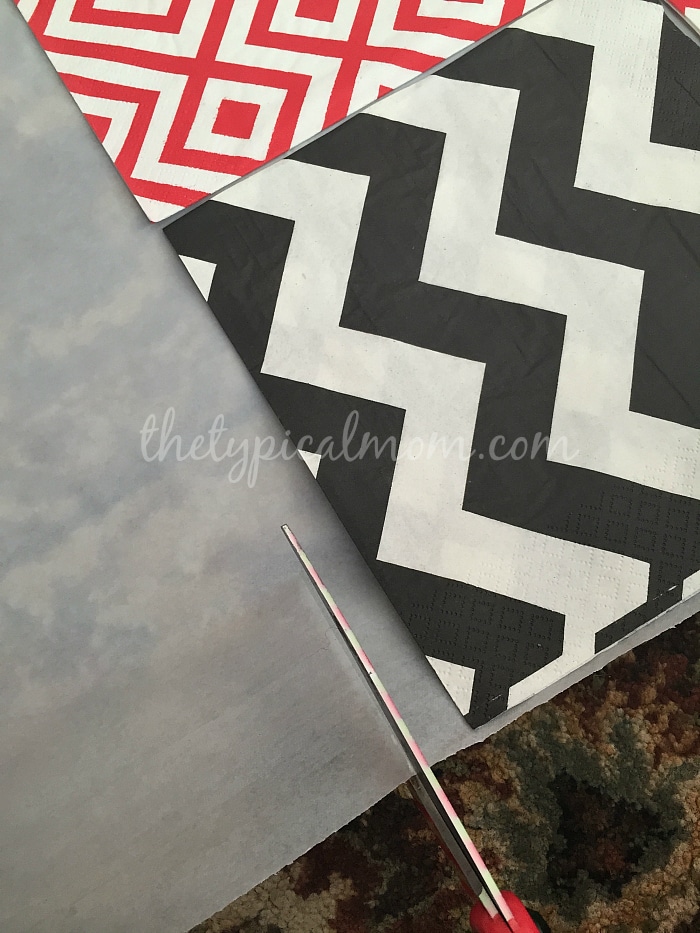 Once I was done I had some extra tablecloth that you'll will want to cut off. Just trim the extras from your 54 x 108in. piece. 54 inches is the important part for the width when you're looking for the right size.
Super simple and so much fun using this HUGE checker board table. Using the pouches as markers I gave each player 5 Super V Capri Sun's. When they had to King someone they would swap out their regular marker for this new one.
Games to play with kids
Also, I had the inside player you see here looking at the back of their Capri Sun Roarin' Waters pouches. The other player was looking at the front of theirs in order to tell which markers were their own.
They had a blast with this family game night activity. We kept it in the living room so the next day when they watched their favorite shows on Nickelodeon. Then they could play it during the commercial breaks!
There are other games you can play together too such as Headbanz! You can find family games online too.
For more easy recipes, tips and free printables please LIKE The Typical Mom on Facebook and follow me on Pinterest! You can also sign up for my free weekly newsletter which is packed with goodies I know you'll love. 😉