Free and cheap games to play at a baby shower plus free printables too. Perfect baby shower games for a boy or girl and baby shower drinks as well.
When planning a party it is always fun to include an activity that will get people laughing! When a new baby is arriving it's great to have some games to play at a baby shower to get people involved and snap some fun pictures you'll love to look back on when the baby is here. Here are a few cheap baby shower games you can play at your next party! (affiliate links present, originally published 6/18)
Games to Play at a Baby Shower
It really doesn't matter whether a boy or girl is arriving, all of these are appropriate for whatever type of shower you are throwing. If you are the baby shower coordinator you may be looking for fun games but also ways to save on costs so we have our roundup of DIY baby shower baby shower decorating ideas to share with you too.
What's in your purse – This is a fun and pretty hysterical game to play that is free (since I provided you the free printable – just click on the link above here) and since everyone has a purse it's easy to do, you just need a pen for everyone and a sheet for each baby shower guest.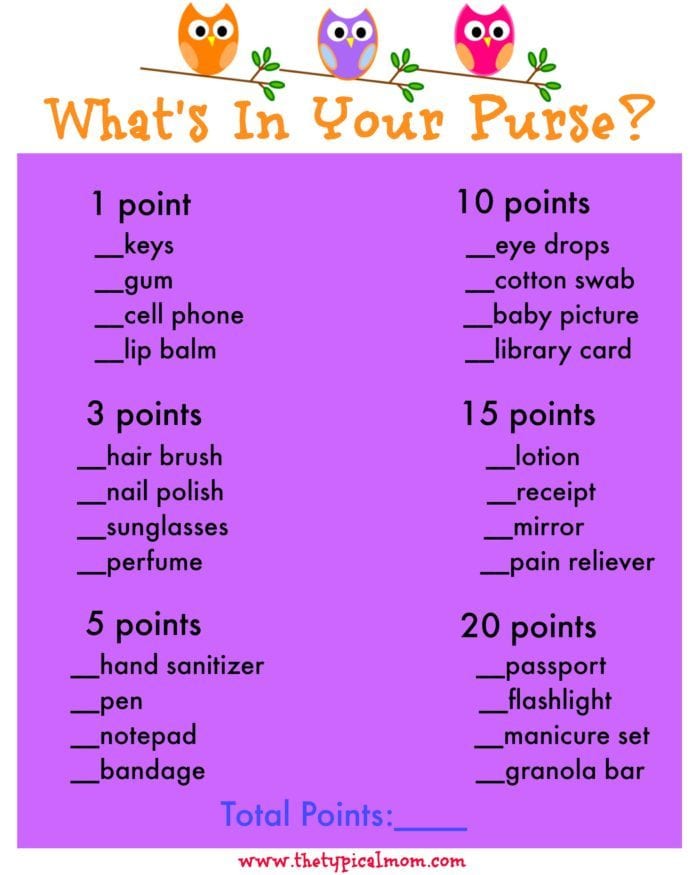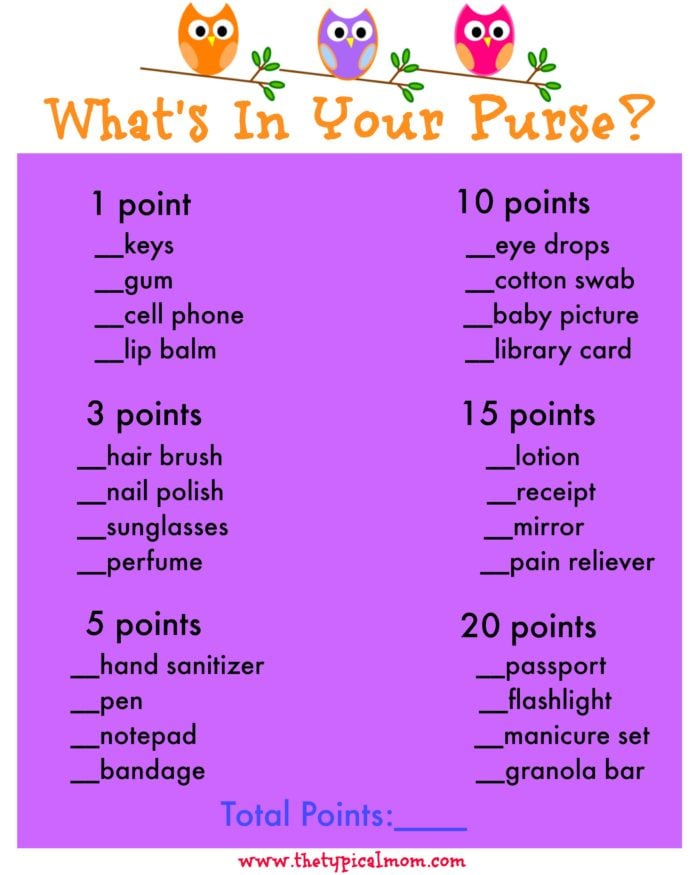 Printable Baby Shower Games
What's in the diaper

– Buy about 10 jars of different baby foods and a pack of diapers. You can usually find all you need at a discount store and it's gross fun. Smear 1 baby food jar contents inside each diaper and label each diaper with a number.
Then have everyone pass the diapers around, smell them and guess what baby food was smeared inside…I always do this one! At the end you call out what #1 had inside, #2 and so on and whomever got the most right wins!
How many squares around is she

– Use a roll of toilet paper and pass it around. Each guest takes as long of a piece they would like guessing how many toilet paper squares around the belly the guest of honor is. Have her measure herself and whomever is closest to the correct number of squares around wins!

Make a diaper

– Another one using toilet paper (so it is super cheap). Create teams, have one person stand and the other members create a diaper around the legs and waist of that person until it looks like a diaper and is securely on them.
Then they must hop down and around a cone and back to the start without it ripping or falling off. Whichever team comes back first wins.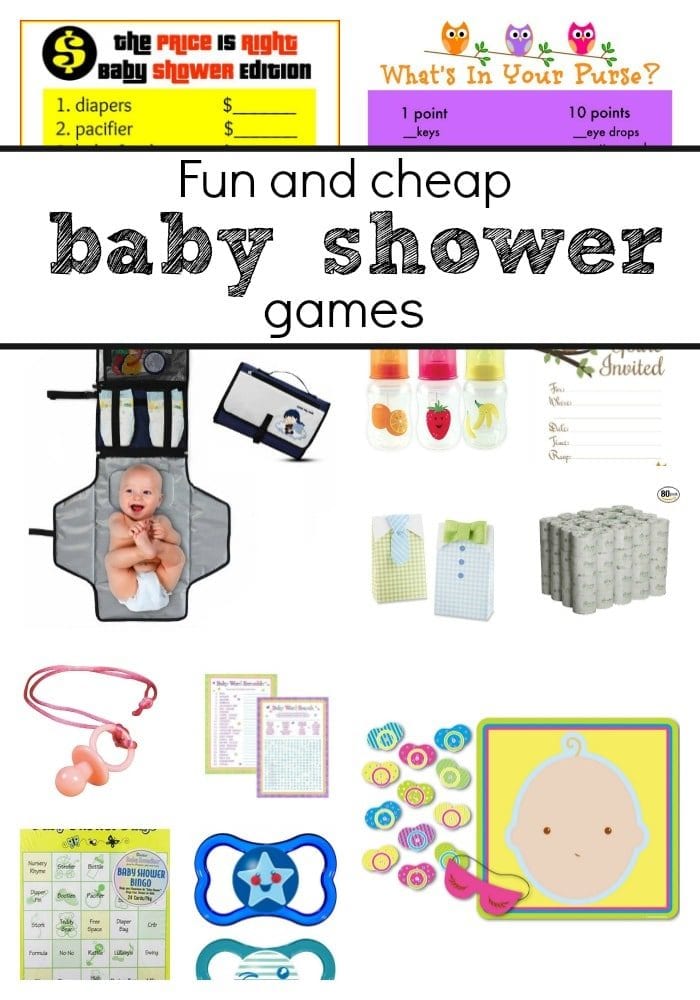 Free Baby Shower Games
Baby food guess – Buy 10 different baby foods and number the top of the lid with a sharpie. Everyone smells and guesses what each jar of baby food is and writes it on a paper. Whomever guesses the most right wins.
Paper plate portrait

– Everyone gets a white (cheap at the dollar store type) paper plate and a pen. Have them write their name on the back of the plate first. When you say go they have to put it on top of their head and draw a picture of what the pregnant guest of honor looks like. Collect plates and she gets to say which one she likes best, that person wins….lots of laughs on this baby shower game!
Price is Right Baby Shower Edition – This is a free game too (since I have a printable for you here) that is fun! Purchase one of each item and have them on display. Everyone guesses how much each one cost you. Add them up and whomever is closest to the correct total wins. I would have them guess the retail price (not if you got it on sale, too hard that way). Here are a few more printable baby shower games .
Bingo – We have baby shower bingo as well as blank bingo cards you can use to create your own customized game. If you're looking for more baby shower printables games check out my post here and enjoy.
Yummy and perfectly colored baby shower drinks are here too….that should cover it all!! 😉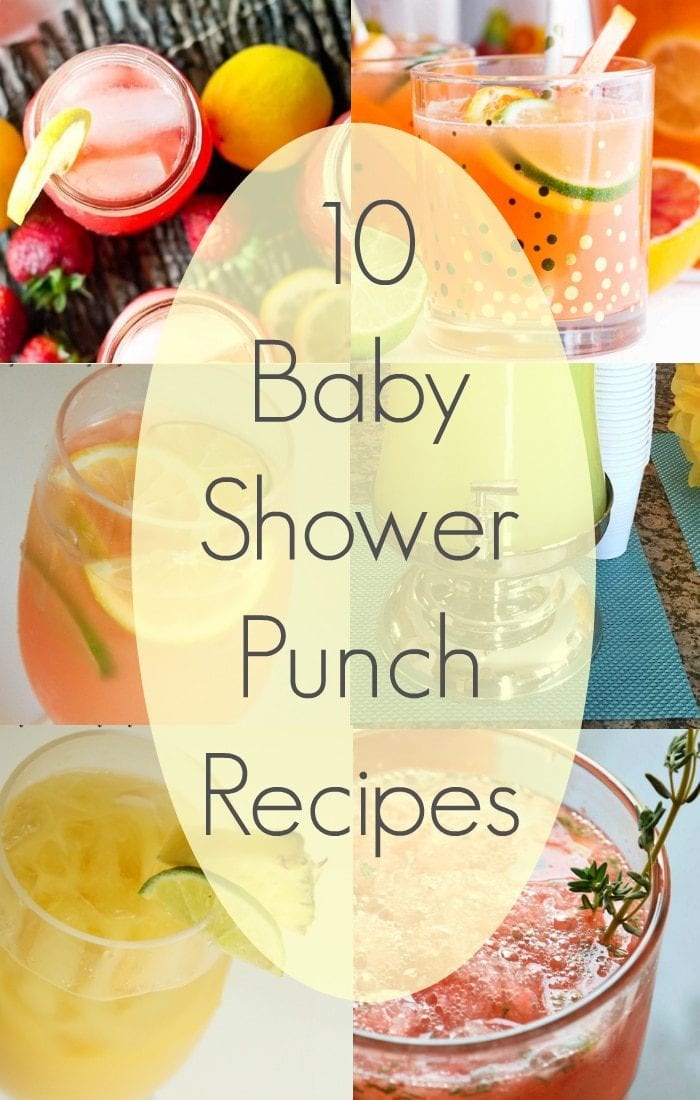 Don't say baby game – When guests come in each gets a pacifier necklace . If someone at the baby shower hears them say the word baby they can take their necklace and keep it. Whomever has the most necklaces at the end of the shower wins. This pin the pacifier on the baby game can be an easy game too.
Drink it baby

– Fill baby bottles with juice. Each person gets on with the nipple on and whomever can suck suck suck it empty first wine.

Blindfolded baby derby

– Get a few plastic baby dolls, blindfolds , and premie diapers. Blindfold each person and they have to take off the existing diaper on the doll, but put on a new one correctly the fastest.
For more easy recipes, tips and crafts please LIKE The Typical Mom on Facebook and follow me on Pinterest! You can also sign up for my free weekly newsletter which is packed with goodies I know you'll love. 😉