I LOVE a good crockpot recipe! I am a mother of 3, wife, blogger, teacher…..oh yeah and I need to take care of myself and my house too somewhere in the mix. We have used this BBQ pulled pork crockpot recipe for quite some time and have tried it in different ways, here it is now to share with you….it's Easy! (pictures updated 11/16)
I use my large size crockpot (affiliate link) for this so there's lots of room for juice to surround your pork all day long and soak in. I use a pork butt roast and the rest I am sure you already have in your house. That is why I love this easy bbq pulled pork crockpot recipe, because I really only need to buy the meat and throw it in…..6 – 8 hrs later we are good to go! You can buy a roast with the bone in or out but this one was boneless, just because it's easier.
If you prefer to use something other than beer we have used a can of Coke and that comes out tasty too, but a bit sweeter. Your choice. You just need pork, and 4 ingredients for the sauce. There are several ways to serve it. We like it as sliders in between the sweet Hawaiian rolls for dinner with a side of cole slaw….or put it inside your pulled pork sandwich and it is amazing. Here are some other ways to serve bbq pulled pork.
Serving:
1. over rice
2. inside small flour tortillas with shredded cheese
3. inside a bun as seen above (these are pretzel buns)
4. inside a Hawaiian sweet bread roll
Here's the entire recipe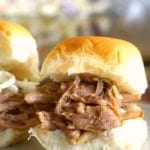 BBQ Pulled Pork Crockpot Recipe
Ingredients
1 2-3

lb

. pork butt roast

1

beer or can of Coke

1.5

c

. brown sugar

1/2

c

. ketchup

1

tsp

. paprika

1-2

tsp

. chili powder

depending on how spicy you like it
Instructions
Mix together ingredients. Put pork butt in crockpot on low. Pour liquid on top and cover. Cook for 6-8 hrs. Shred pork and serve inside rolls, on rice or inside tortillas with cheese!
We hope you enjoy our easy bbq pulled pork crockpot recipe. If you do you should also try our crockpot chicken cacciatore, it's fabulous.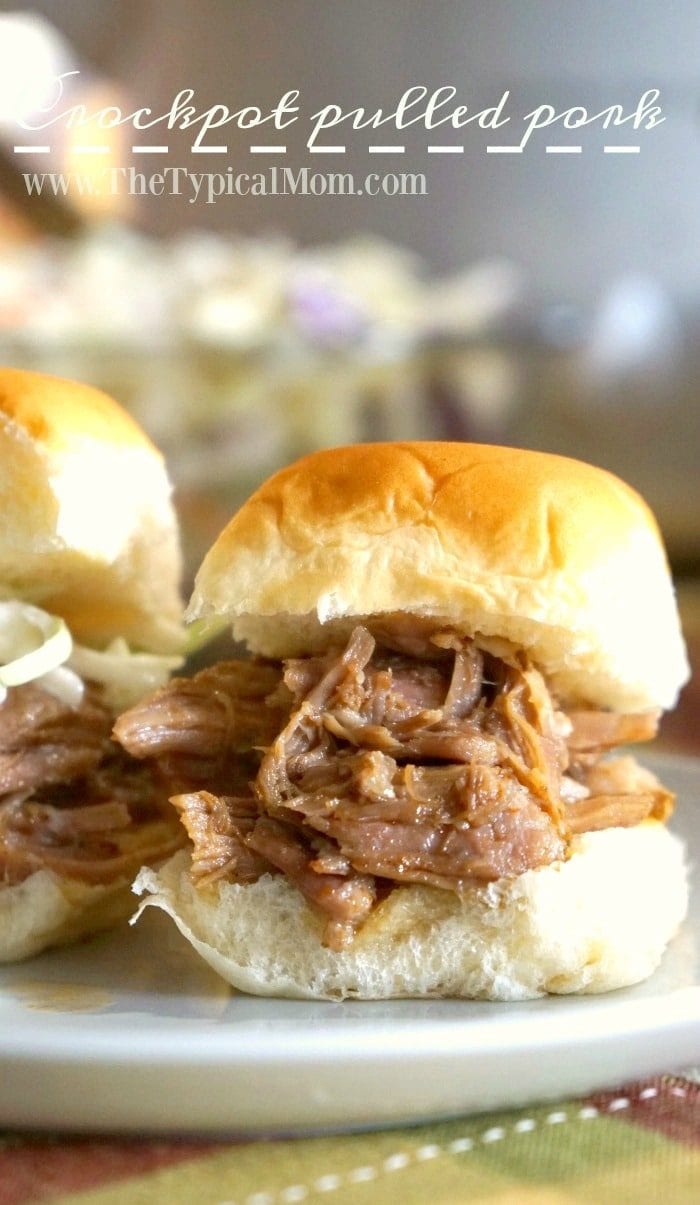 For more easy recipes, tips and crafts please LIKE The Typical Mom on Facebook and follow me on Pinterest! You can also sign up for my free weekly newsletter which is packed with goodies I know you'll love. 😉