Printable Back to School Checklist PDF is here. Use when you are ready to go shopping for supplies and needed items for the new School year.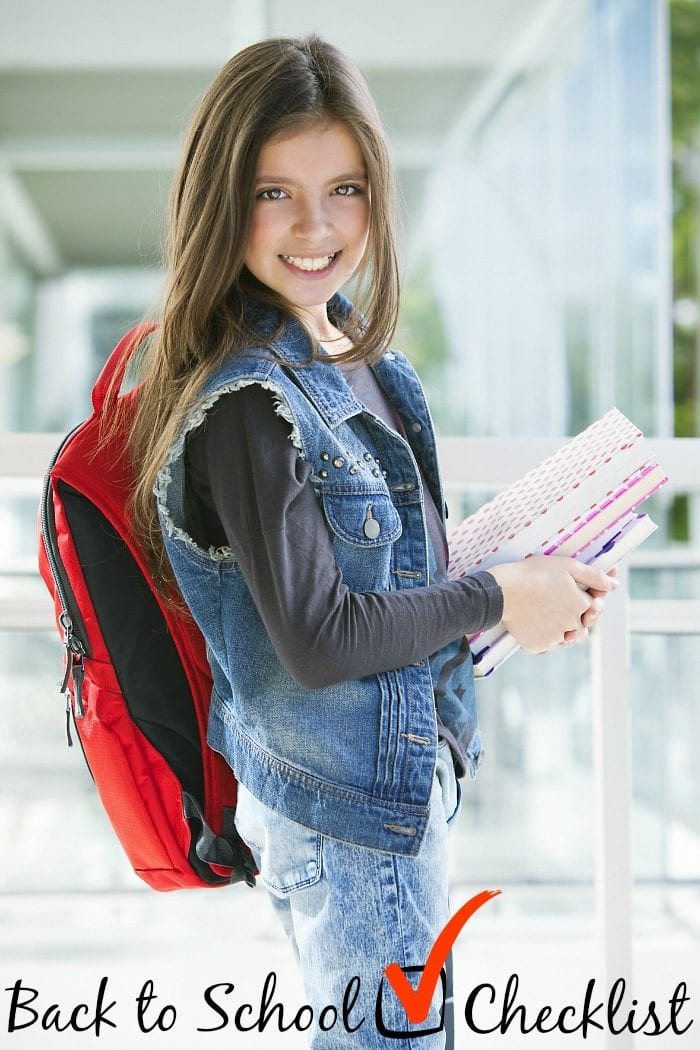 It's almost that time. The new School year is about to start! If you're a kid you're either excited to see your friends and/or disappointed Summer is over. If you're a parent you might just be excited. Let's be honest. 😉 Either way, this printable Back to School Checklist will come in handy.
Back to School Checklist for Parents PDF
Before you head out for some shopping you should first take into account what you already have. OR that can be reused. There is no need to spend extra money on new pencil boxes if the one from last year is still good.
After that, you will need to check to see if your child's grade level requires any specific things. Some like specific calculators, brand of scissors, or otherwise. Once you have looked into that you can narrow down the list of items that need to be bought.
Free Back to School Checklist
First thing that is always needed is NEW shoes. They never last an entire year! My little one is VERY particular and always needs the sparkliest pair of shoes. She will take bling on dresses and clothes any store can deliver too.
Luckily Famous Footwear has several to choose from! Not only did they have glittery, sparkly Sketchers here but they lit up with every step. I was told they made her run faster too!
My 8 year old got a newer style of Converse (predictable but love her style). My soon to be High Schooler (ahhhhhh) got the cutest pair of navy Converse slip ons.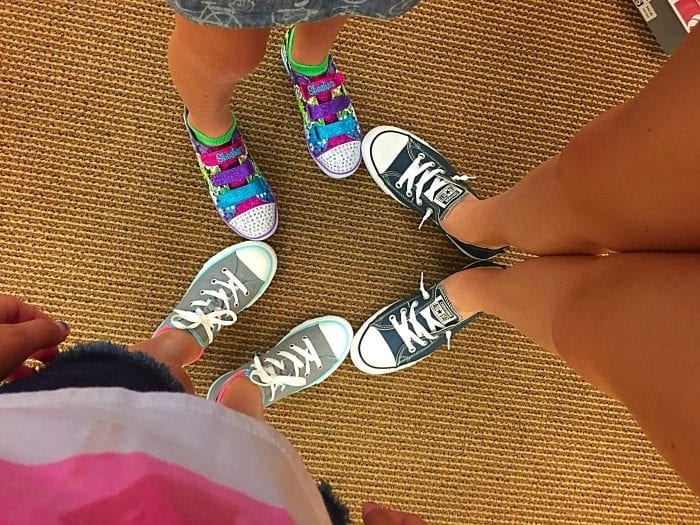 School Supply Checklist
You know why I LOVE her shoes so much, well other than the fact that they are super cute. We wear the same size now so I get to double my shoe closet!!!! Just a little perk of having a teen I suppose. 😉
Ok I know we came to Famous Footwear to buy new shoes for the kids for School. I thought Mommy deserved to walk out in a new pair too right??!! My teen and I wear the same shoe size. BUT I vow to keep my new Converse WHITE which means no borrowing from the teen. We will see how long that lasts.
You know what was fun when we finished shopping??!!
I took a picture of my little one with her sparkly shiny shoes. Posted it on Instagram with the hashtag #ohsofamous. Her picture was featured on their website showcasing all of their fabulous shoes….see them??!!
Of course the rule normally is "you can't wear your new shoes until the first day of School". That didn't quite happen this year.
They were so excited to wear them the next day. I couldn't resist when we took a trip to the local park. Ok I wore my new sandals too (eeeeek, love them)!
Next stop was the hair cut store. Yes, we all needed a bit of a trim and this was the perfect time to get everything "straightened out!"
A few split ends here and there were taken off which made for easier brushing. And a smoother look for the School year. On to the next thing on the list!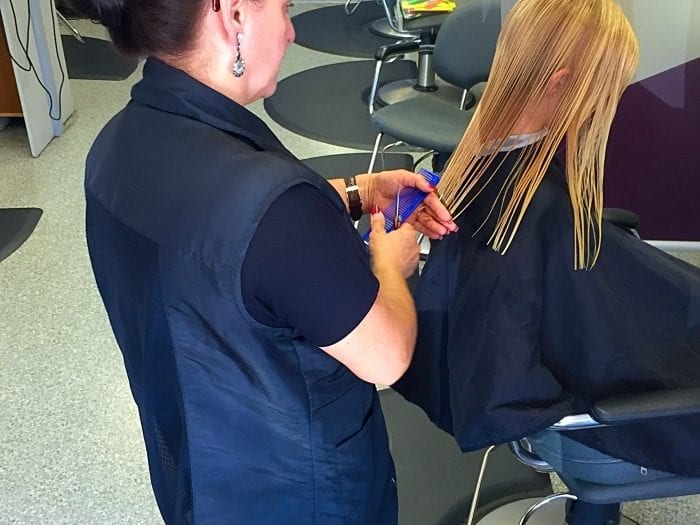 We have had years where backpacks could be reused, this year wasn't one of them. If your child's backpack is in good shape but just looks a bit dingy.
Just empty it out and run it thru the washing machine with some stain fighter. It will usually come out good as new! If not, just keep your eyes out for a good deal on something they would like. This goes for lunch boxes too.
We like to collect pins from the adventures we've taken throughout the Summer. They can add them to their front pocket and share where they got them with their friends the next year. That's a fun tradition!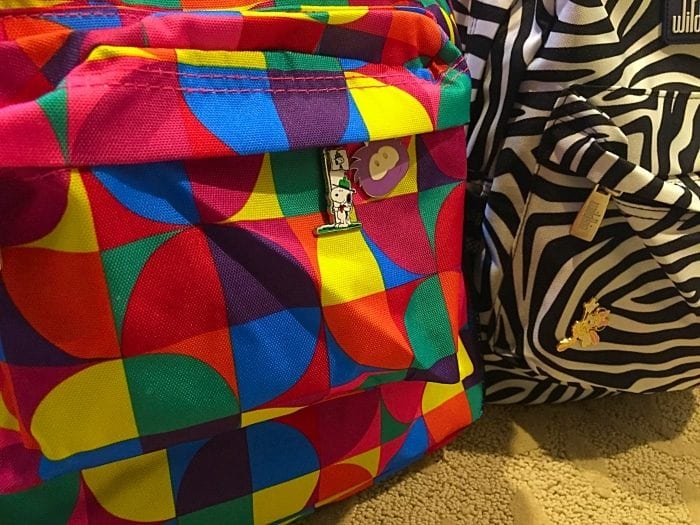 When you head to the store for classroom supplies you may already have a few things you can check off. That will save you money if you don't have to purchase everything.
For additional items you can write them on the back so everything is in one place.
You can print out this free Back to School checklist here to help you on your quest. Then you can get every item (and not have to head to the store once again).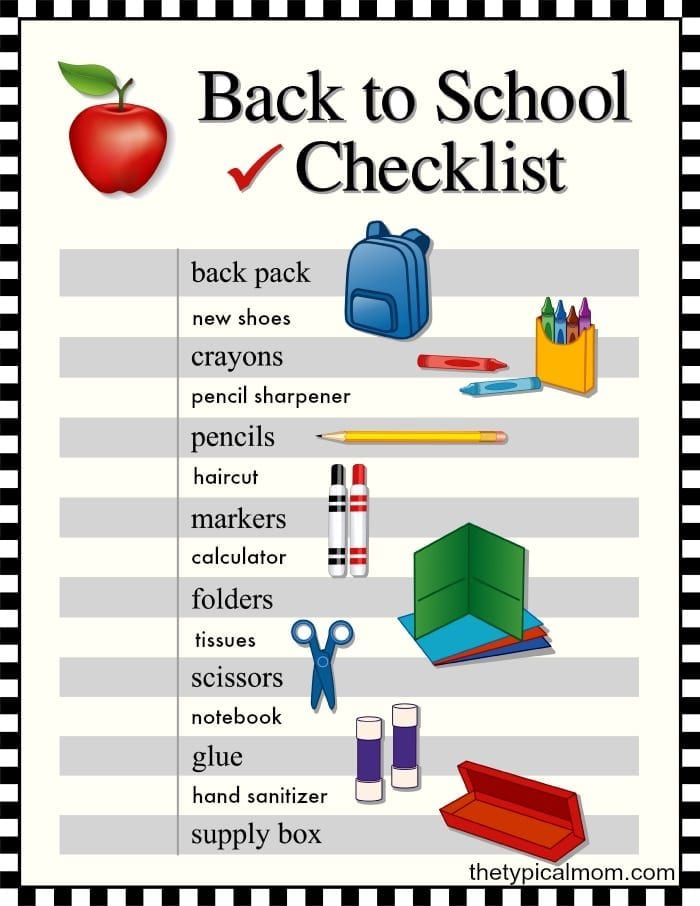 I wish you good luck on your Back to School shopping adventures. Hope you find some cute shoes and sandals for yourself too (not just the kids) at Famous Footwear this year!