Age appropriate chores for kids ages 3 – 18 as well as a free printable chore chart and stickers or completion markers to make doing chores more fun. When you teach kids responsibility by assigning chores they will become more productive and responsible adults. Parenting win.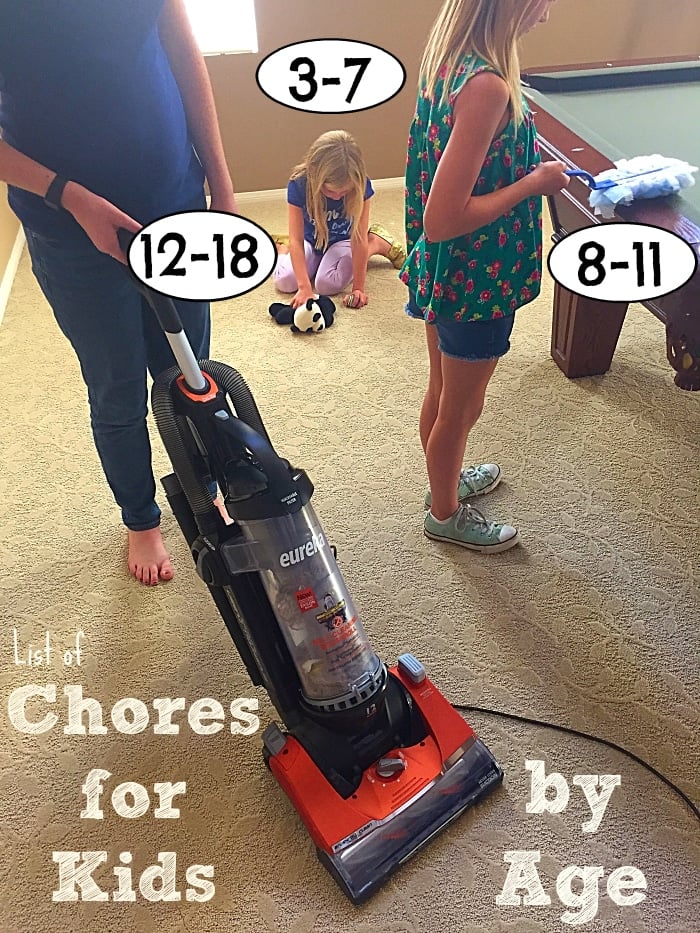 Chores are just a part of life (groan). Now that my children are a bit older I think it is important to have them help, and do age appropriate chores on a weekly basis. To make it more fun I've created a chore chart, and markers for girls and boys to keep track of their progress too…let me share these with you! 😉 Post sponsored by collective bias. (originally published 1/16, affiliate links present)
Even young children as little as 3 years old can help around the house. Starting young helps children realize that taking care of the house they live in is a BIG job.
Everyone should help so it doesn't fall on just one person. Here are a few age appropriate chores by age + a free printable chore chart below. Use it with colorful completion markers for more fun so kids love to earn more and more each week.
Daily Chores for kids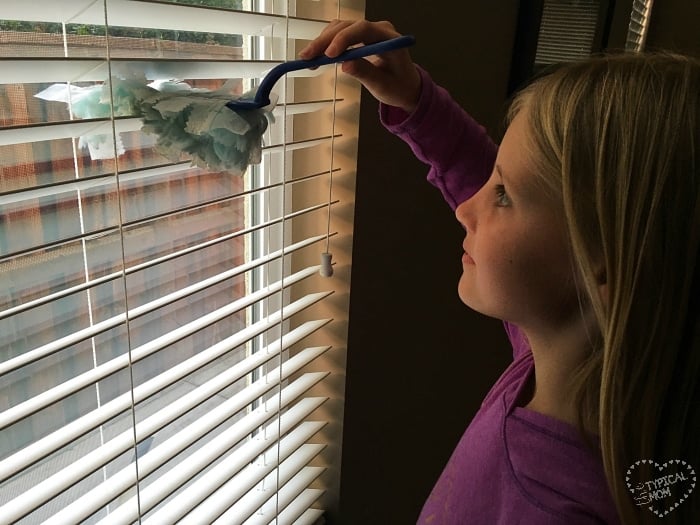 Chores for Kids by Age
Here is a list of age appropriate chores by age group. Older kids can obviously do more than younger kids but everyone should get involved. Teach kids how to do each household task first. Taking time to teach will lessen frustration and gain an understanding for each life skill.
Chores For children as young as 3 – 5 years old
1. Help make their own bed
2. Pick up their toys
3. Fill pet's water bowl
4. Put dirty clothes in a hamper
5. Bring things from the car to the house
6. Match socks in the laundry
7. Pick up rooms so older children can vacuum
Chores For children as young as 6 – 8 years old
1. Make their bed every day (it won't be perfect but that is ok)
2. Put away the laundry in their room
3. Put away dishes from dishwasher into lower cupboards
4. Feed pet every day
5. Rake leaves
6. Empty trash from small baskets into large trash bins
7. Help prepare their own lunch for school
8. Help vacuum small rooms
Chores For children as young as 9 – 12 years old
1. Wash dishes
2. Load / Unload the dishwasher
3. They can learn responsibility by walking the dog
4. Take out the trash cans on trash day
5. Vacuum the house
6. Wash the car (with supervision)
7. Clean the bathrooms
8. Mop the floors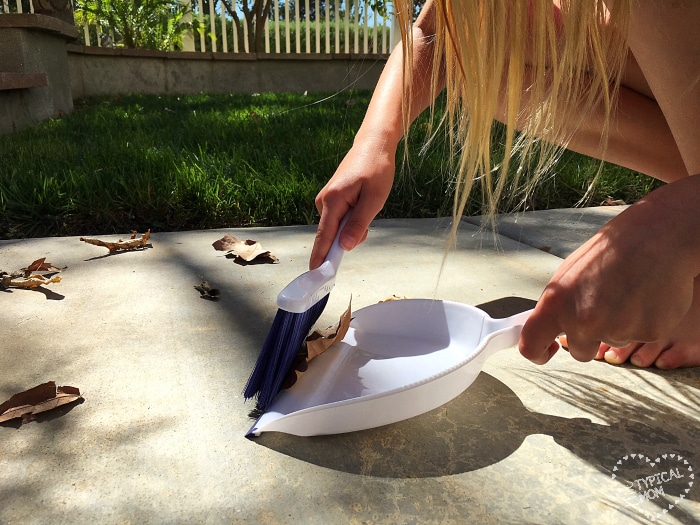 Chores for Children
1. Do yard work
2. Babysit siblings or other children
3. Help make dinner
4. Vacuum entire house
5. Do their own laundry
Once driving:
6. Grocery shop with a list provided will be teaching responsibility and money management at the same time
7. Responsible to earn spending money & gas money
8. Responsible for maintaining their or the family car they're driving
It is important for children to realize that taking care of a household is a big responsibility and one person cannot do it all on her/his own.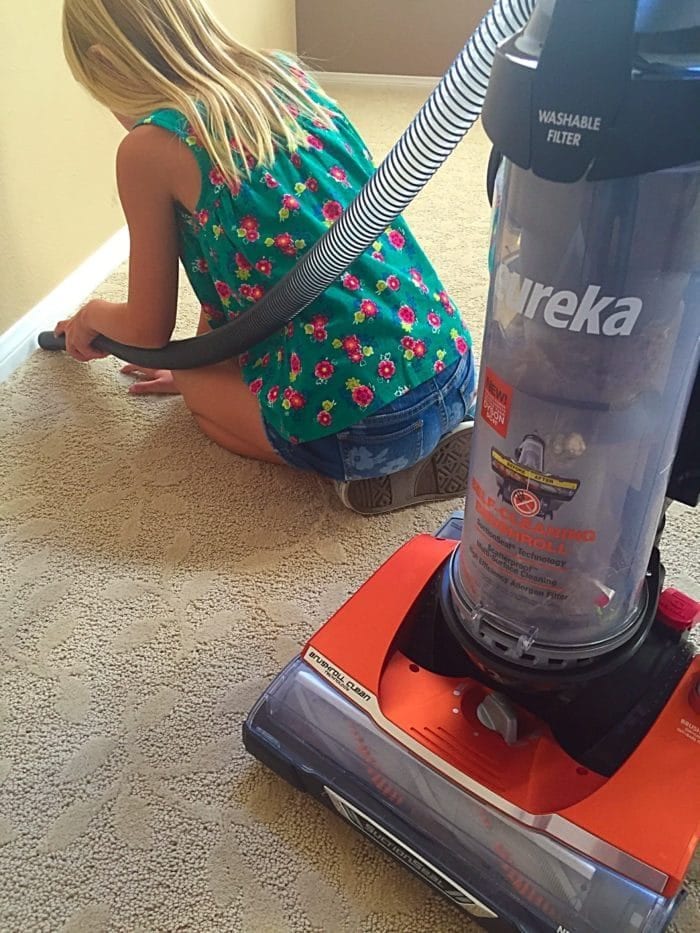 Chore List for Kids
You may be surprised as they fall into the rhythm of doing their designated chores that they start to take pride in what they're doing as it is "my responsibility". My middle daughter thinks "it's fun" to vacuum the smaller rooms downstairs (makes her feel like she's really growing up). 😉
Finding a vacuum that is easy to maneuver and cleans well definitely helps the process, like the Eureka Brushroll Clean™ with SuctionSeal® we have here (a savior in our house with 4 women who have a lot of hair)! Anything that makes the process easier gets a thumbs up from both of us.
Keeping track of their progress and successes throughout the week is important…making it FUN is key too.
This printable chore chart for kids can be used each month. Just mark the days of the month and print a new one out once a new month begins!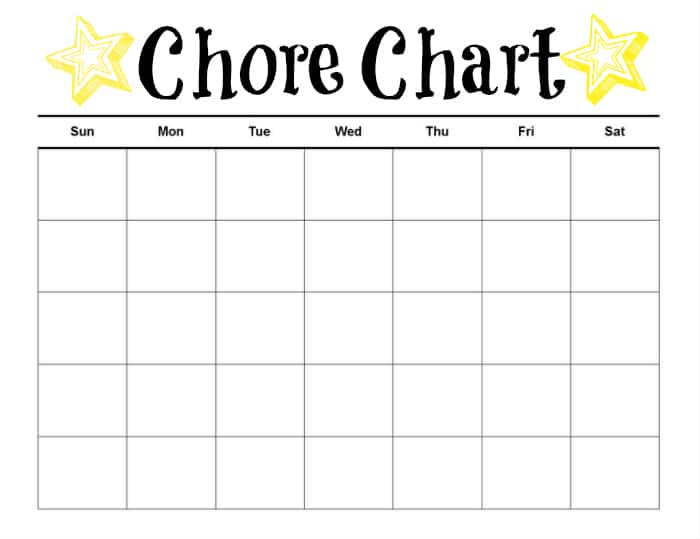 Chore Chart for Kids
To make it more fun (because as we all know….fun should coincide with chores..lol) I have created completion markers for both boys and girls too!
They can cut them out at the beginning of the month and tape one on when they are done that day. If you buy a large sticker sheet and run it thru your printer instead they could cut it out and stick it to the date as well. 😉
Here is a printable chore chart marker page for boys (of course girls could use them too), and here are chore chart markers for girls. Just write the chore you'd like them to complete each day in the boxes, and they can stick a marker over the top when they are done.
You could create a "reward" at the end of each week, month, or after a certain # of days they have completed their daily chores. Some chores are going to have to be written more often, like vacuuming, while others may need to only be done every other week or so.
Here is another post on making chores fun for kids with another free incentive printable where they roll the dice to figure out the chore they're doing each day!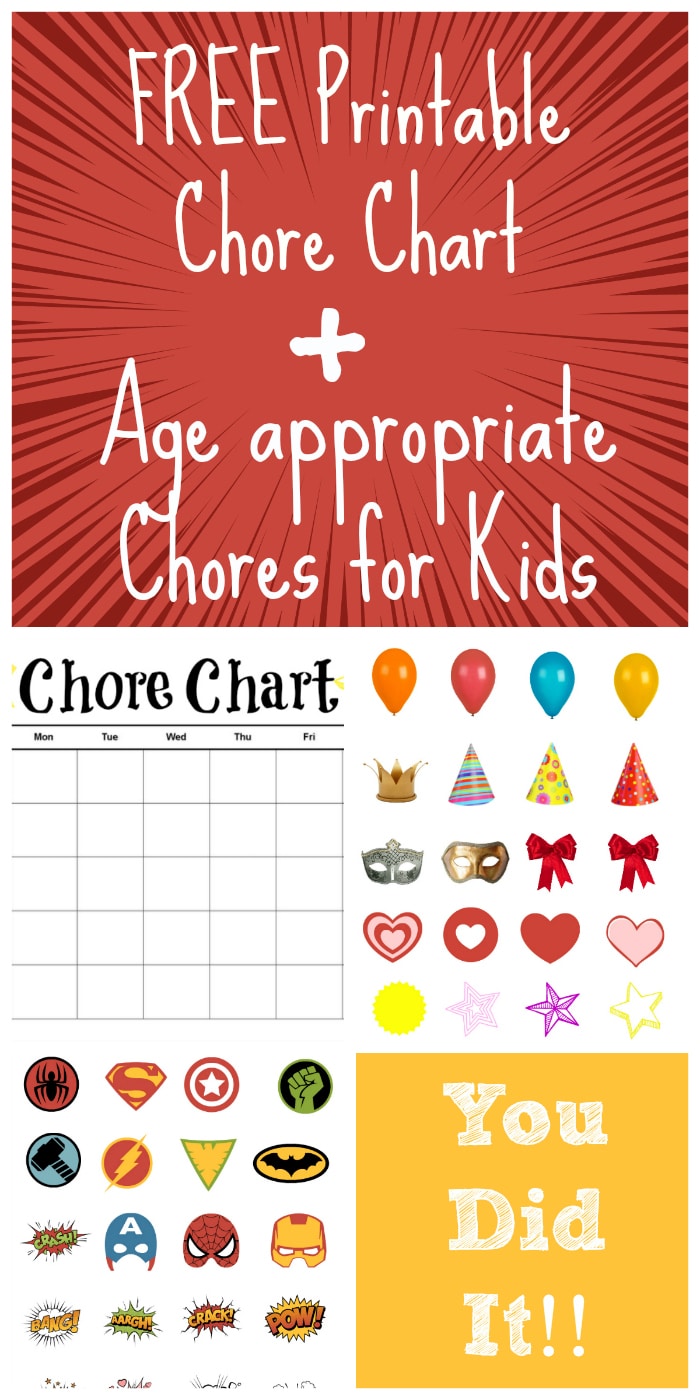 Chores for Kids to Earn Money
Along with the age appropriate chores kids can do to help out, find ways to make it easier for them to succeed at their tasks. Let me explain. If they are dusting, give them a duster that has an extendable stick so they can reach higher places (that kinda' makes it more fun too).
If they are vacuuming let's say, make sure your vacuum is not too heavy for them to push. Make sure it is ready for them to use (the bin has been emptied), and is user friendly (some vacuums are much more user friendly than others believe me). Younger ages may not be ready to empty it but surely can push it.
For instance, our house is comprised of 4 girls and Daddy (lucky man). With that said, there is A LOT of hair that gets vacuumed up in our household.
In the past our old vacuum sucked up so much hair that the bristles in the roller became SO full and tangled up with hair that after using it two or three times it just wouldn't suck up anything more..big problem.
That's when we found the Eureka Brushroll Clean™ with SuctionSeal®! It has made vacuuming SO much easier for my 8 year old who helps vacuum the smaller rooms upstairs. My 14 year old says she wants to take it with her when she moves out…lol.
Want to see a few of my favorite things that I am totally obsessed with?? Take a peek and see how many you might already have…twinsies!
Looking for more easy family recipes and tips? LIKE The Typical Mom Facebook page?
Then sign up for my free newsletter, and follow me on Pinterest! 😉
***** If you LOVED this recipe give it 5 Stars below and let everyone know what you thought about it. 😉