Free first day of School printable and memory book ideas for School that area easy to do and you can do it yourself at home with your kids as a craft.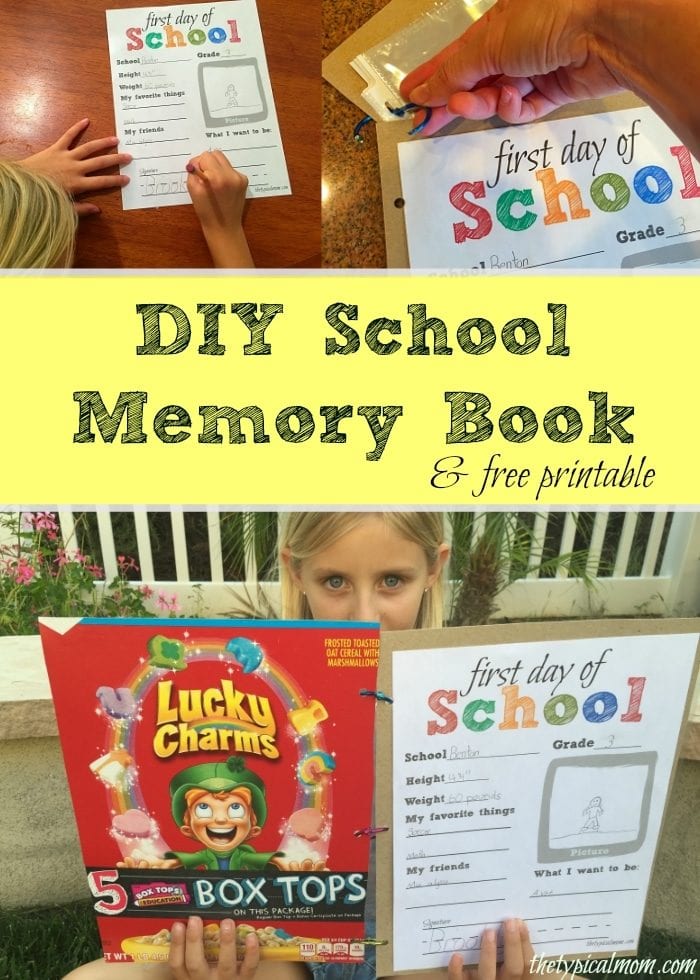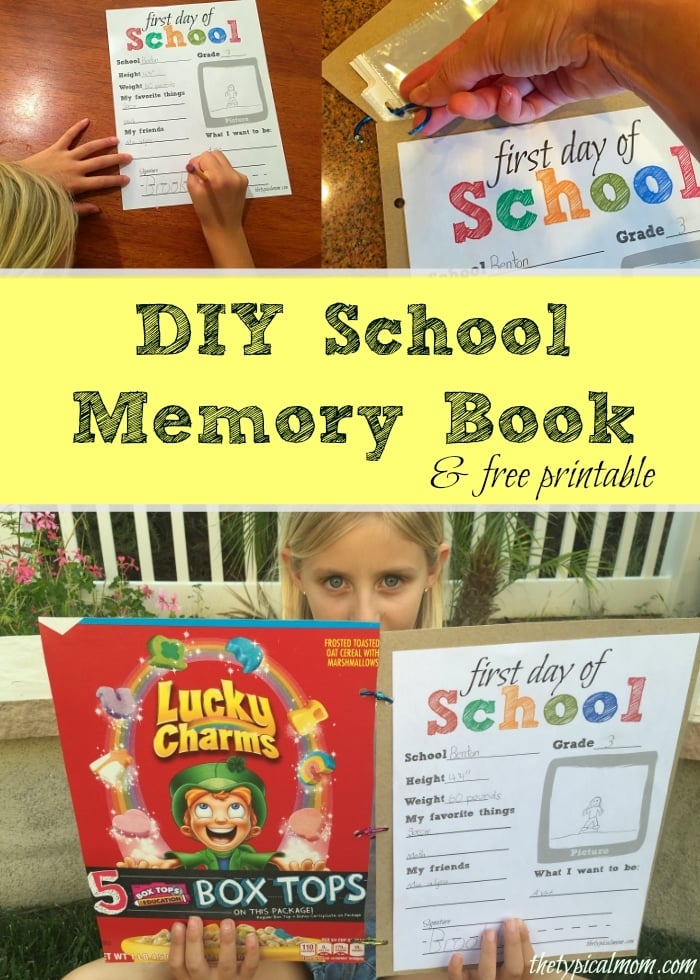 I love DIY projects my kids can make and get involved in. Each year my kids come home with wonderful awards and papers that they want to keep to remember that year in School. You can go out and purchase or order memory books at the store or online, but at this age it is almost more special to have them make their own! Here is an easy DIY memory book ideas you can create from a cereal box and a free printable first day sign your child can print out too. (originally published 8/15)
DIY Memory Book
The only thing I had to purchase for this craft were the metal rings, though you may already have a few at home.
You could also use string if you didn't want to go out and buy anything…it's really versatile!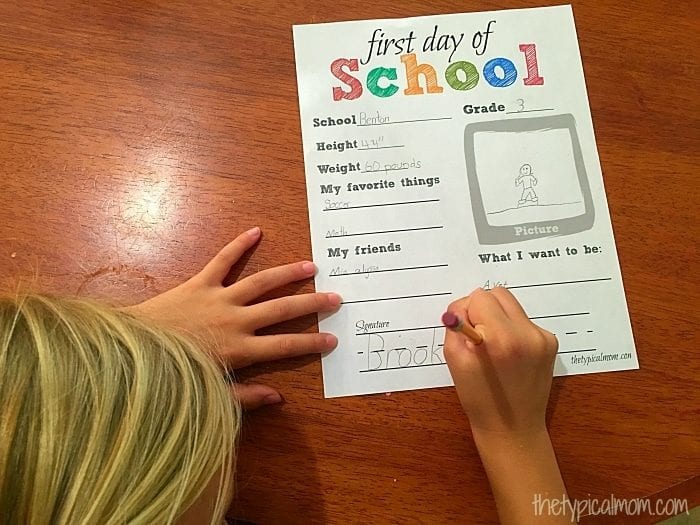 The first thing you want to do is Free printable all about me page and have them fill it out.
If you just want something quick you could just fill this out, keep it in a safe place and be done there….but making their own memory book for School is fun to do.
Use any empty cereal box you might have, just make sure it is as wide as the paper. Cut the top and bottom portions off, then cut the sides off and you will have the front and back of your cereal box for your memory book.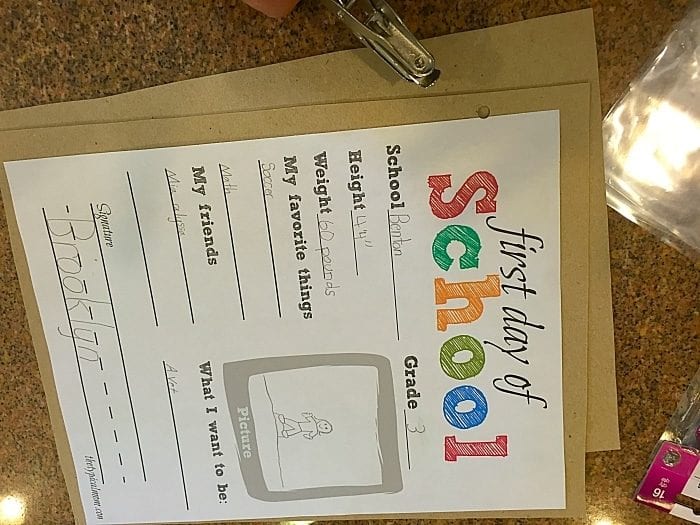 Homemade School Memory Book
Use a piece of rolled up tape on the back corners of the first day paper and tape it on one side of the cereal box (back side).
Leave some room to the left of the paper where you will punch holes. Trim around the paper so it looks something like this.
You will need to trim the back piece as well so they are a similar size. Now make your first hole and get a metal ring ready.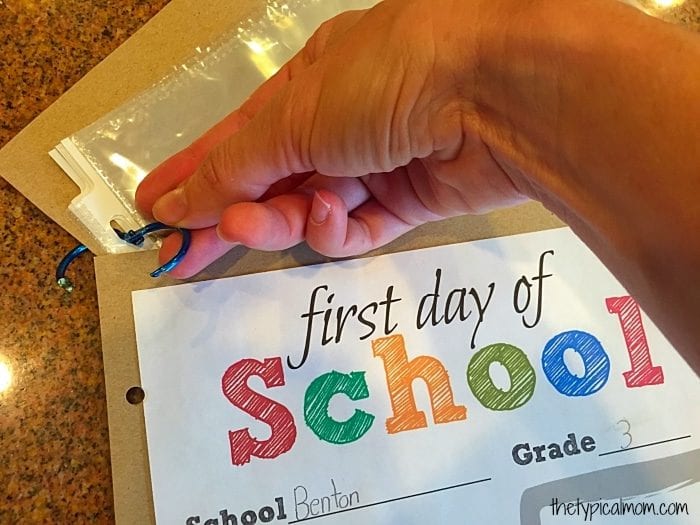 DIY School Memory Book
Feed the metal ring through the hole you made on one side of the cereal box, thread the page protectors into the ring and line up the back side of the cereal box so you know where to make that hole to match.
Close that ring and do the same for the next two holes to keep the back, front, and page protectors together.
The page protectors are there so when there is an important award or paper you can slide it into your School memory book!
If you're looking to save all of those special pages throughout the year here are ways to organize school keepsakes too. You can repurpose those Kleenex boxes into Box Top containers too.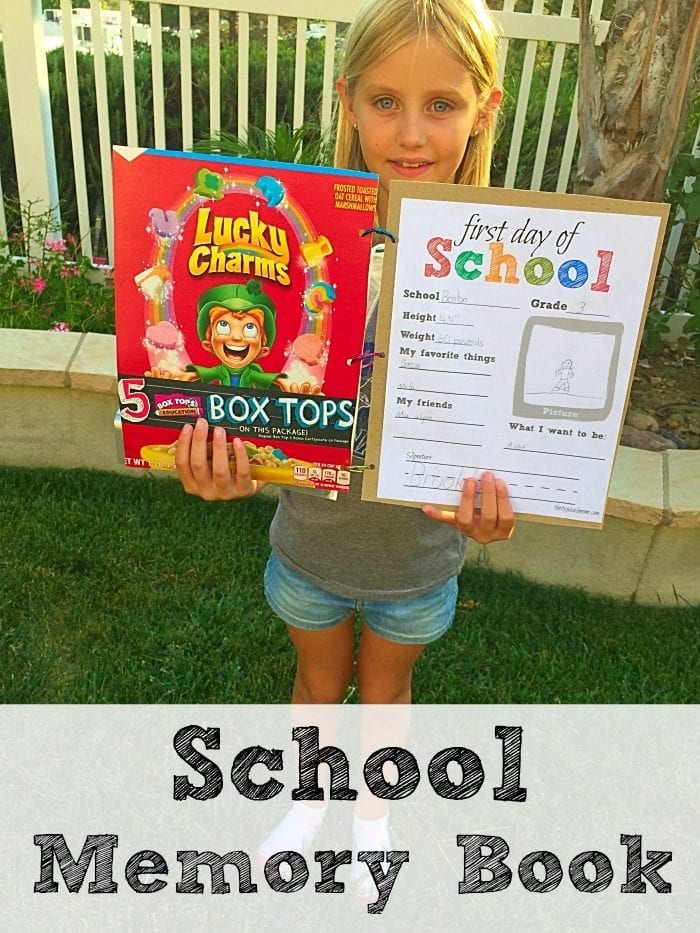 For more easy recipes, tips and free printables please LIKE The Typical Mom on Facebook and follow me on Pinterest! You can also sign up for my free weekly newsletter which is packed with goodies I know you'll love. 😉