Here's a cute Valentine dinner idea to make for your kids that is inexpensive and they will love. Valentine's Day dinner has never been cuter with these heart hot dogs plus craft ideas for kids for the holidays.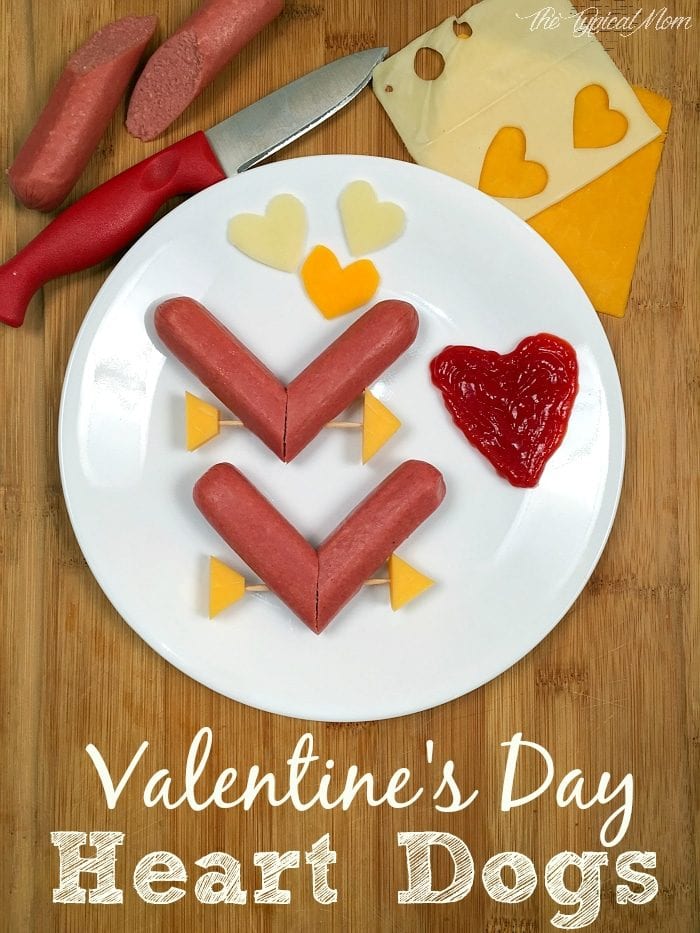 We love Valentine's Day…..and the week leading up to it! It is fun to get creative with every day foods to get in the spirit. Here is a Valentine Dinner idea you could make, or for lunch, using hotdogs and cheese!
Cute Dinner Idea
My kids love it and they seem to forget about it every year until I serve it and then I get the "OOhhhhh yeah, I remember these…they're so cute" reaction from them.
They are so easy to make but get the best response so I make it year after year for dinner. (originally published 2/13, pictures revised)
Here is how you make these cute heart dogs. It is simple really. You just need hot dogs, cheese, toothpicks and ketchup. You could put an arrow of mustard in the middle of the ketchup heart too.
Take the hot dogs once they are cooked, find the middle and cut at an angle. Then, take the hot dog and rotate it so the angles match up and form a "heart". Cut the cheese like the front and back of the arrow and hold it all together with a toothpick right thru the center of it!
Valentine's Day dinner idea
Hot dogs

you can cook via air fryer hot dogs instructions
or make a larger batch of Instant Pot hot dogs

Cheese
Toothpicks
Ketchup – it's easy to draw using these squeeze bottles
If you want more control of the ketchup to draw with just squirt some in a ziploc bag and cut a small hole in the corner so you can be more precise. Totally not necessary but if you are a perfectionist this is a cheap way to do it!
Looking for other cute Valentine's Day ideas??