This is how to make slime glow in the dark! A fun experiment you can make at home with your kids to create goo that is fun and soft to play with and when the lights go out it lights up and glows bright! A simple recipe with one secret ingredient to make kids go crazy over this fun craft.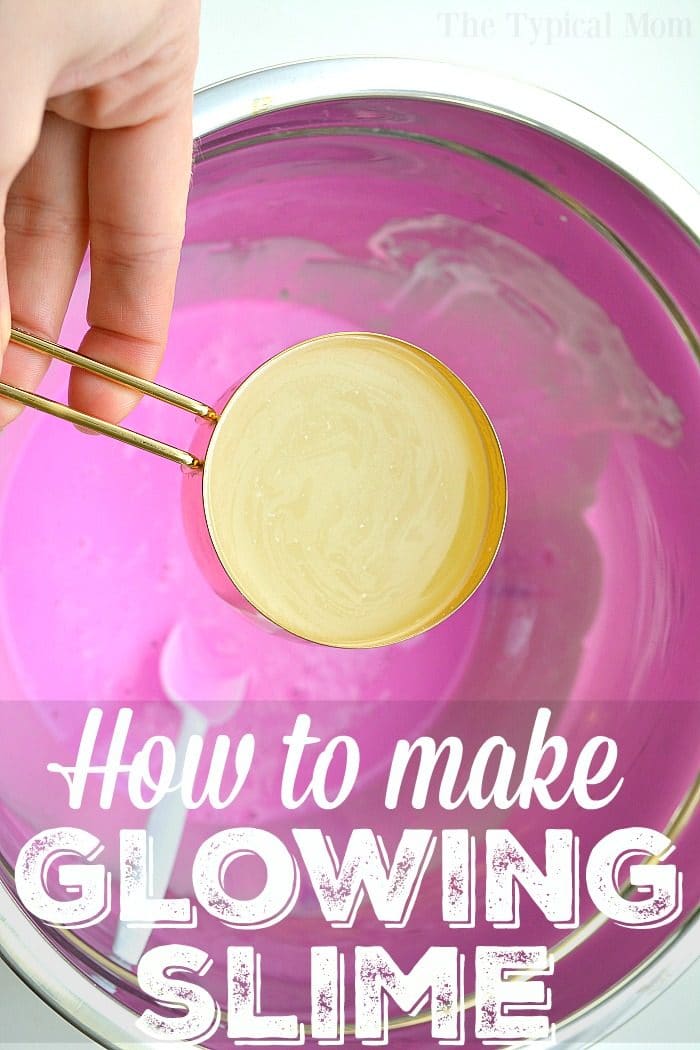 Last year our house, like many others, were filled with glue and experimentation with tons of kids making slime! My youngest was the craziest about it and created one after another and we share those as well as this slime glow in the dark post on our best way to make slime roundup page. (affiliate links present, originally published 2/21)
Slime That Glows in the Dark
Our dining room table became a laboratory of sorts with shaving cream, foaming soap, plastic storage containers, and she was coming up with different ideas every day regarding what she wanted to make.
She had a blast and of course I captured a few of her creations to share them here on The Typical Mom. Now that school is in session her experiments have slowed down but when she's at it again I love to share new slime recipes.
It's all about the experimentation right? Whether they're looking to make edible slime, easy baking soda slime or glow in the dark slime which we will share with you here today it is watching the liquids become somewhat solid that is fascinating to them…and I find it curious too.
Of course you can create whatever color you like, but this one happens to be pink. Or you don't have to add coloring at all if you prefer it to stay a glow in the dark white, up to you.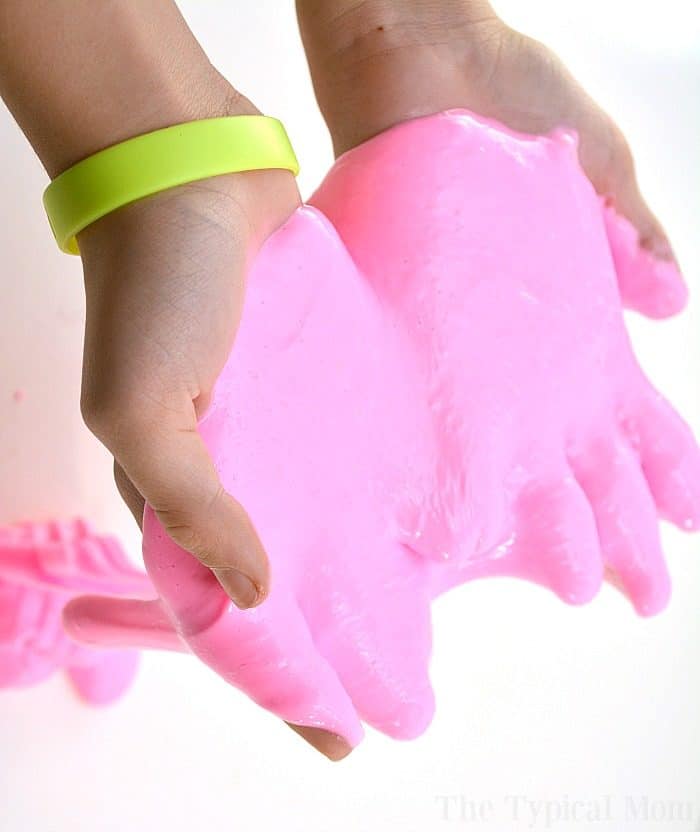 Slime Glow in the Dark
Even without the lights off it is a fun bright and brilliant color that is fun. If you have a blacklight wow it is fantastic. Create this using the recipe below with strict parental guidance of course, please read our safety disclaimer before creating any slime recipes on our site and have fun!
4 tbsp. glow in the dark paint
8 oz. white school glue – I just broke down and bought the big bottle, saved money
1/2 tsp. borax
1/2 c warm water
neon food coloring – optional
Now this is really fun!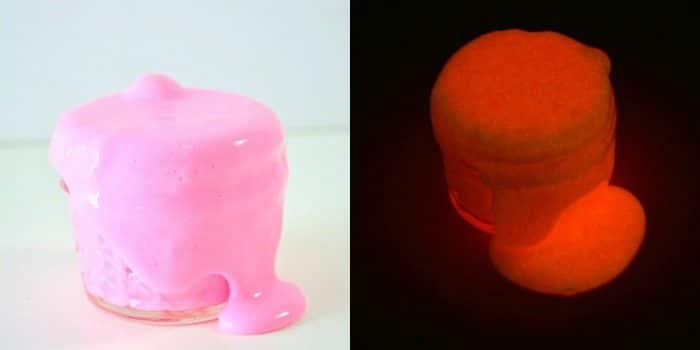 Glow in the Dark Slime Recipe
Time needed: 15 minutes
Glow in the Dark Slime
Combine

Pour your glue into a bowl. Stir 1/4 c. of warm water into the empty glue bottle and pour that into your bowl too. Mix the glue and water together

Glow in the Dark

Add 4 tbsp. of glow in the dark paint into your glue mixture and mix well. Add a few drops of neon food coloring if you choose to do so, mix well so combined fully.

Make Slime

In a small cup mix together 1/2 c of warm water and 1/2 tsp of borax (only adults should do this part) Stir water and borax together well until borax is dissolved. Slowly add the borax mixture into your bowl with glue and mix, this will make it thicker.

Stir

Slowly add more borax liquid and continue to mix continuously. The more you add the firmer your slime will be. When you've reached the consistency you desire stop and pick your glow in the dark slime up. Knead and play with it!
Test it out in the dark to see some glow appear….using a black light is even cooler! Looking for other cool slime recipes for kids? We have a bunch to choose from but these are the most popular:
Want to see a few of my favorite things that I am totally obsessed with?? Take a peek and see how many you might already have…twinsies!
Looking for more easy family recipes and tips? LIKE The Typical Mom Facebook page?
Then sign up for my free newsletter, and follow me on Pinterest! 😉
***** If you LOVED this recipe give it 5 Stars below and let everyone know what you thought about it. 😉