I have got the best printable scavenger hunt roundup for you! These are all so easy for you to print, give to the kids, and let them go wild! And did I mention all the free scavenger hunts listed cost you nothing at all to use? Which is a win-win for everyone!
We are going to start off with the warmer months and a new printable here for a summer scavenger hunt printable for all ages. It is a fun one that even the smallest child can use. With large pictures they can find the people and items themselves too. But there are many more below. (affiliate links present)
Free Printable Scavenger Hunt
During the summer you know there's nothing better than giving your kids something to do! Especially something that means you can take a break in the shade! So outdoor scavenger hunts are the way to go!
That's where this printable comes in handy! Print it off, hand it off, and let them find all sorts of summery goodness. From popsicles to ice cream to a hat or the sun, they'll love finding each of the items, and you'll love the fun they have too! If you are traveling, our Disney scavenger hunt is fun too.
Now let's keep with the summer theme here for a minute and get the kids amongst the trees shall we? Mine love this nature scavenger hunt printable to do with their friends on a hike. This works as a spring scavenger hunt too! So if summer hasn't yet arrived, that's okay, do it in the spring!
While the first summer printable is all about things they may see at the beach or around the house, this one is much more just plain nature oriented! So take the kids into the woods, or if you've already got them at your house, just send them outside!
They'll find colorful things, a feather, an acorn, even their own personal treasures! It's like a scavenger hunt and a printables treasure hunt all in one! Did you know that all that nature is actually really good for them too? It improves their brains and helps them do all sorts of things academically too! So let them go!
Printable Scavenger Hunt Clues
If you love spending time outside you might like our camping scavenger hunt list you see here. This one is perfect for the family!
Camping is wonderful but you also know how much work it can be right? Did you pack everything? Is everything set up? Where did the flashlights go? Is everyone being safe by the campfire? Ugh! It can be so good but just so much work too!
Well grab this camping scavenger hunt! It'll be sure to keep them busy for a while and you can actually do what you came to do: relax! In fact, you can even do it with them if you want! It's perfect for bonding as a family!
And something you can use year round, and great if you have to take your kids shopping is our grocery store scavenger hunt. That is right, keep them busy so you can concentrate on the aisles.
I'll admit, I've resorted to buying food and opening it in the store way too many times. (I always pay for it!) But with littles, it can be just so difficult to keep them from screaming or grabbing everything! So another scavenger hunt for the win!
I like to print this off, give them a pen, and let them find everything they're already going to see anyway! But with the list, they feel happy, and I can actually get my shopping done.
There are no riddles clues required like in treasure hunt clues. Just simple indoor scavenger hunts that are easy for kids to do.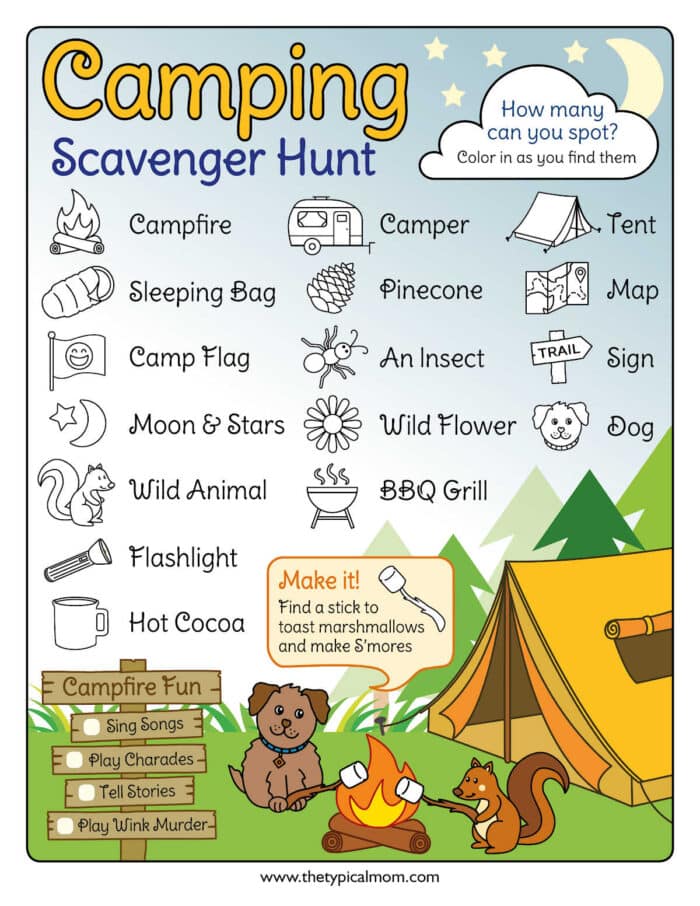 Fall Scavenger Hunt Printable
Moving on to cooler months and holidays galore!! You are sure to have guests or friends of your kids over this time of year. Our Halloween scavenger hunt is a great one to pull out around that time.
As the weather cools off, the activity for kids doesn't! These scavenger hunt ideas are a little bit spooky but a whole lot of fun! They're perfect for the whole month of October when they might be seeing skeletons, witches, scarecrows, and all those fun costumes we love to celebrate!
We have another Fall scavenger hunt here you can use during the holiday get togethers or at a party.
I love fall but coming up with ideas for kids all autumn? It can be exhausting! Themed scavenger hunts are a life saver though! It means they can find all that goodness of fall and you can light that pumpkin spice candle at the same time! Ahhh! Bring on the pumpkin!
Christmas Light Scavenger Hunt Free Printable
At the end of the year you usually have get togethers. You can make one of your own with things around the neighborhood people have in front of their houses with their lights and/or use this holiday scavenger hunt.
All printable scavenger hunts listed for kids are such a great way for them to enjoy the holidays. They love looking for presents, snowflakes, and that delicious gingerbread man too! So grab the printable and go!
Want to see a few of my favorite things that I am totally obsessed with?? Take a peek and see how many you might already have…twinsies!
Looking for more easy family recipes and tips? LIKE The Typical Mom Facebook page?
Then sign up for my free newsletter, and follow me on Pinterest! 😉
***** If you LOVED this recipe give it 5 Stars below and let everyone know what you thought about it. 😉