Free Disneyland scavenger hunt printables are here! Disneyland game you can play while you are visiting this amusement park with kids. Fun, free and keeps them busy while you wait in line. Keep track of what you have seen on this printable scavenger hunt checklist, see who can find each one first!
We made this free Disney scavenger hunt and Disney i SPY sheet years ago when my kids were younger. They were great ways to keep them busy when we were waiting to get on rides. Grab a few speed passes and then use this free activity to walk around the park and find something new you maybe have ever seen before! (affiliate links present)
Free Disney Scavenger Hunt
I don't know about you but if you are planning your first trip, or you visit often you likely look for things to do that cost nothing, ways to eat for free at Disneyland, and how to save money at Disneyland too. We will share all of our findings here to save you a dollar, or a lot more. 😉
Let's backtrack though first to before you even enter the gates. To save a ton you really need to plan way ahead of time so you can get into Disneyland for free. No joke, we did this many times. Now if you are toting kids with you, more than likely, you need to realize that there will be lines which will be challenging for them.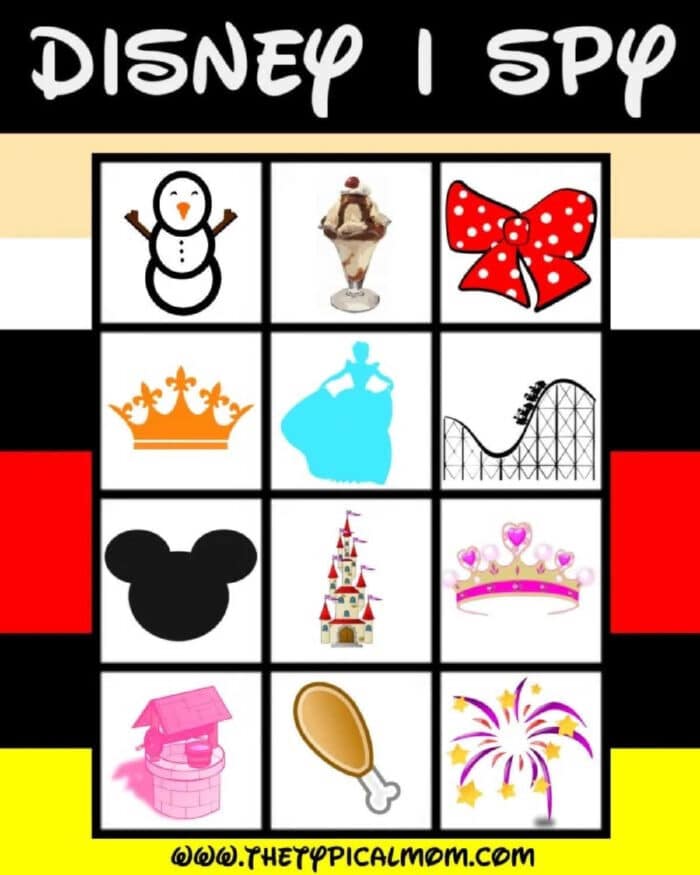 If you bring Walt Disney printables like these with you with a box of colored pencils in their backpack you will save yourself a bit of hair pulling. I have some coloring pages that cost you $0 in that link above here too. Have them wear a hat to keep them cool, pack a towel to sit on in line and let them check off the things they have seen and color their hearts out to pass time.
Disney Scavenger Hunt Clues
What we did when I first created this was to take time right upon entering to find as many as we could on the list. When I passed a ride we wanted to go on I would grab a few fast passes for us. I'd put the time to be back in my phone with an alarm that would go off 15 minutes before we needed to be there. We grabbed quite a few in the first hour of searching for locations on this list.
In between each time we would go back to this Disney must see list and it added fun to our day without spending a dime. Next time we created this free Disney Bingo to play throughout the day to. Compared to the other visits where we didn't bring games to pass the time, the kids loved this and remembered it beyond the other visits for sure.
Disney Trip Scavenger Hunt
Both of these Disney themed games could be used at home too if you were having a surprise Disney birthday party or something. You could see who has seen more of each = a prize. We have only visited the Disneyland resort and not been to the Florida theme park so unfortunately I don't have one for that park but you could make one with this same idea in PicMonkey.
Time needed: 5 minutes
Scavenger Hunt Disney
Print

I suggest that you print one of our Disneyland scavenger hunt printables per person so nobody has to share. 😉

Checklist

Pack in each child's backpack, and one for yourself, with a pencil or other marking tool to mark off each location you find.
If you are surprising your kids with a Disney vacation bring all the things. Free printable Disney parks themed scavenger hunts are fun for both kids and adults. You could add other things to the back if you had a few days at the park. Make sure to bring a camera for pictures with cast members, and don't keep them all on your phone. Make a book of your adventures when back!
Things to Bring on Trip to Disney World
Beyond your free tickets ;), ID, backpack, your lists here, sunscreen and hats you should remember other items on your trip to Disneyland like empty water bottles to refill during the day, and glow sticks are fun if staying late at night. A sweatshirt is good too around the waist as California weather isn't always predictable.
Want to see a few of my favorite things that I am totally obsessed with?? Take a peek and see how many you might already have…twinsies!
Looking for more easy family recipes and tips? LIKE The Typical Mom Facebook page?
Then sign up for my free newsletter, and follow me on Pinterest! 😉
***** If you LOVED this recipe give it 5 Stars below and let everyone know what you thought about it. 😉